Amidst your busy life of after-school sports, school dances, sleepovers, and more…college is on the horizon. And it's an expensive horizon. While there ARE 11+ billion dollars in merit based scholarships out there that will actually pay for your good grades and high test scores, why miss out on the opportunity to get a piece of the 2+ billion-dollar private based scholarship by knowing how to write a scholarship essay.
Oh… and before we get started, we have to share with you the # 1 tool needed to ensure scholarship success…
It is the same tool we used to write this blog article and make sure our grammar errors were caught without having to hire an expensive editor!
What is it you may ask?
Grammarly!
Seriously it is a lifesaver and the best part… it is FREE! 🙂
Click here to quickly get it set up so when you write your research paper you don't have any spelling or grammar errors!
10 Easy Steps on How to Start a Scholarship Essay
Step #1: Get an Early Start
My essay isn't due for 3 weeks, why would I start it now?
Ah-HAH! we see you there, you last-minuter you. Don't think we don't know what you're up to. And we're telling you, don't put off writing your scholarship essay.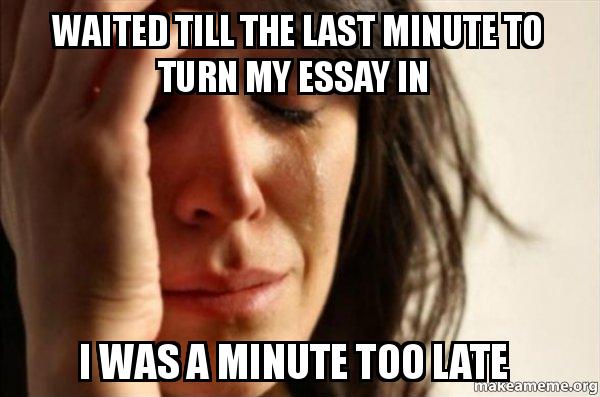 If it helps, here's an example of what can happen when you procrastinate. Here is one ASU student's story:
"Once upon a time I took a class that worked with Photoshop. I had a project where I had to create a fake CD cover for myself. I put it off until the last day and I finished it the night before it was due and went to bed — that's right, the project was DONE. And it was BEAUTIFUL.

My class was at 7:30 am the next morning (A little slice of college for ya) and I hadn't printed it out yet. And here comes the lesson in timing: My printer broke. The short version of this is that I ran around the entire college campus trying to find a printer at 6:00 am in the morning to no avail.

My finished project received a non-negotiable 0."
Soooo 2 things here:
NEVER trust a printer to print when you're in a rush
But most importantly, mistakes happen when you wait till the last minute.
That being said, we recommend you follow a 3-week timeline on how to write a scholarship essay.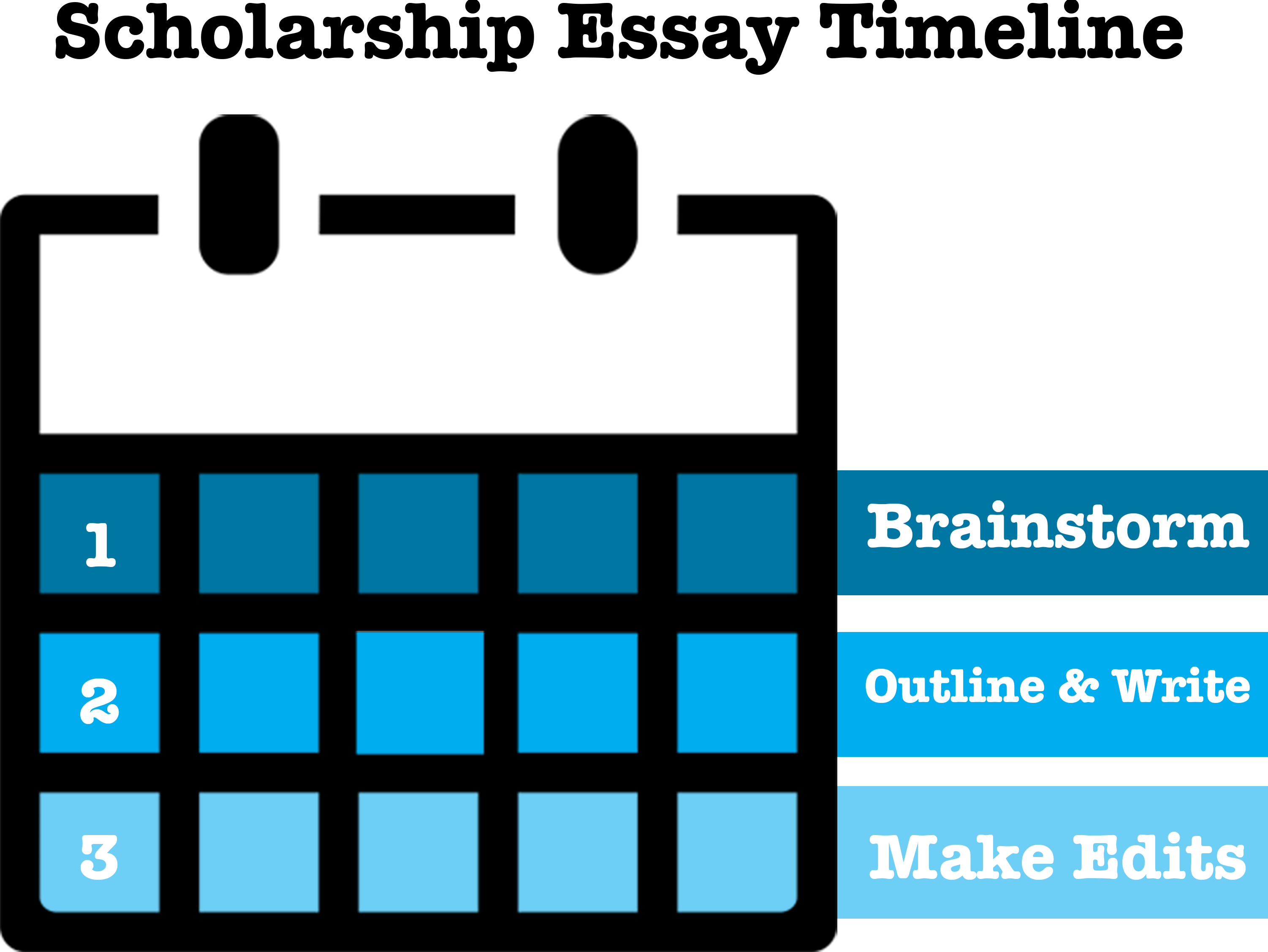 We also strongly suggest that you look up scholarship essay examples on the internet for you to be guided in writing.
Step #2: Read ALL of the Instructions
You may write a scholarship essay equivalent to Beethoven's 5th Symphony, but if you didn't follow the instructions, you're not getting that scholarship. So remember FORMAT MATTERS.
Here's what we suggest — don't just read the instructions… read them twice. Print them out and highlight important things to remember.
Not winning an essay contest based on the sole fact that your essay didn't follow directions just stinks. Don't do it to yourself.
If the format isn't specified, play it safe this way:
Double-space
Use Times New Roman
Use 12 pt font
Have one-inch margins all around
Write 2-3 pages
Check out some scholarship essay examples as well so you know where to start.
Oh… and please use a tool like Grammarly to catch all your spelling and grammar errors! Click here to quickly download it for free!

Step #3: Know your Audience
What do we mean by your audience?
We mean the people you're talking to in your essay. The people who will decide whether or not they want to give you their scholarship!
Here's the thing. You want to be genuine about yourself and your passions, but AT THE SAME TIME, you want to make sure that what you DO share about yourself in your scholarship essay is something that your reader would be interested in.
How do I learn what's important to someone?
You need to research your audience and find out what they value.
Let's look at an example. Say Nike offers a scholarship to the winner of an essay contest: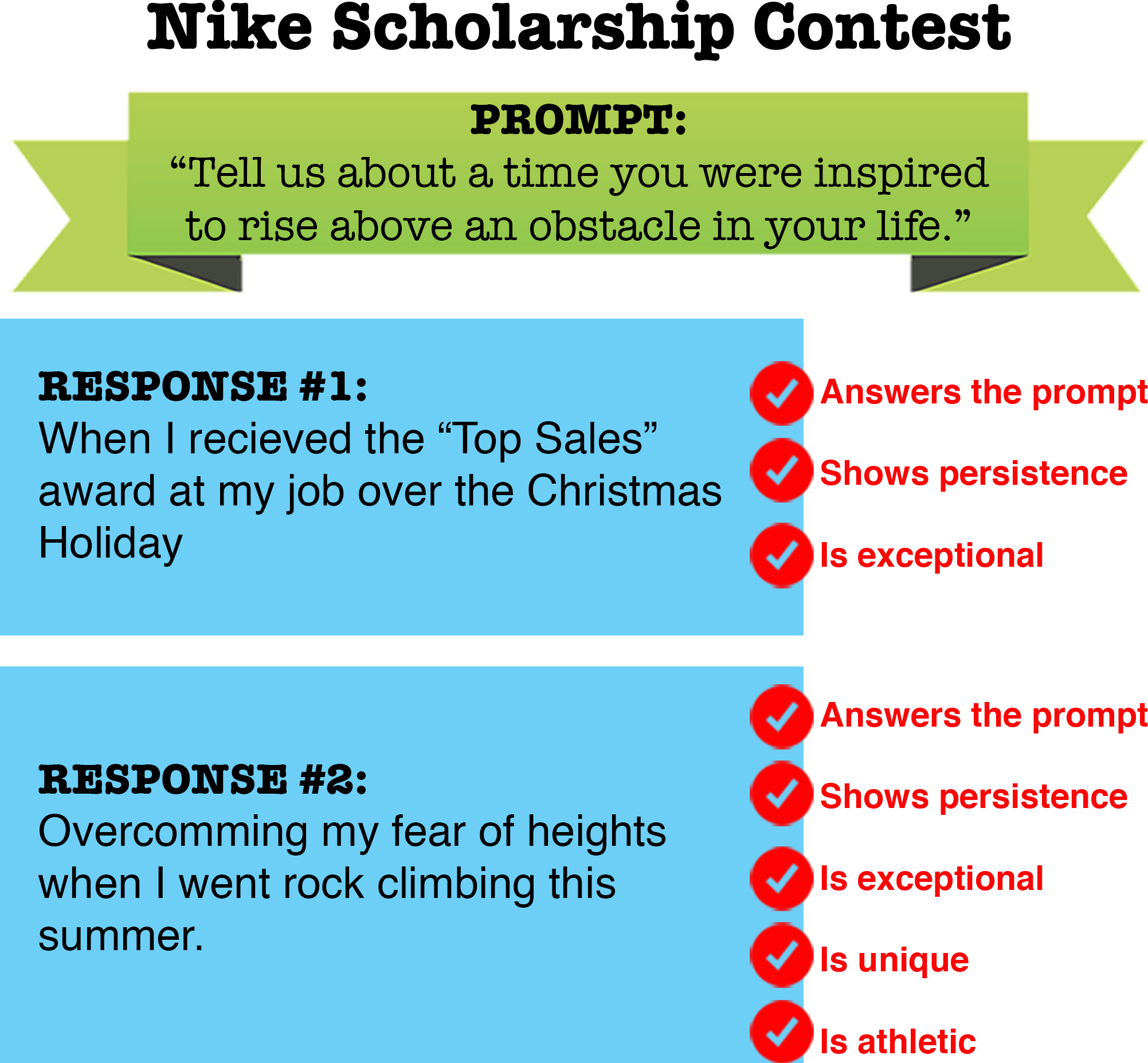 You can see that Response #1 does a good job of answering the prompt, but doesn't really relate directly to Nike. Nike is an athletic company with the motto "Just do it." They encourage their customers to push their limits in the athletic world.
Overcoming a fear (heights) that is central to who you are through a challenging sport (rock climbing) is something that directly relates to Nike's values.
Where can you find that information?? It's simple:
Look up their website and take the time to review it. Focus on the about us page to get a solid idea of what they do and stand for.
After you have a good idea of who they are, find their contact information and give them a phone call stating the following: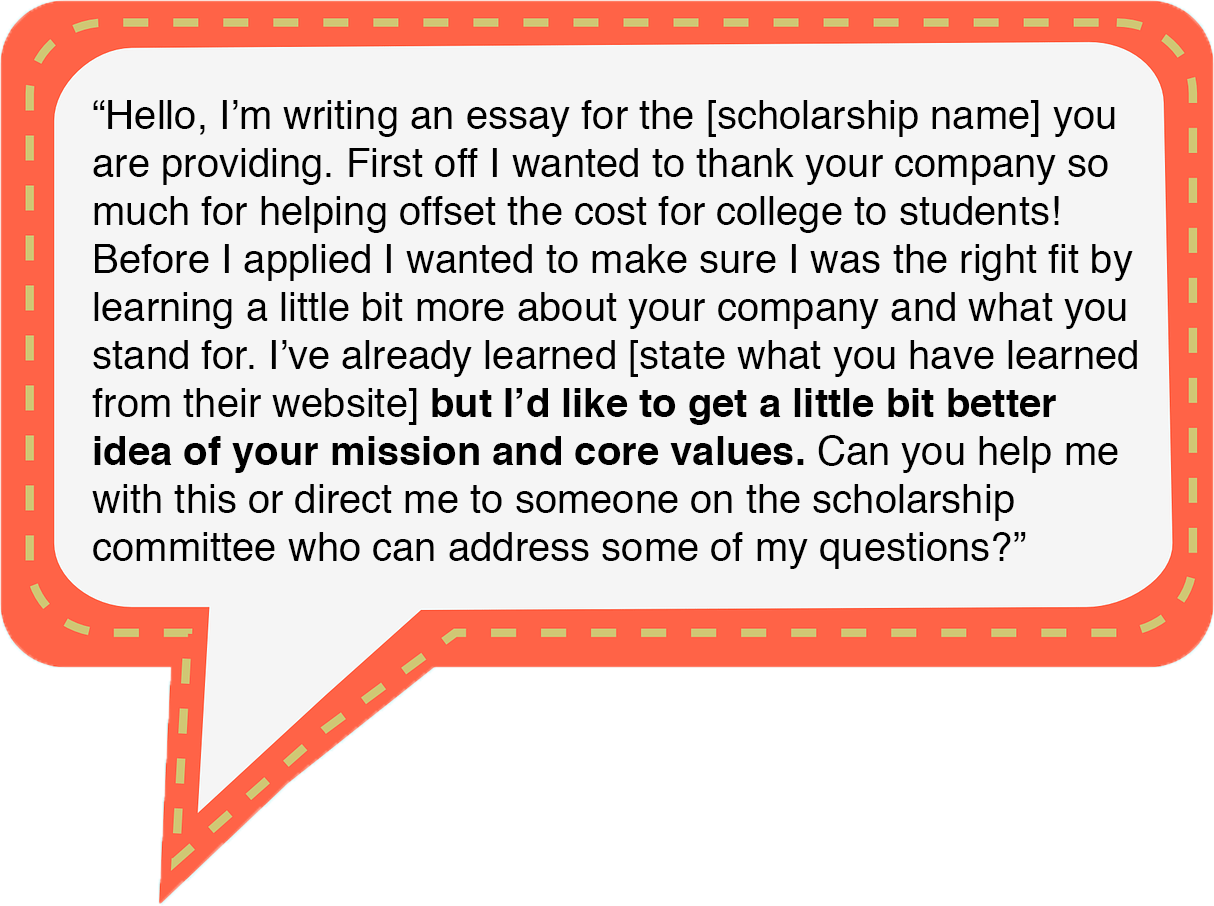 What will this phone call achieve?
You will learn more about your audience. This allows you to tailor your scholarship essay specifically to what the company stands for. (Remember the Nike example?)
Stand out by building a relationship with someone on the scholarship committee.
#2 brings us to our next point!
Step #4: Talk to someone who is part of the scholarship committee.
Now, this is not always 100% possible. Some scholarships have rules that won't allow you to talk to anyone on the scholarship committee.
If this is the case, skip this step and just talk to someone within the organization that helps you get a better idea of the company's mission and values. With that said I always recommend at least trying!
If you do get a hold of someone, here are some important steps to follow:
Listen for Conversational Hooks
Conversational hooks are words or phrases said in a conversation that allows you to expand on the other person's interest, providing a more in-depth conversation that builds rapport and trust.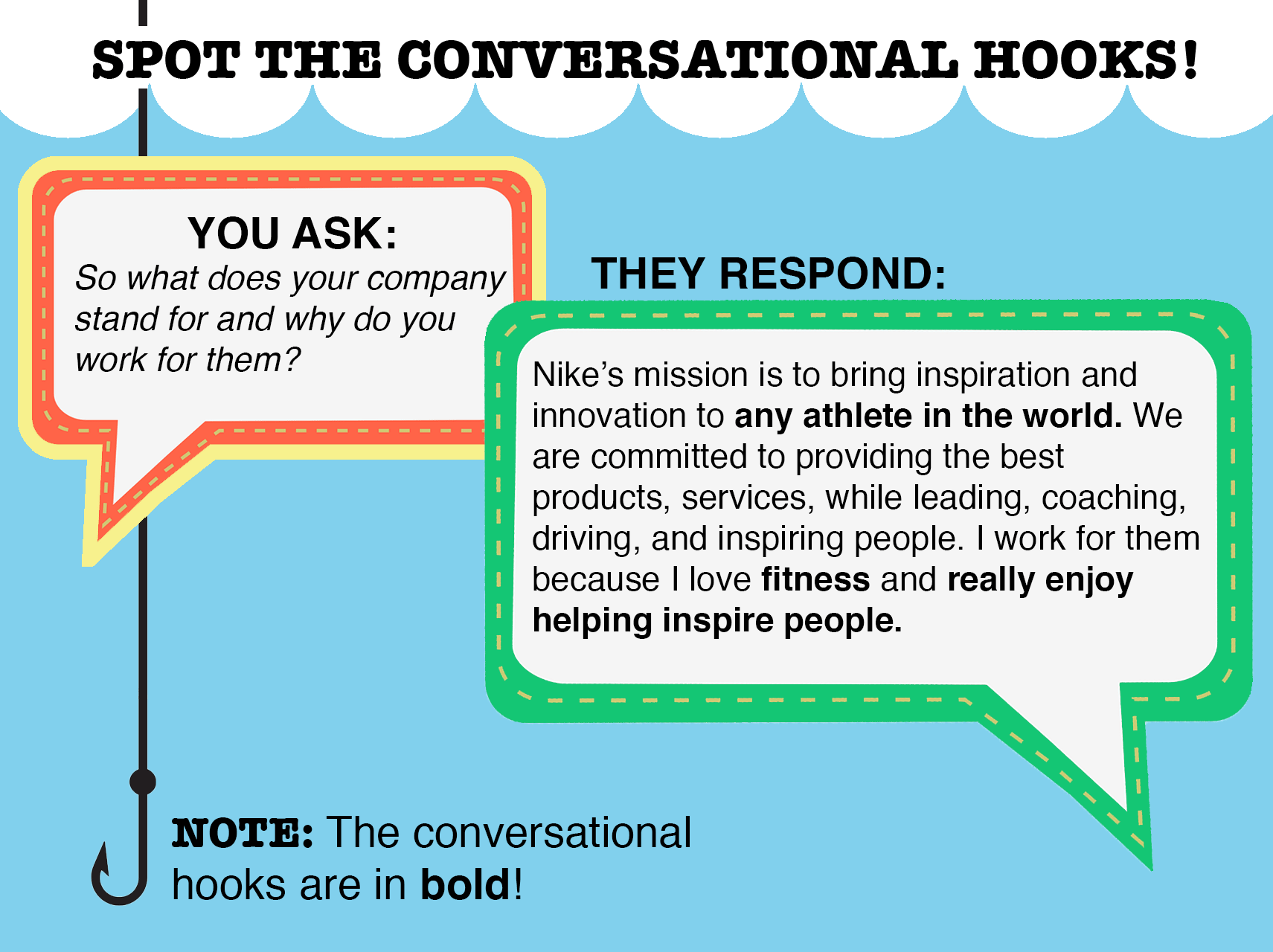 Expand on the Conversational Hooks
If you listened for those conversational hooks you will be able to expand that conversation further in several directions. Try and hit as many conversational hooks with your response so it allows them several responses!
"Wow, I love fitness as well! I actually am on the track and field team in my high school. As the team captain, I really try to help my teammates and inspire them to be better athletes as well. What do you do to maintain your fitness and how do you inspire people and help athletes within the company?"
See what this does?
It shows that you relate which builds rapport and trust with the scholarship committee member.
It gets the scholarship committee member excited to talk to you because EVERYONE LOVES TO TALK ABOUT THEMSELVES!
Keep the Conversation Going Until They Say They Have To Go!
Keep listening for those hooks, expand on them, and build that relationship!
The longer you can remain on the phone with them talking about THEIR INTEREST, LIFE, AMBITIONS, AND JOB the more you will be able to relate back to them. This makes you stand out to them when you submit your essay.
Write them an email or (better yet) send them a "Thank you" card thanking them for their time.
Gratitude can go a long way. Wait 24 hours and send them an email thanking them for taking the time out of their busy day to speak to you. Make sure to include something from the conversation that you two really connected on.
OR if you have their address, send them a handwritten card!
You now not only know your audience but have someone in the scholarship committee that is probably rooting for you!
Step #5: Brainstorm Ideas
Ideas don't always come naturally. In fact, often times when we NEED a really great idea to come to us, this is when we draw a blank. Aside from reading scholarship essay examples, save time staring at your paper by using a version of brainstorming called "mind-mapping".
Here's how it works:
Write the name of your scholarship at the top.
Write down everything that comes to mind about it — this includes the person/organization giving the scholarship, what they do, what they are asking for, what YOU do, what YOU like, etc.
We made an example for you here, with the "L. Ron Hubbard Writers of the Future Scholarship", a scholarship that asks students to write a short science fiction novel.
See how I connect different thoughts by drawing lines between them?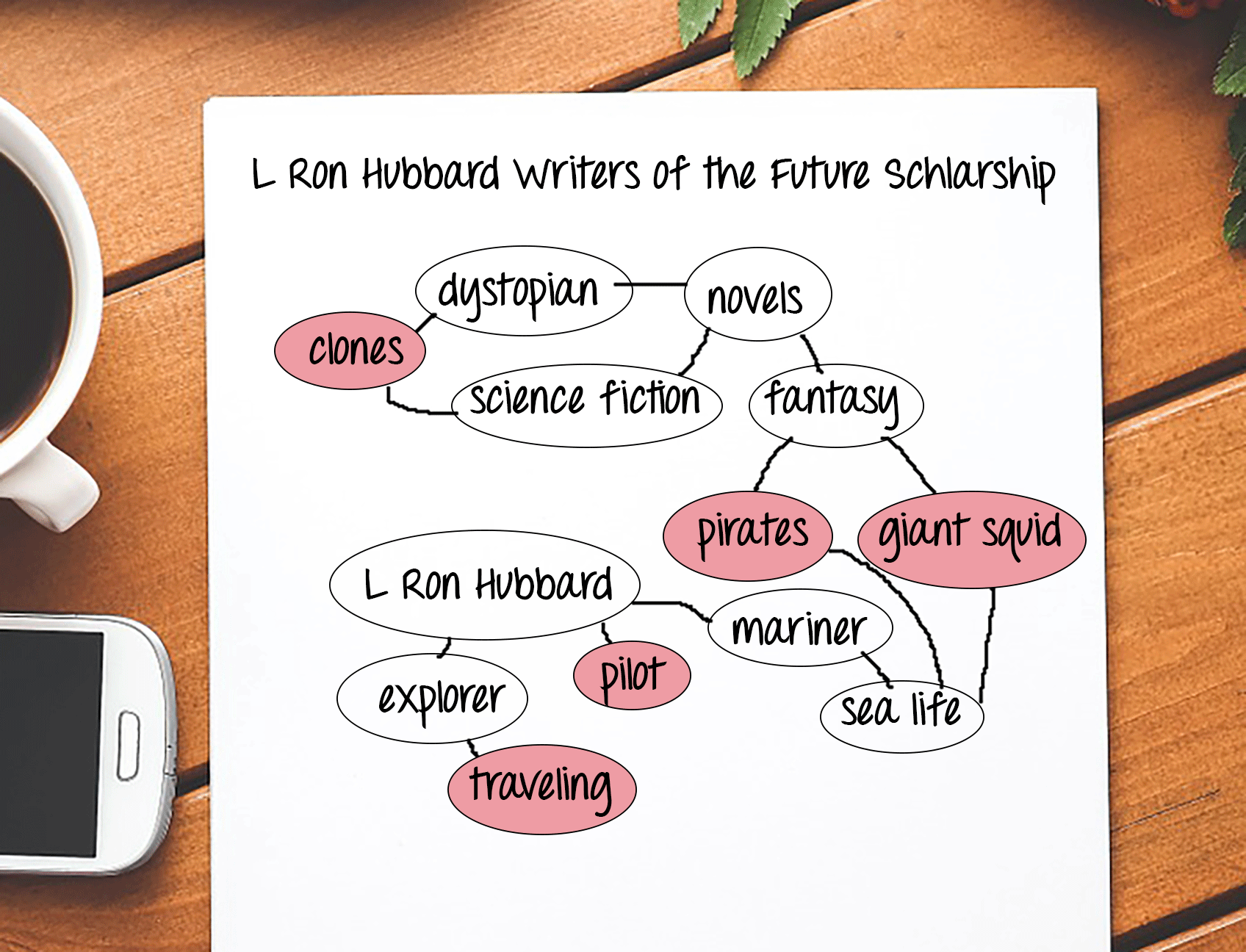 Your mind-map can be much bigger than this. But you can see now that we might choose to write my novel on a pilot traveling across the ocean, who is saved by pirates after his plane is taken down by a giant squid…where he meets a clone of himself!
Pretty exciting stuff, right?
Additional Resource: How to Learn English Grammar?
Step #6: Pick a Topic You Care About
Scholarship essays are all about the person behind the essay. You want your readers to FEEL your passion for whatever it is you choose to write. And, they want to find someone who is passionate about the same things they are. If you do not know what topic to write about, read some scholarship essay examples for your brain to work.
But be careful. Your essay is not a sales pitch. You need to be genuine about what you say, and this is why you need to care about the topic you choose. It will also make it easier to write!
Step #7: Create an Outline
This is something you need to do BEFORE you write the essay. And if you do, it will make writing the essay go faster!
We've created an example outline for you so you know how to start a scholarship essay. It shows you how you should think about structuring your scholarship essay.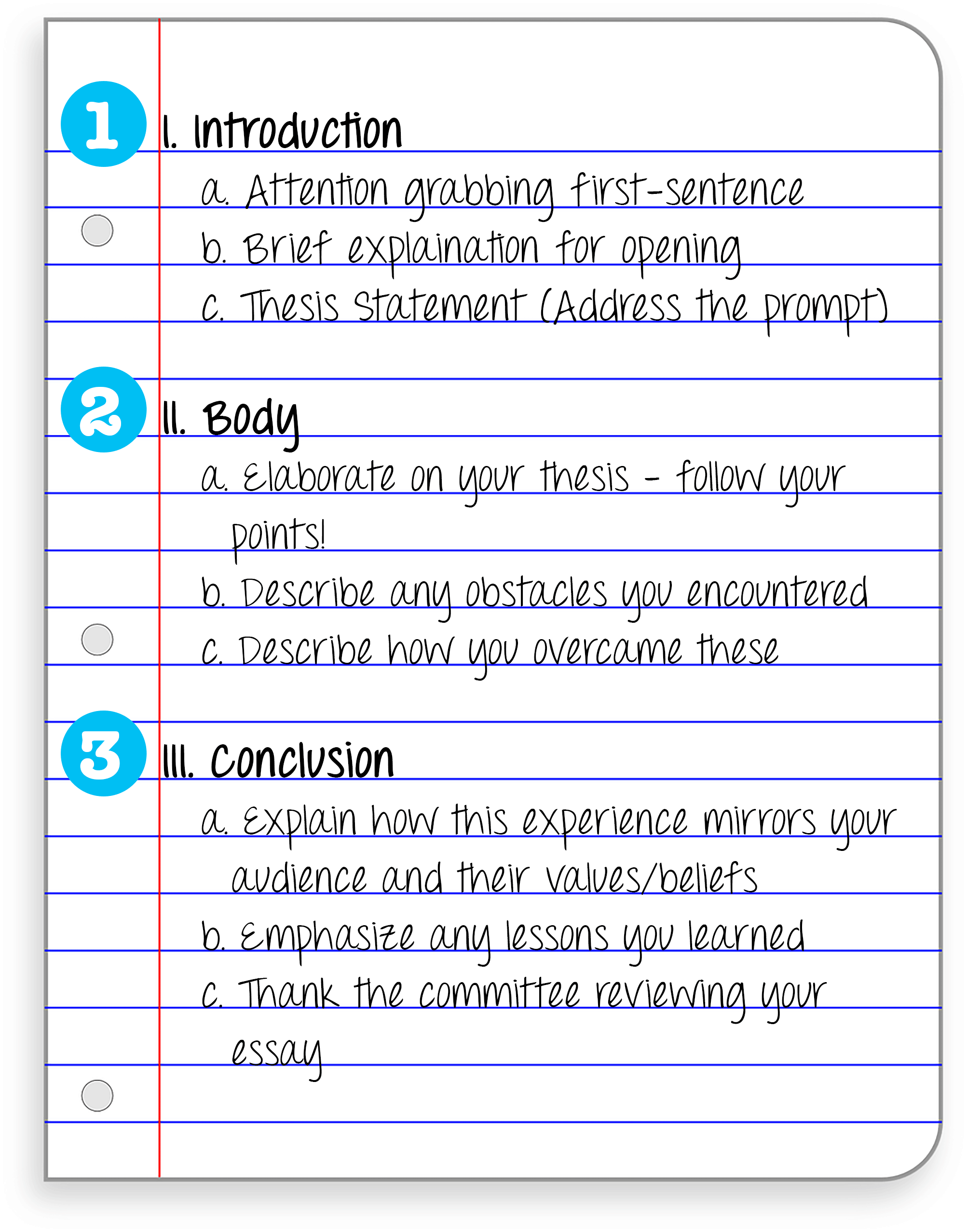 Here also are some great scholarship essay examples from International Student that you can check out!
Step #8: Tell a Story
Tell a story? They want me to write them a book?
No, but they don't want you to write a resume either! People who review essays for scholarships go through hundreds and thousands of essays. You may be super accomplished, but so are hundreds and thousands of other kids.
That's why you can't just throw your achievements at your readers. Write something that opens a window into your life for them. Like the characters in a book, they need to feel that they are getting to know you better through your essay.
To help you stay on track, here are some Scholarship Essay Dos and Don'ts.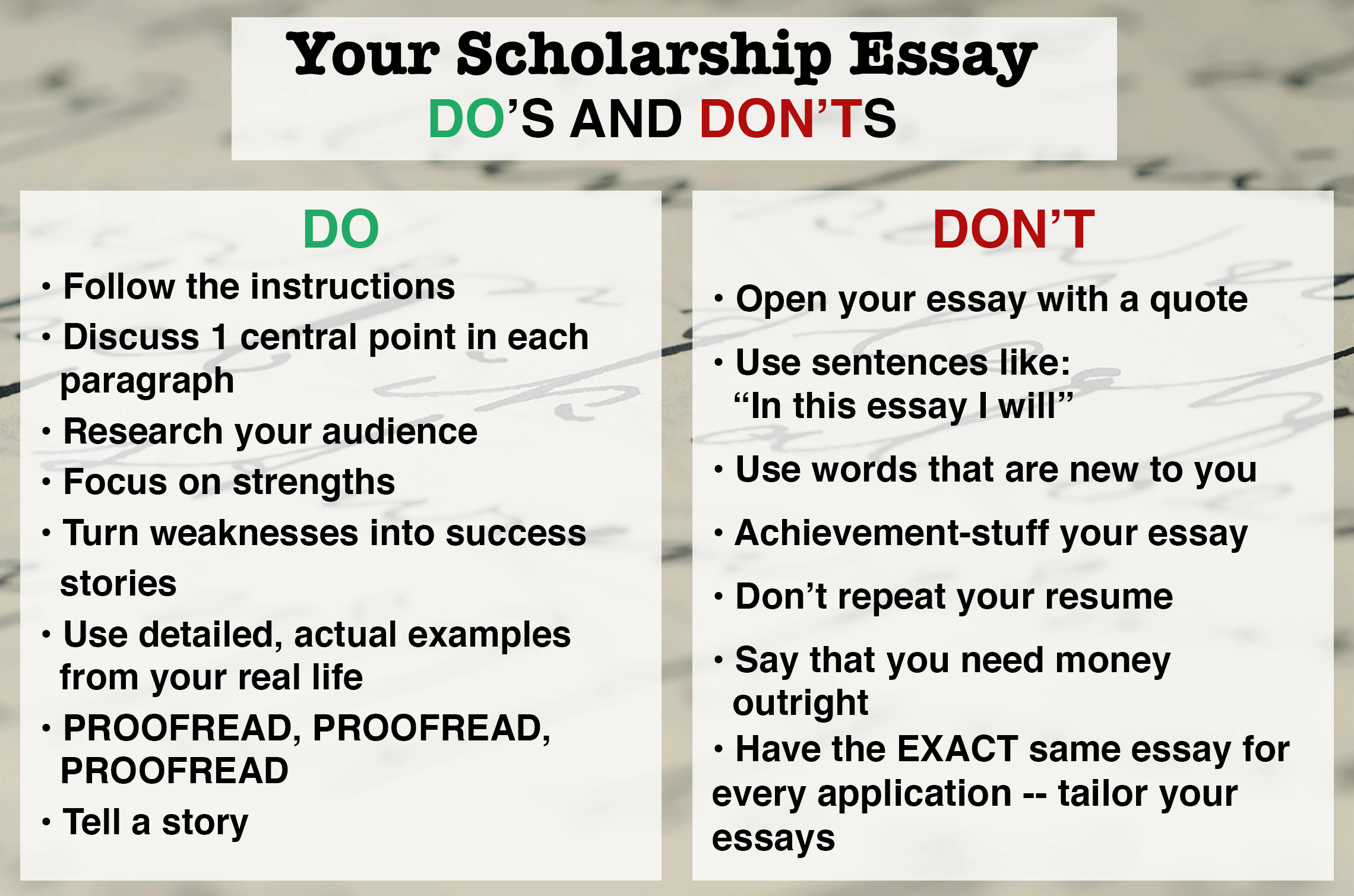 Step #9: Double-check Your Essay
Ever typed a word into your phone and had it auto-correct to something you didn't mean to say? It's the same with your computer. Don't rely on spell-check. This is one of the most important tips on how to write a scholarship essay.
Use a tool like Grammarly! Click here to download it for free!
After you've finished writing, re-read your essay from start to finish, out loud. It may seem silly to read what you just wrote, but trust us, it's a good idea.
Ok, but why do I need to read it out loud?
Sometimes sentences you don't remember writing can sound strange. Sometimes you may use one word so much that it sounds repetitive. You can catch these kinds of errors much faster if you see AND hear them.

Step #10: Have a Professional Review Your Essay
Are you still listening?? This step on how to write a scholarship essay is important!
Think about if you were to enter singing auditions for American Idol, or The Voice. You could just wing it, but more likely you'll want to practice singing in front of other people first. Why? Because you're actually practicing your audition itself.
In this same way, you want to practice having someone else read your essay and hear their feedback. It's a lot better to have someone ELSE tell you where your essay needs work than the person who is no longer offering you a scholarship! Trust us, most winning scholarship essay examples that you'll find online was reviewed by a professional.
Who should you ask to review your essay?
Ask a professional. What I mean is, ask someone who has experience with writing. If this person also seems to value the same things the people awarding the scholarship do, EVEN BETTER.
What kinds of people can help with essay writing and/or scholarship applications?
Your English teacher
Your school counselor
An English tutor
Conclusion: How to Write a Scholarship Essay
There are over 2+ billion dollars in private based scholarship available. So believe us when we say there are tens of thousands of dollars to be had for everyone who puts in the work.
In conclusion, the following steps can easily make you $500 per hour to help offset the cost of college. Once more, to write a winning scholarship essay:
Get started early (3 weeks in advance — I mean it!)
Read all of the instructions (TWICE, and highlight!)
Know your audience
Talk to someone who is part of a scholarship committee
Brainstorm your ideas
Pick a topic you care about
Use an outline
Tell a story
Double-check your essay for mistakes
Have a professional review your essay
You might also find these articles useful:
Oh… and before you go… if we haven't said it enough…
Use the same tool we used to edit this blog for grammar and spelling errors! It is 100% free and is a lifesaver!
Believe me! Click here to download and get started!

The following two tabs change content below.
Hello! My name is Todd. I help students design the life of their dreams by ensuring college, scholarship, and career success! I am a former tutor for seven years, $85,000 scholarship recipient, Huffington Post contributor, lead SAT & ACT course developer, host of a career exploration podcast for teens, and have worked with thousands of students and parents to ensure a brighter future for the next generation. I invite you to join my next webinar to learn how to save thousands + set your teenager up for college, scholarship, and career success!
Latest posts by Todd VanDuzer (see all)