Get Ahead in Reading and Writing!
My mom is a Kindergarten teacher in California, and one of the things she works hard on with her students is recognizing sight words. Sight words for kindergarten students are the basic building blocks toward reading.
As adults with years and years of experience reading, we no longer have to sound out words. Words do not even need to be spelled correctly and we can still read and understand! Take this famous example often shown in psychology classes: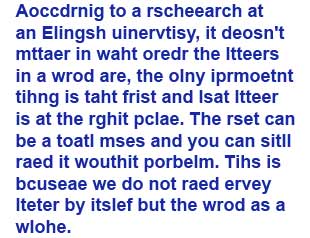 This is pretty neat!
And it is the same principle behind kids learning sight words in Kindergarten, 1st grade, 2nd grade, and beyond! There are certain high-frequency words that appear in the English language and it is important kids can recognize them, read them, understand them, and move on without a lot of mental energy being spent.
Here is a good list of sight words to start with for kindergarten students. As your kids master these, add more and more!
Use flashcards to quiz your kids and make it a fun game. Give it a fun name like "Word Quest" or "Brain Training" or "Sight Right."
Also, feel free to print out this image and cut into flashcards for use right away. 🙂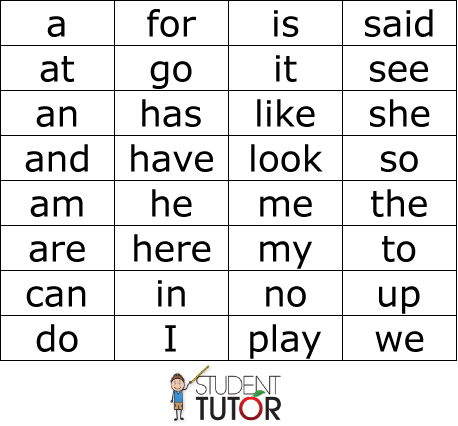 And one last tip, if your child is not yet in Kindergarten, give him or her a head start! Kids love these kids of engaging activities and if they can start reading sight words for Kindergarten before they get to school, then that is a terrific advantage for their reading success and academic self-confidence.
Happy Reading!
The following two tabs change content below.
Laura earned a Master's degree in Secondary Education plus Teaching Certification for Mathematics and Psychology in both AZ and CA. Her undergraduate work was in Psychology with a minor in German from UCLA where she graduated magna cum laude. She has been tutoring since the 90's, was a high school teacher 2006-2011, and still teaches for a local college. Laura is passionate about teaching, learning, entrepreneurship, and traveling the world with her husband, their dog Tuck, and her Macbook Pro. -- Join Laura on Linkedin & Twitter!
Latest posts by Laura Petersen (see all)