Kindergarten sight words are the basic building blocks toward reading.
As adults with years and years of experience reading, we no longer have to sound out words. Words do not even need to be spelled correctly and we can still read and understand! Take this famous example often shown in psychology classes: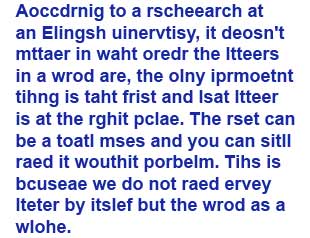 This is pretty neat!
And it is the same principle behind kids learning sight words in Kindergarten, 1st grade, 2nd grade, and beyond! 
What are Kindergarten Sight Words?
There are certain high-frequency words that appear in the English language and it is important kids can recognize them, read them, understand them, and move on without a lot of mental energy being spent. These are called sight words. Learning how to read these easy words will make them more confident readers even before they enter kindergarten in a public for private school.
That being said, it is perfectly fine if your child already shows interest and can already mutter some of these words before they enter school. There are some kids who really have a knack for reading and we should encourage them more by patiently teaching these high-frequency words.
How Many Kindergarten Sight Words are There and What are They?
There are only 52 sight words for kindergarten and they are the following: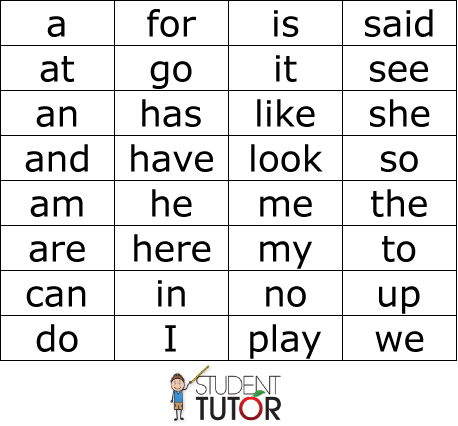 These 52 Dolch sight words are commonly seen on books for Kindergarten students. Once they already know how to read these simple words, they will be able to read short passages more fluently and quickly. Who knows, they might even find it easy to learn a new language because these have motivated them to read.
How to Teach Sight Words for Kindergarten?
So you are already aware of the different sight words that will help your child be more fluent in reading, but how will you teach them these words? Do not worry. Student-Tutor got you covered. Here are some of the steps to teach sight words for kindergarten:
Introduce the list of sight words to your child. You can choose whether you show it to them through flashcards, hanging a poster on their wall, or simply reading from a piece of paper.
Read every sight word to your child and tell her that you will teach her one word every day for mastery. Make sure that you appear excited when you tell her this.
Before teaching your child one sight word a day, ask her if she knows any of the words already. If she does, write a smiley on that word.
Every day, teach your child a new word. But also recall the previous sight words you taught her and see if she remembers. Do not forget to put a smiley on the words she recalls perfectly.
Below are some other ways to help your child master her sight words:
Trace Sight Words
Tracing is a very effective way to teach sight words for kindergarten. Why? They are not only reading the words but engaging in them using their pen or markers. This will help them easily recall the words because they spend minutes interacting with them in a fun way.
Another good suggestion to trace Dolch sight words is to have your child use different colors in doing so. She can use two to four colors depending on the kindergarten sight words' number of letters. Some of the benefits of doing this are that they develop their motor memory and at the same time, mastering the spelling of the word.
Print Sight Words
Kindergarten sight words can also be taught by having your child type them on their favorite word processing programs like Google Docs and Microsoft Word. Most kids are tech-savvy so they won't find it hard to type, change the colors, font, and size of their Dolch sight words. You should guide them while doing this and have them print it and post it on their bedroom wall. These can also be used as flashcards!
Identify Sight Words in Sentences
If you think that your child is ready, ask her to identify the sight words in example sentences. This is a good way to test if she can really read the word and understand it or if she is still confused as to what it means and how it is read. Identifying words when it is already included in a string of sentences is a crucial skill that will make her fluent.
Here's how you can encourage her to identify sight words for kindergarten in a sentence:
Play some sort of I Spy. But instead of looking for objects, what they need to search for are dolch sight words.
Have them use a highlighter to point out the words.
Make sure that the sentences aren't that complicated. 
Teach Sight Words with Pictures
It is quite hard to associate kindergarten sight words with pictures because some of them aren't nouns. Your best option is to ask your kid to draw or illustrate something that reminds them of that word. This can also serve as flashcards for your future activities. 
Importance of Kindergarten Sight Words Flash Cards
Here are some benefits of using flashcards in teaching Kindergarten sight words.
Handy for quick practice.
Kids can use it to study on their own.
It is a fun way to teach Dolch sight words.
In using flashcards, start with only three words. Do not overwhelm or frustrate your kid by teaching the 52 kindergarten sight words all at once. If they have already mastered the first three, add another one on a daily basis. 
Sight Word Games
Wanna make learning sight words for kindergarten more enjoyable? Below are some fun games you should try with your kid.
Word Hunt.

Ask your child to hunt sight words on their kindergarten book. They may use highlighter pens of tapes to point out the words they found.

Kindergarten Sight Word Bingo.

Print several unique sight word bingo cards and use it to teach your child and similar-aged cousins about these frequently-used words for kindergartners.

Dolch Sight Words Fly Swat.

Print colorful flies with sight words written on them. Then, give your child a swatter to point out the sight words you are going to say.

Sight Word Fishing.

Print out or buy sight words flashcards and put any metal on it including stapler, or paper clip. Then, make a fishing rod and attach a magnet at the end of the line. Once you say the word, your child will use their fishing rod to choose the word he heard.

Water Balloon Smash.

Fill balloons with water and write sight words on them. Line them up on the sidewalk and ask your child to smash the balloon of the word you will say.

Sight Word Hopscotch.

Draw hopscotch on the sidewalk and write a Dolch sight word in each. Let your kid read the word as they hop on it.

Dolch Sight Words Bean Bag Toss.

Layout the flashcards on the floor. Then get a tiny bean bag and have your kid toss it on the flashcards. Task them to read the word where the bean bag landed.

Sight Words Pathways.

Print the kindergarten sight words on different colored papers. Lay them out all over the room to create several paths. You can also put some under the tables or chairs. 
Sight Word Apps
A lot of children these days are always spending time on their phones in school and at home. One good way to utilize these devices is to install some kindergarten sight word applications on them. Here are the top apps that you can download for your child:
Sight Words for Other Grade Levels
Here are other sight words that your kid may want to practice on:
Pre-K Sight Words
a, and, away, big, blue, can, come, down, find, for, funny, go, help, here, I, in, is, it, jump, little, look, make, me, my, not, one, play, red, run, said, see, the, three, to, two, up, we, where, yellow, you
First Grade Sight Words
after, again, an, any, as, ask, by, could, every, fly, from, give, going, had, has, her, him, his, how, just, know, let, live, may, of, old, once, open, over, put, round, some, stop, take, thank, them, then, think, walk, were, when
Second Grade Sight Words
always, around, because, been, before, best, both, buy, call, cold, does, don't, fast, first, five, found, gave, goes, green, its, made, many, off, or, pull, read, right, sing, sit, sleep, tell, their, these, those, upon, us, use, very, wash, which, why, wish, work, would, write, your
Third Grade Sight Words
about, better, bring, carry, clean, cut, done, draw, drink, eight, fall, far, full, got, grow, hold, hot, hurt, if, keep, kind, laugh, light, long, much, myself, never, only, own, pick, seven, shall, show, six, small, start, ten, today, together, try, warm
Noun Sight Words
apple, baby, back, ball, bear, bed, bell, bird, birthday, boat, box, boy, bread, brother, cake, car, cat, chair, chicken, children, Christmas, coat, corn, cow, day, dog, doll, door, duck, egg, eye, farm, farmer, father, feet, fire, fish, floor, flower, game, garden, girl, goodbye, grass, ground, hand, head, hill, home, horse, house, kitty, leg, letter, man, men, milk, money, morning, mother, name, nest, night, paper, party, picture, pig, rabbit, rain, ring, robin, Santa Claus, school, seed, sheep, shoe, sister, snow, song, squirrel, stick, street, sun, table, thing, time, top, toy, tree, watch, water, way, wind, window, wood
Final Thoughts: Sight Words for Kindergarten
Even if you aren't an expert on handling kids, you will find it easy to teach kindergarten sight words as long as you have the patience and you have creative hands. Kids have a natural talent for identifying words and they will surely understand these sight words for kindergarten in just a few days of practice.
Here are some other resources from Student-Tutor that you would love:
The following two tabs change content below.
Hello! My name is Todd. I help students design the life of their dreams by ensuring college, scholarship, and career success! I am a former tutor for seven years, $85,000 scholarship recipient, Huffington Post contributor, lead SAT & ACT course developer, host of a career exploration podcast for teens, and have worked with thousands of students and parents to ensure a brighter future for the next generation. I invite you to join my next webinar to learn how to save thousands + set your teenager up for college, scholarship, and career success!
Latest posts by Todd VanDuzer (see all)