Computer coding for kids has become a hot topic among parenting and educational circles.
As technology becomes more prevalent in our lives, an increasing number of organizations that teaching coding for kids have cropped up.
For example, I am not even a programmer and have had to use basic HTML, CSS, PHP, and Javascript a couple times to make tweaks to this website!
In short, having coding knowledge will only provide more opportunities for your student!
During our research on this project, we tried out over 50 of the most popular kids coding products and rated them according to three criteria that we felt would provide our readers with the most value.
1. Effectiveness
We looked at the coding for kids organization's capacity to teach kids computer science concepts, computational thinking, and computational problem-solving.

We gave extra points to solutions that imparted skills that can lead them towards becoming independent computer programmers.
2.Fun
We looked at fun, engagement, and replay value.
3.Creative expression
We looked at the solution's ability to allow kids to get creative.

As software development is inherently a creative endeavor, solutions that capture this provide much more value than rigid academic solutions simply get boring very quickly and end up collecting digital dust.
We evaluated both free and paid products, and as we found there were some excellent products in both of these categories.
Here is our list of the 8 Best Computer Coding for Kids Products of 2018.
Cost: $25 per month for unlimited access to over 30 courses, including chat and messaging with online mentors. Free 14 day trial. School and site licenses available. Good for ages 8 and up.
CodaKid is an award-winning kids online coding school that specializes in teaching kids how to code with real programming languages and professional tools.
CodaKid uses engaging video tutorials to teach tracks such as Minecraft Coding with Java, Roblox Coding with Lua, Game Programming with Python, App Development with JavaScript, Web Development with HTML/CSS.
The best thing that we found about CodaKid was that they provided online mentoring through messaging and screen share support from the CodaKid teacher team when students got stuck. Super cool.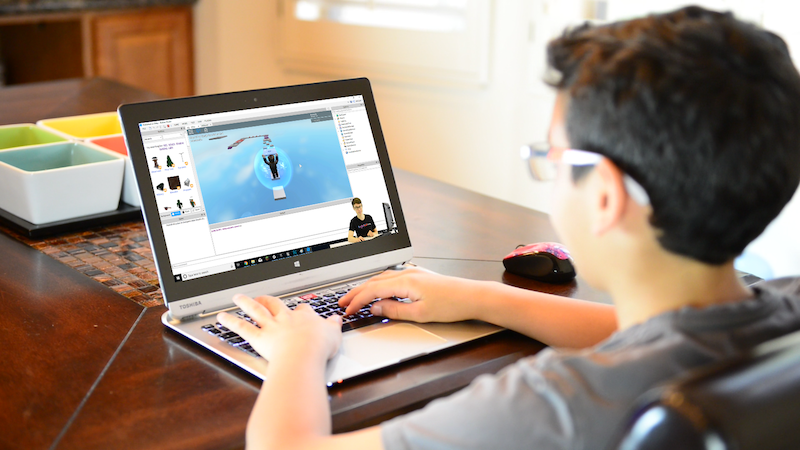 Effectiveness – Codakid
Of all of the coding solutions we've evaluated, CodaKid has the most potential to teach kids how to become independent computer programmers.
Students learn real languages such as Python, JavaScript, and Java, and they use text editors such as Eclipse, Atom, and IDLE.
CodaKid is our favorite solution for kids that are interested in building real games, apps, and websites using the same tools that the pros use.
Fun Factor – Codakid
CodaKid uses projects that kids are already interested in, such as Minecraft mods, Roblox games, 3D Unreal Engine games, mobile game apps, and real websites to teach coding.
The video tutorials are taught by youthful engineers with a YouTuber style of delivery reminiscent of DanTDM and StampyLongNose. The students we evaluated using the CodaKid platform loved the breakout videos and goofy humor, and they were motivated by the exciting projects.
CodaKid is introducing a number of new courses in the coming months that expand beyond game and app development, including AI and Machine Learning.
Creative Expression – CodaKid
CodaKid gives kids an extraordinary amount of freedom to make creative decisions about the games, apps, websites, and other projects that they make.
Bottom Line – Codakid:
CodaKid provides unlimited support from an online mentor team of professional engineers for only $25 a month.
It also provides hundreds of hours of exciting student projects that teach kids using popular games and apps.
CodaKid is perfect for students, coding academies, and schools that want to take coding for kids to the next level.
The platform gives students the feeling of what it's like to be a real software developer while imparting transferable 21st-century skills in a way that kids can understand.
Cost – Subscriptions start at $24.95/month. Good for ages 8 and up. School and district licenses available at volume pricing.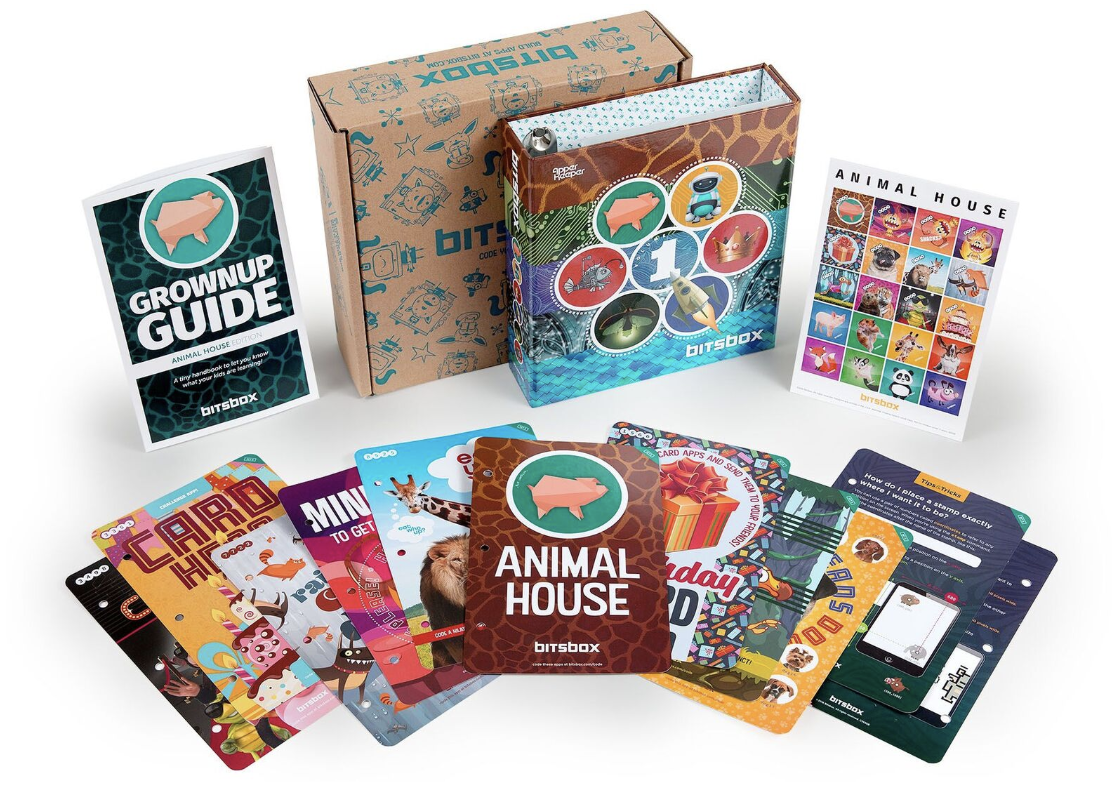 BitsBox is an innovative subscription box service that has also introduced online subscriptions.
BitsBox delivers a new coding challenge each month that teach kids how to create apps using JavaScript, one of our favorite languages for teaching coding for kids.
Students we've surveyed loved getting a new box of coding challenges in the mail every month, keeping the learning fresh and exciting. While you can use any type of monitor for coding , there are a few things that make your life a bit easier and will help you out.
Kids are able to code their projects using Bitsbox online text editor and then transfer them to mobile devices where they can play them with friends and family.
Effectiveness – Bitsbox
Bitsbox teaches kids how to make progressively more challenging games and apps, while introducing a new coding concept each month.
Coding challenges are delivered in small lessons that limit typing to easy, understandable chunks of code. Bitsbox coding exercises uses plenty of helper files to reduce code complexity, while still giving the kids the feeling that they are completing an actual app.
Fun – Bixbox
Kids we interviewed enjoyed the diversity of projects, and the projects were quite fun.
One thing that we wish that Bitsbox had were some relationships with some popular franchises such as Star Wars or Minecraft to make the content more engaging for kids.
Creative Expression – Bixbox:
BitsBox allows kids to customize the look of many of the apps, but the basic games themselves sometimes require you to follow precise directions and frequently limit kids' creativity. This is understandable when you see the style of games that Bitsbox teaches. You simply have to code things a certain way when creating a Bitsbox style game app.
Bottom line – BixBox:
Bitsbox provides a well-thought out and educationally sound subscription box that is effective at teaching core coding concepts to kids. The mystery, intrigue, and surprise of opening a gift box every month helps kids get excited about coding projects, and the ease with which students can transfer their work from their computers to mobile devices is an added bonus.
Cost – Several free courses. Pro plans start at $8 per month. School and district licenses available. Good for ages 6 to 12.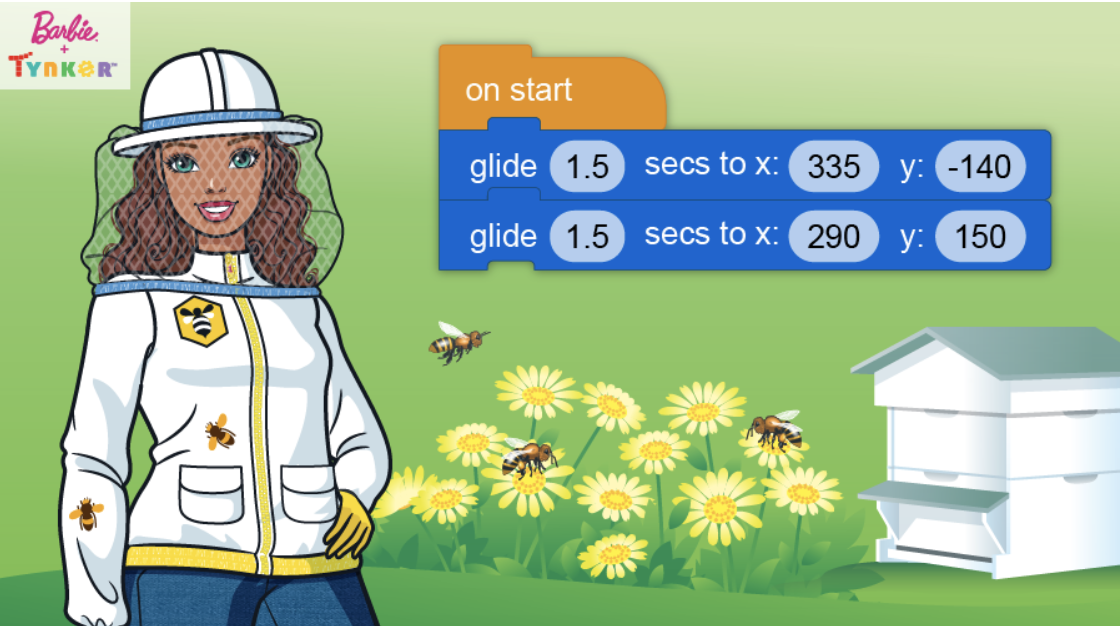 Similar to Scratch, but with more bells and whistles, Tynker teaches kids basic coding and game creation using a visual block workspace, a character creator, and some fun games that feature characters from several exciting franchises, including Minecraft, Star Wars, and Barbie.
Tynker is quite popular with schools, as its platform can be taught by teachers without engineering experience.
Tynker recently acquired Pythonroom to bolster its middle and high school coding offerings. Tynker is very popular in schools, and boast having taught coding to over 32M students worldwide.
Effectiveness – Tynker:
Tynker provides a series of well-thought-out courses that provide progressively more challenging lessons as you advance through the platform.
We have found that one of Tynker's advantages over Scratch is that it is more user-friendly for younger students. While Scratch is more of a sandbox that almost requires someone to guide students, Tynker provides a series of well thought out courses that require less guidance and curation.
Tynker is a closed platform that even in its text-based coding lessons merely simulates coding environments and does not provide students with skills using professional tools.
Fun Factor – Tynker:
Tynker's strength stems from its fun activities and its licensing relationships with popular franchises such as Barbie, Star Wars, and Minecraft.
The parents we surveyed said that their kids enjoyed Tynker, but several of them relayed that their students ages 10 and up outgrew the system.
Creative Expression – Tynker:
Similar to Scratch, Tynker provides kids with several tools to help them personalize their characters and gameplay elements.
Because Tynker is designed to be taken and taught by students and teachers with no engineering experience, some of the projects are limited in scope and do not provide much customization.
Bottom line – Tynker:
Tynker is a great solution for schools and academies that don't have staff with engineering backgrounds. The platform provides fun and engaging coding exercises for K-12 and benefits from licensing arrangements with several popular franchises that kids love.
Tynker is finally escaping its previous reputation as a Scratch copycat, with it's clear, well-designed lessons and its new acquisition of Pythonroom.
Cost – Free. Good for ages 7 to 12.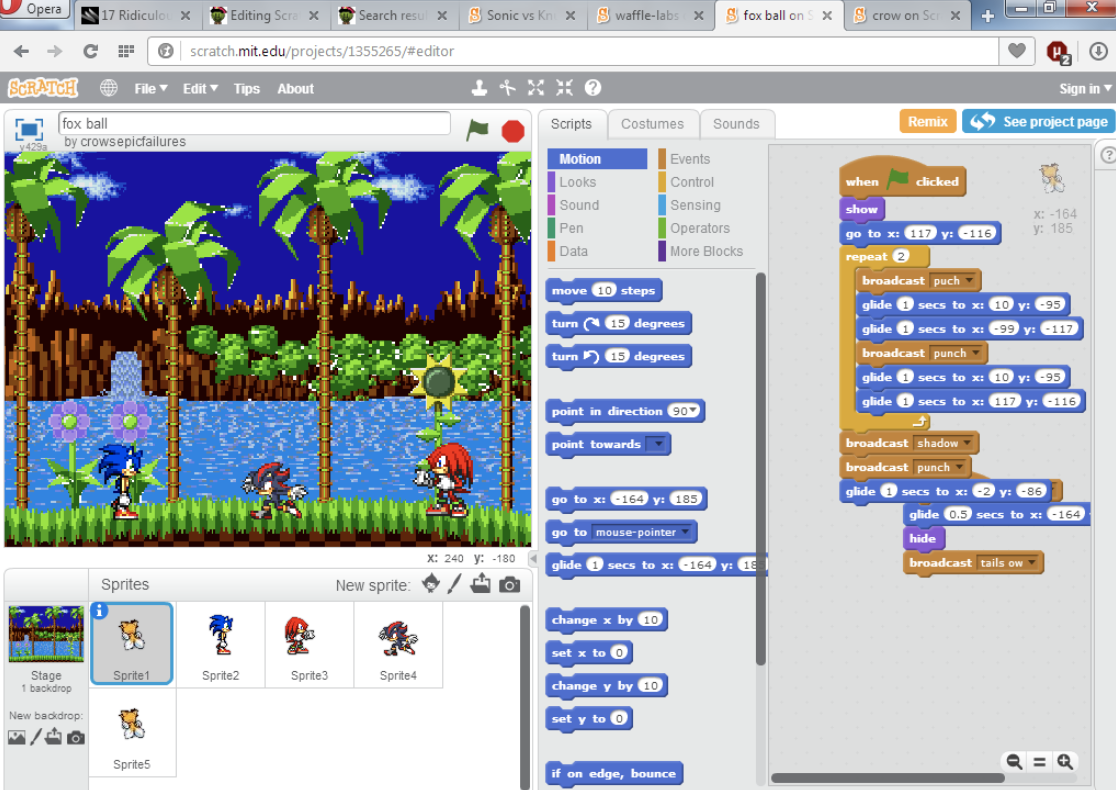 While several of its imitators have released more polished platforms over the past few years, Scratch is the original visual block coding language for kids platform that teaches kids how to make simple 2D games.
With the upcoming release of Scratch 3.0 this August, Scratch will raise the bar, with exciting new features such as mobile compatibility, new paint and sound editors, and a new extension system that will allow kids to program physical devices, such as micro.bit and web services such as Google Translate.
Effectiveness – Scratch:
Scratch is an excellent way to teach kids basic coding concepts while using a visual drag and drop approach. Using this visual block approach, kids avoid frustrations with the keyboard and code by arranging and snapping together code blocks as if they were virtual Legos.
Scratch can be taught by teachers with no coding experience, and older students can self-teach using Google CS lesson plans or by following Scratch visual block code that was used to make exciting 2D games like Asteroids, Donkey Kong and more.
Kids learn how to code independently using this approach, which helps them build confidence and understanding of how games are made.
Fun – Scratch:
Scratch provides kids with thousands of fun projects, and has excellent replay value.
One thing that we particularly love is that Scratch provides access to millions of other students' projects including their Scratch source code. This feature alone provides kids with unlimited possibilities, as they can learn from more experienced coders who have made professional quality games.
Creative Expression – Scratch:
Scratch gives kids the unlimited creative freedom to create game art, custom sound effects, gameplay mechanics, and more. Scratch's brilliance is in a simple way that it created tabs for many gameplay elements.
Bottom Line – Scratch:
Scratch is a great beginner platform, and allows kids to learn coding concepts without having to learn coding syntax. Scratch is a visual block coding sandbox and the platform does not provide clear lessons such as leading competitor Tynker.
Cost – Several free courses. Paid plans start at $9.99 per month. School and district licenses available. Money-back guarantee. Good for ages 8 and up.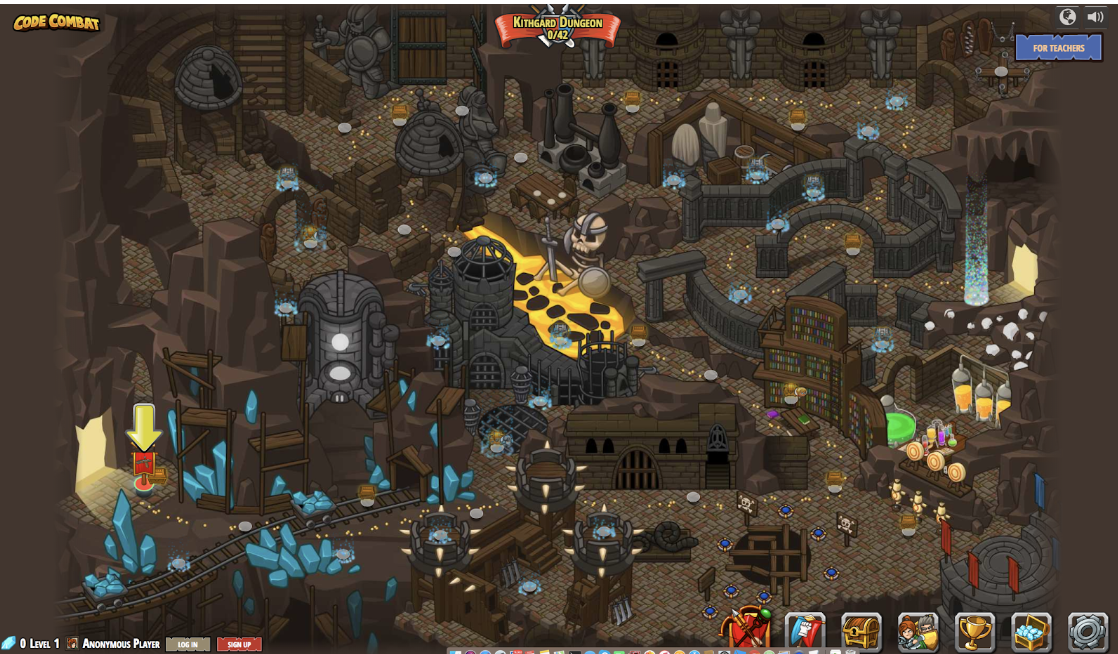 CodeCombat is a platform for students to learn computer programming while playing through a beautifully rendered RPG style game.
Students learn coding through an online text editor and manipulate code to guide their players through a series of challenges.
CodeCombat is free to play for all of its core levels. You can upgrade to a $9.99 per month subscription, which adds extra levels and 3,500 bonus gems per month.
Effectiveness – Code Combat:
Code Combat teaches students 8 and up text-based coding through an online text editor. Students write actual JavaScript and learn a variety of coding concepts taught in a well-designed series of steps with gradually increasing difficulty. The online code editor
Fun – Code Combat:
For students that enjoy RPG style games, CodeCombat provides an immersive environment with a number of fun challenges.
The game provides students with a variety of different challenges and the game's storylines create an immersive experience.
Creative Expression – Code Combat:
While students are able to customize their characters, there is not as much creative expression in CodeCombat as in several of the other solutions we evaluated.
CodeCombat provides a more "on rails" experience where the student is required to follow the game designer's rules in order to pass to the next challenge.
Bottom Line – Code Combat:
CodeCombat presents a beautifully rendered Role Playing Game (RPG) game that students play by completing progressively more challenging coding exercises.
We love that they are teaching JavaScript, and think that for many students the experience is fun and immersive.
Cost – Osmo games can be purchased individually. Osmo's coding family, including Coding Awbie, Coding Jam, and Coding Duo can be purchased for $123. Good for ages 8 and up. Requires an iPad mini.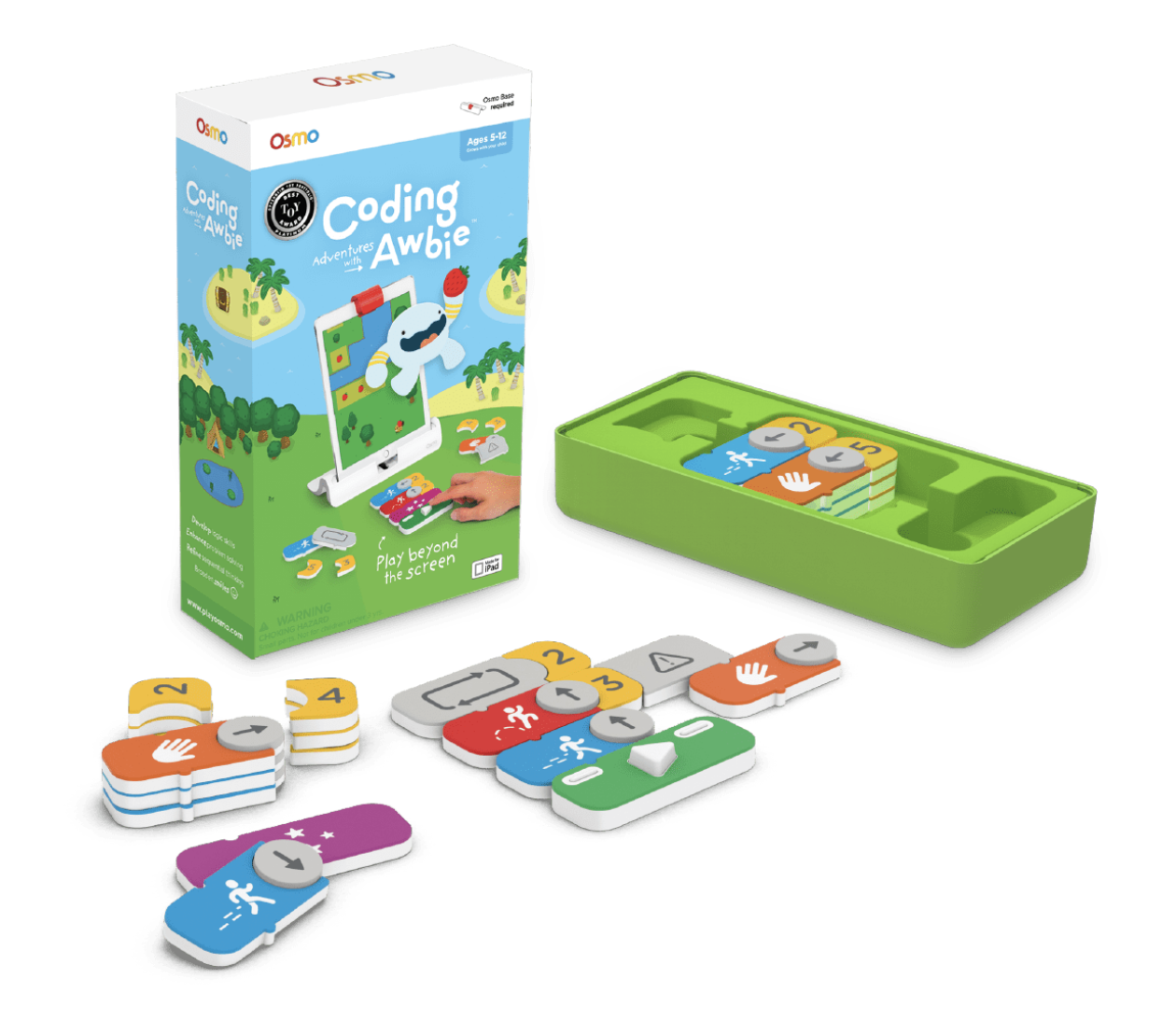 Osmo Coding combines Legos, gaming, and coding. Osmo excels at teaching young children programming concepts by using physical magnetic blocks that allow the user's character to navigate puzzles and other challenges in an iPad game.
While the website specifies that the software is designed for students ages 5 to 12, we think that it's sweet spot for ages 5 to 7. Osmo introduces a compelling, tactile approach to coding instruction and we think that they have great promise for K-2 computer science.
Effectiveness – Osmo:
For younger learners, Osmo provides an engaging experience that teaches basic computational thinking for kids.
Fun Factor – Osmo:
In our lengthy observations of 5 year olds playing Osmo, the kids loved the tactile learning, the humor, and creative approach. Parents we interviewed reported that the Osmo platform provided a ton of replay value and were worth every penny.
Creative Expression – Osmo:
Osmo has several products, and many of them allow kids to use the sketch pad (included) to draw things that then appear as digital images in the various activities. Kids loved seeing their own creations in the games themselves which increased engagement and replay value.
Bottom line – Osmo:
While expensive, there are very few solutions that we've found that are better for kids in the 5 to 7 year age range. The tactile approach, Interactive sketch pad, and humorous animated characters are perfect for younger learners, providing hours and hours of replay value.
Code.org has been featured by Hour of Code and is used by many public schools to teach introductory computer science.
Code.org's starter modules provide easy to use drag-and-drop interfaces and their more advanced courses feature text-based programming exercises. Code.org has signed licensing agreements with Minecraft, Scratch, Tynker, CodeBattle, and others to bring popular characters and games to their platform.
The strength of Code.org (aside from the fact that it's free) is that they have a sequential, very well thought out approach to teaching computer programming. The downside is that kids never quite experience the feeling of building something from the ground up and they are confined to a pseudo-environment which seems to encourage drag and drop blocks rather than text.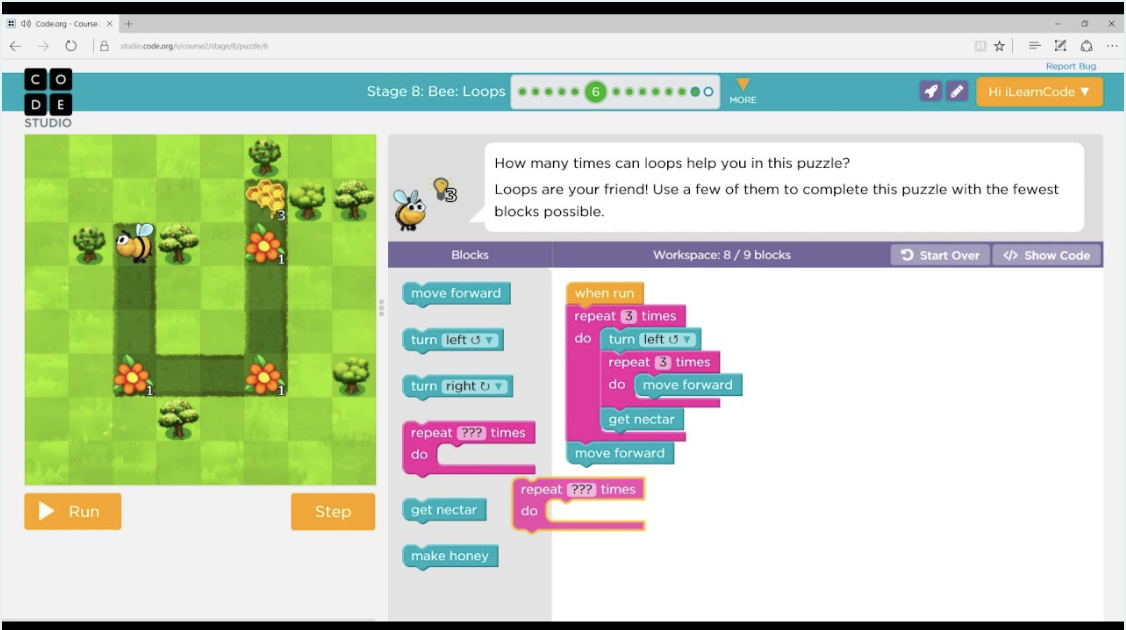 Effectiveness – Code.org:
Code.org is free resource that can followed by students without an instructor, and in school settings can be taught by teachers without engineering experience. As a free tool, it provides content appropriate for ages 4 and up, and ramps up in difficulty level in a very well-thought out and logical manner.
Fun – Code.org:
Code.org has some fun exercises that feature content from popular kids franchises such as Star Wars and Minecraft. Some of the exercises and in particular the user interface (UI) in some of the games are a bit on the "clunky" side.
Creative Expression – Code.org:
Code.org, like so many closed platform providers, have restricted creativity in order to reduce user error. Many of the games and exercises provide an "on rails" experience that limits creative expression.
Bottom Line – Code.org:
Backed by Bill and Melinda Gates Foundation among others, Code.org has an impressive mission to teach the world to code. Code.org provides fun and engaging exercises for students as young as 5, and is very popular with schools and districts. Code.org is not as well-polished as several of the paid competitors listed above, and some of its exercises feel clunky. We like their recent partnerships with franchises such as Minecraft, and look for great things from Code.org in the future.
Cost: Starts at $66 per hour for personalized tutoring, online or in-person in the Bay Area. Good for ages 8 to 15.
Breakout Mentors is the most personalized kids coding option and also long-term.
Each student is paired with a mentor, a college student studying Computer Science at either Stanford and UC Berkeley, who customizes the project-based learning. Kids meet the same mentor every week for 90 minutes to keep advancing at the perfect pace.
The impressive thing is there is no limit to what a student can learn with Breakout Mentors. Like other options, they use common programming languages Scratch, Python, and Java to create fun games, but they also have advanced students learning full-stack web development, Unity 3D, iOS Swift, C++ USACO, and more.
Effectiveness – Breakout Mentors:
The long-term nature of Breakout Mentors provides an extremely effective learning environment.
Quite a bit falls on the mentor to adjust the difficulty and help the student code projects from scratch. Thus, the experience may be very different from one student to the next.
Fun Factor – Breakout Mentors:
Building a relationship with a college student passionate about Computer Science is a big part of what makes Breakout Mentors fun.
Parents we spoke with said their kids already had an interest in coding before starting with Breakout Mentors and were able to deepen that interest over months or years of learning.
Creative Expression – Breakout Mentors:
With the personalized approach of Breakout Mentors, kids get to be extremely creative. They can come up with feature ideas for their project and have the support of a mentor to bring it to life.
Bottom Line – Breakout Mentors:
Breakout Mentors is an excellent choice if your son or daughter struggles with tutorial-based learning, or needs something more personalized. We love the support for advanced kids too. However, it is by far the most expensive option we evaluated, so isn't for everyone.
Computer Coding For Kids Summary
We hope that you've enjoyed our article Top 7 Coding for Kids products where we provided in-depth reviews on:
Codakid
BitsBox
Tynker
Scratch
CodeCombat
Oamo Coding
Code.org
Breakout Mentors
There are a lot of different organizations out there so we know it can be difficult to figure out which one to use.
Our suggestion! Pick a couple and have your student try them out. See which one they enjoy the most!
Did we miss any products that you think should have made our list? If so, please leave comments below!
The following two tabs change content below.
Hello! My name is Todd. I help students design the life of their dreams by ensuring college, scholarship, and career success! I am a former tutor for seven years, $85,000 scholarship recipient, Huffington Post contributor, lead SAT & ACT course developer, host of a career exploration podcast for teens, and have worked with thousands of students and parents to ensure a brighter future for the next generation. I invite you to join my next webinar to learn how to save thousands + set your teenager up for college, scholarship, and career success!
Latest posts by Todd VanDuzer (see all)