Want to hear something totally crazy? You can earn a college degree… IN HIGH SCHOOL. What! Yes.
How is this a thing? It's called Dual Enrollment, and it's an awesome way for your child (and you) to save time, money, and get a head start on their college career… before graduating High School!
I talked to Erin Hintze, a High School senior at Xavier College Preparatory in Phoenix, Arizona who will be graduating with her High School diploma this May… along with an Associates of the Arts COLLEGE degree.
#1: So what exactly is Dual Enrollment?
Dual Enrollment, Concurrent Classes, Special Admissions… Whatever name they're given, they're Dual Credit courses offered by a student's High School and partnering college that count toward both the student's High School Diploma and their college credits. (Hence the "Dual") Basically, your student is taking two classes in one. 
#2: What are the requirements for Dual Enrollment?
Requirements for Dual Enrollment vary from state to state. But I dug up this nifty document that can give you specifics on any state in the US.
Here's how it works for Arizona: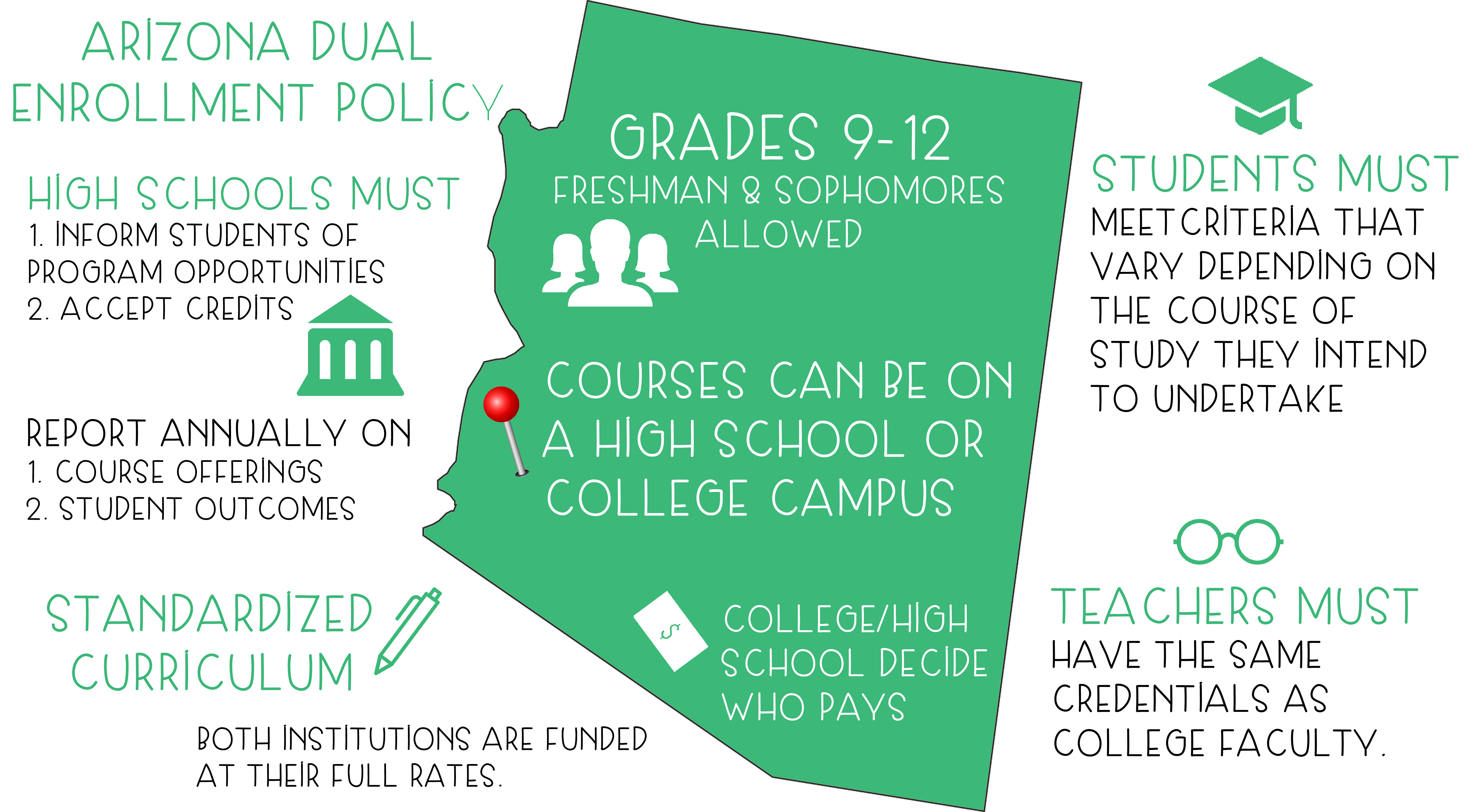 #3: Where do you take Dual Credit Courses?
Where are my keys? Where is the remote? WHERE IS WALDO? We may never know these things. The location for your Dual Credit courses, however, can vary. The state ultimately determines what is allowed.
Places Dual Credit courses are typically offered:
High School campuses
College campuses
Another location that has been approved for the course
If you're interested in earning a degree in High School, you'll learn in a bit about how you can take additional online classes along with your dual credit courses.
#4: Why should my student enroll in dual credit courses?
Isn't Dual Enrollment just another reason for schools to ask for money? Actually, if your student takes Dual Credit courses, it will SAVE you money. Think about it — You are paying for your student to take essentially the SAME class in both High School and College.
Let's say that you're going to earn yourself an Associate's Degree through your Dual Enrollment. According to topuniversities.com, a standard Associate's Degree in the U.S. requires 60 credit hours total. That's exactly half the credits of a Bachelor's Degree, the typical 4-year college degree requiring 120 credits.
So what does 2 years in college look like cost-wise for students who earn those credits through Dual Enrollment — compared to those who take the traditional route? Here's a comparison between ASU and Rio Salado. (For Arizona students)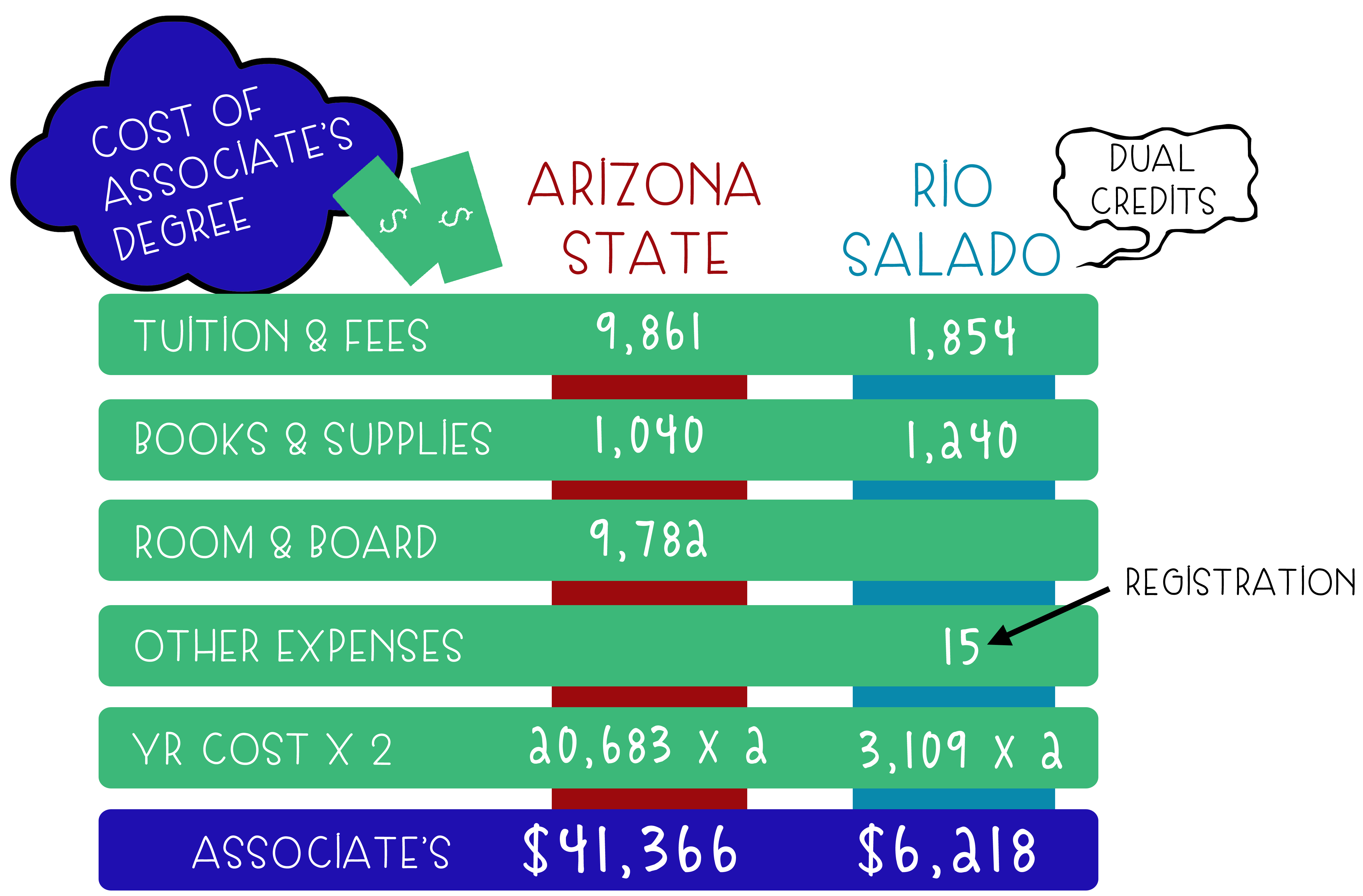 OK, but wouldn't it be better if my student just waits until college to earn those credits? OR, you could save the time your student would spend re-taking that class in College that they already took in High School, and make room for them to add classes that are specific to their major. Especially since the majority of students will change their major at least once throughout their High School career, normally setting them back a year or more.
Still not convinced? Check out the responses I got from my interview with Erin.
#5: What's this about earning a degree?
We sat down with Erin and her parents, Denise and Patrick, to talk about how this was possible. In case you didn't catch it before, Erin is currently a Senior in High School. On May 5th, 2015, she'll receive her Associates of the Arts degree from Rio Salado College, making her a college graduate before she's even graduated High School.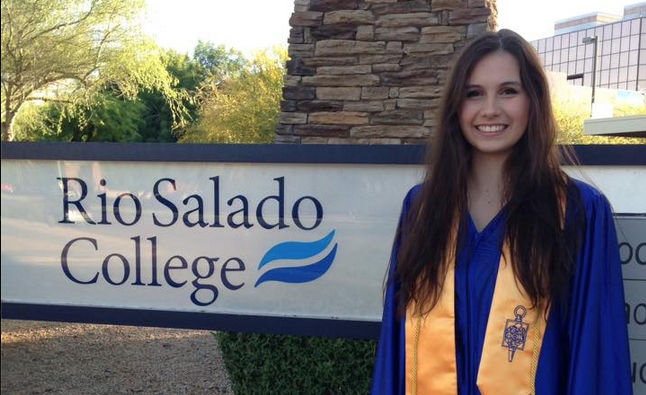 Q1: How did you hear about Dual Enrollment? 
"They weren't available, obviously, when we were in High School." – Patrick
Erin's parents first heard about Dual Enrollment from Erin's older cousin Stacey. Back then, Patrick says, the school was only offering "a little over 12 to 15 credit hours." However, Xavier in particular has increased the amount of dual credit hours yearly.
"Each year it has expanded and expanded," Denise says,  "Pat's joked around about there one day being a Xavier graduation where you get your 'Thank you', you go down the line and you get your college degree too… it's awesome."
Q2: How was the process overall? 
"I started doing dual enrollment my sophomore year," says Erin,  "I didn't really know to what extent it would help. I just knew that I have to pay for college and my parents offered to pay for Rio Salado, which was the same college credit. I decided to take advantage of that and get as much of that credit as I could…I knew it would help me in the long run."
Erin and her mom explained that originally, the principal of her High School arranged a meeting for all the students that could qualify for earning the degree.
"They pulled them aside, told them what they would need and what additional, online, out-of-Xavier classes they would need to complete to get their degree." – Denise
At the meeting, Xavier gave the students access to the email of a Rio Salado counselor, and the students were encouraged to get in contact if they were interested.
"He ended up coming by for I think probably a solid week at Xavier, just talking to different girls who came in and had questions. So we really made good contact with him there." – Erin
Q3: Were there any challenges in earning your degree? 
Erin is a working student. For her degree, she took 2 additional online classes outside of her dual credit courses. Her parents and her explained that the biggest challenge of all was Time Management.
"I took an extra day off of work, so I don't work on Tuesdays. I normally try to get it [her homework] done on Tuesdays, otherwise I do it Friday night or Saturday."
Erin is also a great example of what being organized can mean for a student's academic success.
"I'm a list person, so I make lists every single day of what I need to get done that day and then add extra stuff to the list of things I'd like to get done that day. I have boxes for if they're half done, if they're fully done, if I don't need to do them today…"
Q4: Were your dual credit courses more difficult than your regular classes?
"The CIS course seemed to take a little more effort for her and maybe was a little more stressful, which in my eyes was a good thing because it meant that she was actually applying herself and studying." – Patrick
Erin also opted to take her CIS class over the summer so that she could receive dual credit for it. Courses that don't meet the Dual Enrollment curriculum can be modified to count as college credits. She explained that time management came into more play then than it did during the school year, because summer was accompanied by extra hours at her job and time with friends.
"It's easier to just go from homework to homework, but when you have the whole day you really have to set that time aside."
Q5: How does it feel to have earned a College degree before graduating High School? 
"It feels good. Aside from just the accomplishment of being a college graduate before a High School graduate, it's going to help because it'll definitely add to my resume. Academically I'm going in [to college] as a Junior next year and it's gotten rid of all my electives and English classes and what not. Purely looking just at hours and not at classes, I am halfway through my college career. I've got my classes next year and it's all just related to my field so it's kind of nice to just delve into that aspect of it."
Q6: Did taking Dual Credits help you decide what major you wanted? 
"I was looking for classes that offered Rio Salado so that pushed me to get to different classes than I thought I would. I took more classes that interested me and were also for Rio Salado like astronomy, and taking the CIS class especially helped me want to go into Computer Systems Engineering."
Q7: As parents, what was the majority of your involvement in the process?
"It was really easy. Just helping her sign up for her classes, finding which classes were available, and assisting her financially. Also, stressing the huge opportunity that the program afforded her, while the other kids and their parents didn't really see the value of the dual enrollment process. However, I've heard from a lot of parents and kids that they regret not doing it." – Patrick
Q8: You said that other parents and kids have expressed regrets to you about not doing the same thing, what is some of what you've heard? 
"I've heard from a lot of kids that were able to get their Associate's degree but decided that it wouldn't work for one reason or another, so they didn't do it and after learning that it wouldn't affect scholarships, and learning that their next college would accept the credit if they had the degree, they regretted not doing it." – Erin
"I think that the information's out there. I just think a lot of people think it's too good to be true… Another huge opportunity is that by getting those basic classes out of the way it allows you to pick up another degree at the university." – Patrick
Q9: What would you recommend to students and parents considering Dual Enrollment? 
Erin's father says that he "recommends it highly for the serious student."
"For the student that excels in school. The last thing you want to do is place more stress on someone, so it's not for everybody, but if the student excels, it's a great opportunity for them."
What does Erin have to say about it? 
"Definitely do it. What is it – like a 10th of the cost of a regular college class? It's the same credit, and even if your school doesn't accept the credit, if you get enough to get a degree then it kind of forces them to accept it. It's a good way to get credit for things that you're doing anyway… It'll look good to employers as well." – Erin
Q10: Will Lauren be enrolling in Dual Credit courses? 
Lauren, Erin's younger sister, is currently a Freshman at Xavier College Preparatory.
"Over the last 4 years they've added several classes. So with Lauren just going into her sophomore year there's a likelihood that there will be more classes available… She may be able to get more than the other girls." – Patrick
#5: Are there any downsides to Dual Enrollment?
What Erin's father had to say about Dual Enrollment being for the serious student is pretty accurate. If your student is struggling in their regular High School classes, they're probably not ready to take on college level coursework.
There are two sides to how credits can transfer:
If your student does poorly in a dual credit course, some schools may be able to see that grade on your application. For example, if you are applying to Med school.
If your student is taking Dual Credit courses to "artificially inflate their GPA" as Patrick puts it, they may be placed into higher level college classes after graduating that they can't handle.
#6: What colleges accept Dual Credits?
OK, so I'll admit, not everybody is on the Dual Credit wagon just yet. By "not everybody", I mean the Ivy Leagues. But there are plenty of Public Universities who will accept your Dual Credits! Here is a list I found on College Confidential of some public colleges that accept Dual Credits.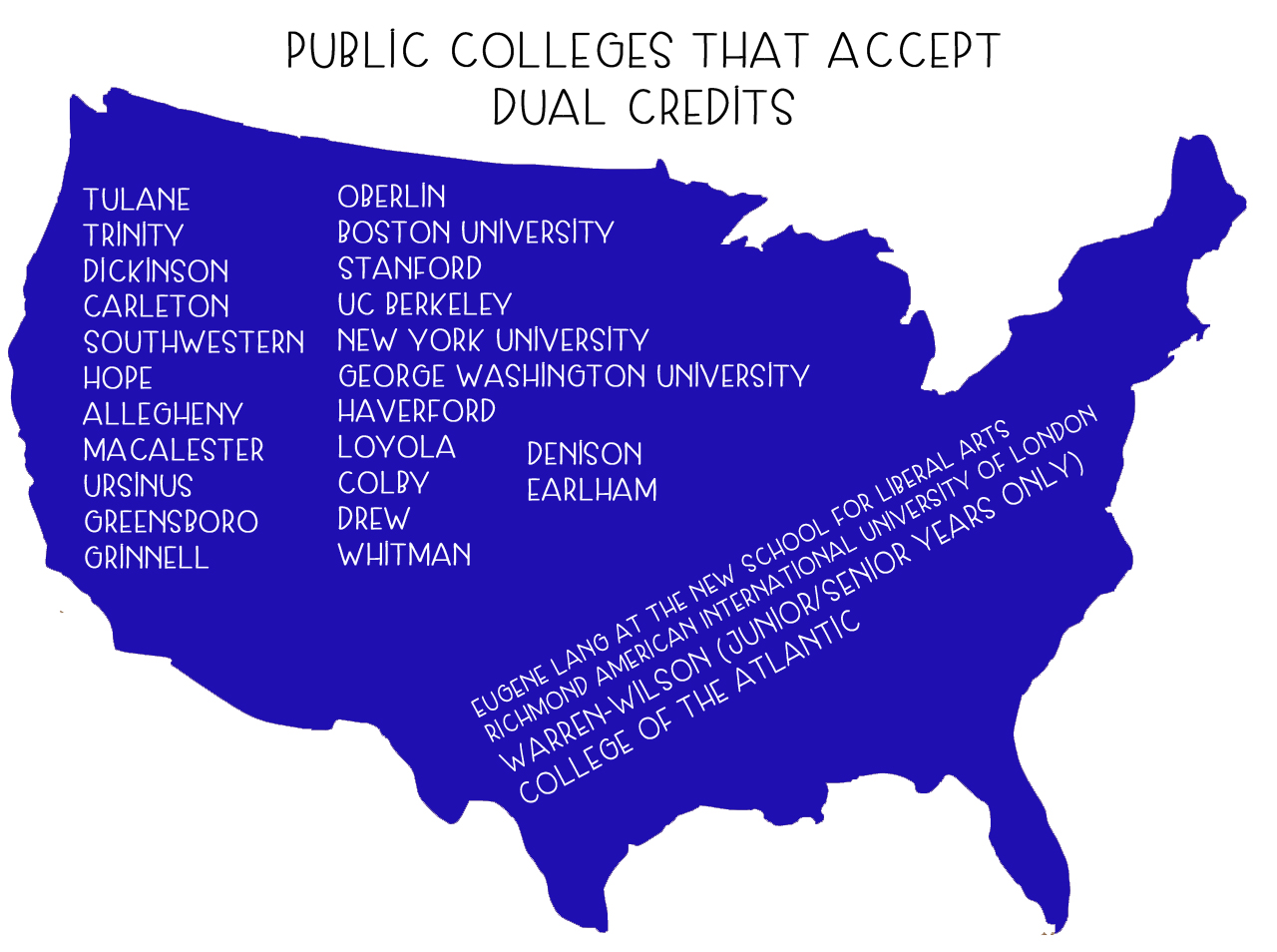 Also, if you live in Arizona, you can take advantage of AZTransfer, which is a collaboration between several Arizona colleges to provide Dual Enrollment options for students.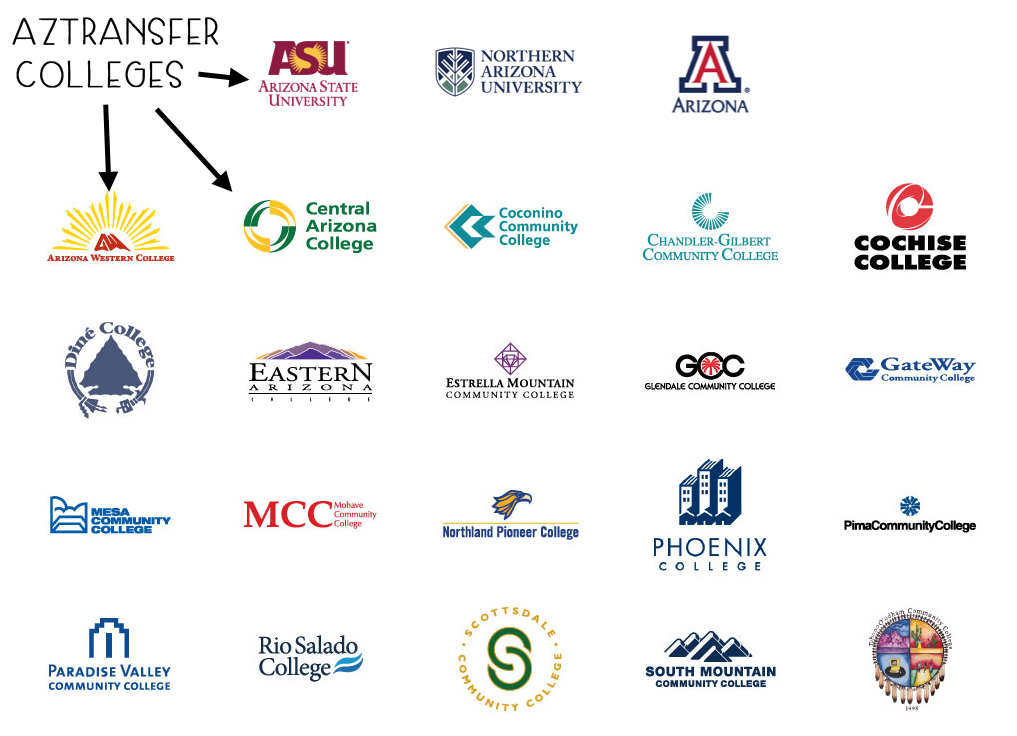 #7: How do we get started?
It all starts with your High School counselor. Schedule an appointment with them to talk about your school's options for Dual Enrollment!
Conclusion
Dual Credit courses can offer your student the chance to get ahead in their college career and possibly even earn an Associate's Degree before graduating High School. Erin's experience with Dual Enrollment has left her feeling prepared and ambitious for college, and she is even considering a triple major!
To review, here are the things I discussed in this article:
Dual Enrollment means you're taking Dual Credit courses offered by a student's High School and partnering college that count toward BOTH the student's High School Diploma and their college credits.
Your Dual Enrollment requirements depend on the state you are in
Dual Credit courses are typically offered on High School campuses, college campuses, and sometimes at another location that has been approved for the course.
Dual Enrollment saves you and your student time and money on courses they would re-take in college
With the help of Dual Enrollment, your student may be able to earn an Associate's Degree before graduating High School
Graphics by Renae Hintze
Know anyone who has benefited from taking Dual Credit courses? Tell us in the comments below!
The following two tabs change content below.
Renae is a marketing/media specialist, graphic designer and advocate for holistic health. Currently earning her BA in Design Management at Arizona State University with a minor in Media Analysis and Certificate in Marketing, Renae is also a Marketing Project Coordinator for the Arizona State, Sun Devil Fitness Complex in Tempe. She is passionate about learning, helping others, marketing, and holistic health.
Follow her on Twitter:
@renaehintze
Professional Profile:
LinkedIn
Latest posts by Renae Hintze (see all)