What's are the differences between AP and honors classes?
This is a question with which many parents seriously struggle with whether they are enrolling their child in a private or public school.
Should my son or daughter take AP or honors courses?
Which are harder?
Which look better for college admissions?
Are AP and honors courses even that different from one another?
AP and honors courses are, in fact, very different from one another.
Both are great ways to challenge your teen and both look awesome on college admissions but there are a few important distinctions you should be aware of before deciding to enroll your child in one or the other.
The Differences between AP and Honors classes
The main difference between AP and honors has to do with college credit. Basically, if you enroll your teen in an AP course, they have the chance to receive credits that they can use to attend their dream college. However, if your teen enrolls in an honors course they will have no such chance.
Sounds like a sweet deal, right?
Take a high school course, AND receive college credit? — Why doesn't everyone do this high school freshman advice?
Well, it's not that simple.
In order to receive college credit for an AP course, your teen must study for the AP exam, and receive a score of 3 or higher (out of 5). However, most colleges require a score of at least 4.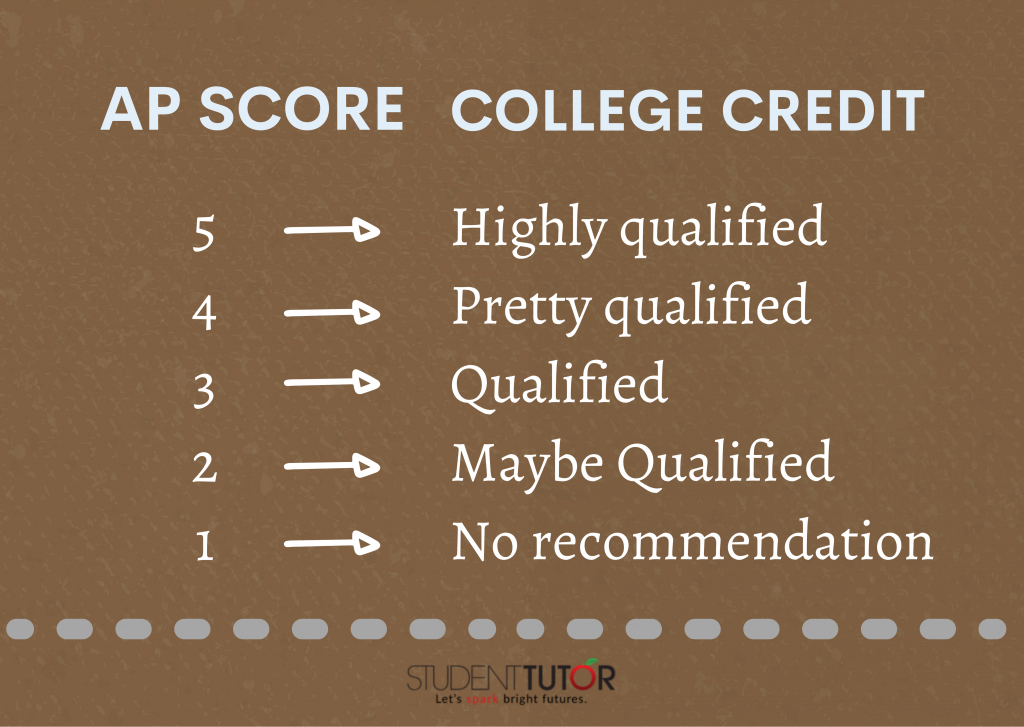 If your child is willing to put in the extra effort and study for the AP exam, then, by all means, they should go for it!
But if your child is too busy or just not into it, maybe honors courses are the way to go, especially if the AP courses offered at their high school are particularly tricky.
That brings us to the next big question!
Which is more rigorous?
There's really no straightforward answer here.
The level of rigor for both AP and honors courses varies by school and by state. At many schools, AP courses are much more difficult than honors courses, while at other schools the exact opposite is true.
Why does the rigor vary so greatly?
There are a lot of reasons.
For starters, some teachers are just harder than others. You know what I'm talking about. We've all had those teachers who give a billion times more work than every teacher we've ever had combined. Then there those teachers who are ridiculously easy…

Also, some schools are just generally less challenging than others!
Factors in Easy vs. Hard AP Classes
The area
Students attending the school
Faculty
Depending on these things, a school might either be extremely competitive, or painfully easy. As a result, AP courses at schools are often less challenging than honors courses at other schools.
Before you decide between AP and honors courses, be sure to do some digging. Figure out how the AP teachers at your teen's school differ from its honors teachers, and how their school compares to other schools.
Differences in what's actually taught
While the curricula (a fancy word for what's taught in the class) of AP and honors courses do often overlap, there are some important differences of which you should take note.
Who Determines AP Curricula?
CollegeBoard (This means that AP teachers across the country cover the same exact topics in their classrooms.)
Who Determines Honors Curricula?
State government officials
Department heads
Honors teachers themselves
So…what's your takeaway?
Well, at many schools, it can mean that the curricula of AP courses are occasionally very dry, because teachers don't have a lot of power to choose what they teach, and are sometimes uninterested in the topics they're being forced to cover.
When teachers are allowed to pick and choose what they really want to cover, as many honors teachers are, they get to teach topics they're actually passionate about and want to teach, rather than being forced to teach topics they're not super passionate about, or with which they are unfamiliar.
Eligibility/Requirements
Honors classes are pretty challenging, right? Especially if you want to get good grades to get to schools like Stanford.
So it only makes sense that there would be some sort of requirement or prerequisite to be able to enroll in them.
For most schools, this takes the form of some sort of placement test. Many high schools also enroll teens in honors courses on the basis of teacher recommendation.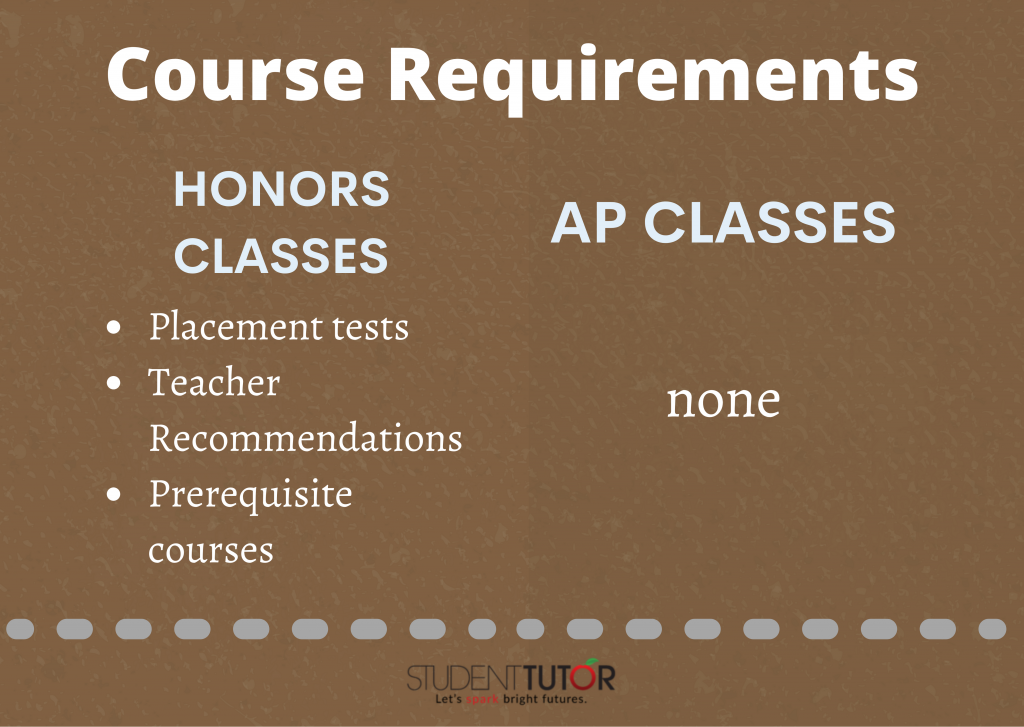 Since AP courses are pretty comparable to honors courses in terms of difficulty and workload, you've probably guessed that AP courses also have some sort of placement test.
Well, guess again!
Actually, CollegeBoard's AP policy states that no school can deny any student the opportunity of taking an AP course, as this puts those students at a disadvantage—they cannot take AP tests, and have no chance of receiving college credit in high school.
If your teen doesn't test well or is, for whatever reason, unable to take their high school's honors placement exam, perhaps AP courses are the way to go!
Which is better for College admissions?
Well, honestly…there's no clear answer to this question either!
It all depends on the college your child wishes to attend.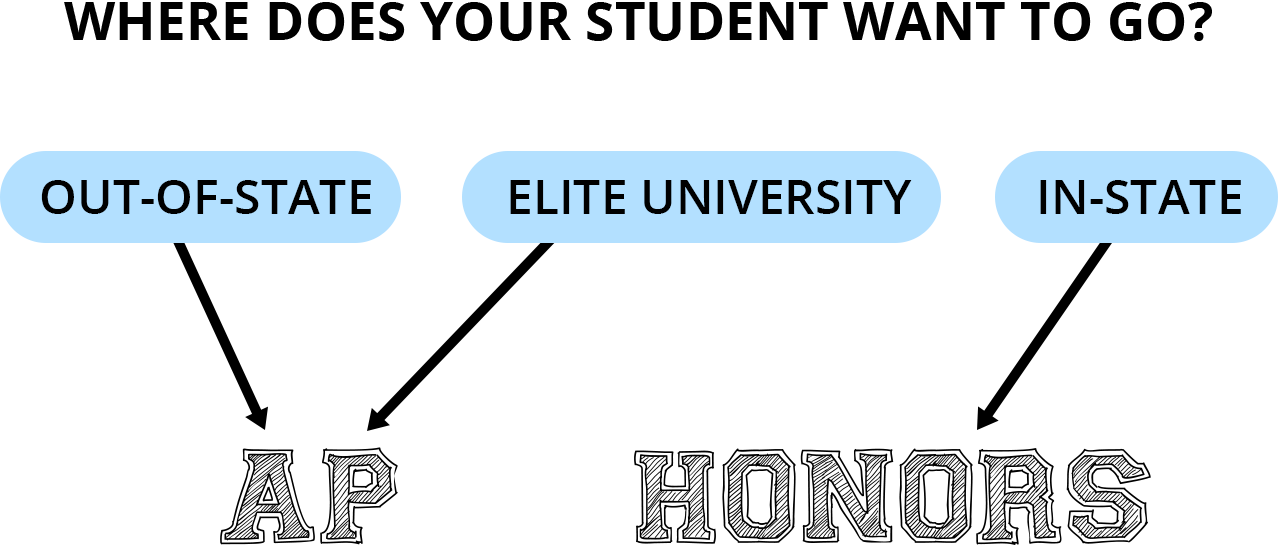 Why is the school and location of my child's college important?
I'll explain.
AP Courses
These are more widely recognized as rigorous.
Even if your teen's high school's honors US history course is more rigorous than its AP US History course, Harvard would have no way of knowing that, and would assume the opposite!
Honors Courses
State universities typically regard honors courses taken in their states as just as rigorous as AP courses.
Why? State universities are usually well aware of the requirements that honors high school teachers must meet in their state.
Your next move?
Talk to your child about what colleges they might be interested in attending! Do some research on the websites of the colleges and find out whether they prefer honors or AP courses.
Keep in mind though… If not done correctly AP/honors classes could LITERALLY RUIN your college and scholarship chances.
Conclusion
Deciding between AP and honors courses can be tough, especially when there are so many things to consider, like rigor, workload, college admissions, and deciding whether to enroll in online classes. But don't stress!
At the end of the day, this decision probably isn't going to significantly impact the long-term life of your teen, and they really can't go wrong with either. I'm sure your teen will succeed, no matter which path they choose!
Know anyone who's made the choice between Honors and AP? — What did they choose and why? Tell us about it in the comments below!
The following two tabs change content below.
Hello! My name is Todd. I help students design the life of their dreams by ensuring college, scholarship, and career success! I am a former tutor for seven years, $85,000 scholarship recipient, Huffington Post contributor, lead SAT & ACT course developer, host of a career exploration podcast for teens, and have worked with thousands of students and parents to ensure a brighter future for the next generation. I invite you to join my next webinar to learn how to save thousands + set your teenager up for college, scholarship, and career success!
Latest posts by Todd VanDuzer (see all)