Let's face it. Universities like Harvard and Yale are buzz words. Many people view elite schools and Ivy Leagues as the best of the best.
That might be true for one student… is it true for yours? 
Not only am I about to give you some advice on how to decode the admissions of universities like Brown and Stanford, but I will also help you lay the groundwork for how to determine if they're actually what your student needs to thrive.
Here are 5-steps to get your student into their dream college.
1. Discover your student's true passions.
What are they good at? Where do they excel? Is it in academics, athletics, music or art?
Understanding this early on is crucial to getting accepted into elite universities like Stanford.
"Living is giving. Fulfillment doesn't come from success, but from contributing to the world. You'll find happiness through giving back more than you take."
Stanford is one of the most elite universities in the world. In order for students to stand out and push the limits, it would only make sense they first have to have the desire/hunger to work harder than even the brightest.
Stanford Myth: You should be as well rounded as possible.
Stanford Fact: Focus on one area and be extraordinary – Stand out!
For example:
If your student loves math, h

elp them participate in the US Math Olympiad and the Intel Science and Engineering Fair.

If they're a star player in baseball, s

ign them up for the club baseball team and get a coach to take them to the next level.

If they are extremely sociable and get along with just about everyone, a

id them in kick-starting a business idea! Buy them a domain and have them start a blog around a topic of passion.
2. Develop 15-Year and College Goals
Once you have a solid understanding of your student's true passions, you can develop a 15-year vision board and college goals that align with their passions.
Check out my vision board below!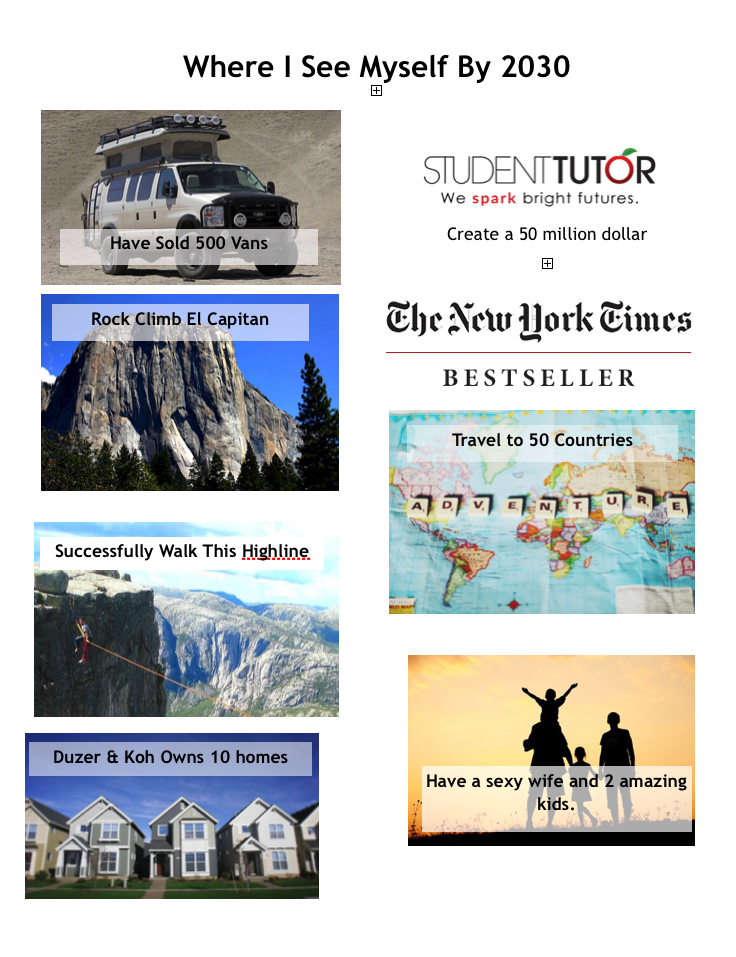 What is the point of your vision board? 
This vision board will be critical to understanding what college is best for your student. It forces your student to start to visualize where they will be when they grow up.

The board will also keep your student motivated when school gets tough. Showing them where they CAN be if they continue working hard will help them refocus on their goals.
Please Note: Make sure you let your student knows the vision board is ALLOWED TO CHANGE. Many times people get scared to create 15-year goals because they have no clue where they want to be.
To be honest, I don't either and I am sure that vision board above will change. However, that is not the point. The point of the vision board is to give you direction, motivation, and an excuse to start pursuing something. Once you get in the habit of constantly pursuing dreams opportunities start arriving and the dreams start becoming reality.
Now before you create your college goals remember elite universities aren't always the answer.
Stanford, UC Berkley, University of Chicago and other elite universities tend to be every student's first choice when it comes to college.
But why is it their first choice school? Does the school actually align with your student's goals? 
Stanford is slanted towards engineering. It gives a clear advantage to students pursuing STEM-related industries.
If your student's passions don't align with science, technology, engineering or mathematics, the top schools for the skills they're pursuing may not be the ones they've had their eye on.
Afer you have picked a couple colleges though, it is time to move to the next step!
3. Research colleges to determine exact GPA, test scores, and how to optimize their extracurricular
OK! So far, we've talked about:
Narrowing down your student's interests = their true passions

Painting a picture of what their success could look like for them = 15-year vision board & college goals
Now let's dive in further… you need to research the university that has the best options for YOUR student. How will your student become the ideal candidate for being accepted into that school?
You need to research and create SMART college goals.
What GPA do this need? SAT/ACT scores? Do they need to take the SAT 2? What is the extracurricular information? What merit-based scholarships are offered? What other information do I need to know? What is the cost to attend? etc.
Here is an example powerpoint slide we show in my college planning workshop I host. You can figure out all this information by checking out my top 10 college resources article I wrote!

After you have done your research it is time to create a SMART goal. Below is a template I created that you can use for any college. For this example, I used to get into Stanford.
Stanford SMART College Goal
In order to get into Stanford University at price I can afford I need to maintain an average 3.8 unweighted GPA while taking classes of difficulty and get at least an average 1450 on the SAT or 32 on the ACT. If I do this I will get  $0 in merit-based scholarships.
I also need to get at least  $12,801 in private based scholarship my senior year.
Other considerations that I need to consider for this based on my research are as follows:
Take most of the AP/Honors classes, get 5's on all the AP exams, and graduate in the top 5% of your class.
Study for the PSAT become a national merit scholar and get at least 1450 on your SAT.
Take the SAT II Math subject test and Physics subject test scoring at least 720+ on each.
Create an online STEM-related club and blog with 2000+ subscriber and bi-weekly online speakers.
Compete in US Math Olympiad and make it into the top 1000 – 2000 rankings or better and/or compete in the Intel Science and Engineering Fair and rank in the top 100.
4. Develop 1 year & semester goals
Congratulations! By taking the time to read this article, you're already making great progress.
Now you know the necessary steps needed for your student to get into their dream college or Stanford. 
But knowing is only half the battle. You and I both know that this information is useless if you don't put it to work!
Figure out what milestone your student would like to accomplish this year. What will get them one step closer to getting into their dream college?

Determine what they can do this semester and year to get one step closer to that year goal.
Make sure your goals are S.M.A.R.T. (specific, measurable, achievable, realistic, and timely).
An example of 1-year Stanford goals: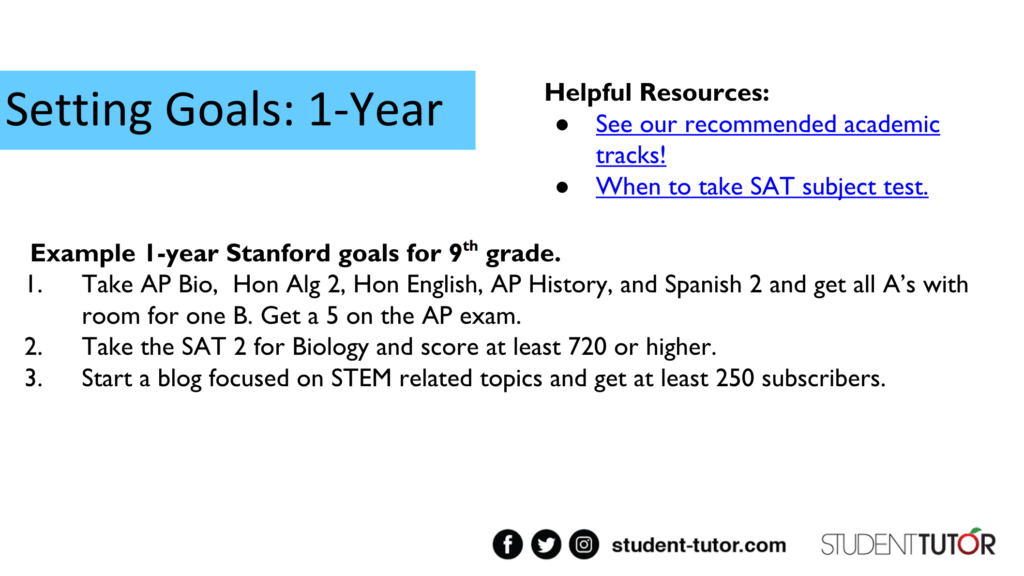 An example of Stanford semester goals: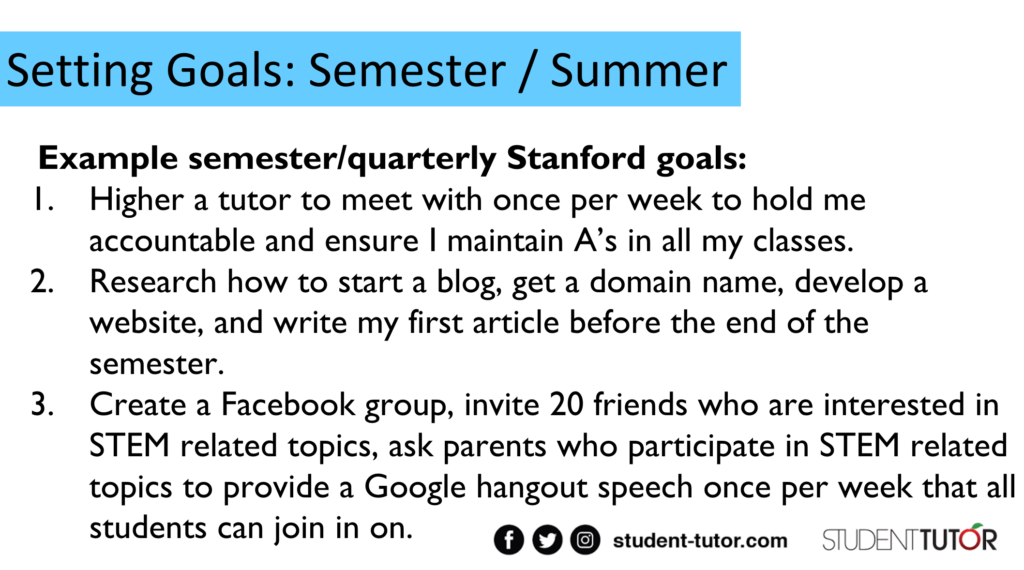 5. Create a habit to have a weekly routine.
Great! By now your student should have 15 year, college, 1-year, and semester goals in place. Now we have to make sure they actually put in the necessary effort to reach them! 
By integrating a habit to have a weekly routine their odds of reaching them improve dramatically. Before we get into just that, let's dive into understanding what habits actually are.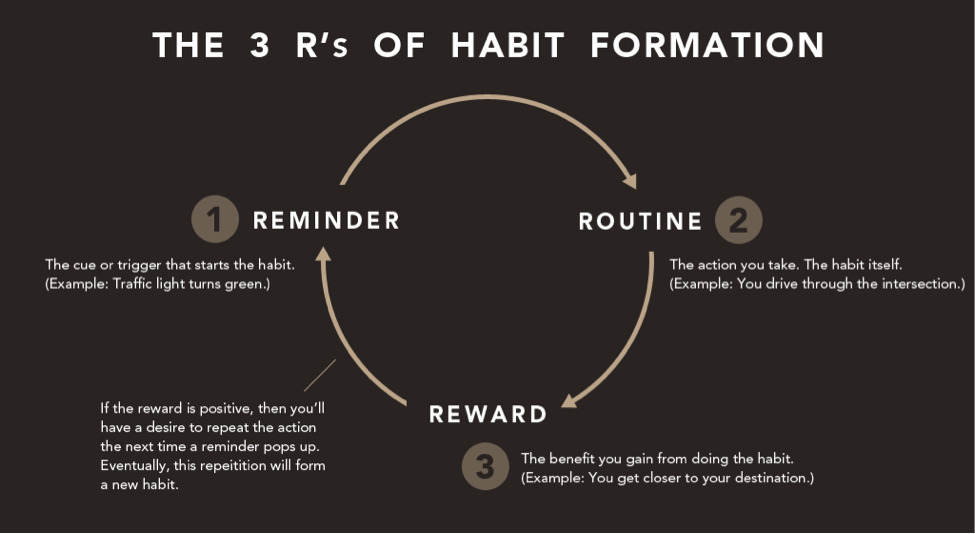 Habits are made up of cues, routines, and rewards. By consciously integrating the right cues, following specific routines – in order to get a specific reward – the process will become automatic. 
Establish your cues, routines and rewards. Here is a recommended example.
Cue: On your kitchen refrigerator, have your weekly review ready. 
Routine: Complete the sheet by asking the following question: How much measurable progress was made toward your goal this week and what is your plan for next week? Give your student a score from 1-5 based on the response.
Remember, when you're listening to the student, make sure measurable progress is being made. Can you physically check off what they are doing?
1-2 score: I talked to some people about starting a blog.
2-3 score: I talked to two teachers about starting a blog.
4-5 score: I talked to two teachers about starting my blog, one of whom I have a meeting with next Tuesday during lunch who is going to help me set it up over the course of the next month.
Reward: If the student completes the weekly reflect & renew exercise scoring at least a 4 or 5 they get their favorite candy bar and watch an hour of TV. If they do not complete it they don't get a candy bar or get to watch TV.
Conclusion
Make sure to start integrating these 5 steps today to ensure they receive the most success! This will increase your odds into getting into schools like Stanford. 
Discover your student's true passions.

Develop 15 Year and College Goals.

Research colleges to determine exact GPA, test scores, and how to optimize their extracurricular.

Develop 1 year & semester goals.

Create a habit to have a weekly "Reflect & Renew" meeting to ensure progress is being made.
Want to talk to an expert and receive a workbook that outlines these steps in even more detail ensuring you stay on track?
Call us for a free 15-minute academic advising appointment: (844) 508-8867 
We'll answer your most burning questions. Plus, you'll receive our step by step college planning workbook ($17 value) for your student to fill out!
The following two tabs change content below.
Hello! My name is Todd. I help students design the life of their dreams by ensuring college, scholarship, and career success! I am a former tutor for seven years, $85,000 scholarship recipient, Huffington Post contributor, lead SAT & ACT course developer, host of a career exploration podcast for teens, and have worked with thousands of students and parents to ensure a brighter future for the next generation. I invite you to join my next webinar to learn how to save thousands + set your teenager up for college, scholarship, and career success!
Latest posts by Todd VanDuzer (see all)