High school is over, university left behind; being an albatross around your parents' neck and asking for money is not the best choice. You may be asking yourself what jobs can high school students get? What are the best jobs for 18-year-olds?
You are young and full of energy and enthusiasm; so be active. Find your potential employer on your own, show your interest in them, and demonstrate your best skills.
This article will help young professionals find an employer and get independent. Moreover, if you are still a student but would love to work as a freelancer, you will find a few actionable tips too. If you've graduated long ago but would love to change a company, this article will help you, too.
To find a potential employer, there are a few steps you need to take when job hunting.
Step 1. Know What You Want
How are you going to find an employer if you do not know what you'd like to do? Surely, the first step is to analyze what you know and what's your cup of tea.
If you are not sure of what to do in the future, narrow search and decide on the sphere that attracts you. With the understanding of your niche, it will be easier for you to make the right decision.
Let's say, your choice is marketing and sales. There are dozens of positions within this niche:
Social media marketer
Email marketer
SEO specialist
Copywriter
Media planner
Marketing and promotions manager
Brand manager
Digital marketing manager
Sales reps and managers
Customer success manager
Sales coordinator, etc.
These are just a few examples of the positions you can take within marketing departments. Also, don't concentrate on one position only. It can turn into a tough task to make the right choice. When you are open to a few positions, you expand the horizons.
Here's how you can define your career path: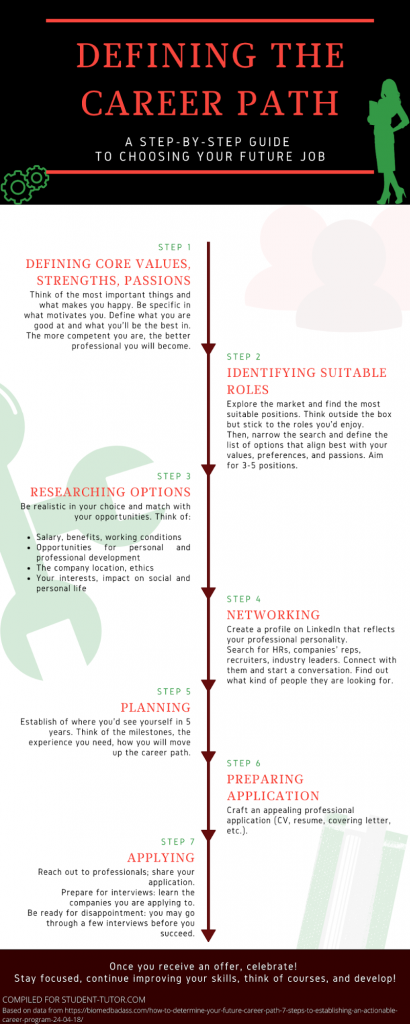 Step 2. Decide on Where to Search for an Employer
You won't stand in the street and ask people Would you love to hire me? Well, you can but what for? The digital world we live in is the best choice itself.
The best source of skilled specialists is the professional social network, LinkedIn. There, you can find HRs, recruiters, outsource workers, companies' reps, and reach out to them. Besides, 87% of recruiters prefer LinkedIn to search for candidates. So it's really one of the best places to find your future company.
To get in touch with the best of the best, filter the search results. The more filters you use, the more targeted search. On LI, you can filter people by:
Connections
Locations
Current and past companies
Industries
Profile language
School
Contact interests
Services
Find the company you'd love to work in, find people who are searching for professionals, look through the vacancies they offer, etc.
Don't limit yourself to typical jobs for high school students. Be creative! Everyone has a unique skill. What's yours?
When you've found the company or a person that interests you, do not stop searching. It's better to find a few companies and apply to both. The more options you have, the more likely you'll find something relevant.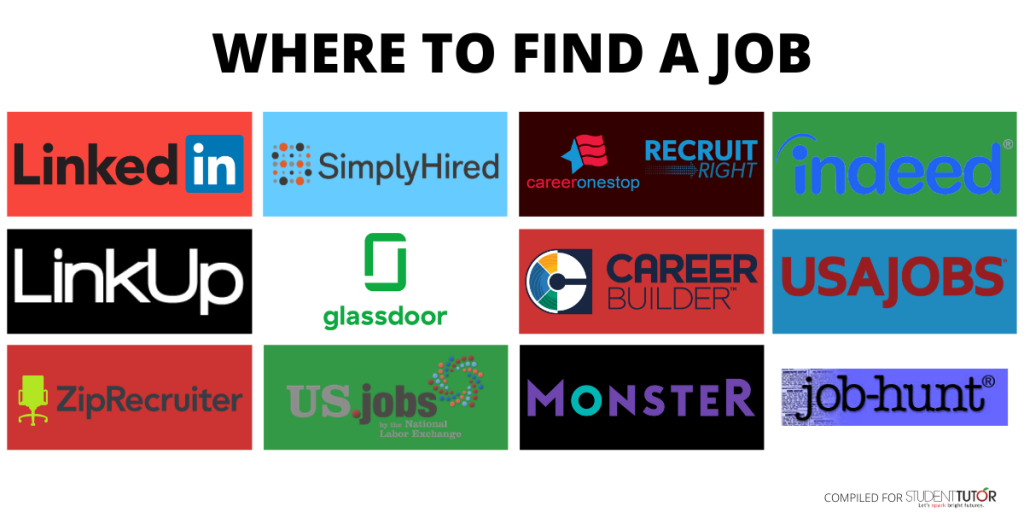 Step 3. Connect to Your Potential Employer
The company is chosen, the professional is found. How can you reach out to them?
Option 1
If you are in the 2nd connection with them, you can connect with them. Just click the Connect button and add a message, otherwise, people can simply ignore you. This will show your professionalism and a desire for collaboration. In your message, explain who you are and why you are reaching out to them.
Yet, it can happen that the required person is in 3rd+ connections with you. Unfortunately, within a free LinkedIn plan, you won't be able to connect with people who are in 3rd connections with you. And you cannot send messages to people within 3rd+ connections. What to do in this case?
To reach out to an employer, proceed to option 2. It will show you how to connect with them easily if you have no opportunity to do this through LinkedIn.
Option 2
If you cannot reach out to a person through LI, there's a solution for you. Email. Simple, fast, reliable, and professional.
Did you know that 86% of professionals prefer emails for their communication? This proves that email is worth dealing with and you should not ignore it.
But how will I email them without their email addresses? you'd ask. That's the main issue young people can face. Of course, you can look through social media profiles manually and try to find a person with the email address visible. Yet, most people prefer to not leave their emails in open access.
No email address, no outreach, no job, I could have said. But I know how to help you. You only need an email finder instrument.
An email finder is an automation tool that helps professionals generate email addresses on any webpage that have been hidden from clear visibility.
The market is full of email finder tools that help people find the email addresses of other professionals. Such tools are versatile as different categories of professionals use them. For example, email marketers use them for lead generation purposes; sales reps find potential clients and lead them through the sales funnel, recruiters get potential employees.
And you can benefit from an email finder too. With its help, you can find employers or HRs in a matter of minutes. It supports you in case you cannot reach out to them through the professional social network.
The tools are truly easy-to-use. A few of them go in the form of browser extensions that makes them super-easy and fast to implement.
Go to LI and perform a filtered search. Open the required person's profile and click the extension icon. Save the email addresses to the list to not lose them and for further verification.
If you haven't decided on the specific person, you can activate the email finder on the search results page. Or on the company search results page. Or on the company profile page. Well, you can use it on any page on LI.

Note: when you search for email addresses on LinkedIn, they are already pre-verified (so you know whether it is safe to send emails to or not). But not all systems offer such a feature. Which is why you may need to use an email verifier.
Step 4. Get Sure the Found Email Address Is Safe
An email verifier is an instrument that checks if the email address is valid, aka real. With it, you can be sure the email you are going to send will reach the recipient. Without one, you cannot be sure if there will be any sense in sending messages to that person.
Of course, there are a few other options to check addresses. You can simply google the address and find information about the person you are going to reach out to. In fact, such a method doesn't give information on whether the email address is valid; it only shows you if the email is real.
Also, you can simply send your letter with a CV attached to the found address. If the email doesn't exist, it will simply bounce and you will get an auto-reply. Time-consuming, isn't it?

Another option is to simply ping a mailing server to check the email address. For this, you will need a tool like PuTTY or Telnet. Yet, it will take some time as you'll have to check every address manually. And you will need to download and install the software.
What do you think are the advantages of an email verifier over other methods?
Online apps
Free to use
Bulk check
So if you decide to reach out to a few people and have already found their addresses, an email verifier is the best choice to check them quickly.
Step 5. How to Write a Professional Email for an Employer
HRs and recruiters are found; their email addresses are verified and invalid ones are deleted from the list. The next step is to surely compose an email.
Do you remember how to write a winning scholarship essay? The same: keep calm and just do it. Here are a few tips that will help you compose a cold email like a pro:
Personalize your email with the recipients' names, companies, etc. This way, your email will look unique
Greet the email recipient in a professional manner. If you know their name, use it
Be simple, straightforward, and to-the-point: respect the recipients' professional time. The best way is to keep the email length of up 5-7 sentences
In one sentence tell a few words about yourself and the reason why you are reaching out to them
Do not try to break the barriers: compose the email in a formal and assertive way, keep your objective in mind
Mention the position you are applying to and where you've found it
Remember to add the to-do section: Can we have a call?, Email to me if you have any questions, etc.
Don't forget to say a word goodbye: Kind regards, Have a great day or Goodbye are the best options. Follow it with your name
Add an email signature: insert your contact details including your email address. If your email is to be redirected, the last recipient will be able to get in touch with you easily
A few technical details to observe:
Do Not Use The Title Case
A comma splice is not professional; use it for informal communication only
Use full forms instead of contractions (I am instead of I'm); insert conjunctions (but, and, if); use proper punctuation and complete sentences
Be professional: do not use emojis, slang or irony
There are a few more tips that do not refer to an email directly. Yet, you need to keep them in mind to behave like a professional:
Never compose emails when you are angry
Avoid sending the same email to a few people; it's unprofessional
Double-check your email for misspellings
Do not mark your email Important; it could be important to you but not the HR
Consider the time of email sending: the best time is working days and hours (10 am to 11 am; 4 pm to 5 pm)
Recruiters prefer Word files as they can edit or change the file if necessary (surely, they will first call to you to ask for your permission)
Have a look at a few email templates for a cold outreach to a recruiter or an HR: Simply make a copy and you're ready to go!
Subject line: [POSITION] application – Résumé attached
Hi [HR_NAME],
I have recently graduated from [MY_UNIVERSITY] university, and I am currently searching for a position of [POSITION]. I have found the respective vacancy at the company you represent, [COMPANY_NAME], on [VACANCY_SOURCE]. I was impressed by the product you create and would love to join the team of professionals.
I think I am a great fit for this position at [COMPANY_NAME] because I am full of energy, have dozens of fresh ideas, and would gladly share them with you.
I have attached the resume, cover letter, and documents. Please, have a look at them.I would be glad if we could have a 5-10 minutes conversation to introduce myself and learn more about the company's culture. Would you have time for a quick phone call on [DAY_1]?
I am looking forward to hearing from you,
Regards,[MY_NAME]
Subject line: [POSITION] application
Dear [NAME],
I am writing in response to the [POSITION] job posting on [WEBSITE]. With [EXPERIENCE] years in [EXPERIENCED_ROLE] in the [INDUSTRY] industry, I am confident I would be a great fit in this role and could help [COMPANY_NAME] do [REQUIREMENTS_OF_THE_JOB_DESCRIPTION].
Here is a link to my LinkedIn profile so you can learn more about me: [MY_LI_URL]
I have also attached my resume to this email. I am looking forward to hearing your thoughts after you have had a chance to look.
Best regards,[MY NAME]
Subject line: [POSITION] application – Can we have a call?
Hello [NAME],
I saw you recruit in the [INDUSTRY] industry in [MY_CITY].
I have recently graduated from [MY_UNIVERSITY] in [CITY]. I am a young full of energy specialist who is searching for a job.
Do you have a few minutes to talk on [DAY]? I am happy to send a copy of my resume after that if it seems like a good fit to work together.
Best regards,[MY_NAME]
Step 6. Reach Out to Your Potential Employers
Whether you are going to email one person or a group of people, it can take you a lot of time. Besides composing an email, you may need to track whether the recipient has opened it or not. For this purpose, you need a tracker for your mail.
Yet, what if your recipient has opened an email but hasn't replied to you? In this case, you need to send a follow-up email. If you are applying to a few companies, it will turn into a stunning task to follow every email and analyzing on whom to send a follow-up.
Anyway, there's a solution for professionals like you. Email drip campaigns are automated email sequences that set your hands free and track the email performance. Depending on the recipients' interaction with your email, the system sends a pre-set follow-up email.
Here's an example of a follow-up that received no open or replies over a period of time: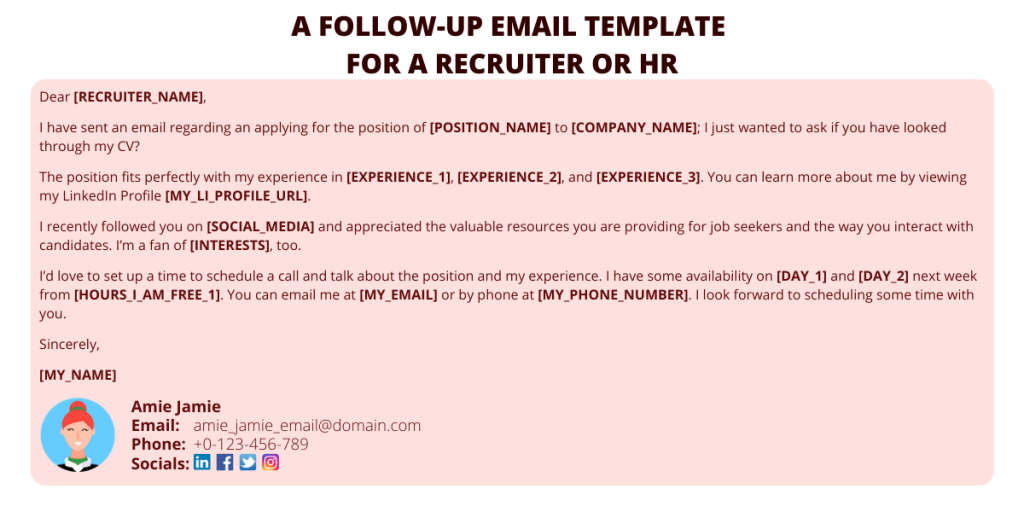 It's super easy to build an email campaign with a drag & drop builder and you can send as many emails as you need. Use triggers and delays, set schedules for groups of employers and HRs who live in different time zones, and send personalized emails with variables.
As soon as you receive a reply, follow-ups for this person stop, and you can continue communication face-to-face. Choose reliable, choose worthy, choose the best ones.
When the campaign is launched, have a rest and recollect a few funny academic school jokes.
Conclusion
Besides the professional social network and other relevant platforms, you can reach out to a potential employer with the help of an email. This is a professional type of communication and you can use it the fullest. 
Avoid manual work and boring search on LinkedIn or any other platform:
Choose an email finder tool that collects professional email addresses
Do not forget to verify the addresses to be sure your emails will be delivered
Compose professional cold emails to recruiters
Send auto-follow-ups with a drip email sender
May the end of school or university never upset you and only the best companies hire you
The following two tabs change content below.
Hello! My name is Todd. I help students design the life of their dreams by ensuring college, scholarship, and career success! I am a former tutor for seven years, $85,000 scholarship recipient, Huffington Post contributor, lead SAT & ACT course developer, host of a career exploration podcast for teens, and have worked with thousands of students and parents to ensure a brighter future for the next generation. I invite you to join my next webinar to learn how to save thousands + set your teenager up for college, scholarship, and career success!
Latest posts by Todd VanDuzer (see all)