What are the disadvantages of online classes? What are the advantages?
When microwaves were first invented, manufacturers put fake wood paneling on the sides.
Why? Because when something new is first introduced, people can be uneasy about it. The wood paneling was there to make it feel less foreign and more "hand-made".
Online classes are no different. In this article, we are going to take a look at some advantages and disadvantages of online classes vs traditional classes.
But first lets take quick look at some data of online vs tradtional classes to get the big picture!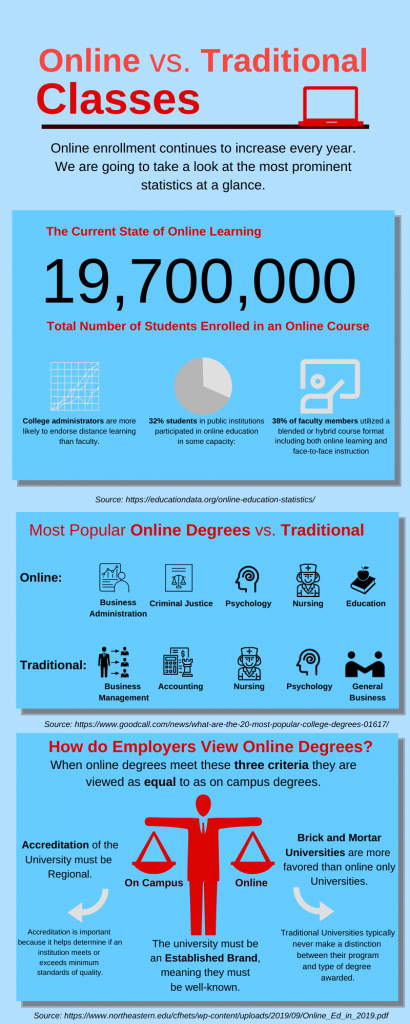 What are the advantages of online classes?
It's Convenient
We've all experienced it — being jolted awake from a peaceful sleep by a blaring alarm clock.
Sometimes it is so hard to get out of bed and not just that. You have to get ready for your day. Pack a lunch. Drive to school. Lug your textbooks from classroom to classroom.
With e-learning, you can actually eat breakfast. I mean you can eat your breakfast in your pajamas and take a course at the same time.
There are a variety of online platforms to chose from, such as Preply, that make it easy to learn from the comfort of your home!
This means you have more time to focus on what you're actually learning, less time remembering if you brought a pair of socks for soccer practice.
It Works With Your Schedule
Let's say you want to take a crash course on how to study for the SAT.
But you're in school from 7 am -3 pm… and then you have club meetings on Mondays and Wednesdays at 4 pm, and volleyball practice at 6 pm. You're wondering — how am I going to fit a full, in-person class into my already crowded schedule?
E-courses work with your schedule in that you can take them on your time. Whatever time that is.
Wednesday nights at 11 pm? Sure. Sunday afternoons? Go for it.
Instant Results and Feedback
When you take a test in class, you have to wait for the teacher to grade it. That can take a few days or even weeks.
Another pro of online learning is that there is usually the option to see your score directly after taking a quiz or exam.
Having this instant feedback means that you can get right back to work trouble-shooting any problem areas for the next time around.
Arizona State University uses Blackboard as an online learning tool which is an LMS (Learning Management System). Most colleges today use some form of LMS to allow students to submit assignments online and create discussions in a forum format.
Strong Retention Rate
The working memory of the brain can only hold up to 7 items.  However, the use of multimedia can greatly increase your ability to retain what you learn.
When you take an online course, you may do all of the following for one concept:
Watch a video
Read a portion of text
View an example image or images
Answer practice questions
In this Student Tutor blog post right now we're using multimedia by showing you pictures, videos, and text!
According to a study conducted by The Research Institute of America, e-Learning has the power to increase information retention rates by up to 60%. That means that not only is e-Learning more cost-efficient, but also it's also more effective.
The combination of so many different tools increases your chances of remembering the concepts that they discuss. Often times, in-person classes do not possess all the tools or a time-frame that allows for effective use of multimedia learning.
You Don't Get Stuck With Bad Teachers
Raise your hand if you've ever had a teacher that you couldn't stand.
How you felt: More often it seems there is always that one teacher that talks too slow, assigns too much homework, gives horrible presentations, is too strict… etc, etc. You dreaded going to class every day and on the last day of class you felt like throwing a party.
Now, raise your hand if you've ever had a teacher that you absolutely adored.
How you felt: Going to class was almost fun — sometimes you were excited to be there. You wanted to see what they had to say next. You even felt a little sad to leave the class at the end of the year.
Our point? A teacher can make or break a class.
In-person classes are limited to the people who can physically be there. With online courses, your instructor could live in Australia and be researching a new cure for cancer while they teach you anatomy lessons — how cool is that?
Websites like Rate My Professor can inform you what you can expect.
Content Stays Up-To-Date
Textbooks take a long time to write and publish, and eventually become outdated.
With online courses, you can be sure that you are always getting the most up-to-date information because — surprise — it's easier to update!
No time wasted on learning concepts that have been modified or rejected. Kind of like how we all stopped celebrating Columbus Day… when did that happen? 
You Save Money, and the Planet
E-learning is both wallet and eco-friendly.
You save money not having to purchase expensive textbooks, and in turn, fewer textbooks are needed which means fewer trees to cut down for paper! Plus the average college tuition for online courses is cheaper than in-person.
In the list of the advantages and disadvantages of online classes, studying in a sustainable way is definitely considered as the former.
Your Teacher Can Pay You More Attention
In a class composed of hundreds of students listening to an all day lecture, you would find it hard to ambush your teacher for questions regarding your topic.
Through online classes, you can easily chat your online instructor regarding the things you are finding difficult to understand. You will be easily accommodated since you are having one on one sessions.
You can also opt to chat your teacher if you have questions instead of video calling them. This saves you from akwardness if you're that kind of person who hates talking to teachers in person.
You Get to Meet Interesting People
Through online classes, you meet different people around the world who can teach you a thing or two about traditions, beliefs, and values! Plus, isn't it cool to hear people share their opinions despite the distance. 
In weighing the advantages and disadvantages of online classes, you also have to consider not only the benefits it you will get academically but also the connections you are going to make.
Through e-learning, you can create study groups and meet up in person if all of you are available. You gain friends and you learn. Such a win-win situation!
You Become More Disciplined
Since it isn't a normal classroom set-up where your teacher can terrorize you and prompt you to work every day, e-learning develops your self-discipline.
How, you ask?
Imagine your scheduled life where you are pressured to attend classes without being late and to submit requirements in order to escape the wrath of your teacher. All of that doesn't exist in online learning.
If you are a professional procrastinator, online classes can either help you to be disciplined or only make your behavior worse.
You Become Globally Competitive
If you opt to enrol in classes abroad, you get to learn from artists, scientists, and professionals themselves. That means, you will experience working with people who knows the subjects more than anyone.
This is one of the perks of choosing to study online. You can make connections with people not just in your country but overseas as well.
Considering the list of the advantages and disadvantages of online classes, this surely tops the list of the pros.
What are the disadvantages of online classes?
You may be thinking that I have only pros for you today, and you're already asking what are the disadvantages of online classes. I have already listed some for you so you could start weighing your options.
You are the Only Person Responsible for Your Own Learning
If you stopped showing up to class right now, your parents would probably get a phone call.
With an online course, you are really the only responsible for getting everything done, and if you have a tendency to be distracted and procrastinate (who doesn't) you might miss some of your deadlines.
However, being organized and time management are a part of life.
When you get to college, not showing up to class means a 0, or simply means that you don't learn the material and fail your tests. You have to figure out your learning style. Either way — you are the only one who answers for your actions.
It's a better idea to start learning self-discipline now than to learn the hard way. Are you ready to motivate yourself? 
No social interaction… or is There?
You could argue that when you are taking an online course, you don't interact with other individuals within the course. While this is sometimes the case, it can't be said that no e-course allows for social interaction between peers.
If anything, social interaction is not absent in e-learning, it's just different.
In an e-course, you might meet on group projects over Skype, Zoom, or Google Meet instead of at a coffee shop. You might discuss topics over an online discussion board versus in-class discussion.
There is a way that you can experience the benefits of both an online and in-person course for one subject.
Many colleges are now implementing hybrid courses. That is, the course is half online, half in-person.
Taking a hybrid course can be perfect way to experience both benefits. It can also be a good way to get a feel for an online course — and who knows? Maybe you'll like that portion of the course better than the in-person!
It Requires More Time
Studying online sometimes requires more time especially if it is modular. Aside from attending video conferences with your teacher, you also have to read a lot of lessons.
In addition, almost all of the assessments will be done through writing since it's the only way possible. Performance tasks are sometimes not an option unless the professor can think of creative ways on evaluating his student's learning.
You are Isolated
If you are asking what are the disadvantages of online classes, this is probably the first thing that comes to mind. Studying online somehow isolates you because you aren't physically meeting other people. You only see your teacher and classmates through your computer screen.
Although this is convenient since you won't have to drive to school every day, you miss a lot of fun activities that you can experience through interaction with others. You will also sometimes find it hard to deal with others' behavior because you are used to seeing people for just a short period of time and it's not even face to face. 
For introverts, they would find this set up easy to manage and they would even prefer being isolated. However, if you're a people person, it will take time for you to adjust.
You Have Too Much Freedom
Another good response to what are the disadvantages of online classes is the freedom you will get. 
Of course, the main reason why you enrolled to an online class is for you to have a more flexible time. You can adjust your schedule according to your availability and you get more time for yourself and in doing things you're interested in. 
This is all good in the beginning, but eventually, some students cannot handle the freedom they have.
They skip classes thinking that they can easily make up for it but with the continuous excuses, they aren't really doing any progress. 
Not all Online Schools Offer Quality Education
In choosing an online school, you should review ratings and comments of different schools before enroling into one. 
The common mistake of most students is that they think all online schools are the same. What they didn't know is, some of these schools are not accredited and they do not offer quality education.
If you have mistakenly enrolled in an online class that offers poor education quality, you will do all the work to make sure that you still learn somehow.
Again, read reviews and check ratings of online schools before enrolling.
Conclusion
So what do you think? Are you ready to try your first e-course after reading the advantages and disadvantages of online classes?
No pressure!
To review, here are is what I discussed in this article of online classes vs traditional classes.
What are the advantages of online classes?
It's convenient
It works with your schedule
You get instant feedback and results
There's a strong retention rate
You're not stuck with a bad teacher
The content stays up-to-date
You save money and the planet
Your teacher can pay you more attention
You get to meet interesting people
You become more disciplined
You become globally competitive
What are the disadvantages of online classes?
It takes more discipline (Not necessarily a bad thing!)
The social interactions are different than those of an in-person course
It requires more time
You are isolated
You have too much freedom
Not all online schools offer quality education
Have you ever taken an online class? What are the disadvantages of online classes based your experience? Tell us in the comments below!
The following two tabs change content below.
Hello! My name is Todd. I help students design the life of their dreams by ensuring college, scholarship, and career success! I am a former tutor for seven years, $85,000 scholarship recipient, Huffington Post contributor, lead SAT & ACT course developer, host of a career exploration podcast for teens, and have worked with thousands of students and parents to ensure a brighter future for the next generation. I invite you to join my next webinar to learn how to save thousands + set your teenager up for college, scholarship, and career success!
Latest posts by Todd VanDuzer (see all)