The new 2016 SAT is hopefully old news to you by now.
But with all the articles out there giving you comparisons between the SAT and ACT, I bet you'd like to see something a little more visually appealing… liiike an infographic? 
We re-vamped our SAT vs ACT infographic from this past February – just for you. 😉 … I'm going to break it down piece by piece with more deets!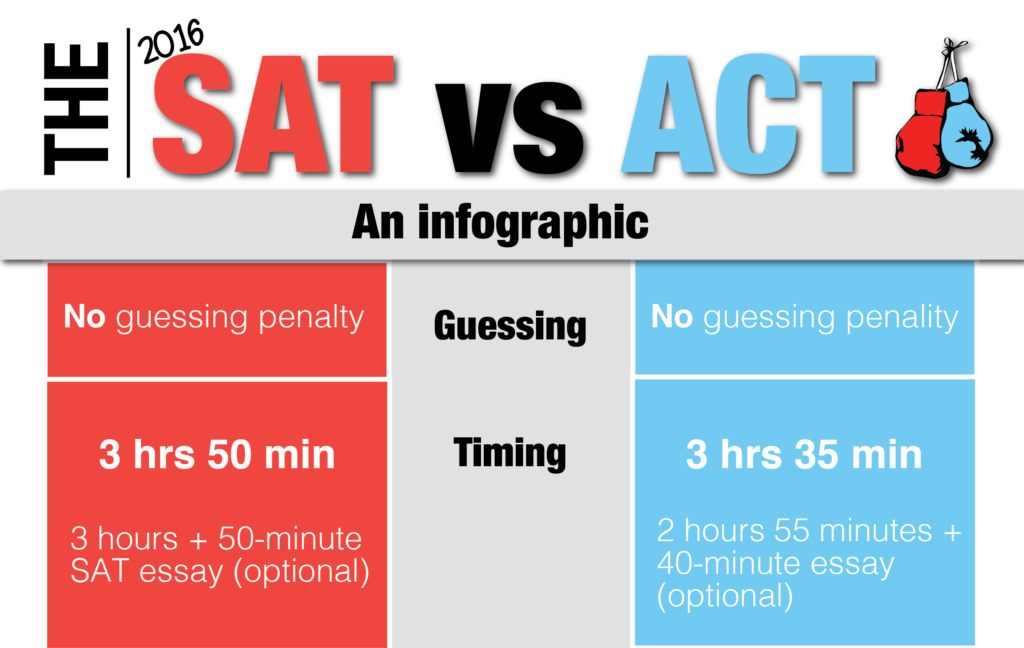 In the past, 1/4 point would be deducted for every wrong answer on the SAT… so you would have been advised to SKIP the questions you didn't know.
That's no longer the case! Now, on both the SAT and ACT, there are ZERO points penalized for wrong answers.
The SAT also gives you 15 more minutes than the ACT. That time, on either test, is precious. So even though you won't be penalized for guessing, you should be strategic about how you guess.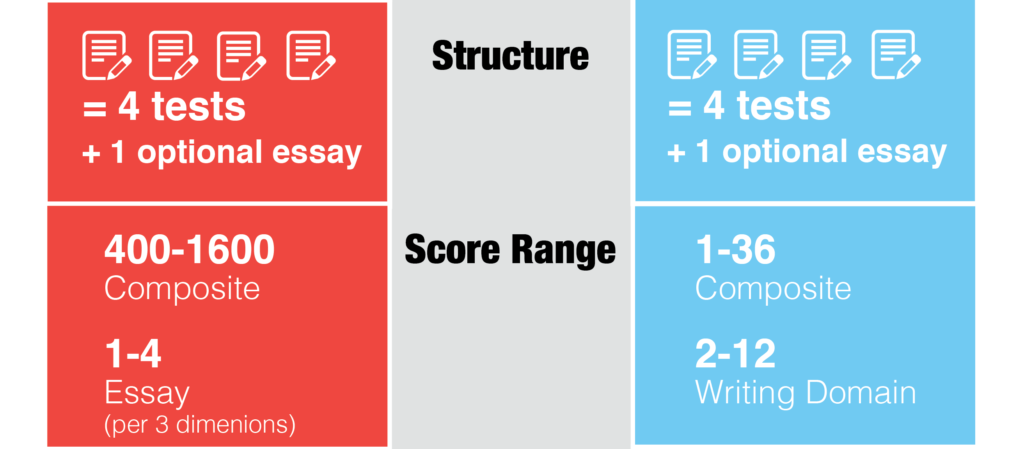 Optional Essays
Both the SAT and ACT now have optional essays. Whether or not you should take the essay is up to, but it won't count against you if you don't.
The essay on the SAT is an additional $11.50 towards your test.
The SAT Essay Score Range
Check out the space under the SAT essay's Score Range info.
"Per 3 dimensions? What does THAT mean??"
So the SAT essay is actually broken up into 3 different dimensions, or sections, with a possibility of 1-4 points each time:
Reading = 1-4
Analysis = 1-4
Writing = 1-4
1-4 is NOT the total amount of points possible per dimension. It is the total amount of points possible PER scorer.
You can receive 2-8 points per dimension.

Time Intensity
The SAT allows 1 minute and 10 seconds per question, which is much less time-intensive than the 49 seconds you have to answer a question on the ACT.
Math Difficulty
The SAT's math section is split into 2 portions:
With Calculator
Without Calculator
Never fear. The "Without Calculator" portion of the test is not meant to trick you. These are problems that ARE possible to be solved without using a calculator.
The ACT, on the other hand, allows a calculator on all of its math.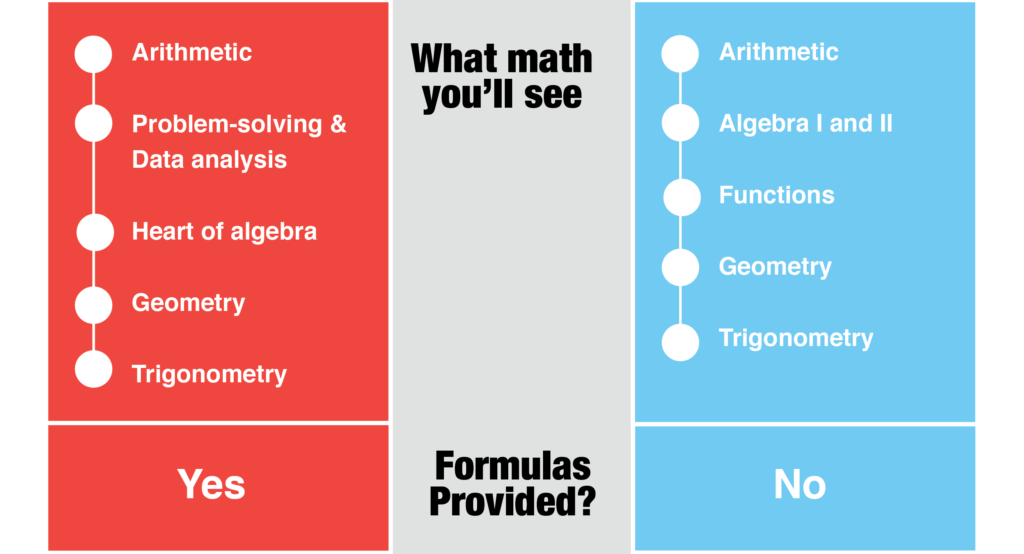 Hearing about the "Without Calculator" section of the SAT math portion may have you saying "Just what kind of math will I be doing on these exams?"
SAT Math includes: 
Arithmetic
Geometry
Trigonometry
ACT Math includes: 
Arithmetic
Algebra I & II
Functions
Geometry
Trigonometry
[Click Here] for ACT math practice problems.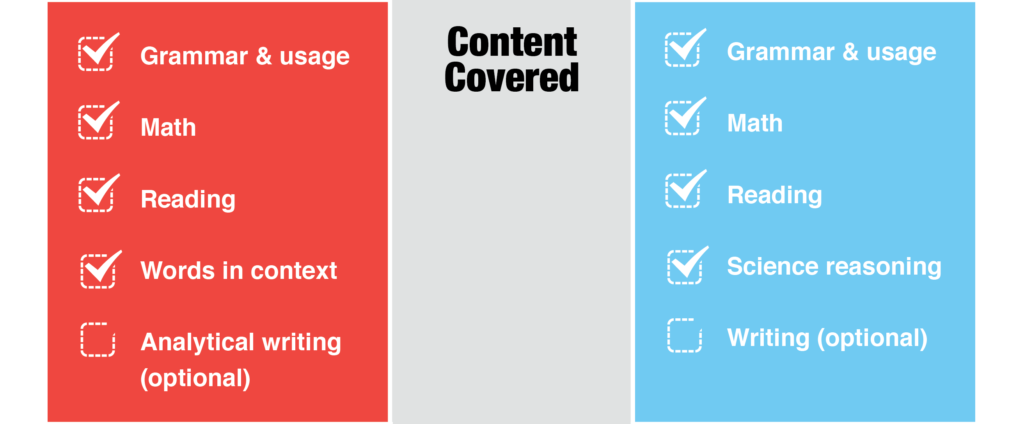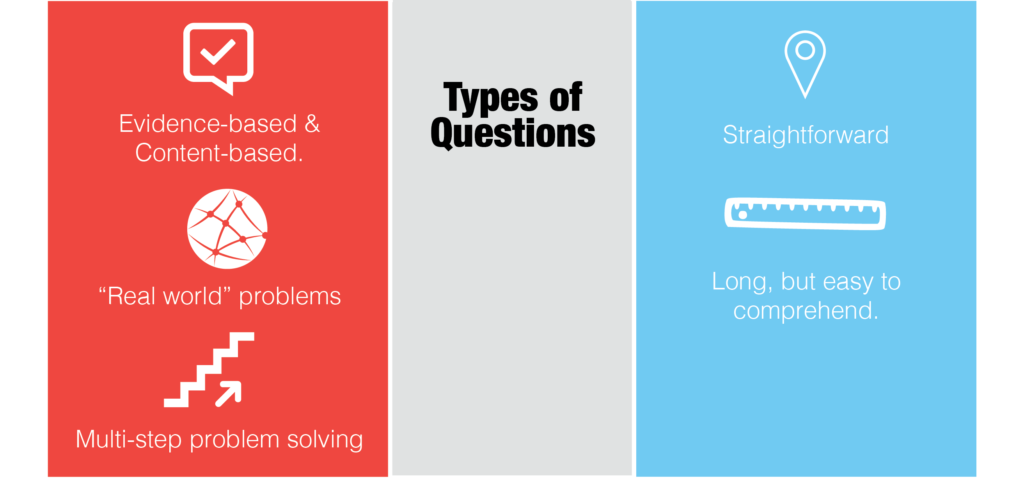 And that's all I've got for you today!
We hope this infographic comparing the New SAT vs. ACT will help you in understanding the two exams! If you want more advice about which is right for you, just ask!
And as a general rule, it doesn't hurt to take both and see if you are stronger in one or the other.
Want some free pre-test practice? See below!
More information and resources for the New SAT:
– The New SAT (official website)
– The New SAT study guide (official book – also used in our tutoring and courses)
– Our SAT Prep Course
More information and resources for the ACT:
– The ACT (official website)
– The ACT study guide (official book – also used in our tutoring and courses)
– Our ACT Prep Course
Find the infographic above helpful??
Share this infographic!
Please include attribution to Student-Tutor.com with this graphic.

Did we answer all your questions about the differences between the New SAT vs. the ACT? Let us know in the comments below!
The following two tabs change content below.
Laura earned a Master's degree in Secondary Education plus Teaching Certification for Mathematics and Psychology in both AZ and CA. Her undergraduate work was in Psychology with a minor in German from UCLA where she graduated magna cum laude. She has been tutoring since the 90's, was a high school teacher 2006-2011, and still teaches for a local college. Laura is passionate about teaching, learning, entrepreneurship, and traveling the world with her husband, their dog Tuck, and her Macbook Pro. -- Join Laura on Linkedin & Twitter!
Latest posts by Laura Petersen (see all)