Co-authored by Renae Hintze
---
You're about halfway through your exam when you hit it. The whopper. The king pin. The mother of all questions.
This graph is seriously HUGE. And CONFUSING. Are you looking at a line graph, or alien crop circles? You're not sure.
The back of your neck gets hot, your hand gets sweaty as you grip your pencil.
"5 more minutes." The test prompter calls, and your heart starts to race. This isn't your last problem… you spent so much time on the one before this, and now you feel rushed and panicked.
Even the best of us will struggle under pressure. The best way to prepare for a timed test is by gradually acclimating yourself. With these 8 tips, you can become faster and more confident about your ACT Science Section!
What's on the ACT Science Section?
First, it's a good idea to know what to expect.
There are 3 subcomponents to the ACT Science Section:
Data Representation
Research Summaries
Conflicting Viewpoints
Knowing what to expect will help you apply these 8 tips and increase your overall test time.
1. Practice with examples that are specific
According to Big Think,
Research has found that though multiple choice testing is indeed effective, practice tests that require more detailed answers to be generated are more effective. Importantly, practice testing is effective when you create the questions yourself.
Stay away from general or "summarized" content when you're studying for the ACT. Look for sample questions that are specific.
ACT Student provides their own sample ACT Science questions for you. 
2. Time yourself and note what problems take longer
Toggl is one easy timing app you can use to:
Monitor your speed
Use this to identify problem areas
Of course, this is one of many different timing apps to choose from, so pick one that works for you.
Monitor your speed
Practice answering your sample questions while on a timer. You'll want to do 2 types of timing: 
Use a timer with an alarm to let you know when time is up
Time yourself without an alarm to get a feel for how long you really take to finish!
The official time for the ACT science section is 35 questions in 40 minutes. 
Identify problem areas
Make a note of which problems take longer to solve and identify why they take so long.  
Did you encounter words you didn't understand?

Was the content unfamiliar?

Did you second-guess your answer?
Target these weaknesses and work them into your study routine, then keep checking your time to see what study strategies are working! 
3. Know the technical jargon, or look for a definition
According to Adolescent Literacy,
Once words are recognized, students use pragmatic awareness, or sensitivity to how words are used to communicate, to understand the purposes of their use. 
Every time you encounter a word that you don't understand in your practice questions:
Check to see if it's defined somewhere in the problem

If not, look it up

Write down the word and its definition 

Use it in a sentence
Have you ever been reading something only to realize that you don't remember what you JUST read?
When we don't understand a word used to describe something, it creates a gap in our overall understanding of what we have just read. If you encounter enough gaps in one sitting, you may find that you come away with nothing.
This can hurt your time and cause confusion on individual problems. Don't let vocabulary distract you from finding the actual answer!
4. Read some academic articles
Academic articles are notorious for using elevated language. Aka: Big, fancy words like loquacious and supercilious. 
Find some academic articles on science topics that you can read and get used to understanding their sentence structure.
There are plenty of free academic article/journal databases online, like JURN. You can also Check Google Scholar!
5. Read the questions before reading the passage
Sometimes, it may be easier for you to find the answer from the graph you are shown than from reading the passage. In math your teachers may have instructed you to work your problems from the bottom-up. This is the same idea. 
Reading the questions beforehand puts you in the right mode to locate the answers, and you can view graphs more strategically this way.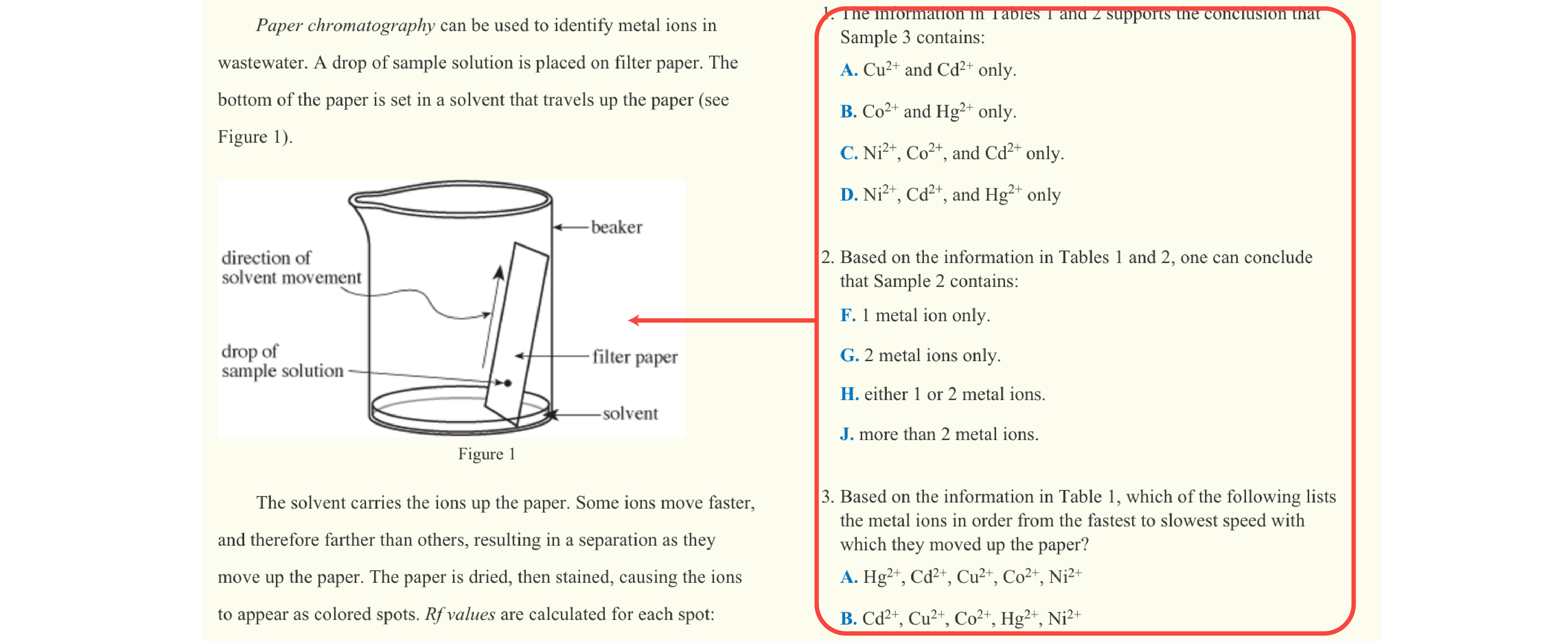 6. Don't spend all your time on one question
If you encounter a question that is taking you longer than most questions to complete, you can consider circling it and coming back to it afterwards.
You will get easier questions out of the way and feel less rushed when you come back to the question you circled.
Additional Tip: Leave some extra time before the end of the exam to go back and fill in any bubbles that you haven't already. The ACT does not penalize for wrong answers, so it's better to guess than leave it blank!
7. When you see a complex problem, relax.
If you come to a question that looks extremely complicated, you may experience some test anxiety and feel stressed before even beginning to answer it!
Take these steps to calm down:
Take a deep breath.

Break it down.
You are setting yourself up for failure from the beginning of a problem if you have the thought "I can't do this" — yes, you can!
8. Skim read when it's possible.
The ACT science section has a lot of complicated passages. You don't need to read all of them, with one exception — read the Conflicting Viewpoints Expression, carefully!
Like I mentioned in Step 4, reading the questions before answering any problem will help you to know whether or not you should skim the passage. If the questions seem very detailed and the answers do not stand, you should commit to fully reading it. 
Conclusion
To review, the 8 tips to increase speed on the ACT Science Section are:
Practice with examples that are specific

Time yourself and note what problems take longer

Know the technical jargon, or look for a definition

Read some academic articles

Read the questions before reading the passage

Don't spend all your time on one question

When you see a complex problem, relax.

Skim read when it's possible.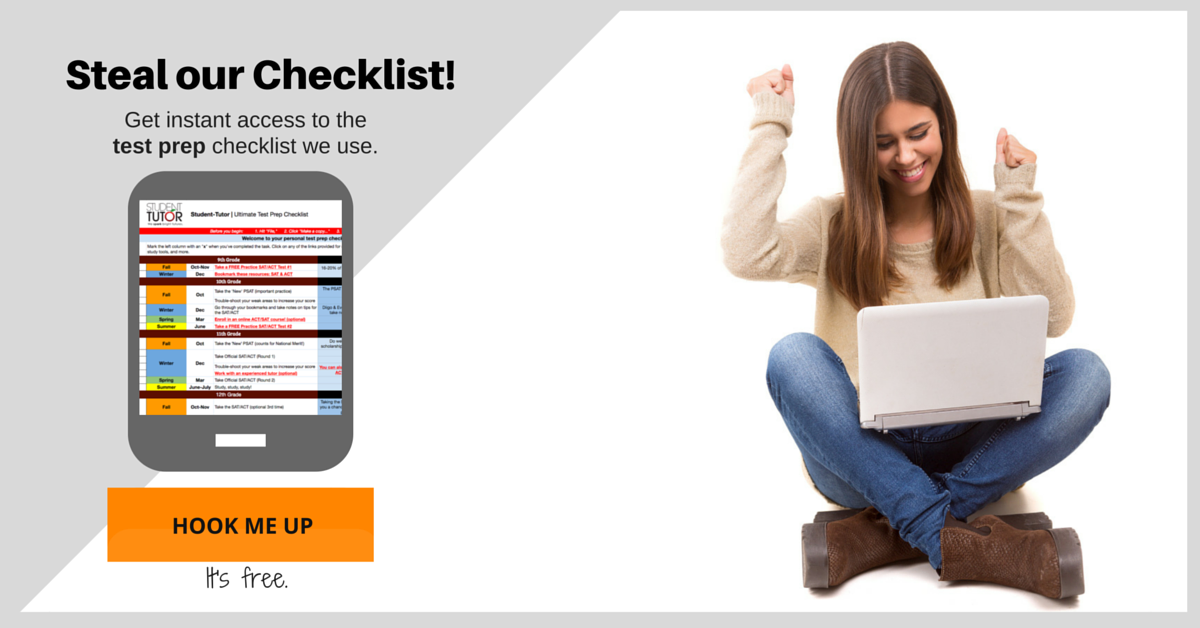 Know of any other ways to increase speed on the ACT Science Section? Let us know in the comments below!
The following two tabs change content below.
Laura earned a Master's degree in Secondary Education plus Teaching Certification for Mathematics and Psychology in both AZ and CA. Her undergraduate work was in Psychology with a minor in German from UCLA where she graduated magna cum laude. She has been tutoring since the 90's, was a high school teacher 2006-2011, and still teaches for a local college. Laura is passionate about teaching, learning, entrepreneurship, and traveling the world with her husband, their dog Tuck, and her Macbook Pro. -- Join Laura on Linkedin & Twitter!
Latest posts by Laura Petersen (see all)