Co-authored by Renae Hintze
---
Getting into college doesn't happen overnight. Neither do the scholarships that will make it possible to attend after you're accepted.
With admission rates as low as 9% for schools such as University of Chicago, it's not a bad idea to get some help with college planning… and maybe a little extra college advice.
Lucky for me I was a TA for a career center during my 12th grade year in high school. I picked our career counselor's brain and learned the best tricks and tips to get accepted to elite universities and earn thousands in scholarships.
She helped me earn over $85,000. 
Now not all of you may be as lucky as I to have had such a fantastic mentor to teach me such valuable lessons.
So the question is: Where can you get FANTASTIC and FREE help for college planning, and advice for College Freshmen like I did? 
Based on a little college resources formula of mine and some dutiful research, I compiled this list of 10 college resources that will make your life easier. And just to keep things interesting, the top resources are at the bottom!
A portable app and #10 out of the top 10 college resources for high school students, Quad2Quad makes scheduling college tours and navigating big, bustling college campuses quick and easy.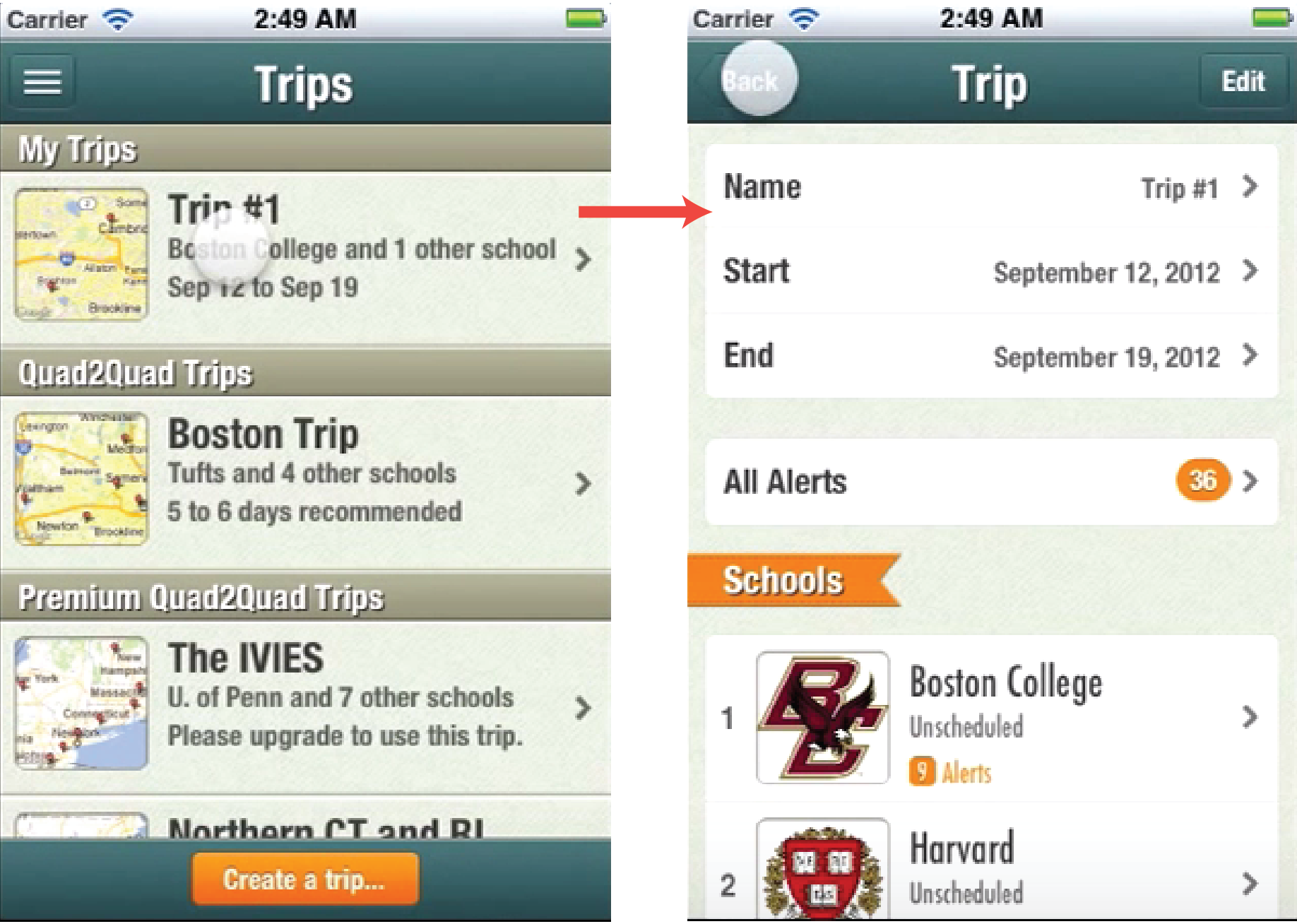 Simien Antonis Parr shows an excellent demo of Quad2Quad's features, which includes other information involving campus visits such as:
Where to park/how much it costs
Tour dates and times
Info session dates, times, and locations
Navigation to specific places on campus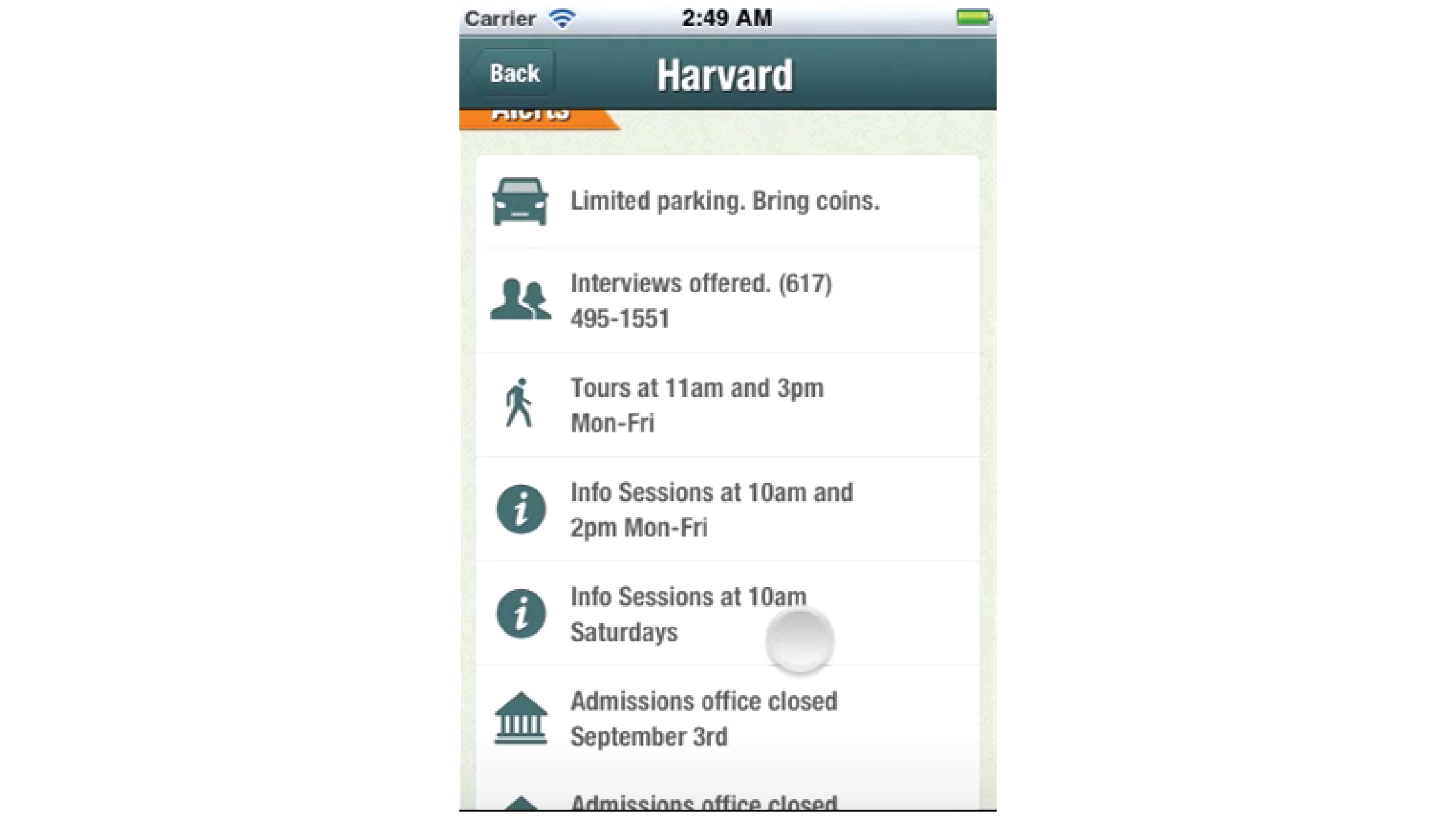 #9 of the top 10 college resources for high school students, College Tips has things you wouldn't find on every college planning site. It offers "insider" info on just about everything-college that you could wonder about.
Find plenty of College Advice on:
College Classes (View sample essays, learn study tips for college & what to look for in a syllabus, how to make your schedule, how to double-major, working with your Professors, and more)
College Life (Make use of different college planning checklists, view dorm decoration ideas, learn how to make new friends, "be popular", and network, find laundry tips, and more)
College Parties (Not to be chosen over your coursework, of course!)
College Planning
Gender-Specific Tips (Fashion advice, how to "be a gentlemen", stay safe, college relationship advice, and more)
Health
College Money (How to find internships, save on computers, pay off debt, write a resume, "Save on printer ink", and more)
Greek Life
While these tips don't go into great depth, they are fairly straightforward and the point is that if you are feeling completely clueless about something, at least College Tips can help steer you in the right direction!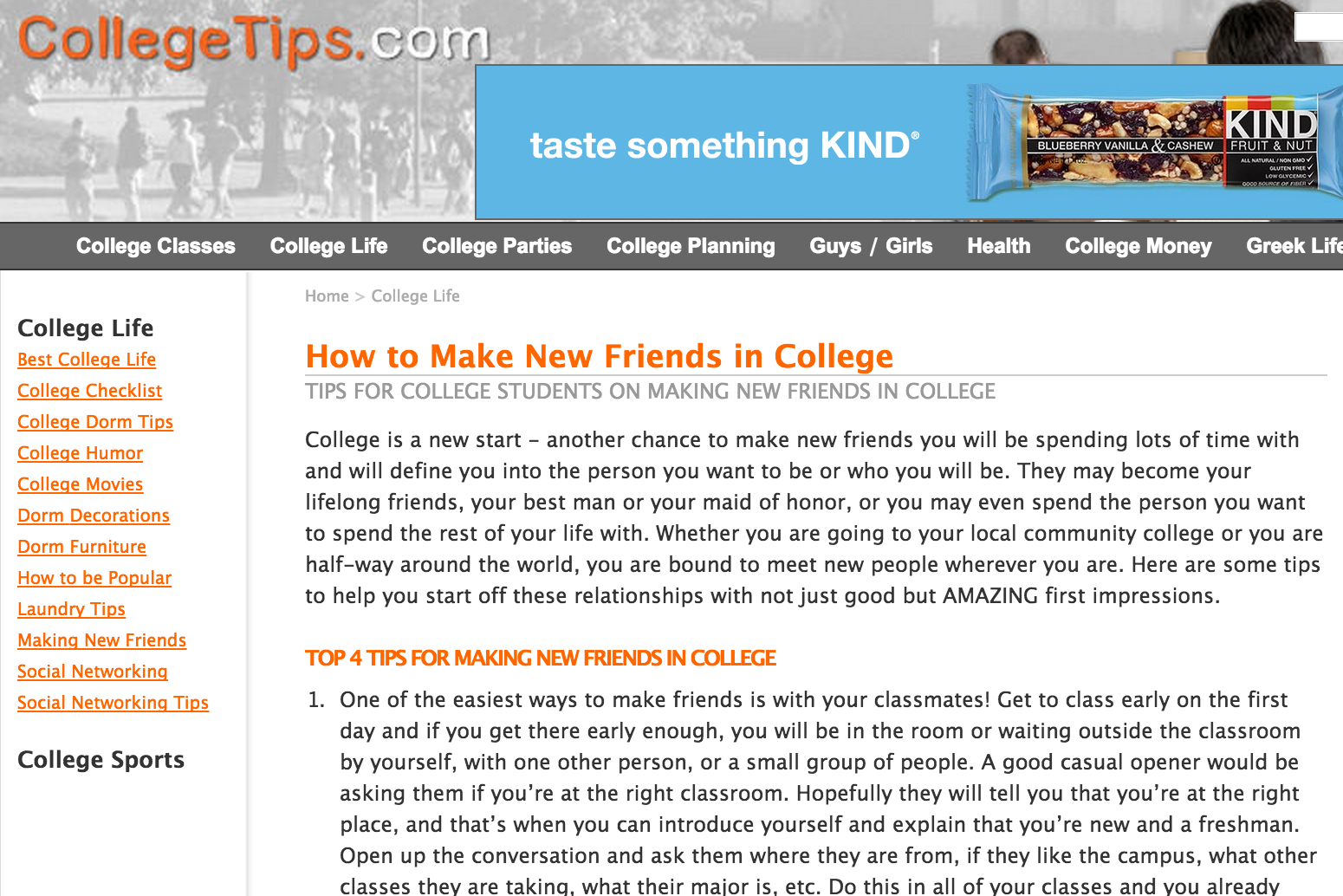 This site also includes the College Tips Blog, which is written BY college students.
While it's not the only college site out there that does, College Reality Check gives you the option to select different schools and visually compare different statistics between the two. CRC uses 3 key components in comparing colleges: 
Average Net Price
Graduation Rate
Debt Repayment & Earnings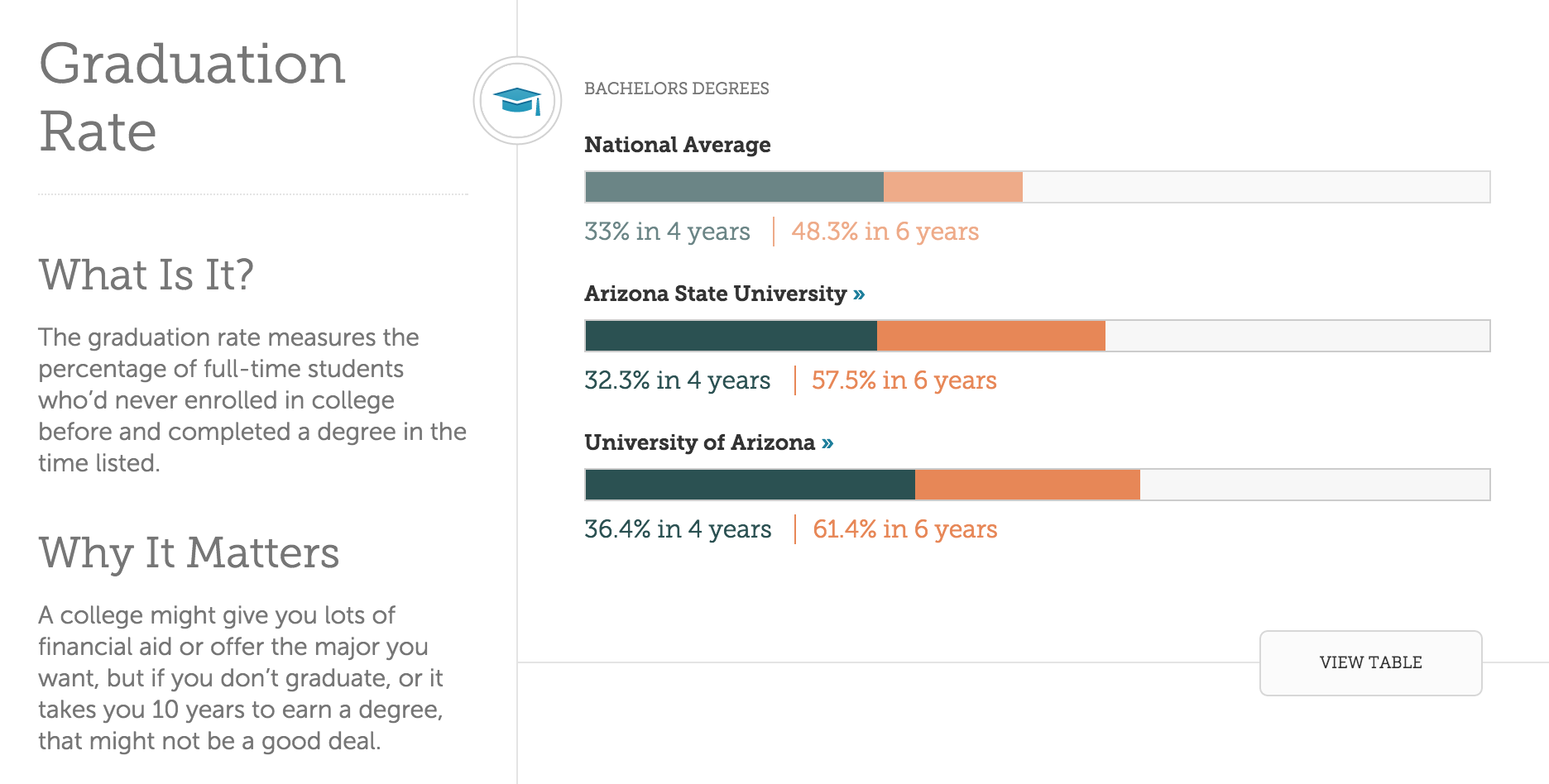 This site deals mainly with the cost of attendance for college, so if money is a topic of interest for you (it usually is!) College Reality Check is one way to get a quick and painless cost comparison.
Functional simplicity ranks CRC as #8 of the top 10 college resources for high school students.
I'll be honest, College Navigator isn't the prettiest site to look at initially. But when you use their College Search you'll find that this site is jam-packed with solid college admissions statistics.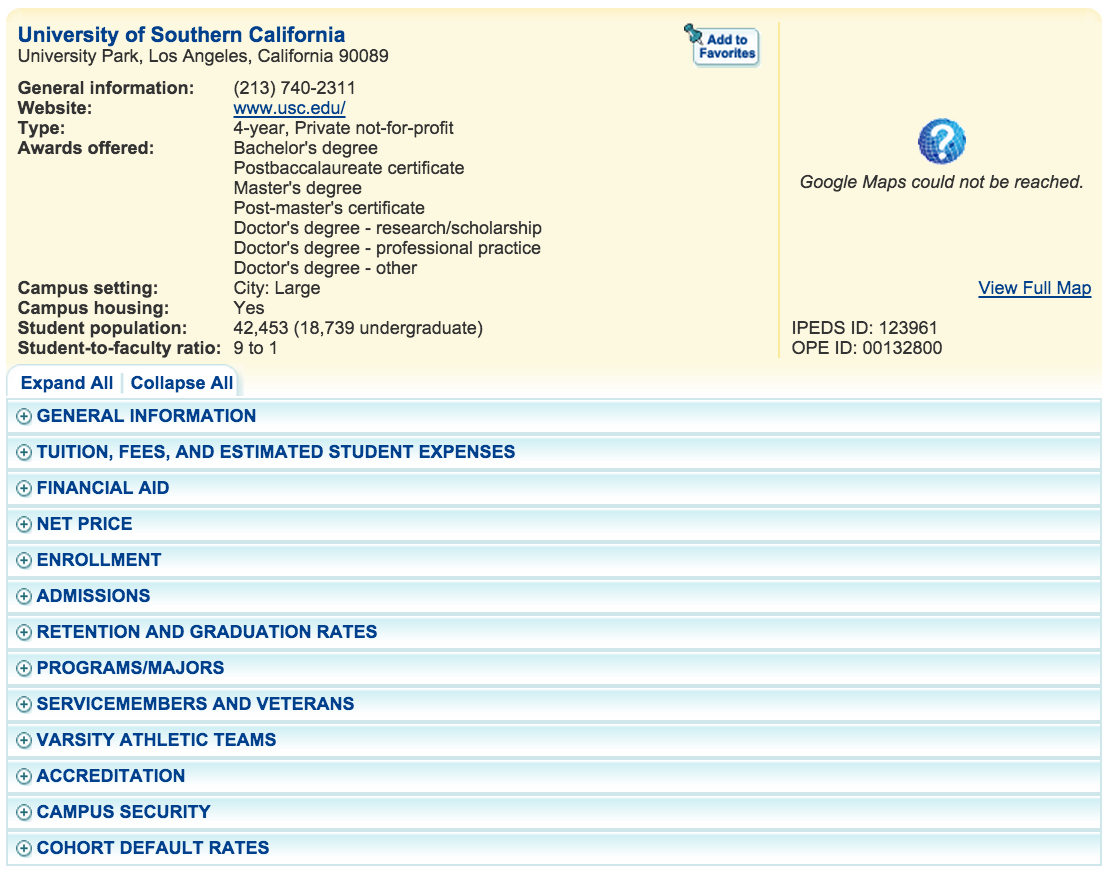 Turns out College Navigator is run by the National Center for Education Statistics (NCES), which is the #1 federal entity responsible for collecting and analyzing educational data — so you can bet they know their stuff.
As you may have noticed in the image above, College Navigator has all of the following:
General information: Links to important admissions, amount of faculty, etc. 

Tuition, fees and estimated student expenses and their percentage of change from year to year

Financial Aid and the average net price to attend

Enrollment for Graduates and Undergraduates in relation to gender, race, ethnicity, residency, and more

Admissions requirements and average score percentiles

Retention rates aka the amount of undergraduate students who return for graduate school

Graduation rates

Programs & Majors offered and to what extent (grade level)

Information about service members and veterans

Varsity athletic teams statistics and genders

Additional info such as campus security and criminal activity
The data here is very straightforward and trust-worthy — not to mention helpful in determining which college will be right for you!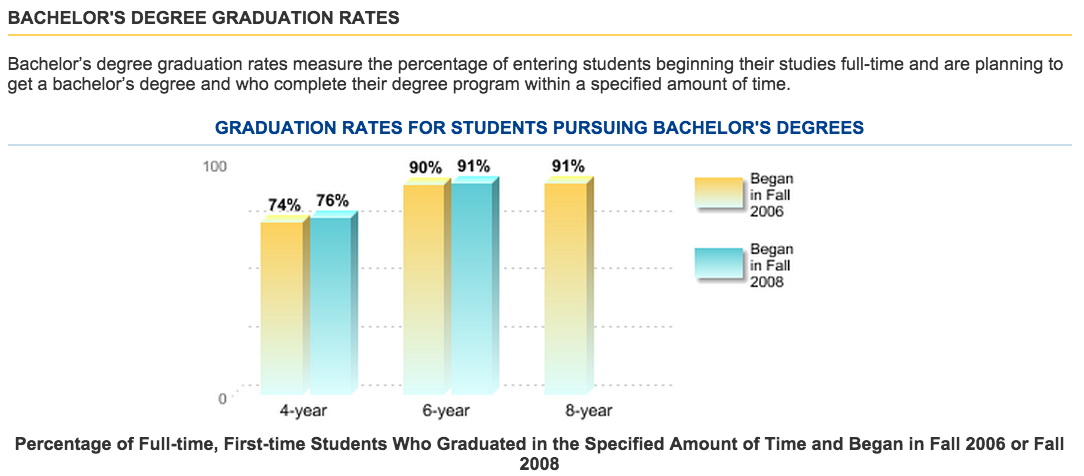 Having a trustworthy and vast database at your disposal ranks College Navigator as #7 of the top 10 college resources for high school students.
#6 of the top 10 college resources for high school students, College Board is another great college resource. Their College Search allows you to apply a variety of filters including:
Test scores and Selectivity

T

ype of school

Location

Campus & Housing

Majors & Learning Environment

Sports & Activities

Academic credit

Expenses

Support services

Diversity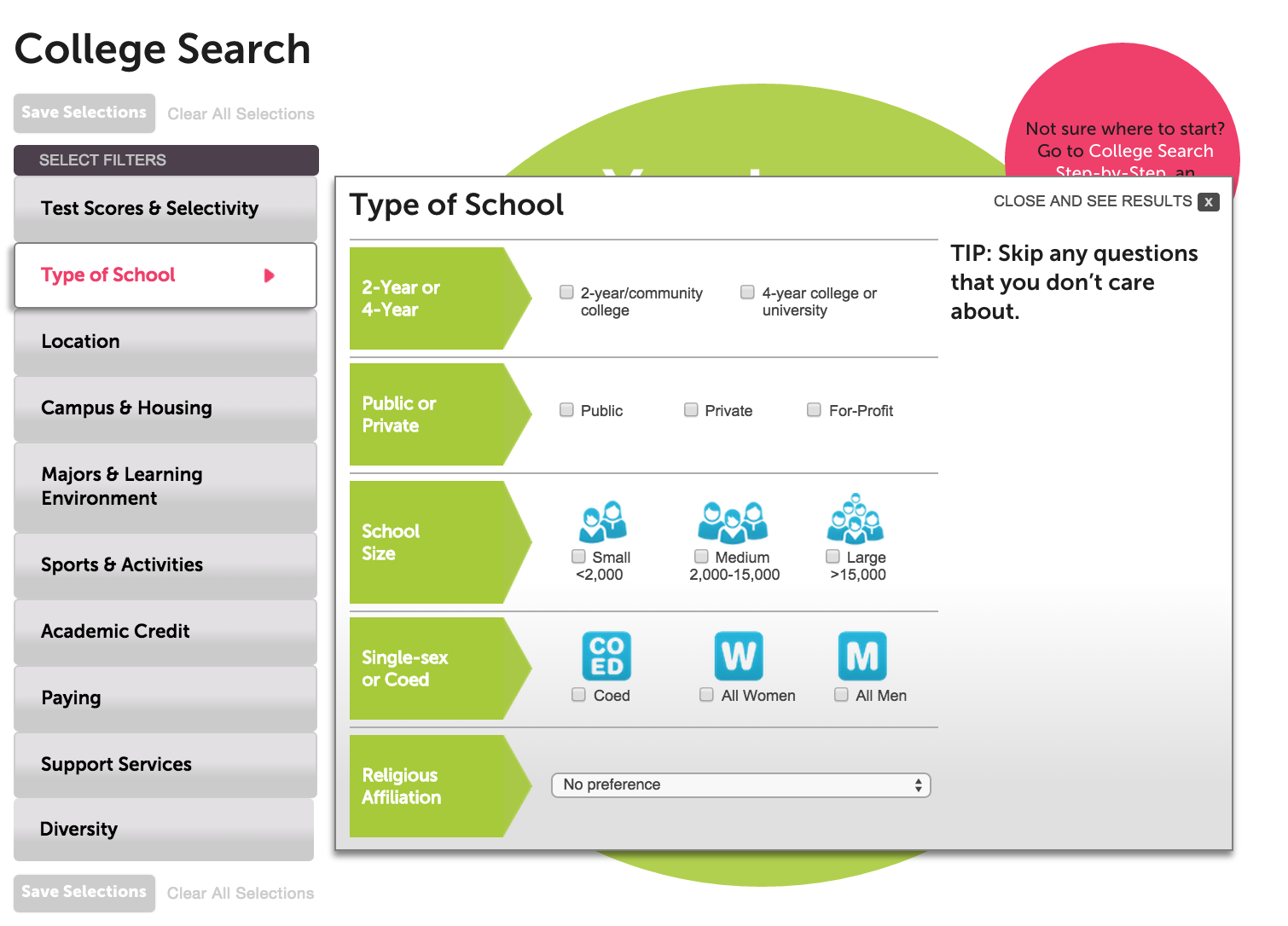 They also offer help with test prep including information on the SAT, PSAT, and NMSQT.
The site's "YouCanGo!" extension allows you to pledge your goals for college, view video interviews from real students about their experience, and find colleges within your proximity.
College Board also offers you guidance in "your next steps" toward college, helping students to develop goals toward getting into college starting in middle school. 
Fastweb is a great college site for finding and applying to scholarships.
Create a free, online profile that outlines details about yourself that play a role in scholarship selection, and Fastweb shows you which scholarships you should apply for.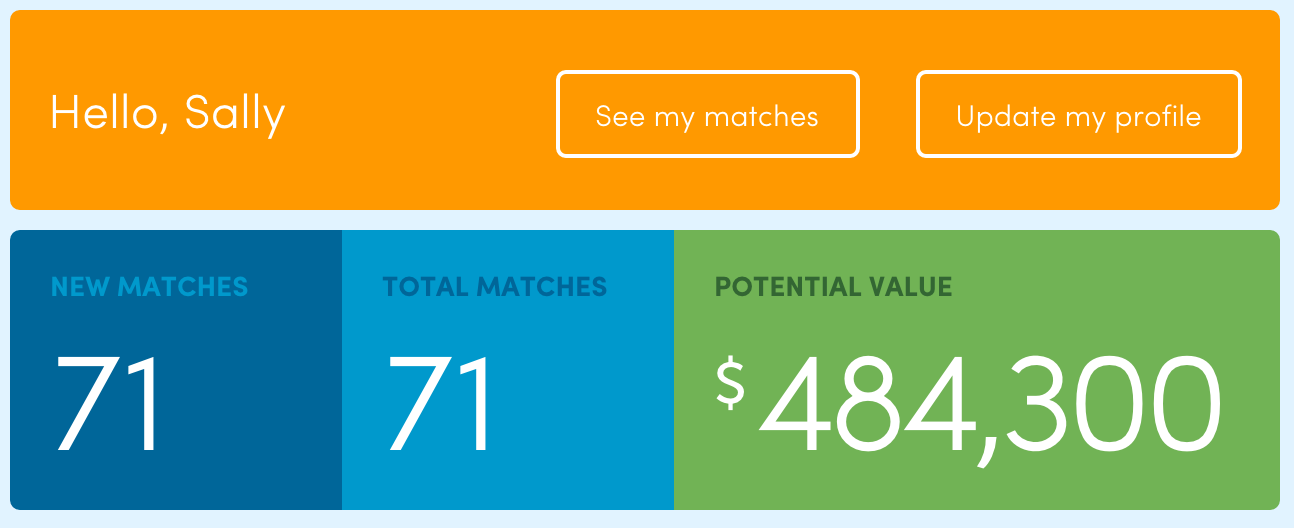 From here you can view scholarship deadlines and click directly on the names of scholarships to learn more about them and apply.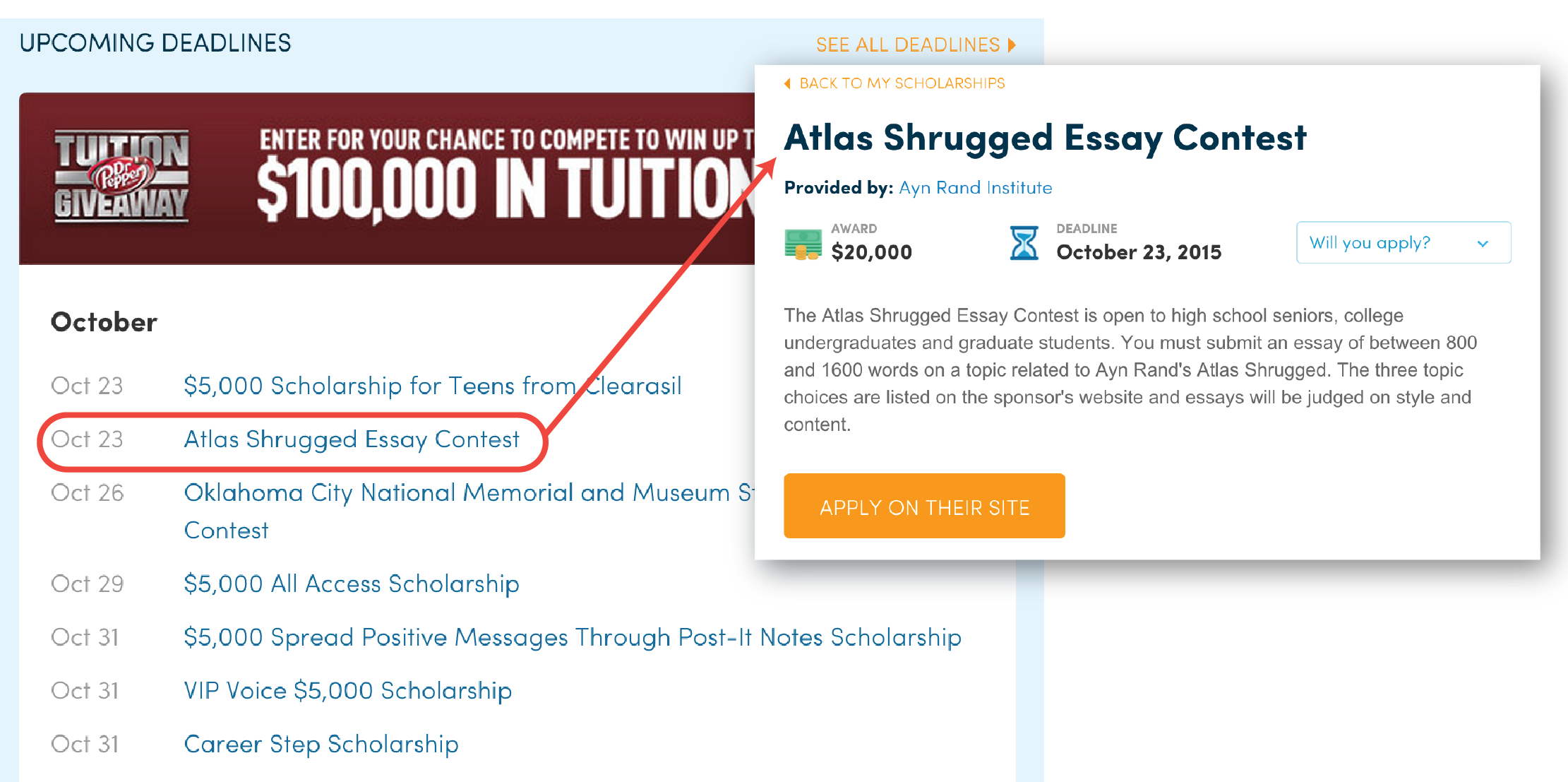 Not only is Fastweb great for scholarships, but it supplies additional college resources for high school students, which ranks it as #5 of 10.
Unigo ranks at #4 of the top 10 college resources for high school students with useful college planning info, stats, and more. This includes student ratings and reviews on a number of aspects you may be interested in.

By taking a quiz on the site and answering specific questions about yourself, Unigo helps you find your best possible options for colleges and scholarships.
There is also the Unigo $10K Scholarship available.
Unigo also offers something that no other college resource listed here does: live-streamed college events.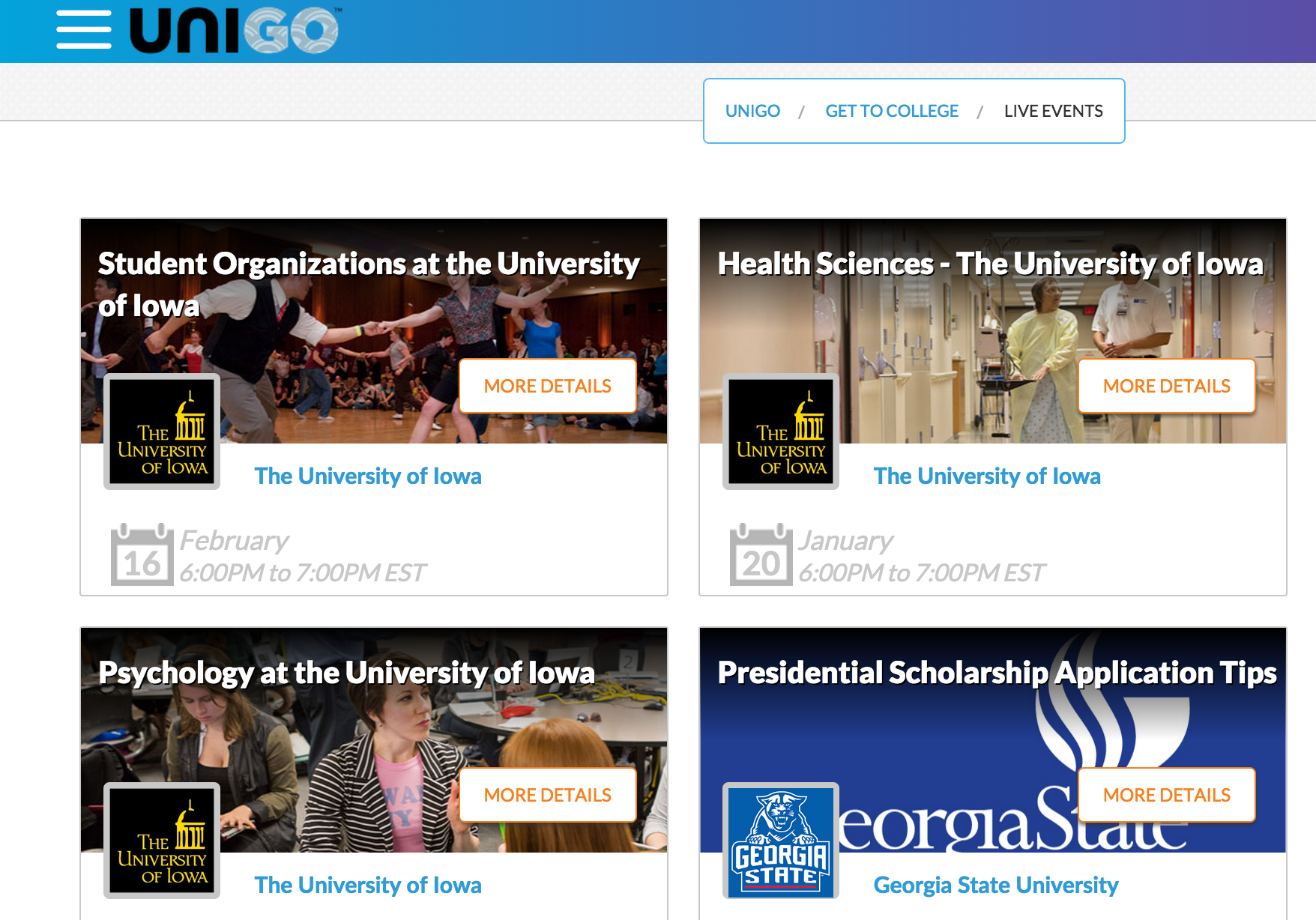 The majority of college sites I list in this article (and the ones I don't list) have a standard "College Search" feature. College Confidential is no exception to this.
However, there are other goodies to be found on this site, such as additional free college resources including online calculators for estimating your Academic Index and Financial Aid Eligibility
College Confidential's best feature (and the main reason for it's 3rd ranking out of the top 10 college resources for high school students) is its student forum.
This resource is packed with questions and answers by real students looking to get clarification on any number of college-related topics. You can find plenty of advice for College freshmen.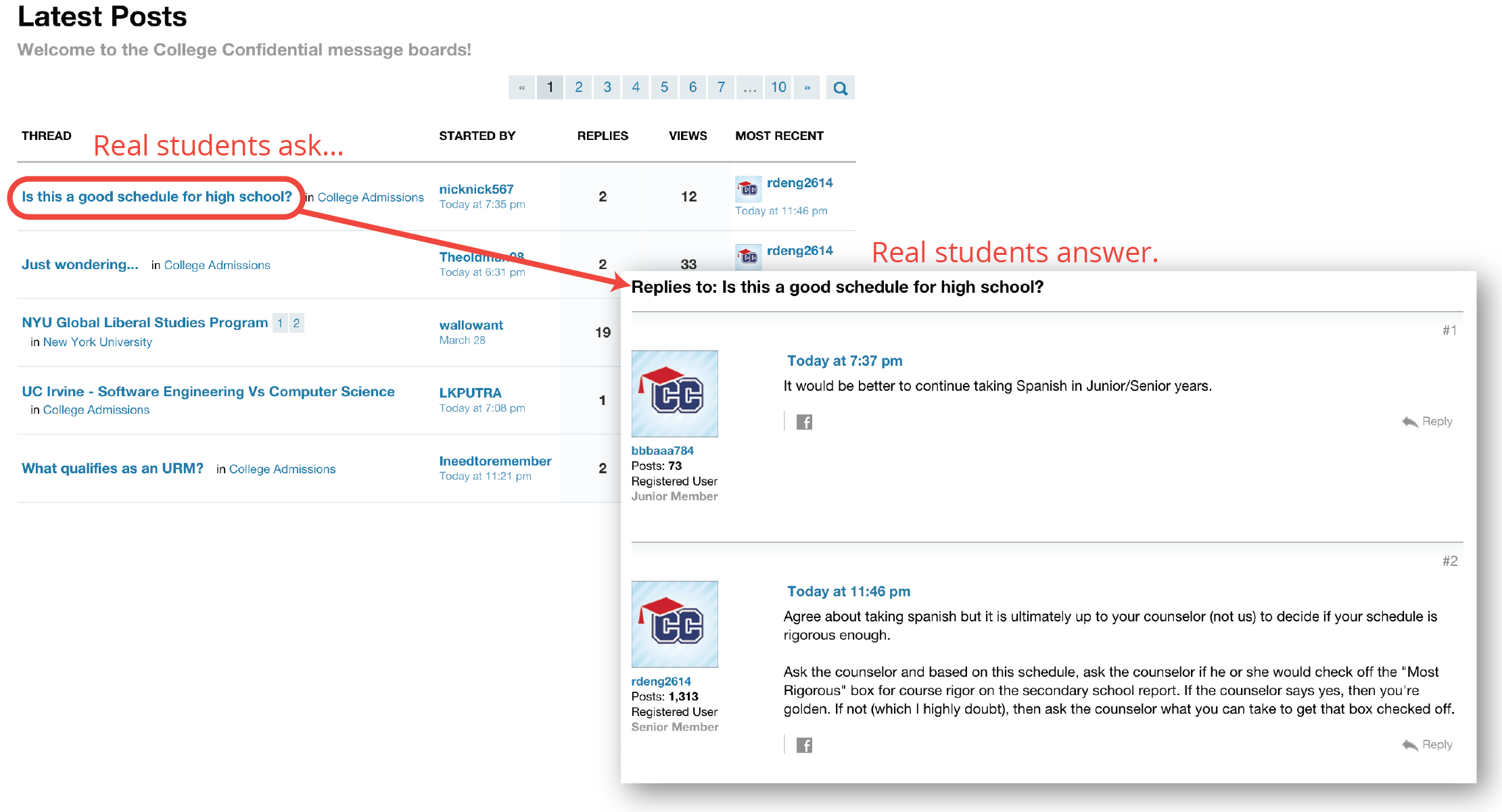 A newer feature within the forum is called "CampusVibe" and allows students who have visited a college to:
Add a visit report

Post campus photos

Share videos from their campus visit
Like College Reality Check, you can compare the colleges that you "pin" (an option that acts like a bookmark or shopping cart for your top choices during the college planning process)
I may be ripping Abe Lincoln off here, but one could say Niche is a college planning resource that is "of the students, by the students, for the students".
What am I talking about? 
One of Niche's most characteristic features is that it allows students to rate schools on different aspects and provide individual reviews.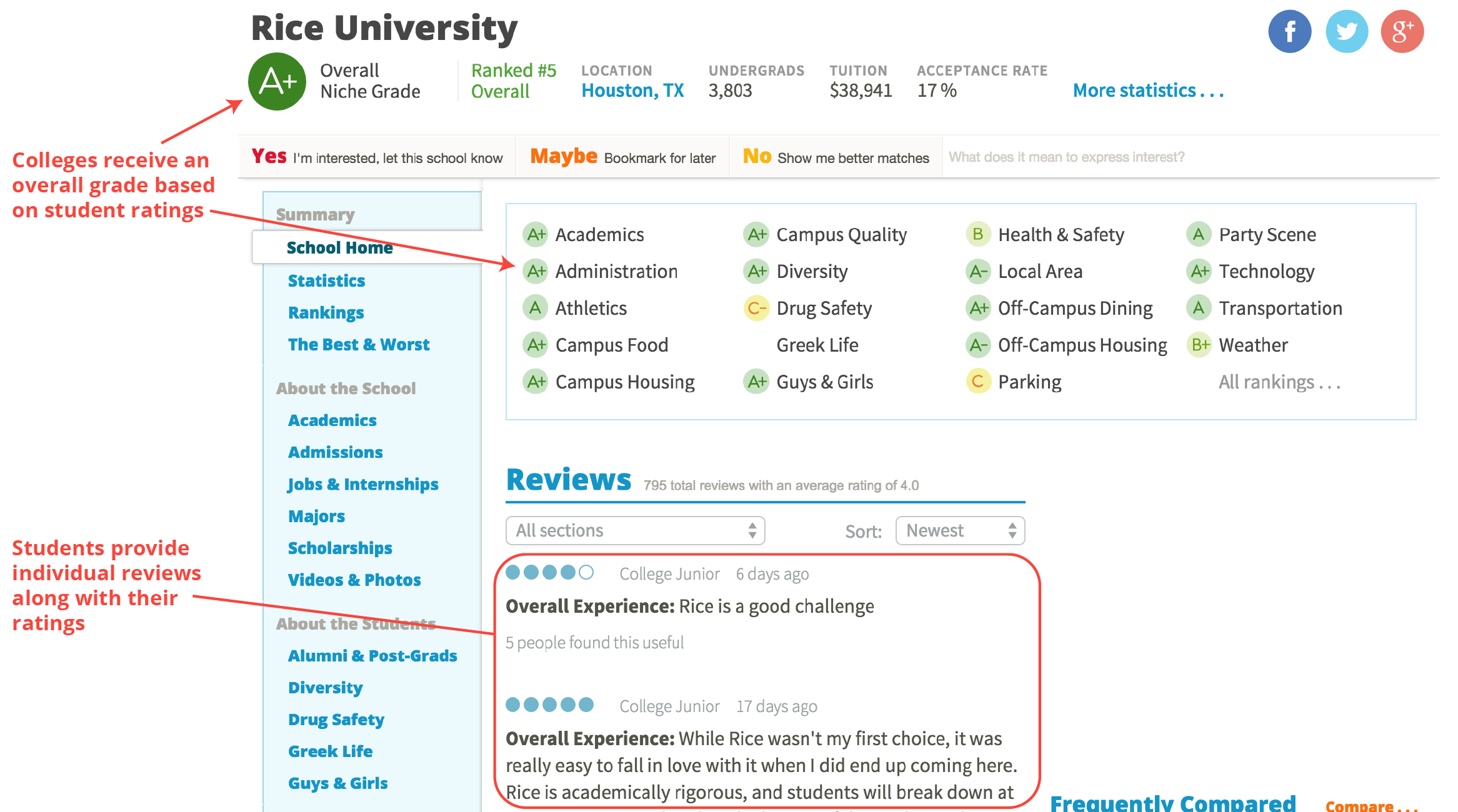 This is only one of Niche's many offerings. Niche ranks 2nd in the top 10 college resources for college students because it has just about everything else you may need.
What makes Cappex a great college site and college planning resource is its at-a-glance convenience. Cappex is great at displaying beefy college statistics in a way that is easy to read.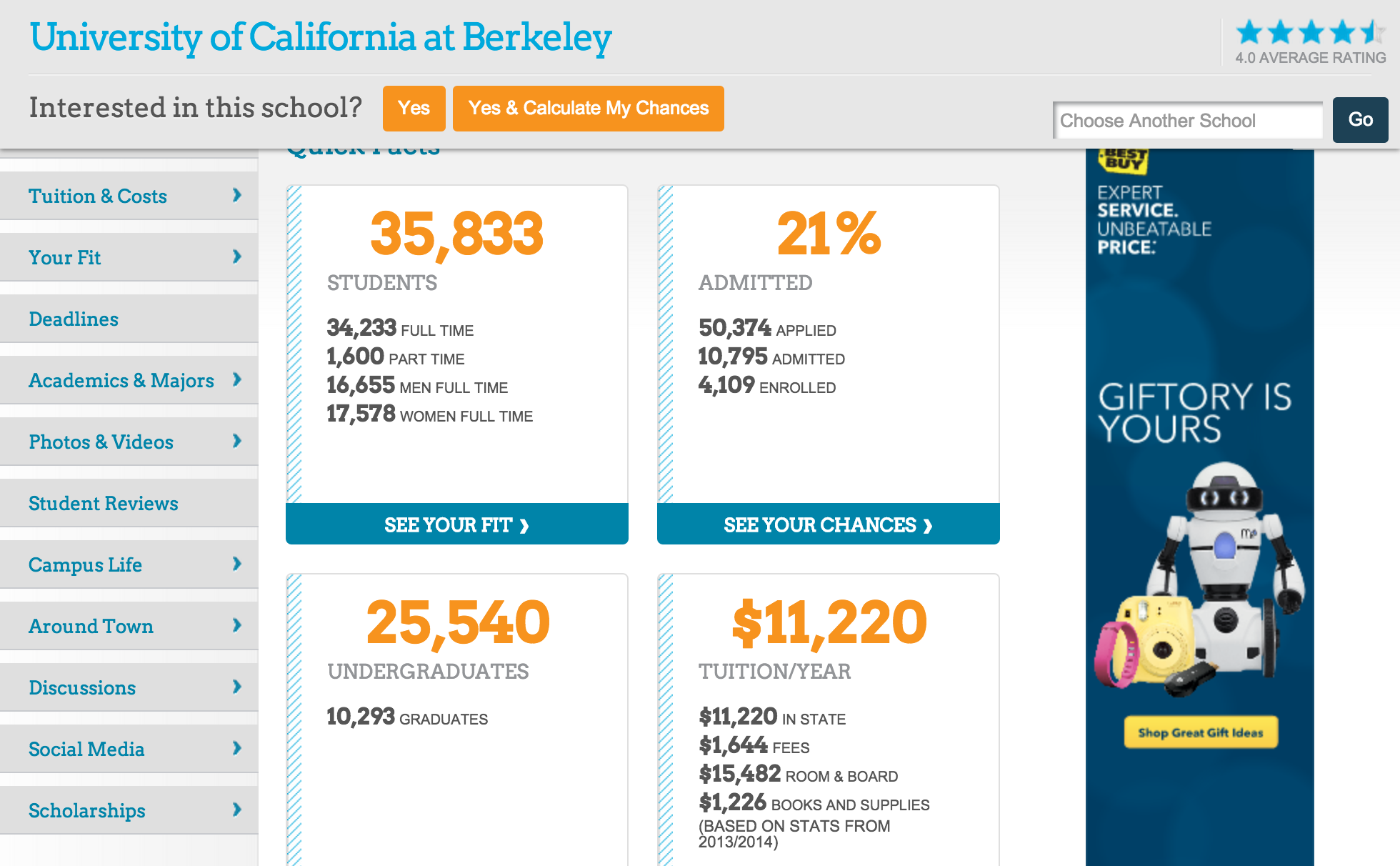 Cappex also takes the time to spell out your expenses for you, which means you're not sitting there staring at the tuition tag and wondering how much you'll ACTUALLY spend after books and fees and living expenses.
In addition to a College Search, it also offers a Scholarship Search which includes $30,000 in Cappex-issued scholarships and College Reviews.
Virtually painless to use and packed with a plethora of helpful information, Cappex ranks as #1 of the top 10 college resources for high school students.
Conclusion
Now I didn't go through EVERY option that each of these college sites offer in this article, but that doesn't mean you shouldn't have a handy chart to look at 😉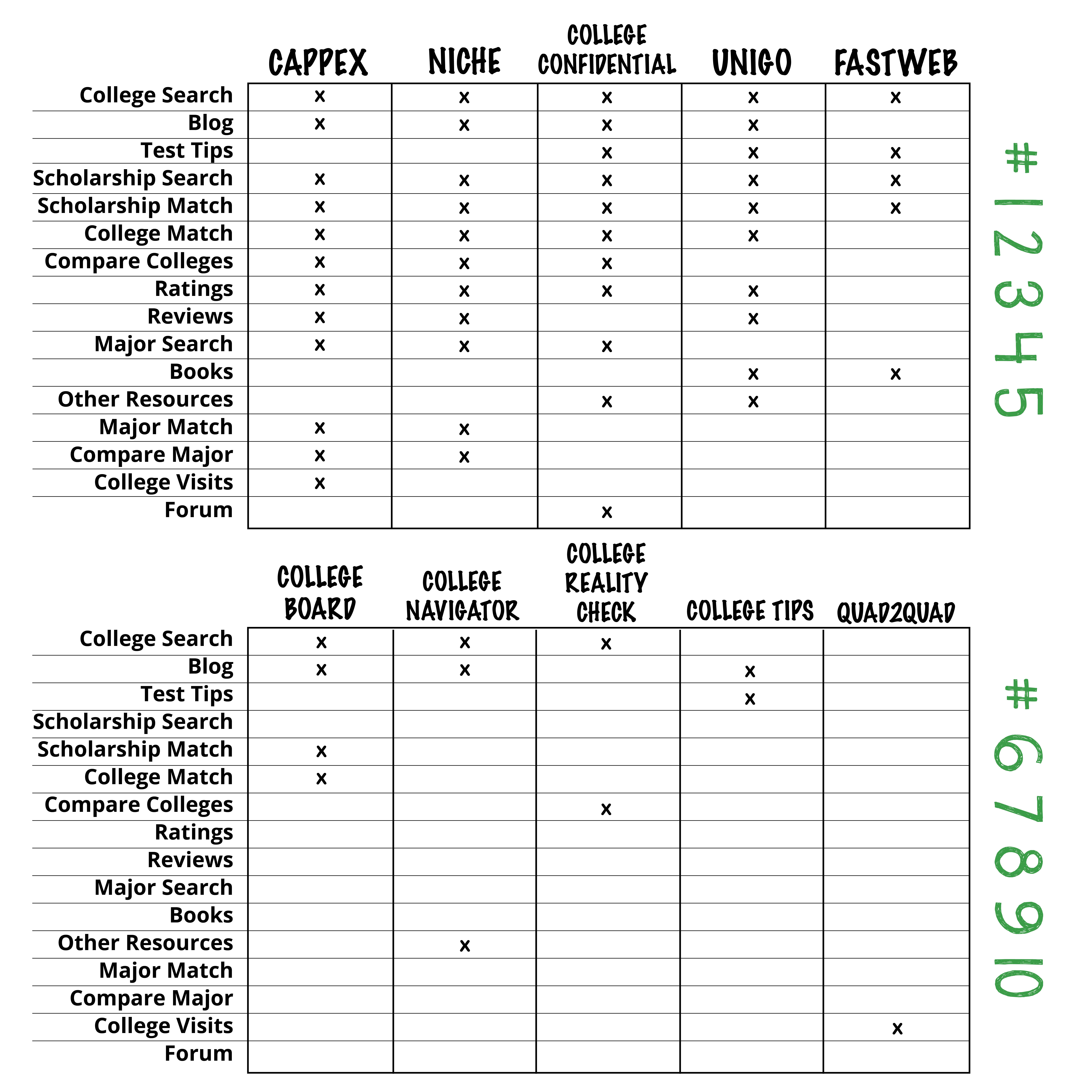 These college resources are of course 10 of several that are out there, and free for your use. However, they're Student-Tutor's Top #10 College Resources for High School Students because they're some of the best we've seen.
All 10 of these college resources:
Are easy to use
Are comprehensive & practical
Provide quality information
So let's test your recall memory… can you remember all 10?
I'll help you out. 😉
Cappex
Niche
College Confidential
Unigo
Fastweb
College Board
College Navigator
College Reality Check
College Tips
Quad2Quad
Do you think I missed some college resources in this list or know of any that should be added? What college resources do YOU use, and what is your opinion on them or the ones above? Tell us about it in the comments below!
The following two tabs change content below.
Hello! My name is Todd. I help students design the life of their dreams by ensuring college, scholarship, and career success! I am a former tutor for seven years, $85,000 scholarship recipient, Huffington Post contributor, lead SAT & ACT course developer, host of a career exploration podcast for teens, and have worked with thousands of students and parents to ensure a brighter future for the next generation. I invite you to join my next webinar to learn how to save thousands + set your teenager up for college, scholarship, and career success!
Latest posts by Todd VanDuzer (see all)