Let's be real. You're probably here because you're in dire need of SAT reading tips.
We completely understand. The new SAT Reading Section is not the most interesting topic on the face of the planet. Some of those vocabulary words? Useless. Those passages? A one-way ticket to Snoozeville.
You don't have to love the SAT Reading Section (very few people do), but in this day and age, it is important that you get a good score, which can be difficult given a lack of interest.
But how can you make sure that you do well? There are thousands of study materials, and more test-taking hints and tips than we can count. In this vast sea of test-prep info, it can be very easy to drown in information and lose sight of what's important, but have no fear! We're here to be your personal lifejacket.
We've taken the liberty of sifting through that endless ocean of test-taking strategies, and condensed it into the 5 key SAT reading tips we believe are most important. Follow these strategies and your SAT reading score is sure to improve!
1. How to approach the sentence completion? Cover the answer choices!
When approaching the sentence completion portion, people tend to get set in the "traditional" mode of test-taking: they read the question, and head straight to the answers without ever taking a second to think about what the answer probably is.
The problem with this approach is that, instead of picking the word that best completes the sentence, students pick the answer choices that they are most comfortable with, and try to mentally justify selecting that answer choice—much like a toddler trying to shove a square peg into a round hole.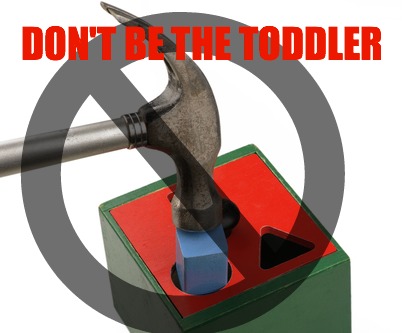 Here's how you should approach a sentence completion question:
Cover the answer choices with your hand
Read the sentence
Write down a word that, based on the context clues given, you feel best completes the sentence.
Uncover the answer choices
Select the answer choice that is closest in meaning to the word you wrote down in step 3.
I think you'll find that this is one of the SAT reading tips that are fast, efficient, and effective. After taking this approach, you'll find that you no longer waste time second-guessing yourself and trying to rationalize your answer choice.
2. If you're a slow reader, skim the passages.
The biggest problem people have with the SAT Reading BY FAR is time. The SAT Reading Section, much like the other sections, is designed to be difficult to finish in the amount of time given. By the end of the test, people often find themselves rushing to answer every question before the clock runs out. Many people end up having to guess on the last few questions, and some simply cannot finish the test.
Right now you're probably wondering how on earth you're going to be able to read every passage, read every question, and answer every question in such a small amount of time. I'm here to tell you that you don't have to do all of that!
If you're a fast reader, and you can manage to read every word of every passage, and still have enough time to answer every question, great! Keep doing what you're doing!
If you're like most high school students and reading a bunch of boring passages isn't your thing, then skimming the passages is probably a good strategy for you.
By suggesting that you "skim" the passages, I am, by no means, implying that you should give every passage a mere cursory glance. At the same time, you should not stress out over small details, and instead just try to get the big picture of the passage and only the essential plot points of each paragraph.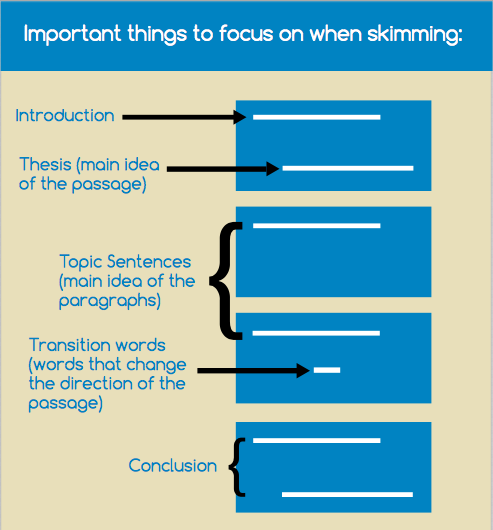 Skimming is one of the effective SAT reading tips not only because it saves time, but also because most of the passage-based questions in the SAT Critical Reading Section ask about big-picture ideas from the passage and a few major plot points. Questions don't typically focus on minute details.
If you're not used to skimming passages, this may take some practice. I recommend you get a hold of a few practice tests and take your skimming abilities for a test drive before you start skimming passages on the actual SAT.
Check out Collegeboard for some practice passages to get you started. Make sure to apply the SAT reading tips I have already mentioned.
Also, you can also get extra time for the SAT if you are eligible. Check out our article about that.
3. Summarize passages as you read them.
Like we said earlier, the passages in the SAT Critical Reading section are not the most interesting thing in the world. In fact, they're about as interesting as a piece of plain, white bread.
Consequently, it's very easy to doze off while you're in the middle of reading a passage and forget what it's about. Rather than having to go back and reread the passage, here is a nifty little trick to help you keep track of what's going on in each passage.
When reading a passage, stop after each paragraph and think for a few seconds about what you just read. Ask yourself "what happened in this paragraph?" and "what's important to take away from this paragraph?" After you've thought about the paragraph for no more than 10 seconds, write down a few words in the margin of the passage explaining the paragraph.
Here's what your test should look like after you've marked up a passage: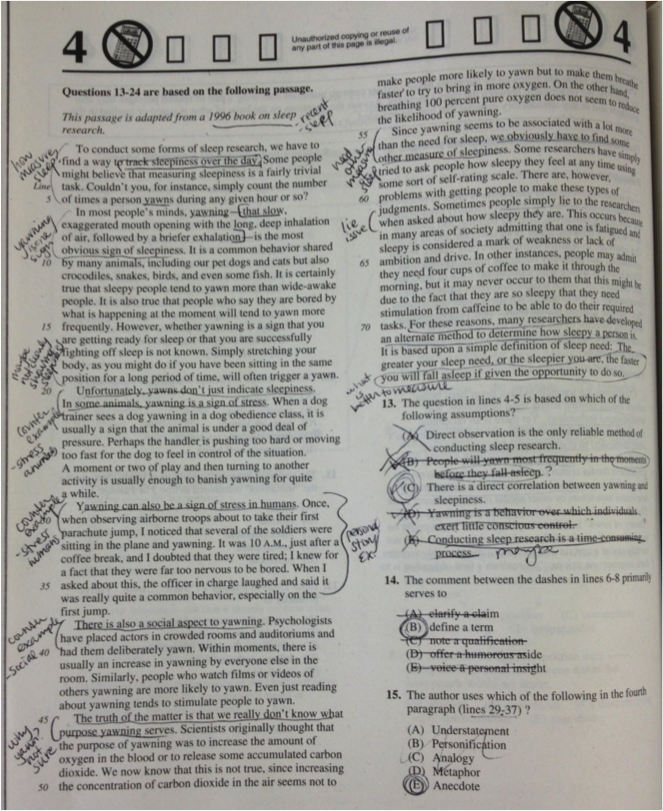 Do this and you will no longer have to waste precious testing time rereading entire paragraphs. This tactic will not only save time but will also help you to better recall the plot/content of each passage, which will aid you in more accurately answering the multiple-choice questions that follow each passage.
Now, wait… a mission-critical announcement!
You are learning such GREAT information but you need to tie to the BIG PICTURE! 🙂
Ok… now on to strategy #4!
4. Avoid extremes!
You may have heard of this one before. It's a common trick used in many standardized tests and it almost never fails.
Basically, whenever you see extreme words like "never" or "always" used in answer choices, those answer choices are never the right choice, and you can almost always rule them out as possible answers.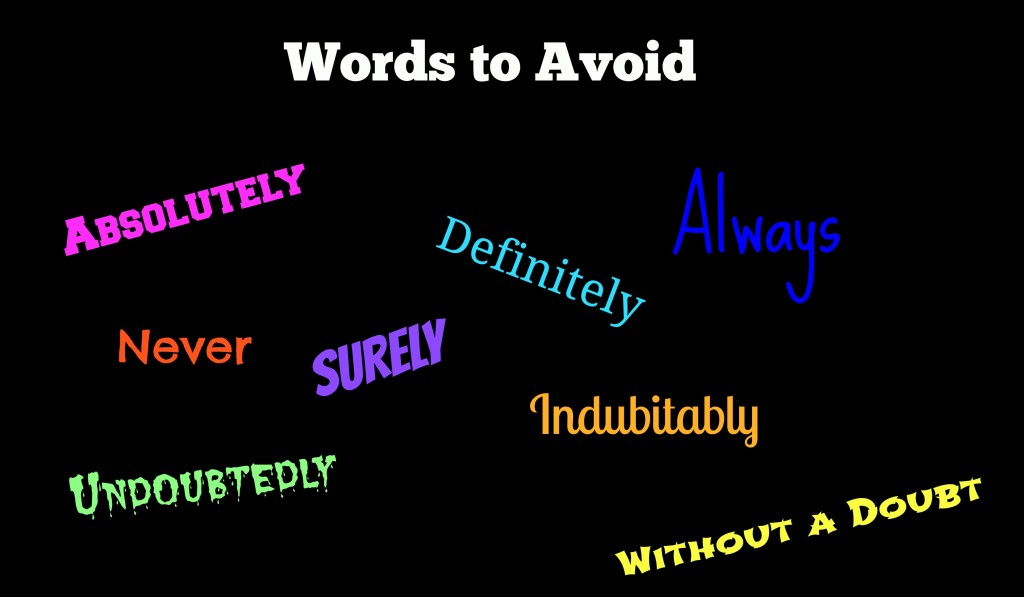 This is because the SAT passages are typically pretty moderate in terms of their messages, and the test makers tend to avoid including extreme or highly opinionated passages.
Let's look at an example to give you a better idea of what I'm talking about: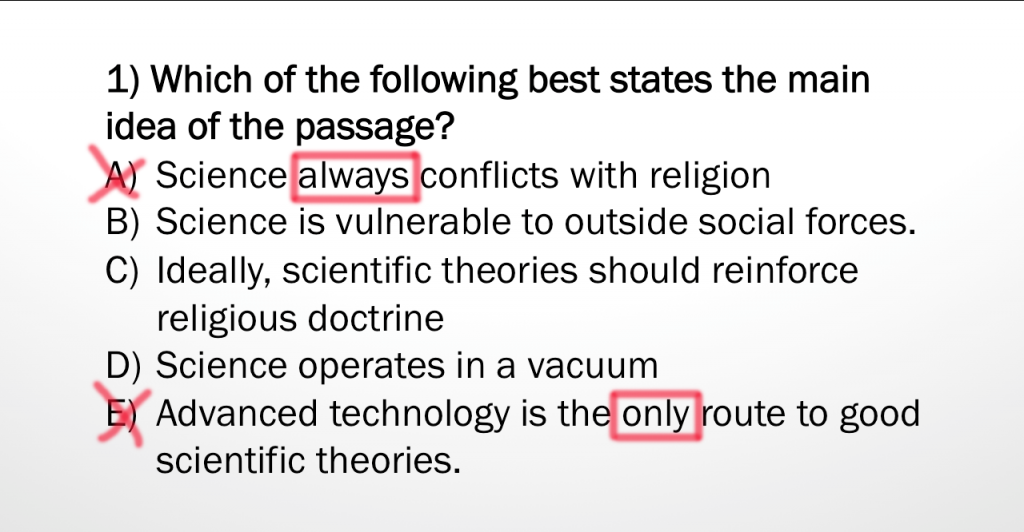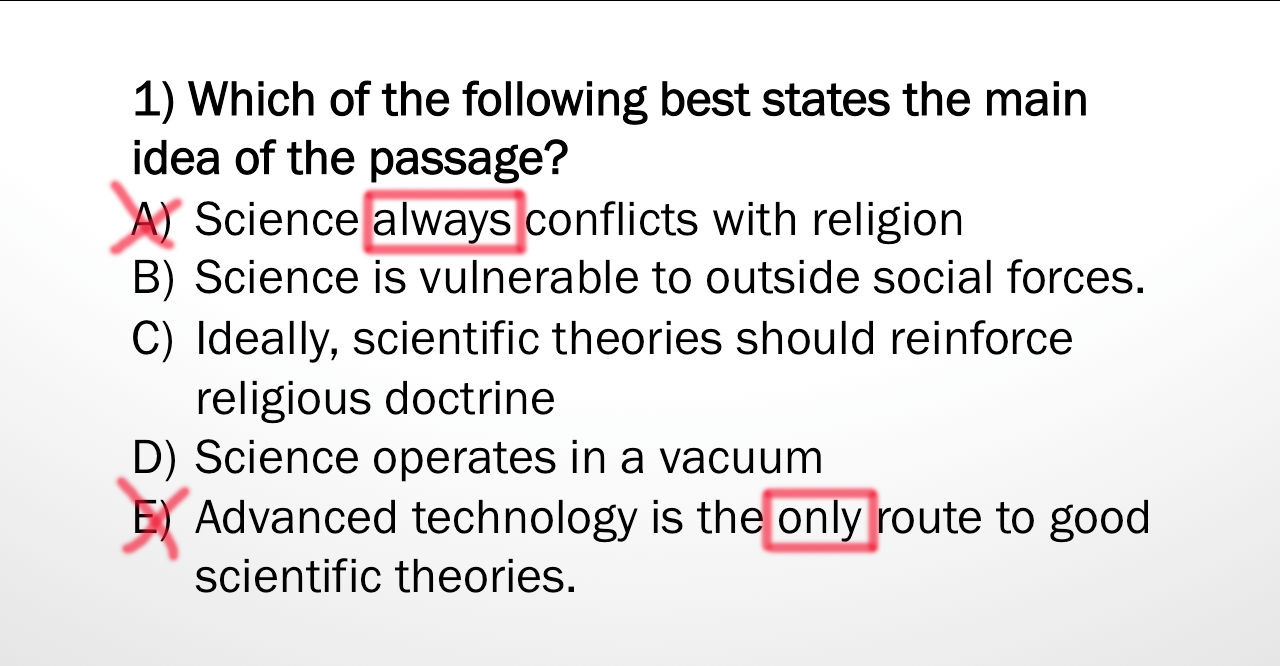 Notice the extreme trigger-words in choices A and E? Upon reading these answer choices, we can immediately rule them out as possibilities.
5. After you finish reading each passage, ask yourself "what is the main idea of this passage?"
 That's right! We've saved the most important SAT reading strategy for last.
All of the passages on the SAT, long or short, fictional or informational, have one thing in common—they all have a main idea.
The main idea may take the form of a trite moral like "don't judge a book by its cover," or the main idea of a passage might even be something as simple as giving a brief introduction into some topic.
Whatever the main idea of the passage, it's important that you spot it, as there are bound to be AT LEAST one or two questions per passage relating to their main ideas.
However, these questions are easy to lose points on. Why? Because those crafty SAT test writers don't want you to succeed.
The answer choices are carefully written so that each answer choice sounds correct, when in fact only one of the answer choices is the best choice. The other answers choices are not necessarily wrong, they're just not the "best" choices.
So how can you resist the temptation of picking the wrong answer?
Here's what you should do:
Read the passage.
Underline/circle the passage's main idea as it appears in the passage (often in the first or last paragraph).
If the main idea is not directly stated, you will have to infer the passage's main idea.
When faced with a question about the passage's main idea, simply refer to your notes on the passage.
Conclusion: SAT Reading Tips
Basically, you've got this.  Just remember to skim and summarize, and intercept your brain to make sure it doesn't go for the wrong choices–cover the answers, circle the main idea, so on and so forth.  Yes, the SAT writers don't necessarily want you to succeed…but, luckily, we do.
Aside from the SAT reading tips above, here are other articles that can help you get an awesome SAT score:
The following two tabs change content below.
Hello! My name is Todd. I help students design the life of their dreams by ensuring college, scholarship, and career success! I am a former tutor for seven years, $85,000 scholarship recipient, Huffington Post contributor, lead SAT & ACT course developer, host of a career exploration podcast for teens, and have worked with thousands of students and parents to ensure a brighter future for the next generation. I invite you to join my next webinar to learn how to save thousands + set your teenager up for college, scholarship, and career success!
Latest posts by Todd VanDuzer (see all)