If your kid is having difficulty understanding math, then you are not alone. Most parents worry their children are falling behind in their studies, especially in math subjects.
While this problem warrants concern from parents like us, it is important to note that kids develop math skills at a different rate. 
When our kid is struggling with math, it does not necessarily mean that they are not smart or they are not just "gifted" in math.
Like any other skill, math takes time to learn.
Kids are not just born with math skills; even math prodigies allot some time to learn and hone their skills.
Sometimes, our kids just need support and practice.
While math-anxiety is real for both kids and adults, us, parents can still remedy the situation and make the learning process more effective for our kids.
A study supports that apps can be used to effectively teach math to kids. To that end, we have listed several apps that you can use to help and support your child.
What are the best free Math apps?
When you search math apps in the Apps Store or Play Store, you would be overwhelmed with the number of educational apps for math out there. 
With that, listed below are some of the free math apps for kids.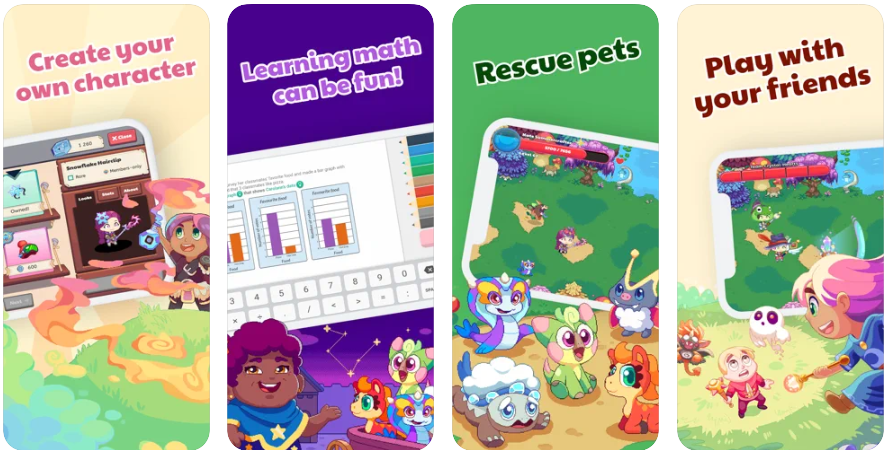 With the help of Prodigy, your kids would be able to practice their math skills all while playing games with their friends.
Prodigy is a game-based learning tool that challenges kids to answer different curriculum aligned math problems and questions. 
It encourages kids to solve complex math problems and helps them stay motivated while learning.
One of the bonuses to this app is that it helps teachers track their student's progress and parents can ultimately make the learning process more exciting by setting goals and handing them rewards within the game.
If you are having a hard time engaging your kids to solve math problems, then testing Prodigy might be worth a shot.

MLC is a non-profit organization founded by the National Science Foundation (NSF) that aims to improve the teaching of mathematics.
This foundation built several math apps like Geoboard, Math Clock, Number Frames, Number Line, Fractions, Math Vocabulary Cards, Number Pieces, Money Pieces, Whiteboard App, Number Rack, and Pattern Shapes.
MLC's math apps can be used as a supplementary tool for teaching math. It can help kids practice solving fractions, memorize math vocabularies, read analog clocks, and so on.
It is worth mentioning however that their math apps are only compatible with Apple iOS for iPad. If you are an android user, then you can just use their web app using any browser.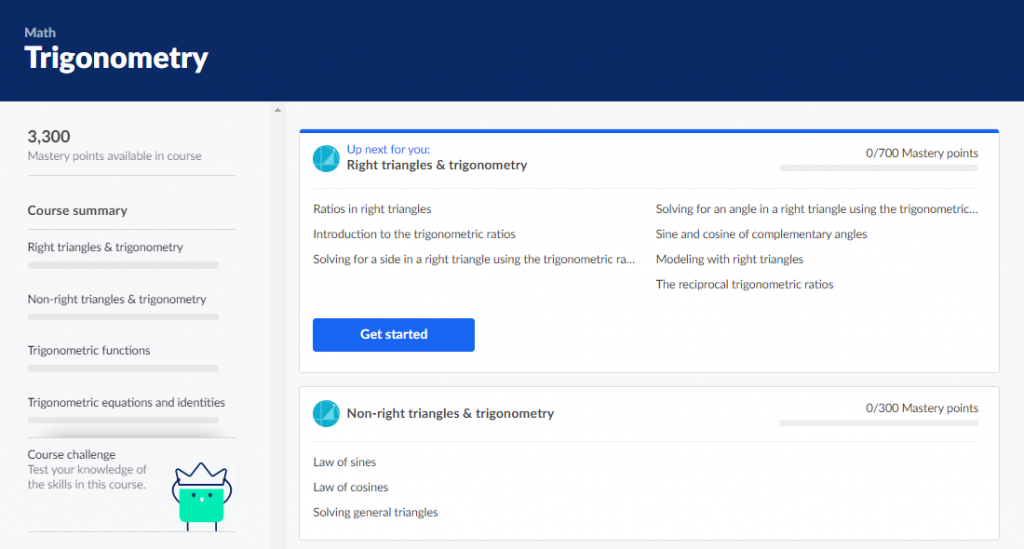 You might already be familiar with Khan Academy since it is a popular tool used by teachers and students for learning. It offers variety of courses from kids coding languages to US History and Economics.
Aside from being a great math help websites, Khan Academy also has an app compatible with both Android and Apple users.
We have included Khan Academy on this list because it is a great app where your kids can watch tutorial videos, read modules, and answer math problems.
Since they offer learning materials on different subjects as well, they can be a great history app, reading app, test app, and even coding apps for kids.
They also have a separate app called Khan Academy Kids, the gamified version of their app. Khan Academy Kids offers different activities and games like drawing, coloring, and story-telling.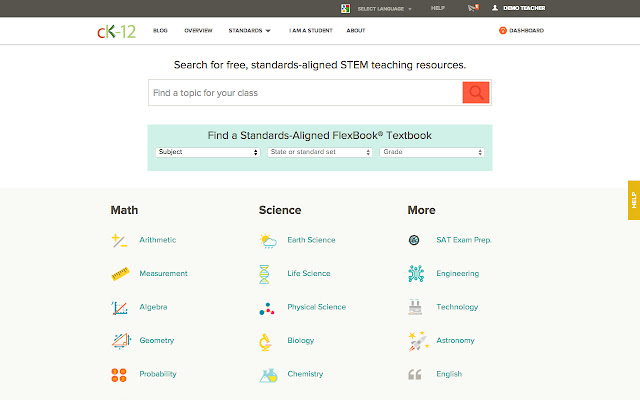 Website apps like CK-12 are great for students who want to have additional resources for learning. CK-12 provides textbook definitions and illustrations of math problems that kids can use to complement with their notes in school.
CK-12 courses are arranged based on the topics and level of difficulty. It is also accessible in different languages like Spanish, Korean, Polski, Chinese, and so on.
Aside from being a great web math app, CK-12 also has advanced math topics and other math related subjects like Physics, Economics, Statistics, and many more.
Since this is a website app, you no longer have to download it from the App Store or Play Store. You just need a working browser in order to use this app.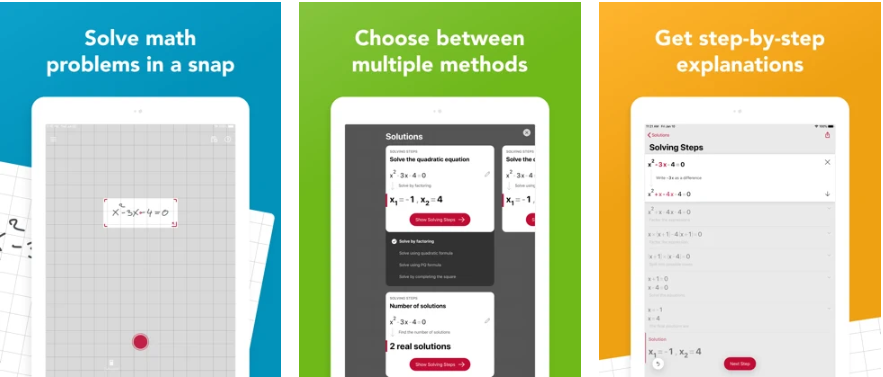 One of the go-to math apps of students for their homework is Photomath. 
It is free to download on both the App Store and Play Store; however, you would need to pay in order to utilize all of its benefits.
This mobile application makes it easier for kids to solve complex math problems. You just need to scan (or take a photo) of the math equations, then viola, the app will simply solve it for you.
One of the bonuses to the paid version of this app is that it provides a step-by-step solution on the screen.
So if you are a parent who already forgot how to solve complex math problems, then you can use Photomath as a memory refresher before you teach your kids how to solve math problems.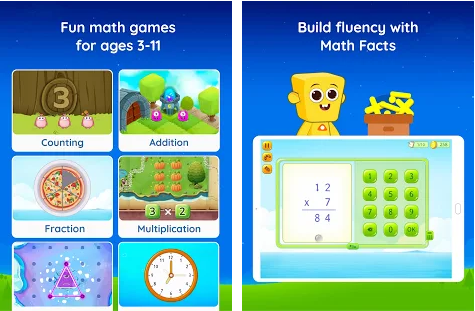 Best for kids ages three to 11, SplashLearn makes learning math fun and exciting for kids. It is a "scientifically-designed" app that balances kids' time between learning and playing. 
If your kids like games and visually-appealing examples of math problems, then SplashLearn is a great app for them. It is filled with puzzles, stories, and games that would keep your kids engaged and motivated.
Other than being a great gamified math app, it is a great gamified reading app as well.
This mobile app is free to download on both the App Store and Play Store; however, you need to pay after the 7-day trial period in order to avail all of its fun packages.

Unlike other gamified math apps, Sushi Monster is completely free. It is both available on the App Store and Play Store.
Sushi Monster is an app that can help your kids hone their math skills. Since it is a gamified app, your kids would be able to apply, practice, and extend their fluency in math.
Its engaging gameplay would not only improve your kid's knowledge in math, but it would also help increase their speed in solving multiplication and addition problems.
Despite only having limited game levels, Sushi Monster is still an excellent app that would help improve your kids' speed and accuracy in solving math problems.

Another gamified math app to add to the list is Math Vs Zombies by IM Studios.
Like Sushi Monster, it also has a limited number of game levels. 
However, aside from multiplication and addition, Math Vs Zombies can also improve your kids' speed and accuracy in solving subtraction and division.
This math app is somewhat similar to the Plant Vs Zombies game. But rather than defeating zombies with plants, you need to defeat them with the power of math instead.
Math Vs Zombies is a great passing app for kids who like to play games and want to improve their basic math skills. You can either download it from the Apps Store or Play Store

Best for kids aged two to seven, Moose Math is great for kids who are still in elementary and is still learning the basic math concepts.
Duck Duck Moose is part of the Khan Academy Family. Because of that, you are certain that the problems and questions they provide are based on the Common Core State Standards.
Kids can learn the relationship between numbers, counting, basic addition and subtraction, and many more. 
With its gamified and visually-appealing interface, kids will surely find this math app engaging. 
Moose Math by Duck Duck Moose is 100% free and it is available in both App Store and Play Store.

If you are looking for a Montessori based math app for your kids, then Montessorium: Intro to Math might be the one you are looking for.
Available on both iPad and iPhone, this math app will help your kids learn and understand the basic foundations of math.
From learning how to read and write numbers to arranging numbers sequence, Montessorium: Intro to Math can help your kids have better foundational knowledge in math.
One of the bonuses to this free gamified app is that you can switch it to different languages like Spanish, French, Italian, Arabic, Korean, Japanese, and many more.

Based on a UNESCO award-winning visual education method, RelationShapes by VizuVizu helps kids improve their early math skills by further developing their motor skills.
Like coding games like Scratch, RelationShapes is also a gamified app that helps kids exercise their spatial reasoning skills and, at the same time, teaches them valuable knowledge on other subjects like math.
It is designed to motivate and encourage kids to think and solve problems creatively.
This app would be helpful especially if you are planning on enrolling your kids to coding classes online and other coding websites.
One of the bonuses of this game is that your kids can play it with you or their friends. RelationShapes has a split screen and multi-touch interface. You can download it on an iPad or Tablet to make gaming a lot easier.
The app is completely free and it is available on both the App Store and Play Store.

Great for kids ages six to nine, Shape Quest is an app that combines games and puzzles. This app uses 3D augmented reality, making it more approachable and appealing for kids. 
From PBS Kids, Shape Quest is one of the famous gamified math apps that focuses on geometry, spatial reasoning, and problem-solving. The game has several levels and offers over 80 puzzles.
With that, kids can use this app for a longer period to improve their basic knowledge in math. They would be able to improve their visualization skills and learn different geometric shapes.
 Shape Quest is available on both the App Store and Play Store.

This fun app is recommended for kids ages three and up. Tiggly Chef is a gamified app that teaches kids how to do math without taking the fun out of it.
The premise of this game is to help the chef prepare his silly recipes while making sure that the measurements are correct. 
This app would help polish your kids' knowledge in counting and arithmetic.
Since the app seamlessly incorporated math problems into the game, your kid can naturally learn and grasp basic math concepts.
An additional feature of this app is that you can use it along with Tiggly Math Smart Toys. Inspired by Montessori classrooms, Tiggly Toys makes the app more exciting and engaging.
Tiggly Chef is free to download and it is compatible with Apple iPads.
The apps listed above are just some of the many math apps freely and openly available. There are also several paid apps that you might find especially useful and worth it for your kids.
Apart from apps specifically created for math, there are also other educational apps that can teach new skills and improve your kids' performance in school. Some apps teach writing, reading, counting, and even coding for kids. 
Whatever subject that you can think of, trust that there is an educational app for that. 
So with that in mind, you should keep your options open and be in the know of the latest educational apps for your kids.
Conclusion
As a parent, it is our duty to provide our kids with the best learning tools and resources.
Exploring and trying out these free math apps would cost you or your child nothing.
Who knows, your kids might even find these apps useful for their studies and enjoyable to use in between their study breaks.
You can also try suggesting Roblox to your kids during their free time. We have wrote an article about Roblox for skeptics users out there. You can read our article titled Is Roblox Safe for Kids in this link.
By all means, you should not only rely on these apps to improve your child's math skills. There are other helpful apps and even learning websites for kids that can teach them to be better at math.
Apart from that, there are also different ways to teach math. You can encourage them to participate in competitions, attend coding classes for kids, do physics experiments, and many more.
While these apps are certainly helpful in honing your kids' talent and knowledge in math, it is still important to complement it with other resources as well.
The following two tabs change content below.
Hello! My name is Todd. I help students design the life of their dreams by ensuring college, scholarship, and career success! I am a former tutor for seven years, $85,000 scholarship recipient, Huffington Post contributor, lead SAT & ACT course developer, host of a career exploration podcast for teens, and have worked with thousands of students and parents to ensure a brighter future for the next generation. I invite you to join my next webinar to learn how to save thousands + set your teenager up for college, scholarship, and career success!
Latest posts by Todd VanDuzer (see all)