What if instead of a paper with an "A" written on the top, your teacher handed you $103,800? That's possible if you know how to raise your GPA in high school!
Your grades are potentially worth hundreds of thousands of dollars in money toward college… and the best part about it?
You don't need to have a 4.0 GPA.
Before You Use Our High School GPA Calculator, let's first understand the difference between weighted GPA and unweighted GPA.
Weighted GPA and Unweighted GPA

The standard formula for calculating High School GPA is this:However, as you may know, there are two different KINDS of GPA:
Weighted
Unweighted
Ok, so what's the difference? Mainly, they assign different grade point values to each grade you receive. Here's a quick, eyeball comparison of the two!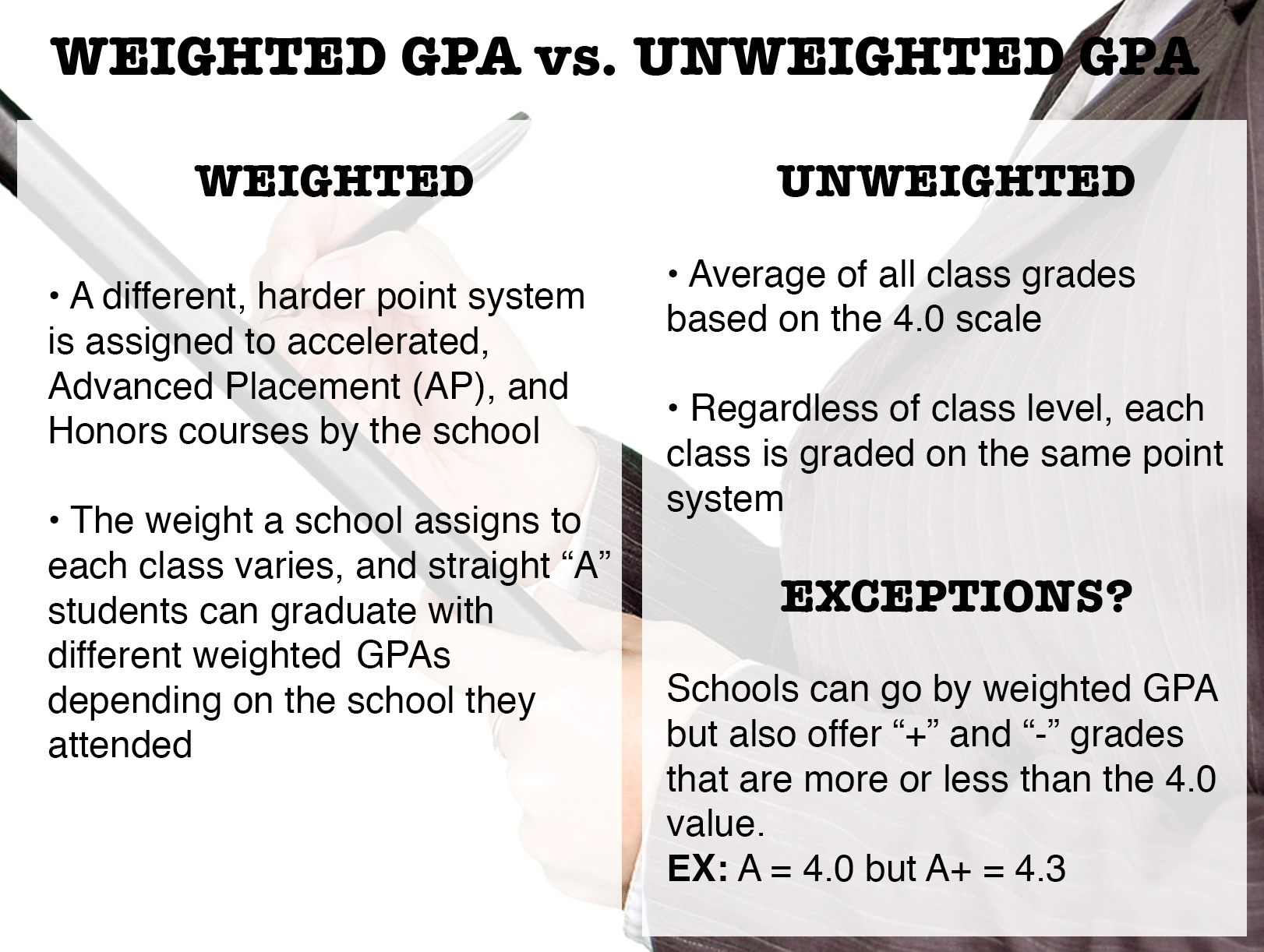 What does this mean for how I calculate my High School GPA? 
First and foremost you need to know what your High School goes by. That will determine the GPA that shows up on your transcripts to college.
THEN, you need to know what the college you're applying to is looking for in terms of High School GPA.
Which brings me to one of the reasons why you are reading this article!
Using our High School GPA Calculator
There are several High School GPA calculators out there that you can use.
To try one, from GPA Calculator.
This particular GPA calculator calculates both your weighted AND unweighted GPA — see here?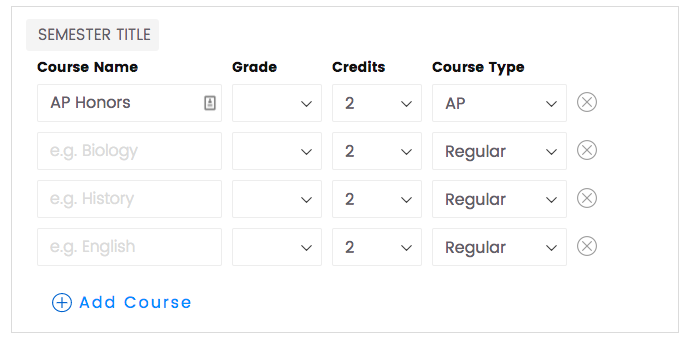 When you're calculating your High School GPA, it's also important that you keep in mind the colleges you plan on applying to…
Because different colleges look at different things! The majority of schools look at unweighted GPA. Some schools look at both. UC Berkeley, for example, looks at both weighted and unweighted GPA in their admissions.
California schools overall have a unique structure. Here we wrote an article that explains 8 steps to get into a CSU school in case you were interested. 
As a rule of thumb, you should always aim for a high unweighted GPA. But you'll want to research the college you're interested in.
Go to their website or call their admission's office to ask about weighted and unweighted High School GPA for admissions.
7 Tips on How to Raise Your GPA in High School
Remember when we said you could get $100,000 dollars or full tuition + room and board scholarship in different universities?
Well, these scholarships are only available if you maintain a strong GPA. Lucky for you, it is NEVER too late to increase your GPA. Here are five steps you should take in order to get admitted and win that coveted scholarship:
1. Start Strong
Your first two years of High School set the foundation for your High School GPA. To make them count, you need to: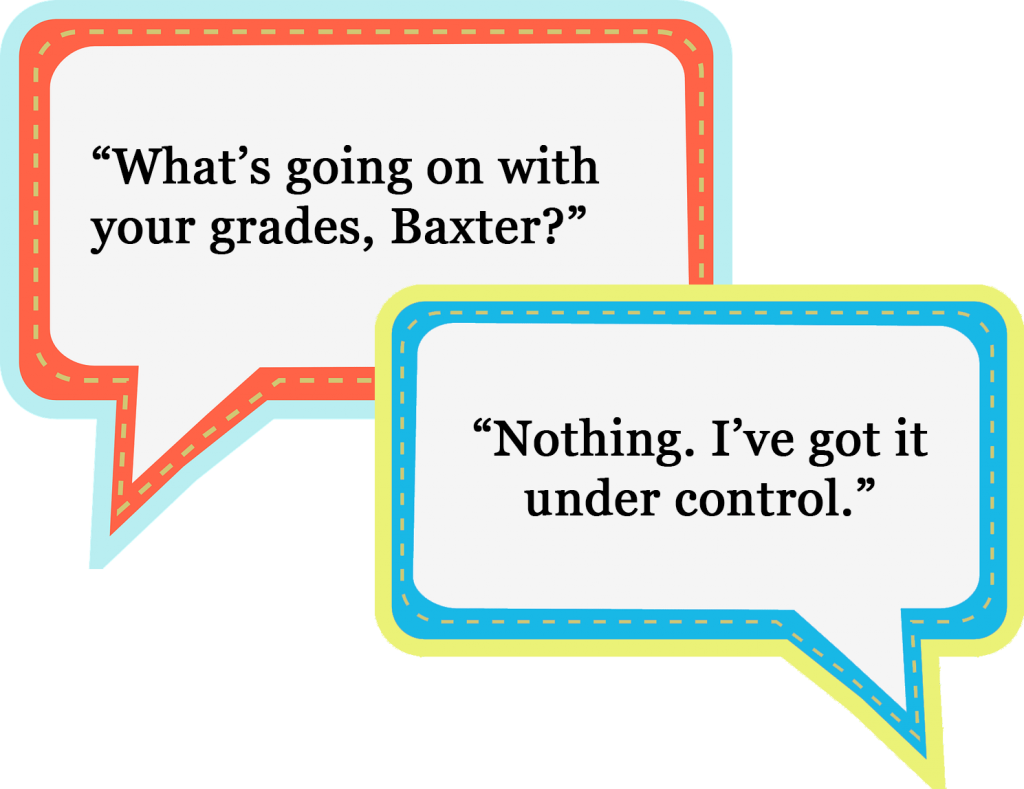 Essentially, you want to avoid damage control (a bad grade that you have to scramble to raise). Some colleges will drop your Freshmen grades, but don't get stuck pulling straws — put in the work NOW so you don't have to later.
2. Get a Tutor
Tutoring isn't just for students who are struggling. This is also one of the most important steps on how to raise your GPA in high school. Think of it this way: Even the most accomplished novelist still needs an editor to go over their work. Even the most accomplished athlete still hires a personal trainer.
How expensive is tutoring?? 
Let me show you something.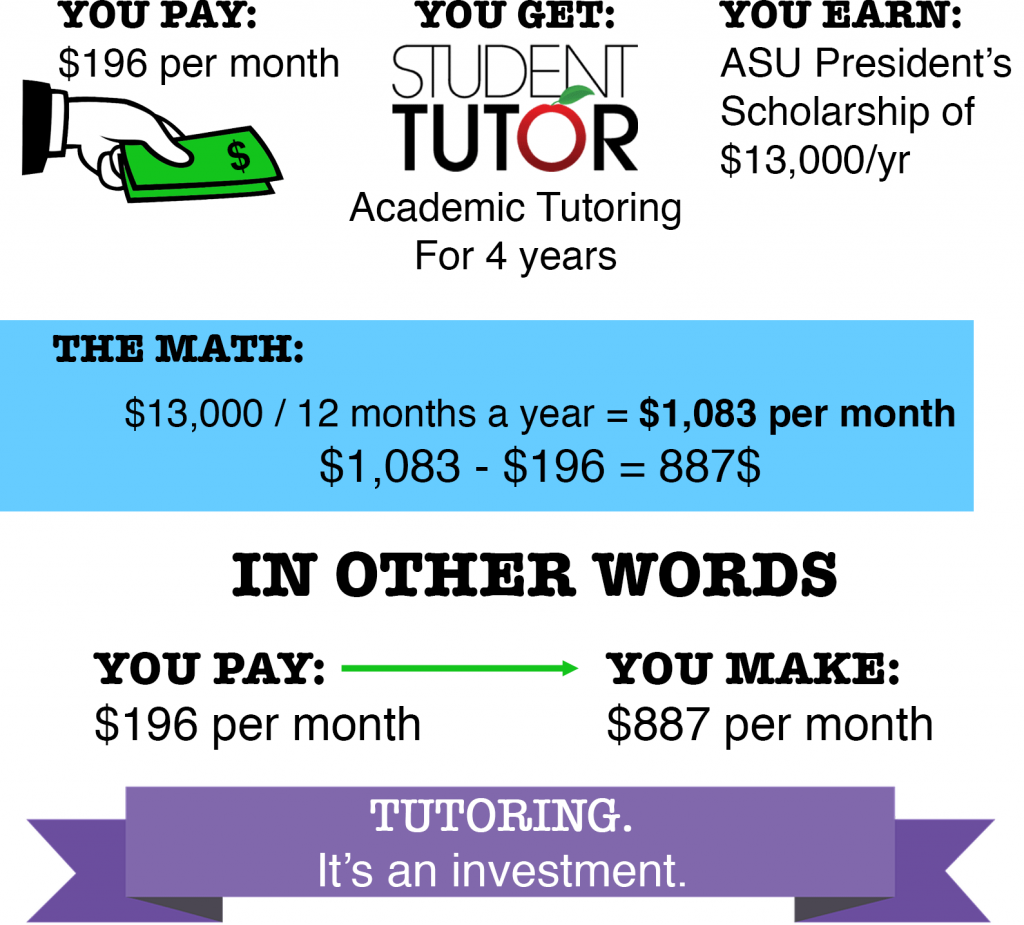 Here's an example of what it can mean to pay for academic tutoring: with a little help, you can boost your High School GPA and unlock hundreds of potential scholarships and college admissions.
3. Talk to your Teachers
Trust us when we say you should always, always, always talk to your teachers about how to do well in their class. It's a no-brainer — It's THEIR class, and THEY are the ones giving you grades for the assignments. Plus, they want you to succeed.
Here are a few ways you can utilize this:
When you get a bad grade, ask them to show you what you did wrong. (Pro-tip: Use our Teacher Evaluation sheet! :))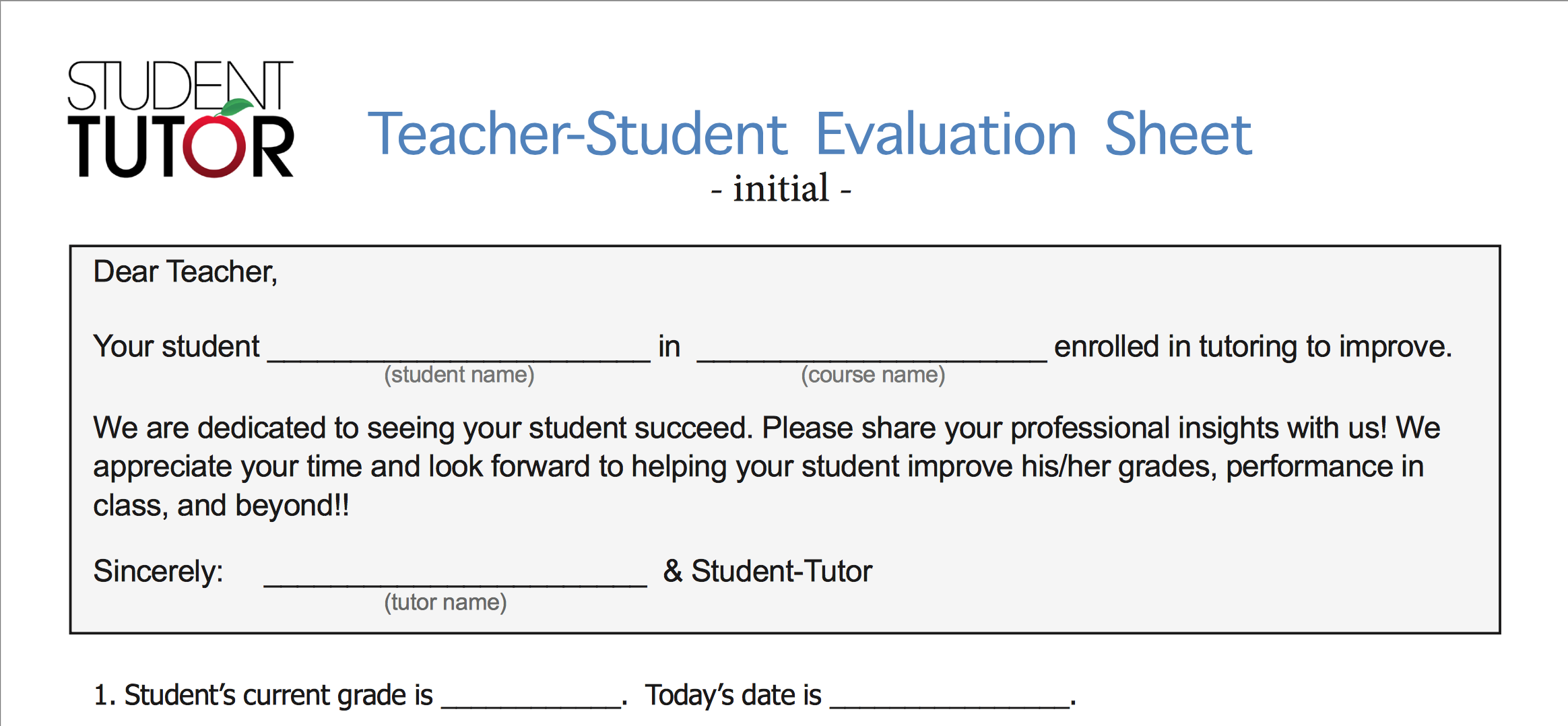 When they mention an upcoming assignment or test, stay after class to get more info — ask What can I do to receive a high grade on this?
If you don't understand a concept or instructions, RAISE YOUR HAND. And if you still don't, stay after class to sort it out
Any time your teacher says something more than once about a quiz or assignment, write it down. They're not just talking for their health!
This goes for any time you have something clarified or ask for further instructions from your teacher. Write it ALL down. You can reference it later if you forget it.
4. Don't Miss Any of Your Classes
You might find this as no-brainer advice, but we are dead serious in reminding you to show up in your classes. A big part of earning good grades is actually attending and listening to your teacher explain the concepts that you need to learn. Also, by being present and actively participating during discussions, you will earn extra points and you will be recognized for your hardwork.
5. Spend More Time in Studying
We're not asking you to skip your rest days and saturate your brain with academic stuff all week long. What we would like you to do is to learn how to use your time wisely. If you know that you could be doing something more worthwhile than stalking someone on Facebook, isn't that the better option?
6. Re-Take Classes for Better Grades
Bad grades happen. If you get one, don't give up! There are several ways for you to ditch that ugly letter and get a newer, shinier one to take its place:
Re-take classes during the school year (Talk to your counselor about fitting in a make-up class in place of an elective)
Make it up in summer school
Work with a teacher to bring up individual assignment grades
Now typically, students apply to college early in their Senior year of High School. While senior grades DO still count towards your admissions, colleges will definitely look at your GPA for Junior year.
What happens when you finish out your Junior year with a 2.6 GPA? Is all hope lost?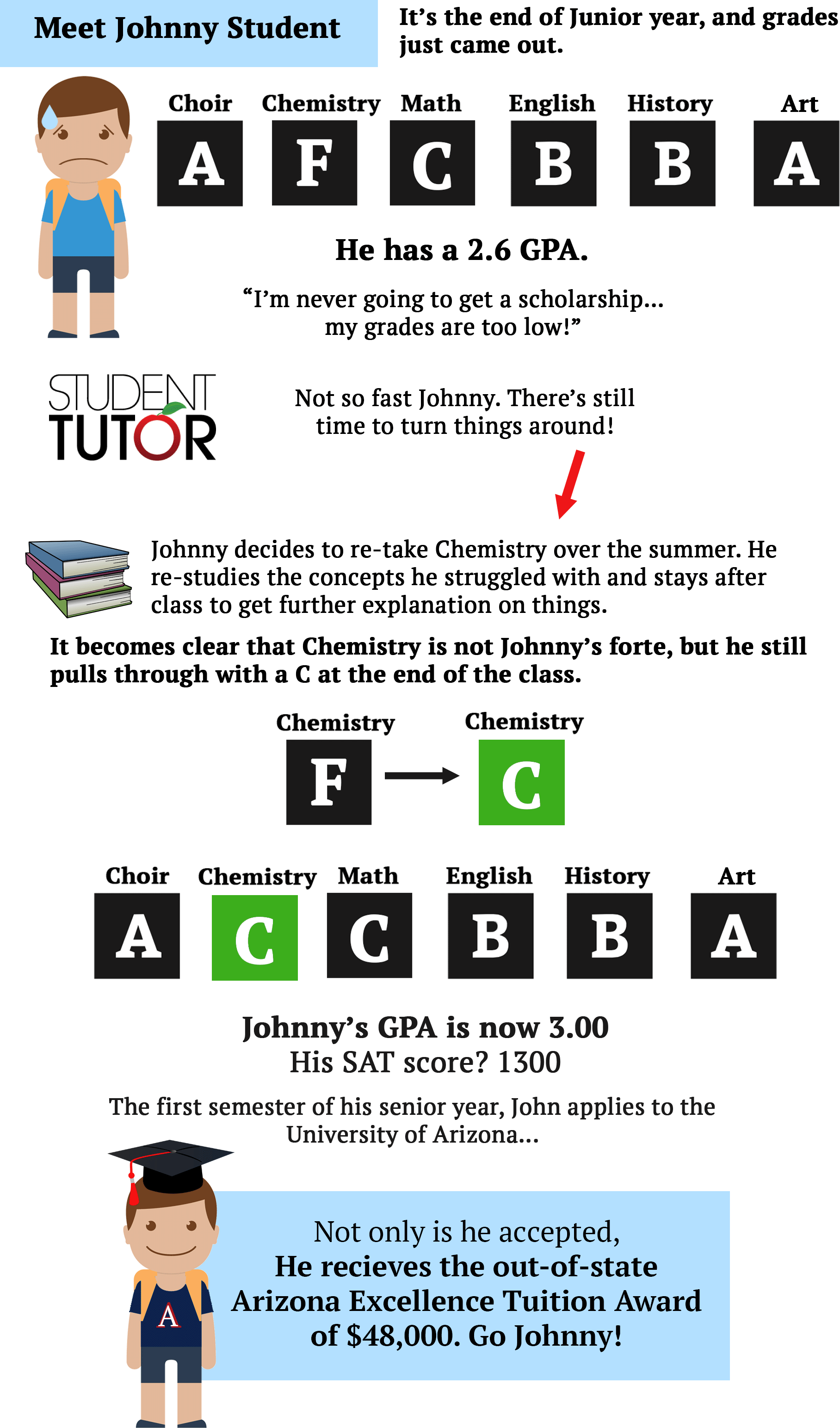 Not at all! Check out this miniature case study:Wondering what other automatic, merit-based scholarships are out there?
Check out the top 10 Merit-Based Scholarship schools.
7. Rack in bonus points where you can
Here's the thing. If you took a class in Middle School that was taught at a High School level, there's a chance you can pull that grade up to your High School GPA. But you ONLY want to do this if you got an A.
It makes no sense to pull up a B if you could try again for an A, right?
How do you do this?
First, check to see if you earned any A's in High School level courses. If you did, talk to your counselor about pulling that bad boy up!
Conclusion: How to Raise Your GPA in High School
To summarize, your GPA can earn you hundreds of thousands in money for college. When your teacher hands you back an assignment or quiz with an A on it, it's like they're handing you money. So rake in the green by using this tips for how to calculate and improve your High School GPA!!
To review, what I talked about was…
1. How to calculate High School GPA:
Unweighted GPA and Weighted GPA
How to use a High School GPA Calculator
2. How to improve High School GPA:
Start strong (build a foundation with freshman and sophomore year)
Find out how your High School's GPA is scored
Talk to your teachers (They want to help!)
Re-take classes for better grades
Rack up bonus points where you can
The following two tabs change content below.
Hello! My name is Todd. I help students design the life of their dreams by ensuring college, scholarship, and career success! I am a former tutor for seven years, $85,000 scholarship recipient, Huffington Post contributor, lead SAT & ACT course developer, host of a career exploration podcast for teens, and have worked with thousands of students and parents to ensure a brighter future for the next generation. I invite you to join my next webinar to learn how to save thousands + set your teenager up for college, scholarship, and career success!
Latest posts by Todd VanDuzer (see all)