Co-authored by Renae Hintze
---
You probably thought it was a simple question but really, how much DOES tutoring cost? 
If you've attempted to do any sort of price comparison shopping on tutoring, odds are it turned out to be a bit of a headache. At Student-Tutor, we were wondering the same thing — why can't you just google the price of any one tutoring company and know what you're getting, at a glance?
So we did it for you.
Then, we took it a step further. We ranked every tutoring company based on 5 categories!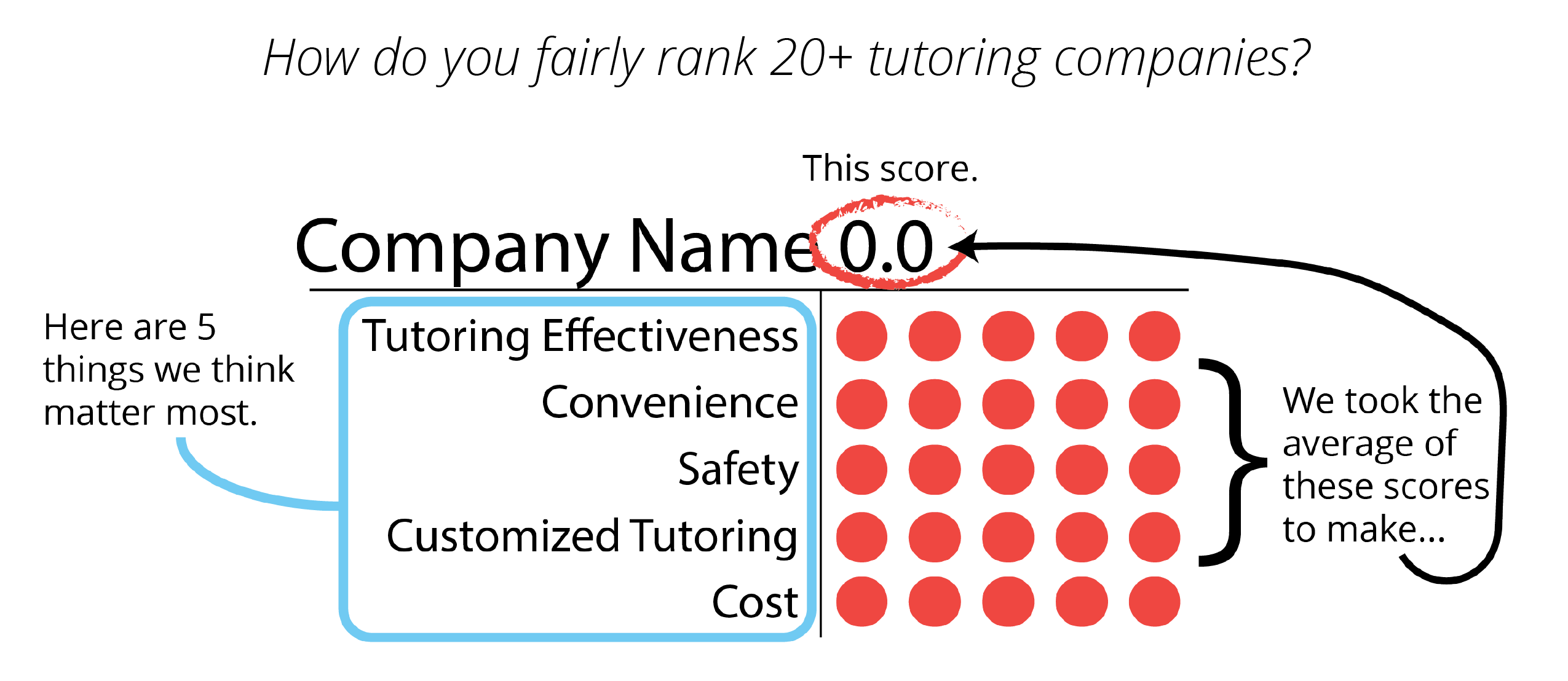 Tutor.com 2.2
Average cost of tutoring: $39.99/hour
Tutor.com offers both Test Prep and Academic tutoring for its students, and some of their tutors (not all) do possess teaching credentials. Due to the fact that they're a tutoring marketplace, they lose points in Tutoring Effectiveness because they do not hold their tutors accountable. Like the majority of tutoring marketplaces, the experience relies on the individual tutor in question, who may or may not show results with the student. While Tutor.com is more convenient than a tutoring center with their 24/7 online access, they do not offer in-home. You may also spend a bit of time sifting through tutors on your own as they do not provide skills assessments or work to connect you to the tutor that is the best fit! At $39.99/hour, Tutor.com is not the cheapest option out there, but their rates don't exactly line up with their overall tutoring value, which puts them at a 2.2. 

Craigslist Tutors 2.3/5
Average cost of tutoring: $48/hour
Although tutors can be found on Craigslist for $20/hour (that's a cheaper deal), you may be swapping quantity for quality. Craigslist doesn't specialize in providing tutors, so the site doesn't screen their applicants. In fact, anyone can post themselves as a tutor on Craigslist, and the site won't hold them accountable for delivering results. More so, the site doesn't offer background checks and there are no trust-worthy customer reviews to indicate that your child is safe with the tutor! I'm not saying you can't find a fantastic tutor on Craigslist for a bargain price, but it's a gamble. 

Test Masters 2.4/5
Average cost of tutoring: $125/hour
Unfortunately, Test Masters receives fairly low ratings in a number of areas. A glance at their Yelp reviews is enough to make a parent uneasy, but this could have something to do with the company's expansion over time. Their website claims that over 150,000 students have taken their courses, but it looks like not all 150,000 were satisfied. Test Masters does gain points for having a company-issued training and providing all levels of tutoring convenience — online, in-home, and telephonic, with flexible hours. Unfortunately, they lose more points in customization due to the fact that they are only focused on test prep. This lands them at a 2.4. 

Tutor Bungalow 2.8/5
Average cost of tutoring: $37.50/hour
Tutor Bungalow is a tutoring marketplace — kind of like Amazon, but for tutors. Their low score is mainly attributed to their lack of points in tutoring effectiveness. Tutor Bungalow tutors can sign up in only 5 minutes, with no background check or additional training provided. Once you find your tutor, Tutor Bungalow is no longer involved in the tutoring process. They do not hold their tutors accountable. Their highest score comes from their lower hourly rates. 
*Affiliate of Wyzant

EduBoard 2.9/5
Average cost of tutoring: $40/hour
EduBoard is a newer tutoring marketplace that, like many others in our list of tutoring companies, operates 100% online. They offer online tutoring sessions that run for 30 minutes at a time, and you choose which subject you would like and filter tutors based on price, individual ratings, and more. Tutors on EduBoard are required to be (at least) seniors in college, although you can search specifically for tutors with teaching experience.

The A List Tutoring 2.9/5
Average cost of tutoring: $115/hour
The A List takes on what they call a "familial" approach to tutoring. Due to this philosophy, The A List Tutoring is able to hone in more closely on the concept of accountability with its tutors. Their services are in-home tutoring provided to students in the LA area, in all subjects. A List tutors are required to have a Bachelor's degree of Arts and a minimum of 3 years tutoring or teaching experience. Their average hourly rate is considerably high, which attributes to their lower score.

TutorTutor 2.3/5
Average cost of tutoring: $41.68/hour
TutorTutor provides initial skills assessments for their students, and Brandi Weinstein, the owner, claims to work closely with every student and their parent(s) to ensure a quality match is made. With no online platform, TutorTutor provides in-home tutoring services to students in San Diego. Lacking mainly in accountability, TutorTutor's lower hourly rates are not low enough to rank them past a 2.3 in our list.

36 By Design 3.0/5
Average cost of tutoring: $81.25/hour
If you hadn't guessed it by the name of the company, 36 By Design only does one kind of tutoring — ACT Test Prep. It's their opinion that by only focusing on one subject, they can perfect it. Unfortunately, a visit to 36 By Design's website where information is few and far between compared to other tutoring companies in our list, it's hard to say if 36 By Design is a safe bet for your student. 4 out of 6 members on the core team are listed as National Merit Scholars, but that's about as much credential as we can see. With a solely online platform, 36 By Design is big on their integration of iPads, and claims to offer a customized approach to increasing students' ACT scores.

Kumon 3.1/5
Average cost of tutoring: $131.66/month
Kumon, like other tutoring centers in our list of tutoring companies, loses points for convenience. It has no online or in-home options and set hours for tutoring centers that your student must go to. In addition, Kumon takes a "hands-off" approach to tutoring that does not assign a child any one specific tutor. Kumon believes strongly in instilling self-sufficient learning in its students, however according to our criteria, this falls under a lack of accountability for Kumon tutors. Lastly, while students can receive tutoring in any subject, including homework help, Kumon's provided worksheets are not tailored to specific students, and can't really be considered a custom curriculum.

University Tutor 3.1/5
Average cost of tutoring: $35/hour
University Tutor's tutor pool consists mainly of undergraduate and graduate students, so you are unlikely to find a student with teaching credential. Likewise, the company does not issue their own training program or offer skills assessments to help students locate the best individual tutor for them. They DO have what is called a "Local Ambassador", and these tutors are hand-selected as the sort of "poster child", or premium tutors for University Tutor. These tutors in specific undergo a separate screening process to earn this title. However, none of University Tutor's tutors are background checked. While flexible in hours with both in-home and online tutoring options, University Tutor does not have any custom curriculums or programs, and your experience will be based mostly on the tutor in question. 

Mathnasium 3.2/5
Average cost of tutoring: $60.38/hour
Mathnasium is all about math tutoring (go figure), which unfortunately knocks off some points right from the bat in customization. They also scored a 0 as far as convenience because they are a tutoring center that your child must physically go to, and they offer no online or in-home options. Mathnasium does require an initial skills assessment for their students, which can give them a better idea of what areas need to be targeted. This is part of what they call "The Mathnasium Method". Despite a lack in convenience, Mathnasium claims that of their students, 82% experience improved math skills and understanding, 85% show improved attitudes, and 88% see increases in their grades. With an average hourly rate of $60.38, Mathnasium ranks at a 3.2.

Thumbtack Tutors 3.3/5
Average cost of tutoring: $47.50/hour
Thumbtack is another site that doesn't specialize in tutoring, but it still has quite a large selection of tutors to choose from. Within that large selection can be found tutors with teaching credentials, however you may end up paying as much as $100/hour for these tutoring sessions. There is also no company issued training, and seeing as the site does not specialize in tutoring, Thumbtack tutors are not held accountable. Thumbtack does provide flexible tutors for private in-person and online tutoring, and every applicant to the site is background checked and has their own reviews. Of course, there is no custom curriculum, programs, or progress evaluations provided by Thumbtack. 

Chegg 3.3/5
Average cost of tutoring: $30/hour
Specializing in one-on-one tutoring and completely online, Chegg tutors possess prior teaching or tutoring experience but will not come to your home. While Chegg requires its tutors to apply via Facebook, anyone can make a Facebook these days, so we didn't count this as a background check. Chegg recently released their new SAT and ACT prep programs, giving them points in customization. Not to mention the huge point-booster Chegg gets for an average hourly rate of only $30. Of course, their packages are cheaper mainly because of their limits. A half hour of tutoring a week, their least expensive package gives you approximately 2 hours of tutoring per month at $60. Still, such a low average makes up for lost points in other areas and earns them a steady 3.3 in our list of tutoring companies.
*Chegg is the owner of InstaEDU

Sylvan Learning 3.3/5
Average cost of tutoring: $47/hour
With so many individually-owned Sylvan Learning Centers, it's not hard to see why they have issues with accountability. This is not the only place that Sylvan Learning loses points in our list of tutoring companies however. Sylvan takes a major hit in the category of convenience due to the fact that Sylvan Learning centers offer neither in-home nor online options, and the hours of individual centers are set. Sylvan does offer a tutor that is specific to your student and follows a 4-step process that includes a skills assessment of individual students to tailor their tutoring lessons more to their needs. Effective, but not convenient. 

Mind Launch 3.3/5
Average cost of tutoring: $99/hour
Mind Launch administers effective tutoring through state-certified teachers with an average of 20 years teaching experience. Although Mind Launch tutoring is 100% online, their tutors undergo extensive background checks and training prior to being hired. Mind Launch tutoring sessions are 50 minutes a piece, and afterwards tutors provide email summaries of each session for review. Mind Launch tutoring covers any subject at an average tutoring rate of $99 an hour.

Frog Tutoring 3.4/5
Average cost of tutoring: $40/hour
Frog Tutoring is a tutoring marketplace that connects students to tutors. Their tutors do not have teaching credentials but are undergraduate or graduate students who are tested on their proficiency in the subjects they tutor prior to meeting students. As far as convenience goes, Frog Tutoring tutors will come to your house for in-home tutoring or meet in public and their hours are flexible, but there is no online platform to use alternatively. The tutors are safe with background checks and reviews, but ultimately it is Frog Tutoring's inability to hold their tutors accountable brings their score down. 
Princeton Review 3.5/5
Average cost of tutoring: $130/hour
Princeton Review is a tutoring agency that offers both in-person and online tutoring for their students. Many of their tutors have teaching credentials and students' skills are assessed prior to designing a custom tutoring curriculum. Princeton also provides background check for their tutors, however there is no real company-issued training in place besides a subject proficiency exam. Unique to Princeton Review, tutors are granted 3 "levels of mastery" via the amount of hours they spend tutoring with Princeton — Private, Master, and Premier Tutor. The levels range from over 40-1,000+ hours of tutoring experience, and the more experienced the tutor, the higher their rate. Like many tutoring agencies in our list, Princeton lacks in accountability for their tutors. However, they have no shortage of packages offering custom classes, curriculums and materials for their students' use. With one of the highest average hourly rates, they balance out at a 3.5.
*Princeton Review owns tutor.com

TutaPoint 3.5/5
Average cost of tutoring: $32/hour
100% online, many of TutaPoint's tutors have teaching credentials, and all of TutaPoint's tutors receive criminal background checks and training prior to being hired. TutaPoint offers online tutoring in all subjects. While TutaPoint makes a point to routinely monitor their tutors' online sessions, they are lacking in other aspects of accountability and tutoring effectiveness. Tutors are not specific to an individual student, there are no initial skills assessments or progress reports provided per student.

Veritas Prep 3.6/5
Average cost of tutoring: $150/hour
Veritas Prep tutors have all scored in the 99th percentile, but more than this, they are required to have sufficient prior teaching experience. At Veritas Prep, students can expect to undergo a skills assessment including a practice test and other methods used by tutors to pinpoint your learning styles and areas of weakness. Veritas Prep tutors will then build a lesson plan around your student. Veritas Prep scores extra points in convenience for offering both in-person and online tutoring. They lose the most points from their high prices and hourly minimums.

Morris Tutoring 3.6/5
Average cost of tutoring: $55/hour
Morris Tutoring loses points for a lack of convenience, due to the fact that they don't have an online tutoring platform, and have set tutoring hours. However, Morris Tutoring scores much better in effectiveness of tutoring. If you're looking to go with Morris Tutoring, you should probably know Susan. Susan, with 10+ years teaching experience and master's degree in special education, is the founder of Morris Tutoring but also continues to tutor herself (for a premium hourly rate). One thing Morris Tutoring has in the bag seems to be accountability. In fact, Morris Tutoring will go as far as to contact every teacher you have in the subject you receive tutoring for to construct a better tutoring lesson plan for you.

Revolution Prep 3.7/5
Average cost of tutoring: $99/hour
When it comes to a tally, Revolution Prep has a lot to bring to the table. Specializing in one on one, private tutoring, they require their tutors to score in the top 1% on the ACT or SAT — setting a paper-thin margin for excellence. These tutors are graduates from Ivy League universities, some with teaching credentials, and all of them receive background checks and personality screenings prior to being hired. Not to mention, Revolution Prep is a member of a tutoring category we call "Team Tutoring", which means they hold their tutors accountable and provide progress evaluations for students and tutors. With so much to offer, Revolution Prep's score would be higher except for the fact that they don't offer in-person tutoring, their online ratings are not so spectacular, and the biggest loss of ranking comes from their average cost of $99/hour. 

Growing Stars 3.8/5
Average cost of tutoring: $15/hour
Growing Stars is another example of what I call Team Tutoring. They gain points in tutoring effectiveness for having an Education Manager that meets regularly with parents of students to evaluate their progress and provide feedback. Growing Stars offers one-on-one, online tutoring for academic and test prep. They gain the most points from their low hourly rates, although the minimum amount of hours you can start off at is 8 hours a month. 

Kaplan Test Prep 3.9/5
Average cost of tutoring: $48/hour
Kaplan Test Prep knows their test prep well, but they're expensive. They take the biggest hit with their price of $48/hr for one-on-one SAT or ACT test prep, and even then the tutor is mainly there to administer support to students while they are taking online courses. Which isn't to say that their tutors aren't creme of the crop, because their application process requires a video submission, online audition, small group online audition, and in-person audition, all before a rigorous training process. Where Kaplan loses more points is the fact that they are ONLY good for test prep, and don't offer any kind of academic tutoring or homework help.

Wyzant 3.9/5
Average cost of tutoring: $50/hour
Wyzant is a Tutoring Marketplace that helps connect parents and students to tutors in their area. Wyzant requires its tutors to complete subject proficiency exams, and some tutors (although not all, because there is a wide range) are certified teachers. Tutors on Wyzant often feature background checks, but background checks can also be requested for any Wyzant tutor. Wyzant's cons are that after finding your tutor, Wyzant is no longer involved in the tutoring process other than to process your payments. Wyzant does not hold its tutors accountable with progress evaluations of tutors or their students or offer an initial skills and proficiency assessment to develop custom curriculums for its students. 
*Wyzant is affiliated with Tutor Bungalow

IvyWise 3.9/5
Average cost of tutoring: $11/hour
IvyWise offers both online and in-home tutoring (for NY residents). IvyWise elicits a Team Tutoring approach, assigning both a counselor and tutor to each student. Counselors are required to have a minimum of 3 years' direct experience in an undergraduate admissions office, and tutors are required to have a bachelor's degree. With the ridiculously cheap price of $11/hour, you may be thinking IvyWise seals the deal. Don't forget, of course, to take into account the value of your tutoring! IvyWise does not offer a great deal of customization for their tutoring, and their overall accountability is lower than other companies. 

PrepScholar Tutors 4/5
Average cost of tutoring: $56/hour
One of the higher scores in our list of tutoring companies, PrepScholar Tutors rightfully earns its 4 out of 5 rating. PrepScholar selects 1 tutor qualified tutor out of every 500 that apply. These tutors are from top universities, 99th percentile scorers, and experienced teachers. PrepScholar scores points most companies don't in tutoring effectiveness because not only do they provide initial assessments of students prior to developing a tutoring plan, but they also administer weekly reports, progress trackers, and customized feedback, which ups their tutor accountability. PrepScholar doesn't have many points to lose, but because they only offer online tutoring, they lose some in convenience.

A to Z Tutoring 4/5
Average cost of tutoring: $52.50/hour
A bit of a "diamond in the rough" so-to-speak, A to Z Tutoring is a unique tutoring company that provides both tutoring and therapy. Every tutor at A to Z Tutoring is a state-certified teacher who receives multiple criminal background checks and undergoes a rigorous training process. Once assigned to their tutor, A to Z Tutoring tracks students progress and provides reports and feedback. A to Z Tutoring also recognizes the challenges faced by students with learning disabilities, and takes special steps to accommodate these students. A to Z does not list test prep for exams such as the SAT or ACT on their website, but does offer academic tutoring. They lose points for this, for not having an online platform, and for their prices… although, in special instances a child may qualify for free tutoring.

Varsity Tutors 4.1/5
Average cost of tutoring: $52.91/hour
Varsity Tutors has one of the higher scores in our list of tutoring companies, sitting at a solid 4.0 points. Their tutor selection process includes an interview, a screening of previous experience, academic background and personality, as well as mock tutoring sessions — which is a form of training not many companies profess to. They do not fall into the category of Team Tutoring because they do not hold their tutors accountable and they do not issue progress evaluations, however they DO assess their students' skills and structure their tutoring around these evaluations. They offer in-home and online tutoring with flexible hours. 

Inspire In-Home Tutoring 4.1/5
Average cost of tutoring: $48/hour
Inspire In-Home Tutoring is another one of our high scorers. Inspire tutors are required to have at least a Bachelor's degree, but can have either prior tutoring OR teaching experience. Inspire In-Home Tutoring provides nationwide background checks on all of their tutors. Inspire In-Home Tutoring claims that "they've never met a subject they didn't like", and on that basis, offers both academic and test prep tutoring… but not online. One interesting aspect of Inspire In-Home Tutoring's price is that it actually goes down the more tutor-seeking kids you sign up! And, A to Z Tutoring is not the only company offering a chance at free tutoring, because Inspire uniquely offers free tutoring hours in exchange for follow-through referrals.

Student-Tutor 4.5/5
Average cost of tutoring: $52/hour
I'm happy to say that through a fair analysis of each tutoring company in this list, Student-Tutor was able to score a 4.5 overall! While you can see we are not the cheapest option, we make up for this loss of points through our "Team Tutoring" accountability and customization techniques. The entire company is involved in the success of anyone student. Our tutors do not have teaching credentials, but every tutor goes through a background check and company training and scored in the 99th percentile. We also account for convenience, offering both in-home and online tutoring

Conclusion
We did a lot of research for this article, and I'm excited to finally get this information out to YOU, the parents who need it most. I want you to know what options are out there without the mess of company voicemails and automated email responses that you would have to sift through otherwise.
We are more than happy to provide you with a detailed report of our findings. 
 What tutoring companies did we miss? Do you agree or disagree with our findings? Tell us about it in the comments below!
The following two tabs change content below.
Hello! My name is Todd. I help students design the life of their dreams by ensuring college, scholarship, and career success! I am a former tutor for seven years, $85,000 scholarship recipient, Huffington Post contributor, lead SAT & ACT course developer, host of a career exploration podcast for teens, and have worked with thousands of students and parents to ensure a brighter future for the next generation. I invite you to join my next webinar to learn how to save thousands + set your teenager up for college, scholarship, and career success!
Latest posts by Todd VanDuzer (see all)