Co-authored by Renae Hintze
---
The majority of colleges will accept either SAT or ACT scores… Sooo should you take the ACT?
The answer is not a simple yes or no for every student, but if you're looking to have a career in STEM (Science, Technology, Engineering and/or Math) the answer is YES!
1. The ACT Will Tell You if You're Ready for your STEM major
Did you know that less than 50% of students going into STEM majors are prepared for the level of difficult coursework they will encounter? 
Less than 50%! That means more than HALF of students graduating high school will struggle in their STEM-related college class — yikes!
How do I know this? 
The ACT has benchmarks that they set for each section of the ACT. These benchmarks assess students' readiness for their STEM fields.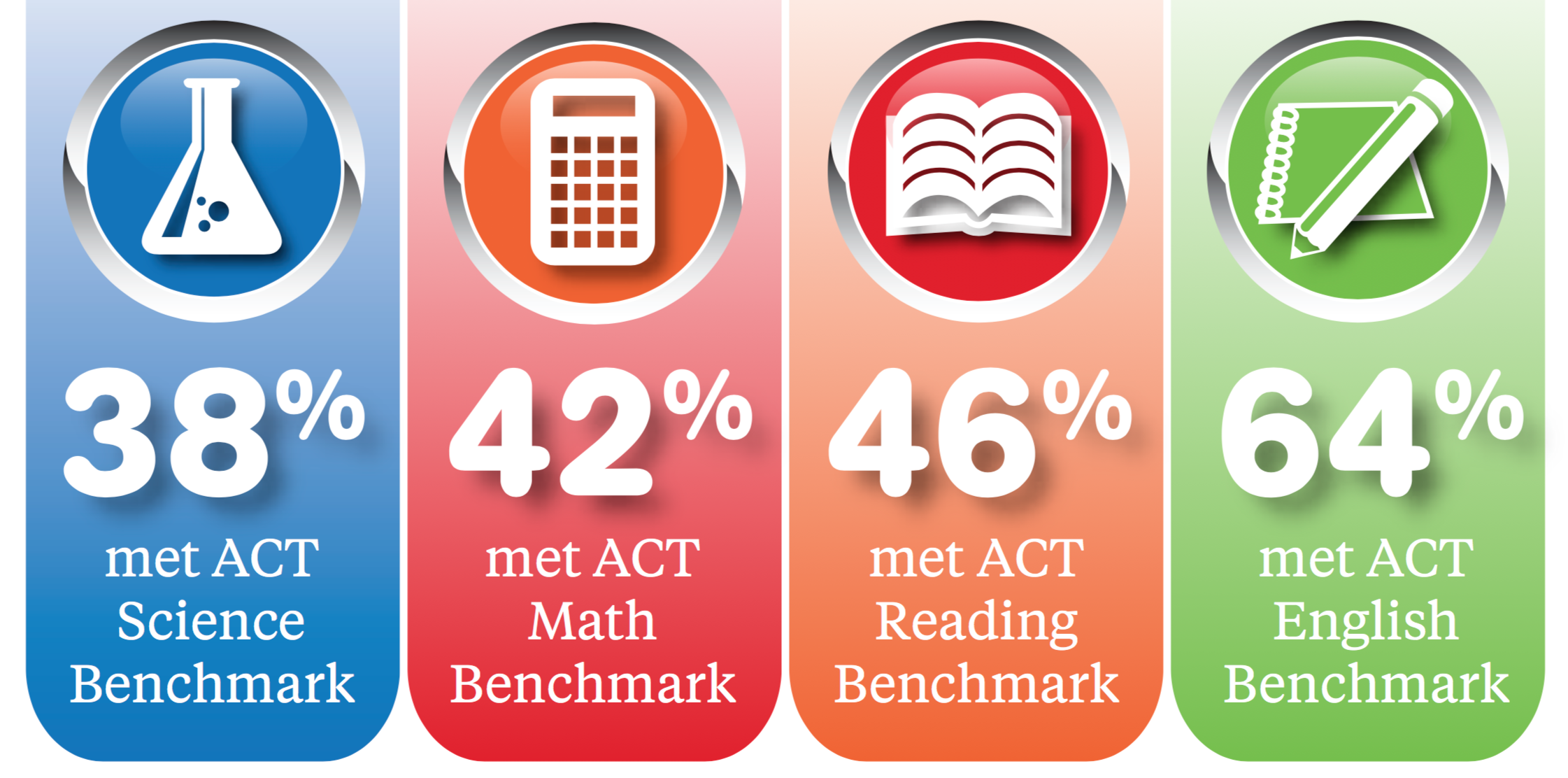 These scores look higher, but unfortunately the overall score from this report was only a 36% in all subjects.
If your student gets a head start on their ACT's, they may be able to catch low benchmarks in time to supplement their coursework and extracurriculars!
2. The ACT has more STEM-based subjects 
Science and Math make up 2 of the 4-letter acronym: STEM.

The ACT Math Section
The new SAT has become more similar to the ACT, but there are still differences between the two.
The new SAT has 4 math sections, whereas the ACT has 6. These sections are also different types of math:
| | |
| --- | --- |
| New SAT | ACT |
| 1. Heart of Algebra | 1. Pre-algebra |
| 2. Problem Solving and Data Analysis | 2. Elementary algebra |
| 3. Passport to Advanced Math | 3. Intermediate algebra |
| 4. Additional Topics in Math | 4. Coordinate geometry |
| | 5. Plane geometry |
| | 6. Trigonometry |
Math sections on the SAT are more reading comprehension based, versus the ACT, which will test equations and concepts you have learned.
You can always read more about these individual sections via actstudent.org.
The ACT Science Section
This is something ONLY the ACT has — the SAT doesn't have a science section!
If your student is going into a STEM-related major, science is an important factor. You'll want to check out the benchmark for your student's science knowledge, and there's only one test that does it!
Here's what your student can expect on the ACT science section:
Data Representation (30-40%) This format presents graphic and tabular material similar to that found in science journals and texts. The questions associated with this format measure skills such as graph reading, interpretation of scatterplots, and interpretation of information presented in tables.
Research Summaries (45-55%) This format provides descriptions of one or more related experiments. The questions focus upon the design of experiments and the interpretation of experimental results.
Conflicting Viewpoints (15-20%) This format presents expressions of several hypotheses or views that, being based on differing premises or on incomplete data, are inconsistent with one another. The questions focus on the understanding, analysis, and comparison of alternative viewpoints or hypotheses.
3. They'll like it better, and probably score higher
If your student is interested in STEM, there's a high probability that you'll like the questions on the ACT better than the SAT, because the SAT is much more reading based.
actstudent.org states the following about taking the ACT:
The ACT is not an aptitude or an IQ test. The test questions on the ACT are directly related to what you have learned in your high school courses in English, mathematics, reading, and science. Every day you attend class you are preparing for the ACT. The harder you work in school, the more prepared you will be for the test.
In other words — the ACT is not trying to trick you. If your student understands the concepts and equations they learn in class, they're less likely to get confused on their answers.
AND, if can earn a high score on their ACT, they may be eligible for scholarships that are ACT specific (which they couldn't get otherwise!)
University of Arkansas at Monticello offers a full-ride, merit-based ACT-only scholarship for an ACT score of 27 and a GPA of 3.00.
Conclusion
Now, just because your student is headed off to be a chemical engineer, or study computer science, that doesn't mean that they shouldn't also look at taking the SAT!
Taking both the new SAT and the ACT and doing well on both could give your student a double-whammy on their college admissions, especially for more competitive schools.
It is also more likely that they will receive more scholarships — so be sure to reap the benefits. 🙂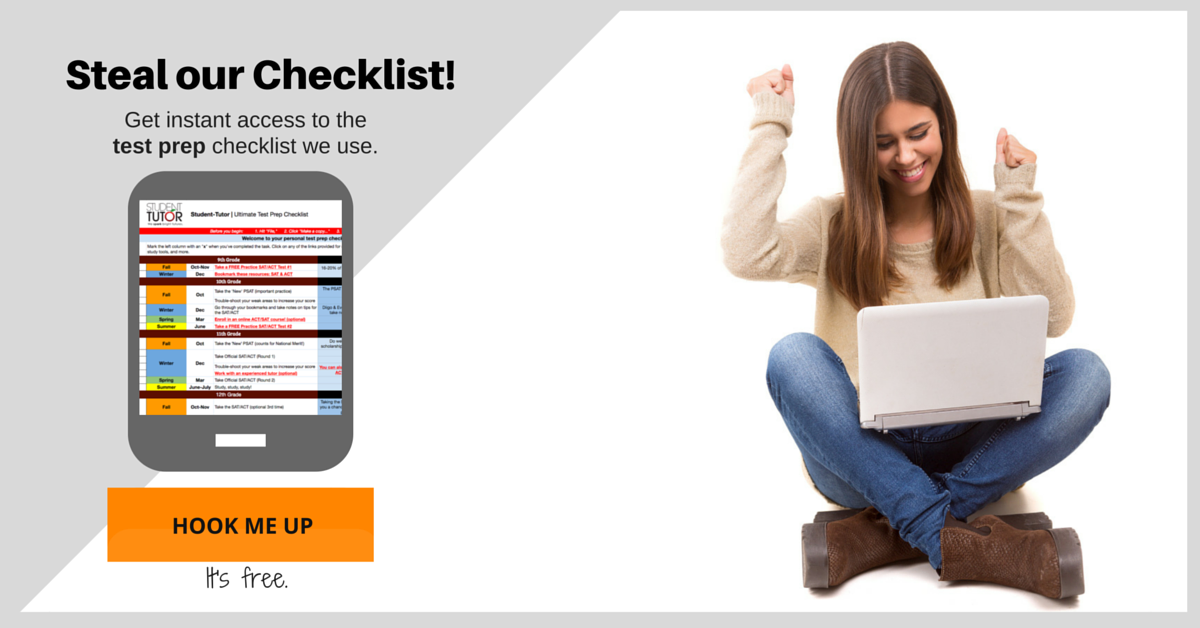 Is your student looking to major in a Science, Engineering, Technology or Math field in college? What other questions do you (or they) have about the ACT? Tell us in the comments below!
The following two tabs change content below.
Laura earned a Master's degree in Secondary Education plus Teaching Certification for Mathematics and Psychology in both AZ and CA. Her undergraduate work was in Psychology with a minor in German from UCLA where she graduated magna cum laude. She has been tutoring since the 90's, was a high school teacher 2006-2011, and still teaches for a local college. Laura is passionate about teaching, learning, entrepreneurship, and traveling the world with her husband, their dog Tuck, and her Macbook Pro. -- Join Laura on Linkedin & Twitter!
Latest posts by Laura Petersen (see all)