5, 4, 3, 2, 1. PENCILS DOWN!
You've just finished taking your first SAT test. After turning in your exam materials to the proctor, you leave the exam room with several fleeting thoughts:
How was I supposed to calculate that tricky math problem?
What did that vocabulary word mean?
Truth is, you probably won't know the answers to any of these questions, at least not for a while.
But in the meantime, you're anxious to find out how you did on the test!
When will scores come out? What should you do if you're unhappy with your score? Have no fear! We've got all the answers.
So… when will I get my SAT scores?
The availability of your test score depends on your testing date. However, scores typically go out anywhere between 16-20 days after the testing date.
When did you take your SAT? Collegeboard lists their score release dates by testing date on their website. Click here to find out when your scores come out!
Or, if you'd like, you can use this screenshot of Collegeboard's helpful SAT score timeline.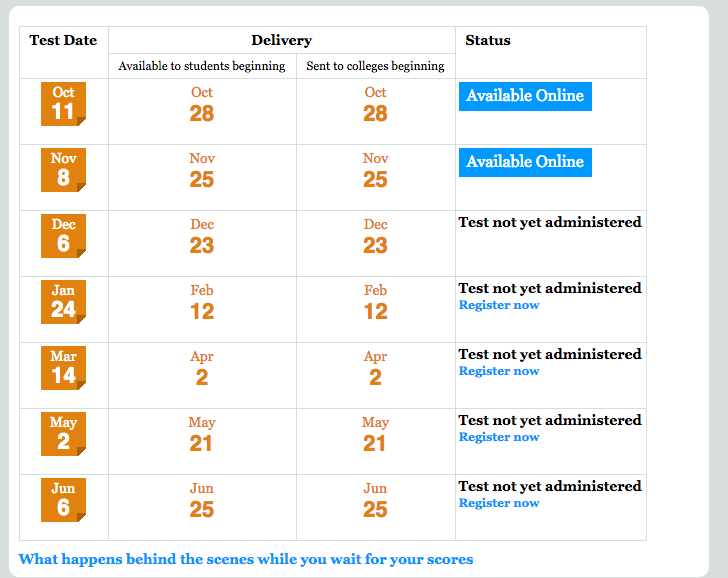 And while we're on the subject of timelines and the SAT… you may want to go ahead and grab our FREE Test Prep Checklist — get instant access to helpful links, deadlines, and check off Test Prep to-do's from your phone or computer.
What if I don't like my score?
After 16-20 days of anticipation, waiting and worrying, your SAT scores have finally come out and…unfortunately, you didn't get the score you were hoping for.
Don't sweat it! It's not the end of the world!
If you didn't get the score you wanted, maybe you just need to rethink your study strategy.
Did you do enough to prepare yourself for the SAT? Maybe you should consider:
But let's say you're really displeased with your score…so much so that you demand to know where you lost points and why. Or, let's say you're studying for a future test, and you want to know what went wrong the first time.
That's where the SAT Question-and-Answer Service comes in!
SAT Question-and-Answer Service
The SAT Question-and-Answer Service is a student answer verification service offered by Collegeboard. When you order the SAT Question-and-Answer Service, you'll receive:
A booklet copy of the SAT questions and a report including your answers
The correct answers and extra scoring instructions
Information about the type of test questions (and levels of difficulty of the questions!)
Your SAT Question-and-Answer Service report will look something like this: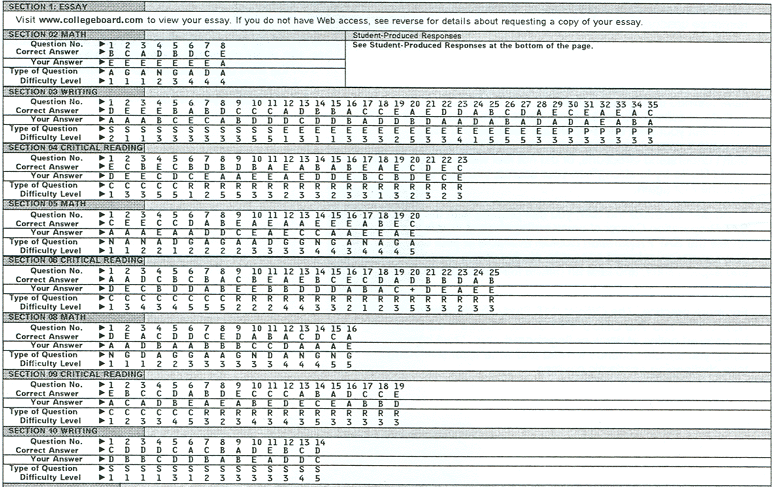 Notice that the report lists both the student's answers and the correct answers.
The SAT Question-and-Answer Service is extremely helpful to those who wish to double-check their answers to make sure that their test was scored accurately and fairly.
In addition, by going over your mistakes, you will be much less likely to make those same mistakes on future SATs, should you decide to take the test again.
When is the Question-and-Answer Service available?
In short, if you're in U.S. or Canadian test centers, the Question-and-Answer Service is available in October and January, for students taking the test on a Saturday.
But if you're:
Outside the U.S. or Canada
Taking the test on a Sunday
Eligible for accommodations that require school-based testing
Then you can only get the Question-and-Answer Service in May.
When is it not available?
Makeup test administrations
Alternate date testing
For U.S. military personnel testing under the Defense Activity for Non-Traditional Education Support (DANTES) program
You should also note that the Question-and-Answer Service isn't ALWAYS available to students in every testing session.
If you're taking the test when QAS isn't offered, you should order Student Answer Service, another student answer verification service that Collegeboard offers.
Student Answer Services
Lucky you! The Student Answer Services are available on every other testing date, and with it, you'll get a computer-generated report that has:
Questions answered correctly, incorrectly, or omitted, and
Information about the type of test questions and level of difficulty for each question
BUT WAIT! This is very different from the Question-and-Answer Service because actual test questions and answers are not included in the service.
How and when to order
If you order QAS while you're registering for the SAT, materials are typically mailed two to three weeks after scores are released.
IMPORTANT! If you plan to use these materials to study, they might not get to you until after the next scheduled test date! So make sure you don't plan on taking the very next available SAT test.
You can also order the Question-and-Answer Service up to 5 months after your test date—there are a few different ways in which you can do this:
You can order online by visiting My SAT and selecting Order Verification within My Scores.
You may call Customer Service at 866-756-7346 (the US and Canada) and 212-713-7789 (International).
You can also order by downloading and submitting the SAT Answer Verification Services Order Form.
Make sure you don't wait too long!
Remember, you only have 5 months from the time of your test date to order your SAT Question-and-Answer Service, and you should keep in mind that after ordering the service, it can take a couple of weeks for your order to process.
So, basically, plan ahead! And, if possible, just order the service along with your registration so that you can still retake the SAT in time if you need to.
Conclusion
How're you feeling now? Did this post make you a little bit less anxious? Do you feel a little bit more informed? Let's summarize the main points, just to make sure you got all the important stuff:
SAT scores typically come out 16-20 days after testing dates.
If you're unhappy with your score, you can have access to your test questions and answers through the SAT Question-and-Answer Service (QAS).
QAS is only available to students taking the SAT on certain test dates.
If QAS is unavailable, the Student Answer Service should be available.
Just to be on the safe side, you should order your QAS upon registering for the SAT—you never know what might happen!
Remember that even if you receive a low SAT score, it really isn't the end of the world. You can always take the SAT again, and you can utilize the Question-and-Answer Service to pinpoint areas in which you need help.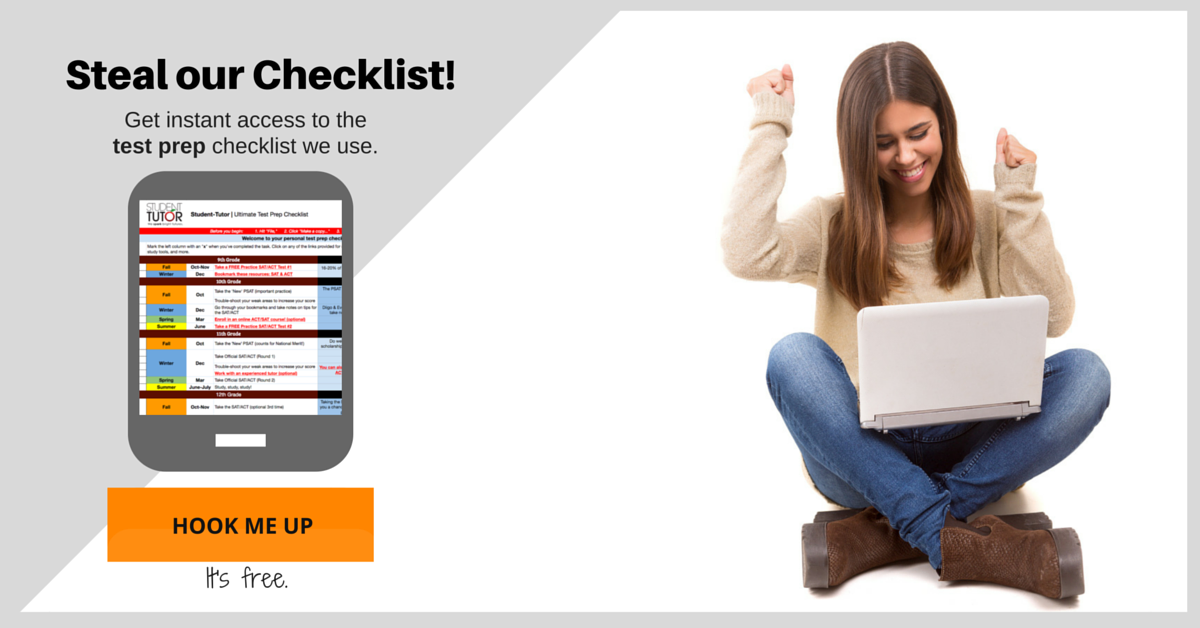 Did you perform as well as you'd hoped on the SAT? Share in the comments below!
The following two tabs change content below.
Laura earned a Master's degree in Secondary Education plus Teaching Certification for Mathematics and Psychology in both AZ and CA. Her undergraduate work was in Psychology with a minor in German from UCLA where she graduated magna cum laude. She has been tutoring since the 90's, was a high school teacher 2006-2011, and still teaches for a local college. Laura is passionate about teaching, learning, entrepreneurship, and traveling the world with her husband, their dog Tuck, and her Macbook Pro. -- Join Laura on Linkedin & Twitter!
Latest posts by Laura Petersen (see all)