Have you been worried about getting the "perfect score" on the SAT's? Have you been freaking out about how you'll be able to study enough on top of your normal school workload?
Well, now you don't have to stress about figuring out what, exactly, a great SAT score is.
You see, I've looked up a few things to help you out so that you don't have to do it yourself. Because, honestly, who wants to spend an afternoon looking up the SAT? Yuck.
Now, all you have to do is know what type of college you want to attend in the future and I can tell you what kind of score you should be shooting for. You're welcome.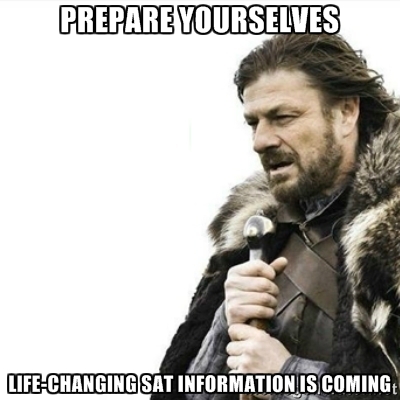 Not too long ago, I was in your position: wondering how I was going to get an SAT score that was good enough for college. So the question remains: What is a good SAT score? What does that actually mean?
Basically, what I found during my research is that a good SAT score is relative to the student and their specific future plans, especially based on what college they plan to attend. So your main goal should be:
Know your plan,
Study accordingly,
Retake the SAT until you reach your goal.
Before we get started, here are a few points to put the grading scale in perspective for everyone.
Keeping in mind that the SAT is graded on a 2400-point scale, here are some of 2013's average SAT scores in Arizona and the US: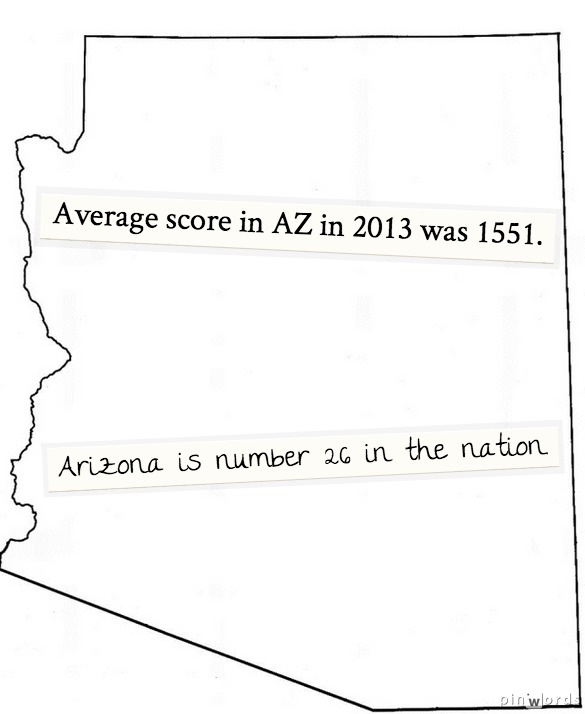 What are the 4 main college types?
Like I mentioned earlier, I'm on your side here. I'm trying to make this process as easy as possible because we all know the transition from high school to college can be worse than the dullest high school class.
So, to help you, I found out a little on what is a good SAT score depending on what type of university you want to attend. There are four different kinds.
Community College
Public Universities
Private Universities
Ivy League Schools
I focused on some facts from specific universities within these categories to narrow it down even more. I'll even let you guys in on one of my sources, Find The Best –-because I think it could definitely be useful for you in the future.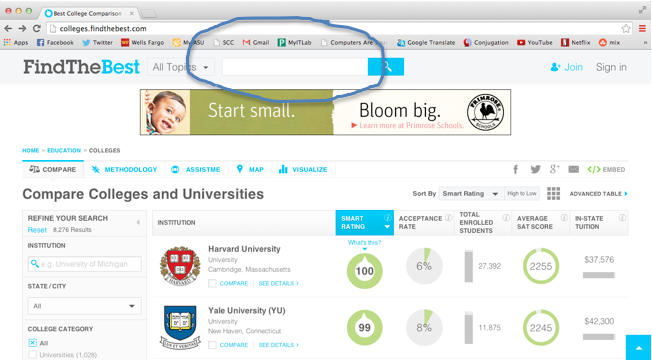 All you have to do is type in a college name in the search bar, and then, bam–just scroll through the information that pops up! Super easy to navigate.
Sweet.  Now that you have this tool under your belt, lets move on to the breakdown of scores by college types. 
Or, if you want more information on which type of college is best for you, click on the link below.
5 Easy Tools to Find Your Perfect College Match
1. Community College
What some people may not know is that community college is a little bit different than, say, four-year universities.
They have an open admission policy.  
This means community colleges don't have a requirement for SAT scores.
Essentially, everybody is guaranteed admission and the opportunity to learn. This may be a good option for you if you are extremely worried about your test taking skills.
However, preparing yourself thoroughly for the SAT can conquer this doubt. The more prepared you are for the SAT, the better test-taking skills you will have.
Also, a good score will still help you in community college, especially if you want to transfer to a four-year university after two years. Scoring around the state or country average should help you be competitive at a community college.
2. Public Universities
Public universities require a slightly more competitive SAT score because, unlike community colleges, they do have a requirement–sometimes.
Here's a quick glance at the info I so carefully dug up for you:
Arizona State University (ASU) requires a 1040 between the reading and math scores
California State University at Long Beach (CSU) only requires you have a score on file
And if you look at the chart below, you can see that the average score submitted for ASU and CSU was roughly around 1600.
Basically, you just need a score that is around the state and/or US average to be admitted into a public university.
However, the higher your SAT score the more likely it is that you receive a merit based scholarship. In fact, you can check out this Merit Scholarship Tool to see how you can get thousands of dollars for college!
Look below for more average SAT scores submitted: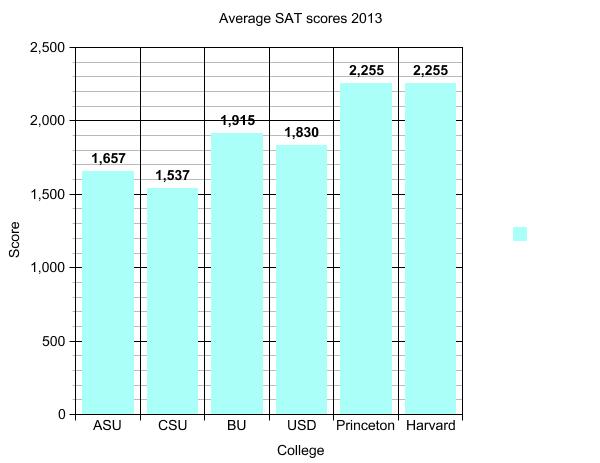 3. Private Universities
 And, as if you didn't already have enough on your plate, there are even more types of colleges!
For some diversity, I looked at a West Coast university (University of San Diego) and an East Coast university (Boston University).
For Boston University and University of San Diego there were no requirements for a score, but you do need proof of taking the test.
But, because private universities are more expensive and exclusive it is expected to have a certain score.
As a result, the average scores submitted last year at BU and USD were a bit higher than those submitted at Public Universities.
These averages are also shown in the graph above, and they're around 1800 rather than 1600.  As you can see, the SAT score definitely gets more competitive as we move through the different types of college.
And it's also important to note that the scores of these two private universities are higher than state and US averages.
It can also be tempting to assume that the average SAT score is higher at certain colleges because fewer students are sending them in–but check out the graph below.
If an average is high, it's high for a reason!  Be prepared to crack down and study.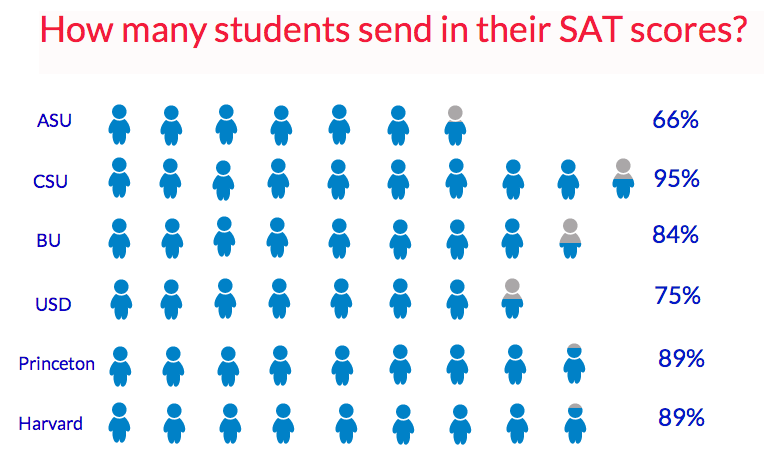 4. Ivy League Schools
Finally!  The last type of college–the prestigious Ivy League School.
I focused on information from Princeton and Harvard.  Although I couldn't find a minimum requirement for these colleges, it's clearly competitive because they each have a 7% acceptance rate.
For these competitive colleges, the closer you are to 2400, the better.
Also, the percent of scores submitted increased from the public or private universities. Presented in the graph above, the average score submitted for these two Ivy League colleges was 2255 in 2013 with a high response rate of 89%.
Clearly, a "good SAT score" in this case is very different from a public or even a private university.
You may be thinking: What do I do with all this information?
 
Don't panic. 
It's hard to set a specific number for a good SAT score because it all depends on what kind of college you are looking to attend.
Of course, to have a better chance to be accepted you should shoot for a score higher than the usually-accepted average, just to make sure that you are competitive.
Now you should have a better idea of the SAT score you need to get into the type of college that you want. But, you may be wondering:
How do I get the score that I need?
There are so many resources available to students to help you reach your target score.  Here are a few to get you started:
Buy SAT prep books
Take practice tests online (or from your prep books)
Enroll in SAT prep courses that specialize in SAT strategy
And whatever you do, don't forget: start early! Ideally, you want to take the SAT a few different times so you can get the great SAT score you've been dreaming of!
 Co-authored by Rita Khalaf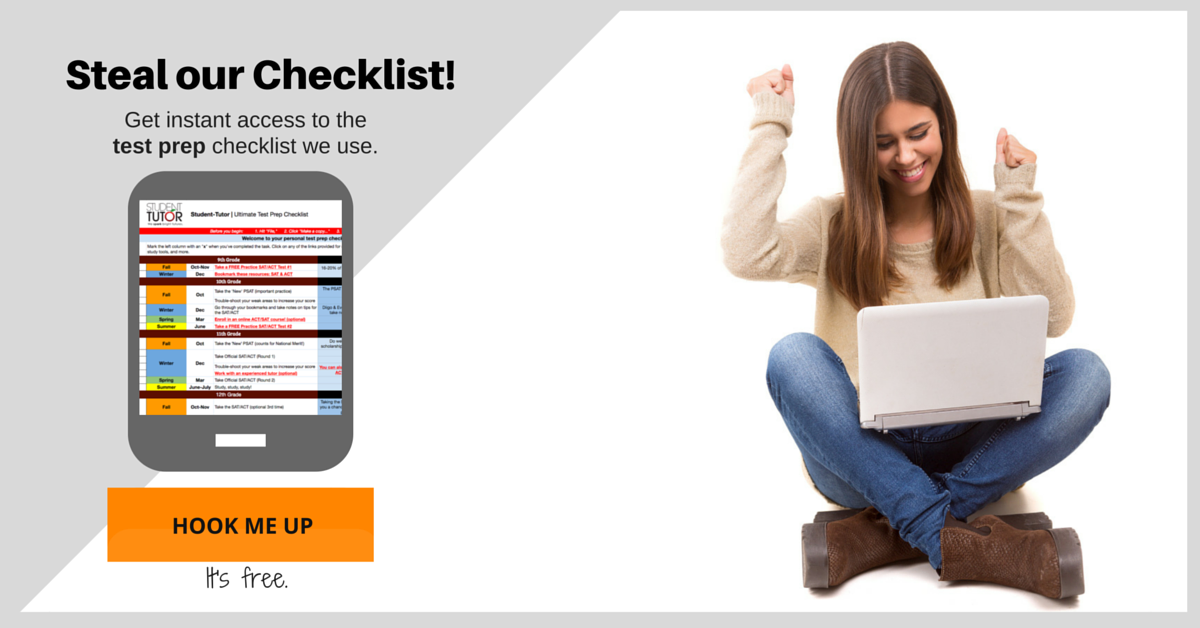 The following two tabs change content below.
Hello! My name is Todd. I help students design the life of their dreams by ensuring college, scholarship, and career success! I am a former tutor for seven years, $85,000 scholarship recipient, Huffington Post contributor, lead SAT & ACT course developer, host of a career exploration podcast for teens, and have worked with thousands of students and parents to ensure a brighter future for the next generation. I invite you to join my next webinar to learn how to save thousands + set your teenager up for college, scholarship, and career success!
Latest posts by Todd VanDuzer (see all)