Whether you are in architecture, engineering or a different, related field, drafting supplies are going to play a big role in your ability to tackle projects and succeed. We here at Student Tutor want to help you put your best foot forward in all things so we have researched and compiled this list of the best drafting tables.

Drafting, or technical drawing, is incredibly important when designing and planning because it brings about the visual representation that is needed to truly conceptualize what you are working with.

Most drafting nowadays is done from computer design software, but that doesn't make drafting supplies and traditional, manual drafting any less important! Much like penciling drafts of writing by hand is still done for a variety of reasons (portability, thought flow, etc.), many people will still draft by hand before heading to their computers.

All that said, if you're in the market for drafting tools, the amount of options and varieties out there can be stressful without a little guidance.

Since we at Student Tutor genuinely care about your success, we also care that you have the best tools to get there.

Of course, finding those tools just requires having all of the right information to get started.

Best Drafting Tables
What to Know About Drafting Tables

Since you're likely either just setting up your drafting layout or looking for input while updating an existing one, it's probably good to first go over what you should be looking for!

The best way to approach this (especially if you are starting from scratch) is to organize the items in your search into steps:

1. Drafting Table

This should be done first since it will really be the focal point of your setup. The drafting table is what will also allow you to adjust the angle of your work and will support every project you embark on.

To do this right, you will first need to measure your space to get an idea of what dimensions you should be looking for. Some tables take up a lot of space while others may even be foldable so that you can store them away. If you have ample space, though, going with a larger, securely in-tact option is a great investment.

After this, determine the style that will work best for you. Provided you have the space, this could be the four-post tables or pedestal tables. If you need to store it away when not in use, opt for the fold-away option mentioned earlier.

2. Necessary Stationery

This will depend on your preferences and the area of focus you are in, but ultimately this will consist of a collection of pens and pencils with a variety of weights, highlighters and any other tools you know you will regularly use.

Of course, you can always add to this collection, so just starting with the basics is always perfectly fine!

3. Additional Accessories

Once you have the basic stationery and setup all good to go, you can look for the other necessary accessories.

This typically includes items like a T-Square, drafting triangles, a drafting lamp for focused light, a bench or stool, drafting dots and a reference scale.

The more you learn about your trade, the more you will likely discover you want or need to add to your collection, but assembling these basics will typically help get you started on the right foot.

Without further ado, here are some of the best drafting supplies to really help you get your setup started!

| Table Manufacturer | Product Image | Rating |
| --- | --- | --- |
| Tangkula Drafting Table | | 4.1 |
| Stand Up Desk Store | | 4.2 |
| Safstar Adjustable Drafting Table | | 4.0 |
| Harper&Bright Designs Adjustable Drafting Table | | 4.7 |
| ZENY Height Adjustable Drafting Desk | | 4.3 |
| Offex Craft Station | | 4.4 |
Tangkula Drafting Table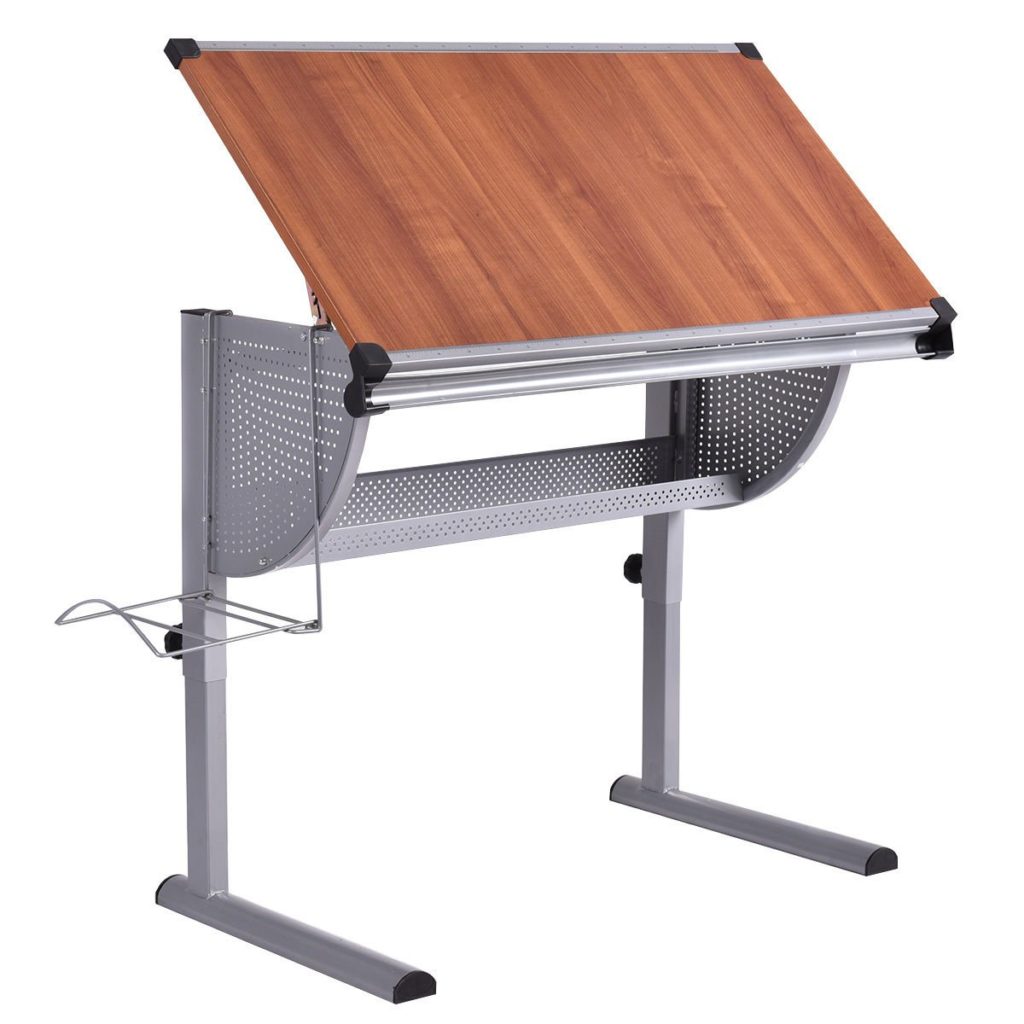 Product Description

Beautiful and adjustable, the Tangkula Drafting Table is a simple and effective tool for any drafting setup.

This design comes with a steel frame and a beautiful wooden surface that will contribute to any modern aesthetic. It also comes with a built-in lower shelf that is great for storing any drawing tools that you may need to access without hassle.

The adjustable table will also allow you to work at a variety of angles, accommodating all of your needs at any stage in the project. Plus, the user-friendly design has rulers at the edge of the table to help you keep track of scale and dimensions.

Best of all, the multi-function structure of the table allows you to put the surface all the way down so that it can also function as a regular desk or table when you are not using it for drafting purposes. This can especially come in handy if you have limited space! (see lowest price)

Top Features

Beautiful aesthetic
Adjustable
Multi-function use
Extra storage space
User-friendly design
Affordable
Pros/Cons

Pros

Doesn't stick out too much
Easy to store
Can be repurposed when not in use
Doesn't take up too much space
Simple
Cons

Not as elaborate as other designs
Storage space is difficult to keep organized
Designs need to be pinned when at steep angles (no lip to keep them up)
(Full Product Page and Reviews)
Stand Up Desk Store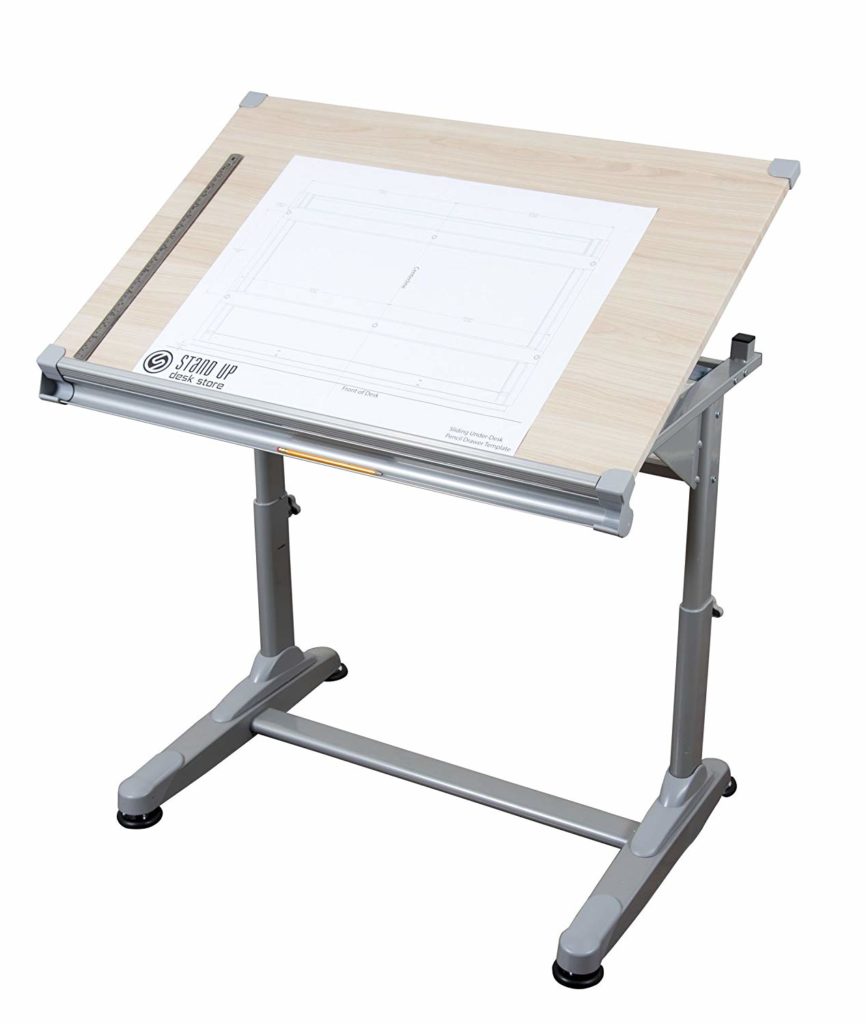 Product Description

For a more upscale drafting desk, the Stand-up Desk Store is a reliable and versatile choice that can be used flat as a standard desk or as a standing desk to help you ease out of a sedentary working lifestyle.

Having the ability to work at this desk while standing can enhance productivity by boosting focus and (literally) keeping you on your toes. Plus, if you do get sore and want to sit down, it can easily be adjusted to give you a break.

In addition, this is a very sturdy option for the amount of space that it takes up. Oftentimes with drafting desks, you will have to choose between the two, but not in this case! That's why this one made our list of the best drafting tables.

Best of all, the aesthetically beautiful design will make it a genuinely lovely addition to any office, home or workspace that you would have it in. The size and light colors also make it possible for it to be more of a background piece when not in use rather than something that demands too much space and attention. (see lowest price)

Top Features

Available in birch/silver color scheme
Adjustable
Promotes focus and calorie-burn as standing desk
Can still be used as a regular desk
Sturdy construction
Tray space for pens/pencils
Pros/Cons

Pros

Versatile design
Can hold up drawings at any angle
Materials can withstand daily use
Promote healthy work habits as a standing desk
Can easily fit in with any interior design setup
Cons

On the pricier side
Fairly difficult assembly
Tray/lip could be bigger for better support
(Full Product Page and Reviews)
Safstar Adjustable Drafting Table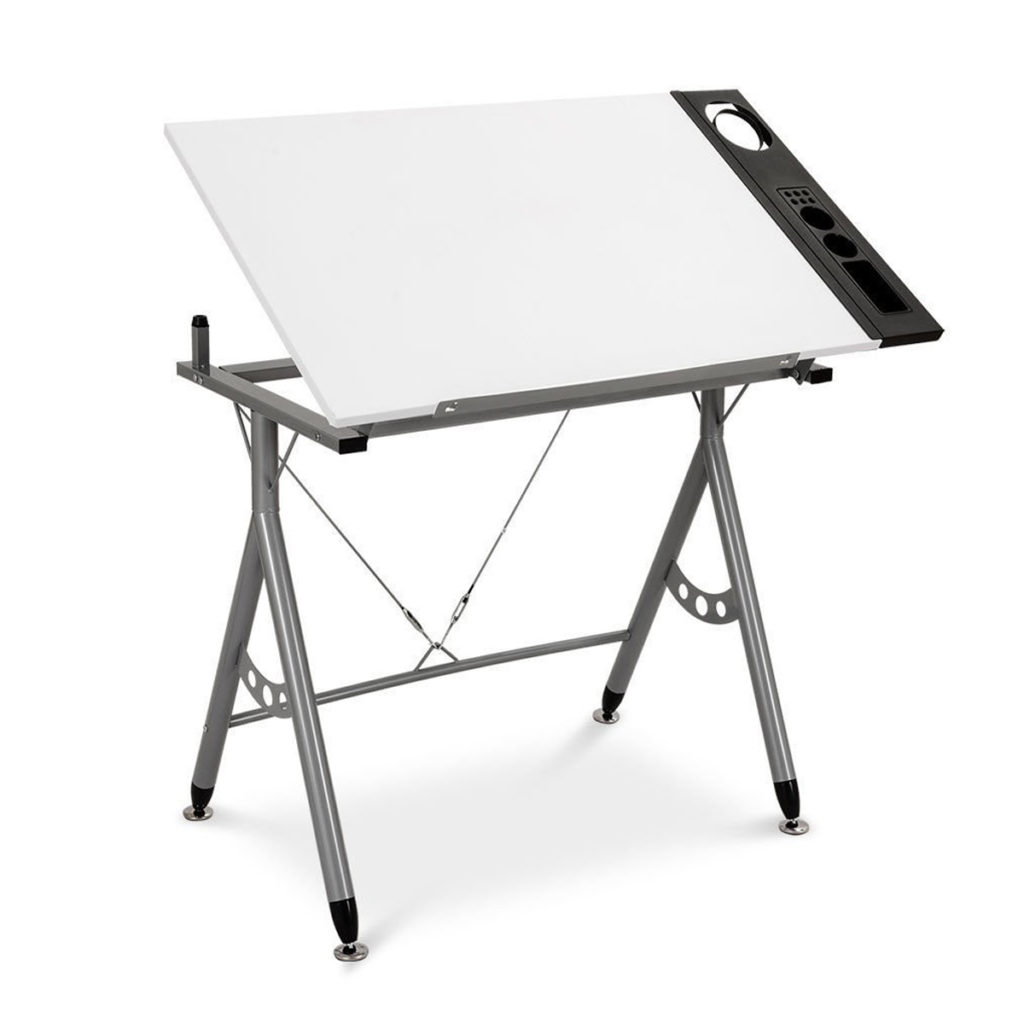 Product Description

If you are ready to dedicate some space are looking for a more heavy-duty option, the Safstar drafting desk may be a good choice for you!

This is a fantastic tool for more serious, intensive projects that might require a little more working space. The large surface area is supported by a lip at the bottom to hold up designs even at steeper angles, giving you the freedom to draw as you see comfortable.

This is also a fairly easy piece to assemble, so if you feel nervous about trickier desks, you won't have to worry here. It comes with a detailed instructional guide and is also fairly straightforward.

Particularly for the low price, this is a great tool to invest in for pretty much any drawing or studying need you may have in the future. (see lowest price)

Top Features

Substantial working area
Side storage for tools and utensils
Angle adjustment features
Dense, sturdy material
Pads to keep balance on uneven flooring
Pros/Cons

Pros

Affordable
Easy assembly
Large work surface
Adjustable
Very durable and heavy duty
Cons

A little more spacious and cumbersome
Not much storage space
Won't blend well with most decor
(Full Product Page and Reviews)
Harper&Bright Designs Adjustable Drafting Table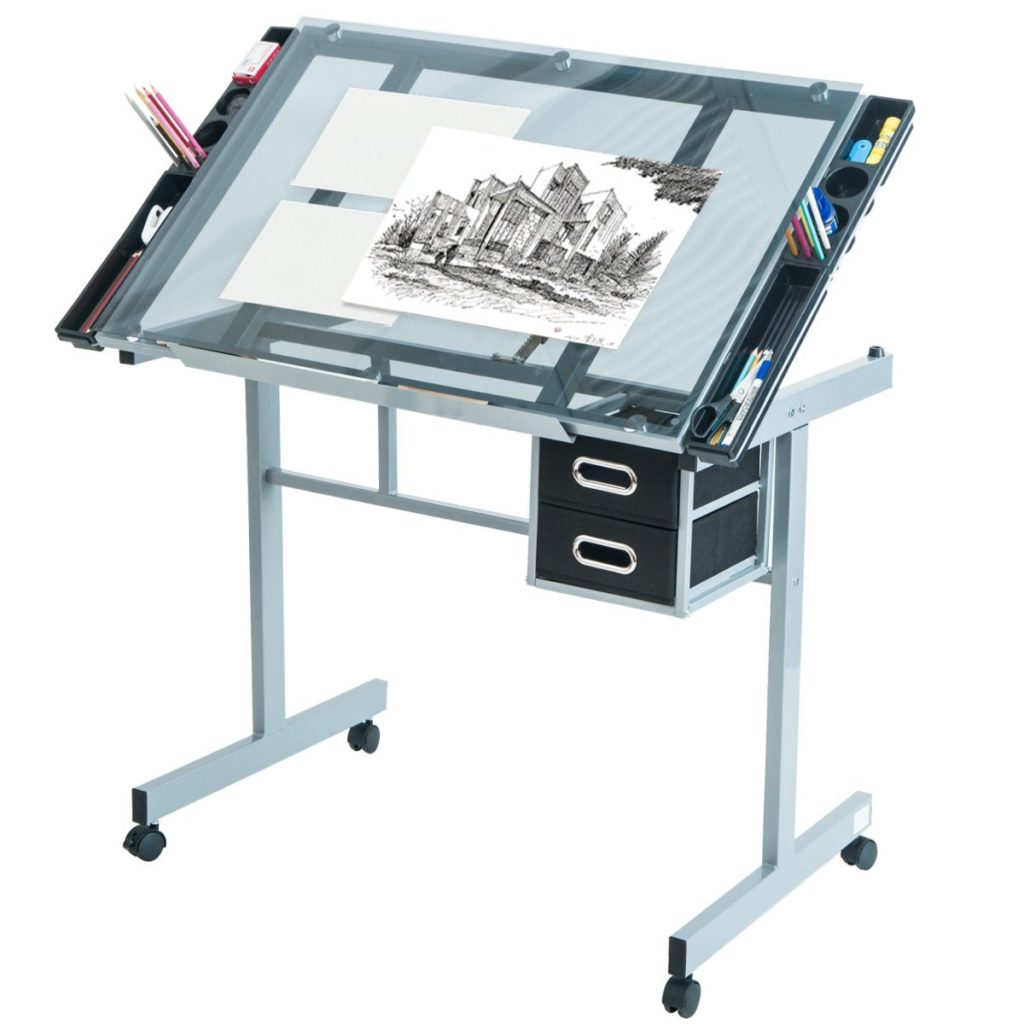 Product Description

Though high-end with a heavier price tag, the Harper & Bright Designs Adjustable Drafting Table absolutely delivers in terms of value.

Not only is a sleek and beautiful product that will complement any workspace, it also has a number of great features to help you get the most of your drafting experiences.

One of the best parts of it is the amount of storage space. There are 4 removable side trays and 2 drawers, allowing you to keep all of your materials and stationery handy and organized.

Additionally, the adjustable angle and large surface area gives you plenty to work with. Plus, no matter how steep the angle, the lip at the bottom will be sure to support any drawings you don't have taped up.

Lastly, there are wheels at the bottom to give it a mobile quality that most other drafting tables won't have. This is especially great in instances where you may need to move throughout the day for natural lighting or if you need to present a draft to someone else. Plus, it makes rearranging your spaces a lot easier as well! (see lowest price)

Top Features

Shatter-resistant glass
Reinforced by a sturdy, metal frame
Large tilting range
Rolling wheels for easy moving
4 side trays and 2 drawers for storage space
Pros/Cons

Pros

Ample storage space
Gorgeous glass aesthetic
Rolling wheels provide mobility
Great value for the price
Substantial surface area
Cons

A little pricier
Storage isn't very sturdy or well built
A little difficult to assemble
(Full Product Page and Reviews)
ZENY Height Adjustable Drafting Desk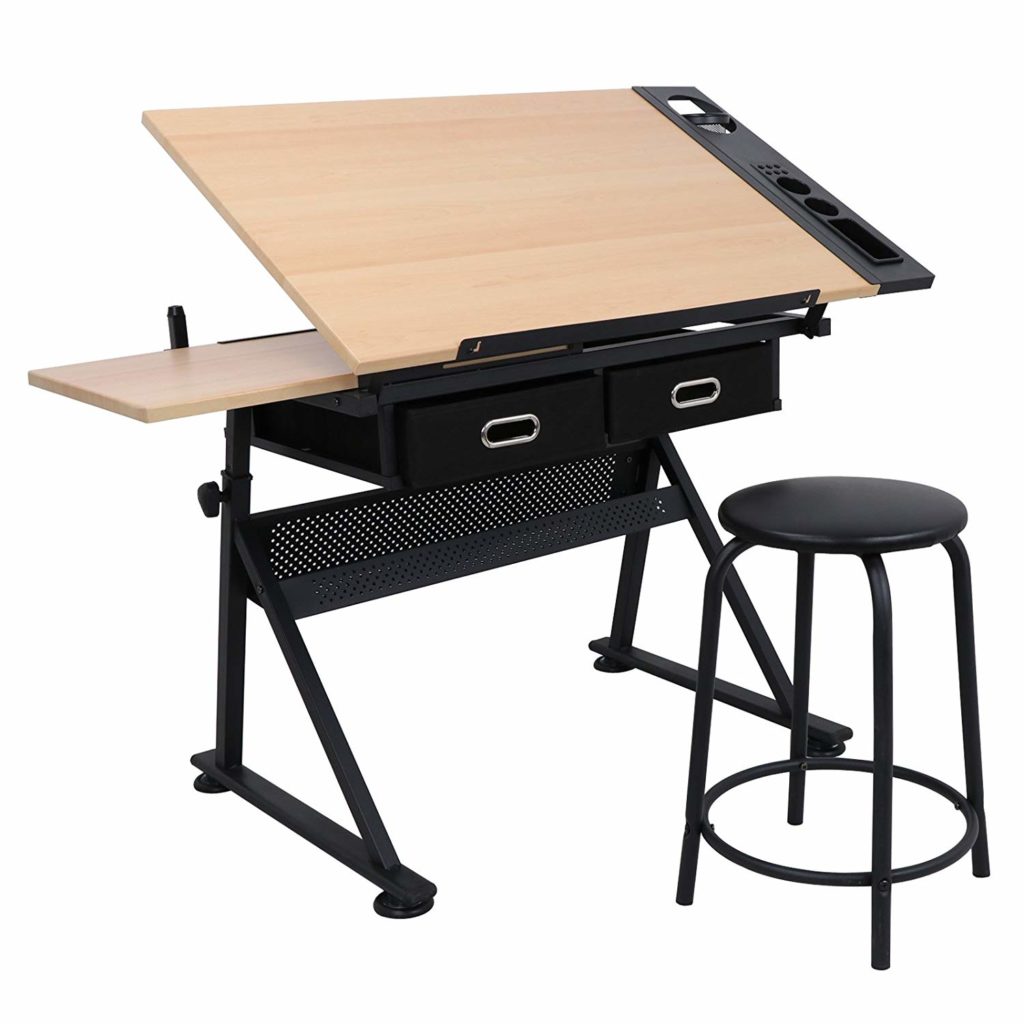 Product Description

If you are serious about your drafting projects and would like ample working space and storage, the ZENY Height Adjustable Drafting Desk would be great for you.

This product is great for intensive projects that may have a lot of different papers and materials on deck at one. The surface area is great for larger drawings or multiple drawings at once and there is a handy extension desk to keep additional work (or perhaps a cup of coffee) on a flat and accessible surface.

Also, there is substantial storage space with this desk. There are two large drawers underneath the main desk, a tray for pens and pencils, and a small shelf underneath for any additional needs.

This product will definitely require some space and a dedicated drafting area, but if you are ready to get more permanent about your working space, this is a great step in that direction. (see lowest price)

Top Features

Adjustable height
Variety of uses
2 spacious drawers, a tray for pens and a shelf underneath
Floor protection on the bottom
Ample working space
Pros/Cons

Pros

Great value
Ample storage space
Easy assembly
Lip effectively keeps work from slipping
Durable
Cons

Takes up a fair amount space
Cloth drawers aren't very sturdy
Extension desk only on the left side (may be easier/harder depending on hand dominance and preference)
(Full Product Page and Reviews)
Offex Craft Station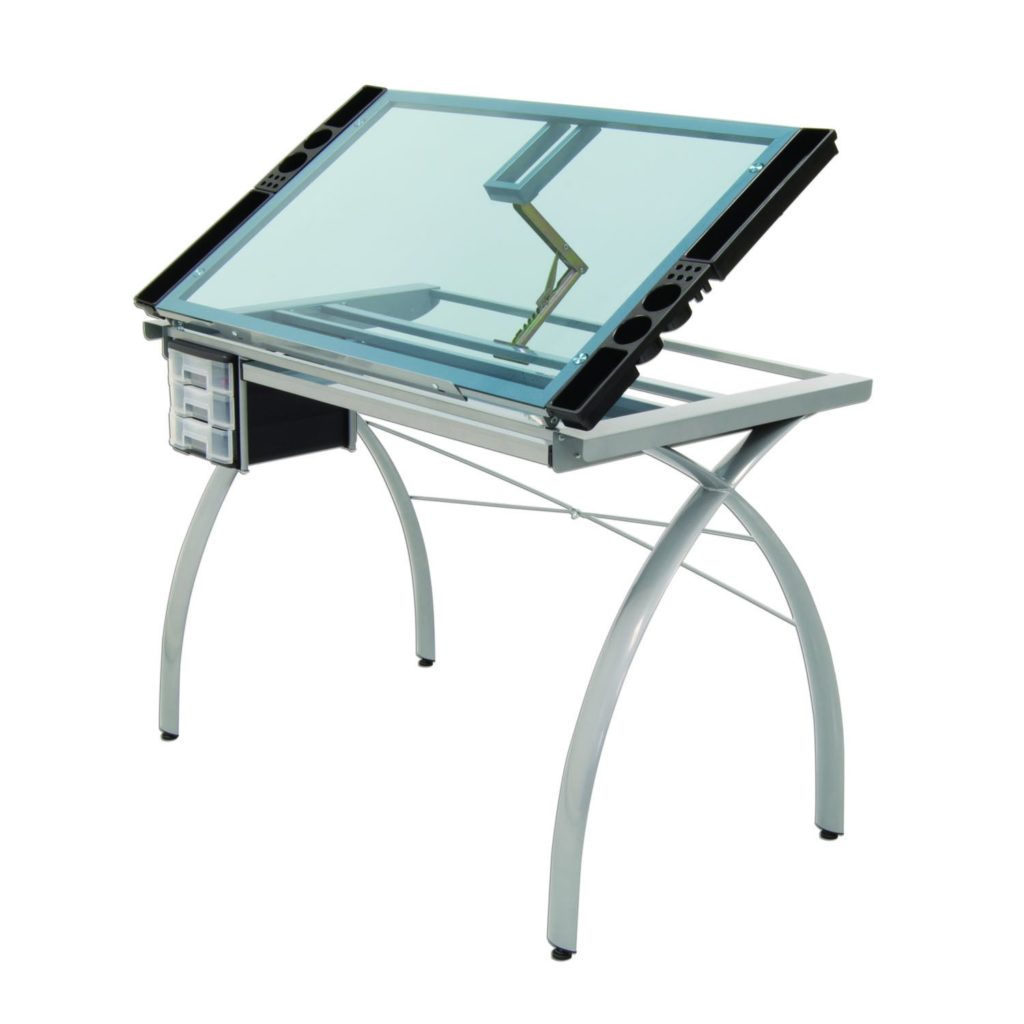 Product Description

Last but definitely not least, the Offex Craft Station is another great option for anyone ready to dedicate a working area to their drafting work.

Though it takes up a fair amount of space, it is with good reason. The amount of working space on the desk is expansive, allowing you to place multiple drawings on it at once for complex projects.

Additionally, it is a very durable design that will be sure to last you as long as you need it. The heavy gage steel ensures that it will stick around for all of the projects you will use it for!

The storage space on this piece is also fantastic. There are three generously sized drawers as well as tray tables so that you can keep all of your drafting tools and stationery handy and ready to use.

And, of course, it is a fantastically beautiful piece with its glass surface and curved, steel legs. It will be sure to add a great aesthetic to any office space that will get you exciting to start on your work. (see lowest price)

Top Features

3 drawers and 4 removable side trays for storage
Adjustable
Expansive working space
Tempered blue safety glass top
Lip keeps work secured in place
Pros/Cons

Pros:

Durable piece
Ample storage space
Large working area
Beautiful glass and steel aesthetic
Easy assembly
Cons:

Expensive
Takes up significant space
Difficult to attach lighting
Not as sturdy as it appears
(Full Product Page and Reviews)
In Summary

It's hard to keep up with increasingly complex projects and guarantee success without a solid working space that you love. For those involved in architecture, engineering or related fields, this means great drafting supplies.

Particularly when you are still a student, being able to tackle projects in a reliable area of your home or study space is critical to getting to the next step in your goals.

Some of the best drafting supplies available to help make this possible include:

Tangkula Drafting Table
Stand Up Desk Store
Safstar Adjustable Drafting Table
Harper & Bright Designs Adjustable Drafting Table
ZENY Height Adjustable Drafting Desk
Offex Craft Station
If you're looking to set up a new (or improved) drafting space, definitely consider these options as a reliable place to start. Which one do you think will be your next work station?
As part of our student health initiative, we here at Student Tutor are taking an active stance on improving your overall wellness.
This post gives you useful tips on improving your sleeping patterns and ways to take advantage of the little sleep you may be getting.
What do you think of our list?
We would like to here your feedback. Feel free to comment below!
The following two tabs change content below.
Latest posts by Todd VanDuzer (see all)