Don't pay through the nose for SAT prep. Answer these questions to avoid wasting time and money.
As the Senior Educational Advisor for Student-Tutor, parents and students ask me all the time, "How should I prepare for the SAT?" And the answer is always the same…
"That depends!"
Today, I'm going to explain the 7 questions you need to ask yourself in order to find out the absolute best way to prepare for the SAT.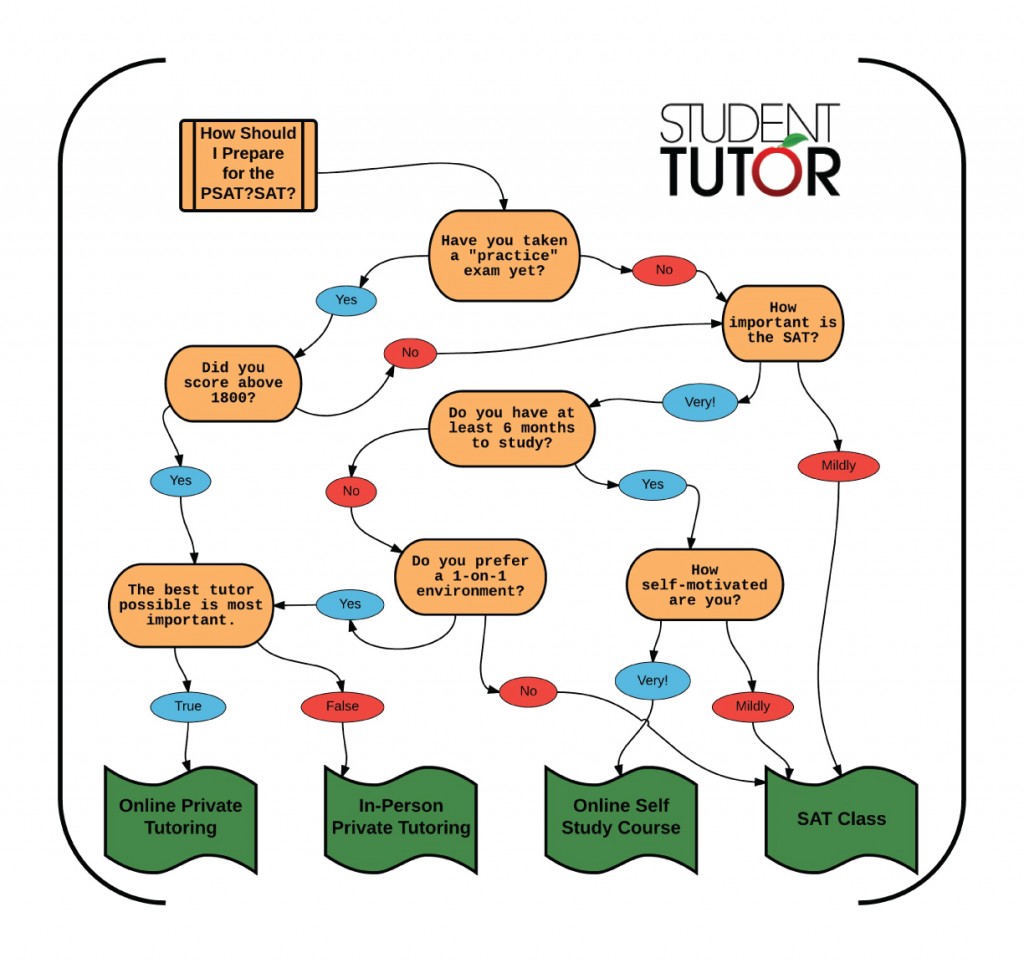 1) Have you taken a practice test?
You'll hear us harp about this in a lot of our articles. That's because knowing your starting score is ESSENTIAL in determining how far you are from your goals!
If you know the SAT is important and you haven't taken a practice test, stop what you're doing and git 'er done!
If a practice test seems like overkill, trust me. It's not.
Think of someone who runs track. They run every day for practice and then in competitions.
Let's say they stop doing any kind of running for 3 months, then sign up for a 10K race. Do you think they'll run as fast as they were when they were practicing and competing on a regular basis?
Probably not, because just like running track, in order to do well on your SAT exam you need to be reviewing the material on a regular basis. Which MEANS that taking a practice test and getting kicked in the butt by it is exactly what you need to know what material you need brushing up on!
2) How important is the SAT?
Your first reaction might be "OF COURSE the SAT is important! Why else would I be reading this article?"
That may be true, but this question isn't black and white. You need to ask yourself HOW important is the SAT?
You might not need to stress too much about SAT tutoring, classes, or studying if:
attending a state school is your target
your GPA is sky high
winning scholarships is of no concern
In fact, if you're going to community college, then you may never take the SAT at all.
Also, most state colleges don't even look at the writing portion of the SAT (but that doesn't mean it won't be considered by the scholarships you'll be applying to).
3) Is your starting score above 1200?
This is a tricky question, especially for folks who have their heart set on taking a class because they think it's the best value.
Here's the thing. Classes cover all essential SAT strategies and are less expensive than private tutoring, but that doesn't help if you're looking for a real challenge.
If your score is higher than 1200, don't expect the most dramatic score increase from an SAT class.
Why? At this stage, your score is already high. So an increase of 50-100 points is commendable.
You want more proof? Okay. Regardless of which test prep company you talk to, every SAT class offers a money-back guarantee, right? Well, did you know they also say the guarantee only applies if the student's starting score is below a certain benchmark?
At Student-Tutor, we guarantee a 150 point increase.
4) When are you taking the final SAT exam?
Read between the lines: Are you cramming or do you have time to pace yourself?
If you've got the luxury of time on your side, you'll probably get the most value out of a class. Lots of test prep companies will even let you retake their SAT class for free. We sure do!
Of course, that doesn't really help if..
You're a senior
You've never taken a practice test
Your final exam is in 3-4 weeks
If you're not sure where you stand as far as your overall test prep timeline, we DO give 100% free access to an editable, mobile-friendly Test Prep Checklist. This can help you assess whether or not it is too late for you to take or re-take the SAT.
But let's head back to the original question. If you're taking the final exam this year, you should probably look into private tutoring UNLESS:
You have the time to take a 6 week class
AND
You prefer a class environment
OR
A class makes more sense financially
5) Do you perform better in classes or with private tutoring?
Simply put, some folks just don't do well in class environments. Especially if a student has some learning disabilities or problems with focus, then private tutoring is definitely a winner.
Don't be tempted to default on signing up for a class just because it's cheaper than private tutoring. If it's not going to benefit you, then it'll be a waste of money no matter what.
Remember: There are thousands of dollars on the line with Merit Based Scholarships. If you're going to do this, then do it right.
6) How important is the in-person experience?
Some things to keep in mind when looking at in-person SAT tutoring versus online SAT tutoring: In-person might seem more effective, but with online tutoring you have access to the best possible tutors with greater availability.
Don't tell me that the caliber of tutor is irrelevant. There's a
reason people prefer tutoring companies with top-notch tutors; they produce results!
Don't get me wrong. Most SAT prep companies will only hire fantastic in-person tutors, but they will have a better selection of THE BEST TUTORS if they aren't limited to those within driving distance of your front door.
Also, when you're thinking about this, consider the world we're currently in. Kids these days are very tech savvy, and most of what we learn these days is from the internet or TV anyway (just like the blog you're reading right now).
Did you learn something from this article? Now imagine you and I were on the phone and I explained this entire process in a matter of minutes. There you go. That's online tutoring.
In other words, don't throw out the idea of online tutoring just because it's unfamiliar. If private tutoring is an avenue you want, consider all options!
7) How self-motivated are you? Do you study well on your own?
Based on our flowchart, the point of this question is to determine if you really need to pay for an SAT class or private tutor at all.
There are some really, really awesome self-study programs out there with
Segmented recorded lectures
Self administered quizzes
Detailed quiz results
Flexibility to accommodate even the busiest schedules
This is all well and good if and only if the student has the motivation and discipline to use the program.
The best book in the world is worthless if no one reads it.
If the SAT isn't too important, you probably won't be motivated to self-study anyway. But consider a self-study program when you are:
In 10th or 11th grade with plenty of time to study
Disciplined and self motivated
On a budget! 🙂
And if that sounds like you, then, congratulations! You can save a bunch of time, and miss out on early-morning weekend classes.
But if it doesn't sound like you, don't try to force it. Be honest with yourself. Are you really going to take time out of your day and study? Really? If the answer is "no, probably not," then self-study isn't a good option for you. Look into a class or private tutoring!
Conclusion
When it comes to SAT prep online, in person, in classes, or self-study, it pays to be open-minded, smart, and seriously consider all options.
This process is complex and can certainly cost a pretty penny, but as we describe in other articles, a difference of only 100 points can oftentimes be the difference between getting accepted into your dream school and being awarded thousands in scholarships… or not.
What's the moral of the story?
Start prepping early and don't give up on your ambitions. As we like to say here at Student-Tutor, "educational success has no limits!"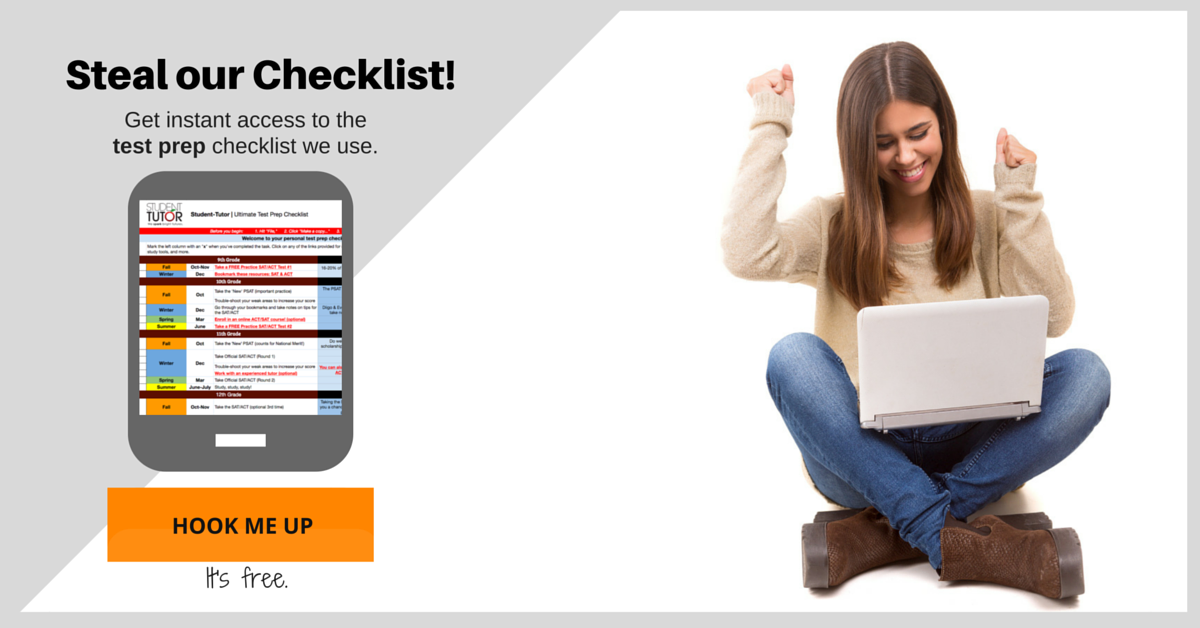 What kind of SAT prep works best for you? What are your SAT prep experiences? Let us know in the comments!
co-authored by Jesse Novotny
The following two tabs change content below.
Dressler Parsons
Dressler Parsons spent most of her childhood in an adobe house her father built in rural Arizona. Right now, she's taking so many business and art classes at Barrett, the Honors College at Arizona State University, and plans to graduate in Fall 2016 with a Bachelor of Science in Marketing, and a Bachelor of Fine Arts in Intermedia. And, handily enough, her SAT scores and grades qualified her for ASU's Presidential Scholarship (worth $24,000), as well as the AIMS tuition waiver. She is passionate about showing people their potential for a bright, beautiful future. In her free time, she cooks edible things and knits inedible ones.
Latest posts by Dressler Parsons (see all)