Top Rated Chemistry Tutors in Seattle, WA!
Eliminate Academic Stress & Develop Confidence to Ensure College, Career, and Life Success.
Welcome to Seattle's top-rated private chemistry in-home tutoring service! All of the following Seattle chemistry tutors are certified by Varsity Tutors, the leading tutoring agency in the country!
Varsity Tutors has been recognized by Fox, CBS, Time Magazine and more for consistently helping students eliminate academic stress, improve their confidence, and skyrocket their grades for academic & lifetime success! 
All Seattle chemistry tutors have been background checked, been interviewed, had mock chemistry tutoring sessions, and been trained by professionals. We guarantee you will love your local Seattle chemistry tutor or your money back! Get information regarding a top-rated chemistry tutor today!


Couple of Our Local Chemistry Tutors in Seattle, WA...
Please Note: All tutors have been background checked, interviewed, participated in mock tutoring sessions, and been trained by professionals. 100% satisfaction guarantee.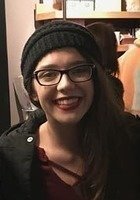 Certified Private Chemistry Tutor in Seattle, WA
I'm Alexa Singer and I am a student at Oregon State University majoring in Biochemistry and Molecular Biology with a minor in chemistry. I have a passion for teaching chemistry here in Seattle and helping people come to learn and respect it. It is a challenging subject, but I believe being successful in it is not dependent on how "smart" you are, but on how the subject matter is approached and taught to you.
My teaching style is to help the student understand not only how to solve individual problems, but to understand and respect the concepts themselves. I do this by helping explain the concept behind the different problems and then walking through practice problems the student, offering different ways to approach the solution.
Chemistry builds on itself, so understanding the fundamental concepts is vital. I believe that no one is truly bad at chemistry, they just haven't had it explained to them the right way. I learned chemistry through candy and games (Bottle Cap and skittles make the best Lewis Structures!).
In my spare time I love to try new foods, travel, hike, go white water rafting, and get through my endless pile of unread books. I love broadway to the point that my family and friends will often laugh about how I can always be heard singing some show tune or another all times of the day.
Bachelor of Science, Biochemistry and Molecular Biology, Oregon State University
I love hiking, white water rafting, and basically anything that gets me outside and active. I play piano, guitar, and I sing. I love spending time with friends and family. I really enjoy learning about new things, no matter how "trivial" they might seem.
Certified Private Chemistry Tutor in Seattle, WA
Hi, I'm Caitilin Caul and I believe that any student can learn. I believe that the only reason a student may be struggling is because material isn't being taught in the way that suits the individual. This is especially true for students in (and outside of) Seattle trying to learn chemistry. I try to uncover the different ways each student learns and present information in ways that make more sense to each student. That is why as a tutor, I always try to make learning personal. Even today, as I'm studying to become a professional chemist, I need personalized learning.
Bachelors, Elementary Education, The University of Montana
Certified Private Chemistry Tutor in Seattle, WA
"I am he/as you are he/and you are me/and we are all together"
but wow do we all have different needs!
This is something of a guiding principle for me, Kulananalu Tarnas, as a Seattle-based chemistry tutor. For the most part, we are all capable of learning the subjects we are faced with in school, but we are not all inclined to learn via the same methods. The way we approach our learning is often decided for us in the classroom, but that is certainly not always the approach through which we thrive. The beauty of one-on-one tutoring for me is that I need not use standardized or impersonalized methods to achieve learning.
If I were to tutor you (or your son, daughter, etc.), I will make a concerted effort to make observations and inquiries through which we may find a tutoring strategy that really works. I aim for this to be a mutually beneficial process that I take on with my students. I know that we all have gifts and are quite capable of finding success if only we take the time to discover them.
Finally, I understand that many student's gifts or passions do not reside in every single subject they are required to take in school. Often times, these are the very subjects that we seek out tutoring for. If this is the case, I hope that we may at least find a way to make learning this subject manageable; and who knows, maybe we will run across some unexpected interest and/or appreciation along the way!
For a record of my tutoring history, please see my resume. I am most prepared for and passionate about tutoring in chemistry, but I believe I am also capable of tutoring in physics and most high school (or lower) level math to some degree.
Looking forward to potentially working with you :)
Kulan
Bachelors, Chemistry, Willamette University
I am particularly passionate about both environmental and social activism, although admittedly this takes place on more of a personal consumer and social media/interaction basis. I am highly interested in contemporary climate science and climate change progression, especially in connection to the paradigm of human disenchantment and isolation from their environment/ecosystem. In short, this deals with the commonly held worldview in western cultures that subjective meaning and purpose is a solely human attribute and that we for all intents and purposes we exist in an objective and meaningless world. This superior, ego-driven view is contrasted with the idea that the world and cosmos are capable of expressing and reinforcing intrinsic meaning that we as humans are in turn capable of understanding, most often encountered in what are known as synchronicities. This worldview describes a cohesive and holistically meaningful universe, one in which we as human are highly autonomous participants and co-creators. My current primary field of study is archetypal astrology—a field that inherently depicts the cosmos' ability to express intrinsic meaning in the form of universal archetypes, which may then be correlated to the human realm of experience (both inner psyche and outward experience). These correlations do not deal with inescapable fate or destiny, but rather point to pervasive, ambiguously specific archetypal patterns in individuals (natal charts), personal biographical experience (personal transits), and overarching trends in history and the modern world (world transits). This is a highly contentious subject in the modern west, where the average person's understanding of astrology involves only sun-sign-based news columns (horoscopes), which are usually both highly simplistic in their use of only sun signs and overly specific in their predictions about people with those sun signs (all of whom have extremely different natal charts and, of course, their own unique life experiences). If you are curious about my practice and its philosophical and/or scientific basis, please ask! Finally, a few of my personal pleasures are singing (often with a guitar in accompaniment), exploring my ecosystem (both natural and human-made), and exchanging perspectives with friends and strangers alike.
Certified Private Chemistry Tutor in Seattle, WA
Hi, I'm Mary Walker. As a recent graduate of Whitworth University, learning and helping others learn chemistry has been my occupation for the past four years. It is my hope that helping others learn will continue to occupy an important place in my life. So if you're a student in or outside of Seattle trying to learn, please know that I am here to help.
Bachelor of Science, Biology, General, Whitworth University
Hiking, climbing, reading, and cooking
Certified Private Chemistry Tutor in Seattle, WA
I'm Megha Pratap Varma and I am an enthusiastic believer in giving back to the community by sharing knowledge and mentoring. I believe that one learns more through educating others.Therefore, as a chemistry tutor here in Seattle, I feel that students can be motivated to enjoy their studies by showing them their real-world applications. So what are you waiting for? Do you have something that you want to share with me? I would really love to learn from you as you would from me.
Bachelors, Chemical Engineering, Amrita Vishwa Vidyapeetham Coimbatore India Masters, Chemical Engineering, University of Southern California
Request Your World Class Tutor Today! 
Eliminate Academic Stress & Develop Confidence to Ensure College, Career, and Life Success!

Additional Tutors in Seattle:
Student-Tutor's partnership with Varsity Tutors makes it easy to find local world class certified tutors no matter where you live. Here are some other tutors in Seattle. Let's Spark Bright Futures!
Tutors Across The Surrounding Area: