Top Rated GRE Prep Tutors in Gilbert, AZ!
Eliminate Academic Stress & Develop Confidence to Ensure College, Career, and Life Success.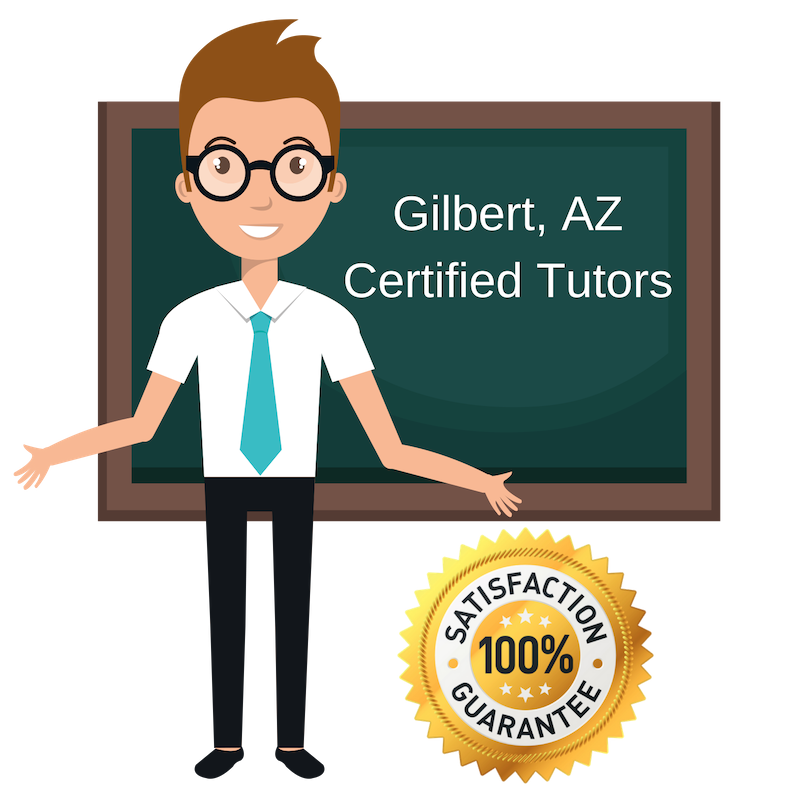 Welcome to Gilbert's top-rated private GRE prep in-home tutoring service! All of the following Gilbert GRE prep tutors are certified by Varsity Tutors, the leading tutoring agency in the country!
Varsity Tutors has been recognized by Fox, CBS, Time Magazine and more for consistently helping students eliminate academic stress, improve their confidence, and skyrocket their grades for academic & lifetime success! 
All Gilbert GRE prep tutors have been background checked, been interviewed, had mock GRE prep tutoring sessions, and been trained by professionals. We guarantee you will love your local Gilbert GRE prep tutor or your money back! Get information regarding a top-rated GRE prep tutor today!


Couple of Our Local GRE Prep Tutors in Gilbert, AZ...
Please Note: All tutors have been background checked, interviewed, participated in mock tutoring sessions, and been trained by professionals. 100% satisfaction guarantee. 
Certified Private GRE Prep Tutor in Gilbert, AZ
Hello, my name is Jessica Fletcher. I am an English and psychology online tutor in Gilbert. I also teach students how to pass the GRE.
I recently graduated from ASU with a Master of Counseling in mental health and have served as the Prison Education Awareness Club (PEAC) president for three consecutive years, bringing prestigious speakers to the university, forging relationships with the Arizona Department of Corrections, and inspiring education in one of the bleakest settings. In addition, I worked as a youth volunteer soccer coach, where I mentored children in a low-income setting how to play soccer, as well as eat right and exercise. I even interned as student Editor-In-Chief for Superstition Review, an online literary magazine, where I worked as a public speaker, online social media brander, and publication editor.
Because of these experiences, as well as my academic background, I was able to take on a philosophy that involves practicing self-care and helping students do the best that they can possibly do. I even used some of these tactics to help the GRE myself back when I was a student.
I believe in a growth mindset philosophy where each person can continue to grow and learn–nothing is fixed in talent. By engaging in creative and conversational methods, I motivate students to grasp the concepts and feel confident in their abilities.
Bachelors, English; Psychology, Arizona State University;
Drinking and thinking about coffee, reading literary magazines, hiking Arizona mountains, and oil painting.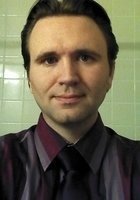 Certified Private GRE Prep Tutor in Gilbert, AZ
My name is Michael Moss. and I am a GRE tutor in Gilbert. I am a graduate of the Wake Forest University School of Law in North Carolina, where I obtained my Juris Doctorate Degree. I also received a bachelor's degree in communications from Brigham Young University and have previously instructed online developmental writing courses for adults seeking to return to college and sought to improve their writing skills
As a lifelong learner and passionate educator, I greatly enjoy working with students who are trying to improve their academic performance. I believe strongly that everyone has the talent needed to write and express themselves but that they need to learn how to structure and organize their writing so that their ideas can flow. For standardized testing, I believe the most important factor in success is becoming comfortable with the test itself; learning the common ways the test makers misdirect a student's attention and how to properly break down a problem.
Outside of the classroom I have a great interest in film; I own hundreds of movies from various genres, eras, and countries. I also write fiction in my spare time.
Bachelor of Fine Arts, Communcations, Brigham Young University-Provo; Juris Doctor, Law, Wake Forest University School of Law;
Film, Art, Video Games, Fantasy/Science Fiction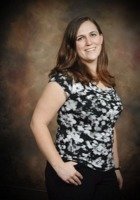 Certified Private GRE Prep Tutor in Gilbert, AZ
After becoming a full-time high school math teacher in Northern California and missing the individual attention that tutoring gives for two years, I Rosemary Wall, became a math and GRE tutor in Gilbert. To this day, I continue making light bulbs go off in students' learning while helping them get into the schools of their dreams.
Math espeically is not an easy subject for many individuals and with the new common core standards, many students are seeing their math brains being stretched in multiple ways. I aim to break down the material into small comprehensible pieces for students to understand. So if your student has any questions as to how a particular problem should be solved, then please, do not hesitate to contact. I myself was once a student, as well.
Bachelors, Mathematics, Southern Oregon University;
I like to play board games, watch baseball, hike and bike.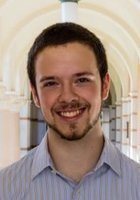 Certified Private GRE Prep Tutor in Gilbert, AZ
Throughout my life, I, Tom Carroll, been blessed to have a number of great teachers and mentors guide me through high school and college. As such, I succeed in winning competitive fellowships like the Rhodes and became a researcher, tutor and leader teaching science and humanities here in Gilbert. I want to establish mentoring relationships with the students I work with, so I can help lead them to success in the same way that I was as a student and hopefully, get them into the school of their dreams by helping them pass the GRE.
Because of this drive to give back, I've already amassed a number of prior experiences in teaching and tutoring. These experiences roughly fall into two major areas- the sciences, and the humanities. In the sciences, I've worked with both peers and younger students in a number of biomedical fields, and I also have experience preparing students for standardized tests like the MCAT.
At Rice University, I also worked as a teaching assistant in Cell Biology, where I lectured at review sessions, assisted students individually with their questions, and even wrote some exam material. This experience was great practice in taking even the most arcane subject matter and condensing it into a format understandable by my peers, something that I think contributes to my effectiveness as a tutor. I also try to incorporate my research experience at institutions like the NIH into my tutoring in these areas, using real-world examples from cutting-edge research and scientific communication skills gleaned from poster sessions and academic publications to supplement the teaching experience.
Outside the sciences, I also have two years of experience working with a student individually in the humanities. I started with this student in 8th grade; he had no opportunity for formal education in the Classics at his school, but was interested in learning about the ancient civilizations of Greece and Rome. I developed tailored lessons plans for him, helping to teach him Greco-Roman mythology, Roman history, and Latin translation skills, and planning additional challenge assignments drawn from my Classics major and thesis in comparative mythology. To further supplement his education, I also worked with him to prepare for a number of contests in the Classics; within a year of starting this experience, I helped him progress to the point that he was winning regional contests through the National Junior Classical League, and medaling in national written exams such as the Medusa Mythology Exam.
Whether in the sciences or humanities, my students benefit from my unique blend of experience. My varied education, with degrees in both Biochemistry and Classical Studies and advanced study in a number of fields in between, gives me the flexibility to adapt to each student and the power to supplement a student's education with perspectives from other fields. My experience in leadership development, as president of my residential college, also allows me to guide students not only as academics, but also as career- and goal-oriented individuals. Finally, my passion, intrapersonal skills, and experience with academic communication help me find the right method of teaching to get each student motivated and thriving in their fields. I look forward to forming new mentoring relationships with my students through Varsity Tutors, and can't wait to help get them on the road to success.
Bachelors, Biochemistry & Cell Biology and Classical Studies, Rice University; PHD, Clinical Medicine, University of Oxford;
Soccer, Piano, Basketball, Baseball, Classical and Near Eastern mythology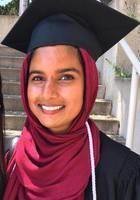 Certified Private GRE Prep Tutor in Gilbert, AZ
Hello, I'm Rebia Khan. I am a GRE tutor and friend to all students on and offline. I recently graduated with honors from Stanford University, where I majored in Biology with a focus on Ecology and Evolution. During my undergraduate career, I was actively involved in biology research on campus. Now, I'm excited to share my love of science and learning through tutoring!
Here in Gilbert, I tutor Biology, Ecology, and standardized test prep. From high school to Stanford, I have learned that lectures are often difficult for students to follow. They can lose confidence in subjects because the information is not presented in a way that is effective for their learning. My job is to work with students to figure out the best way to learn challenging material. This may involve breaking down complicated ideas into consumable parts, discussing concepts back and forth, or working through practice problems together.
Ultimately, I believe that students should never feel unintelligent because they don't immediately grasp a concept. I am committed to empowering students to approach challenging subjects with confidence.
Bachelors, Biology – Ecology and Evolution, Stanofrd University;
drawing, hiking, cooking,
Request Your World Class Tutor Today! 
Eliminate Academic Stress & Develop Confidence to Ensure College, Career, and Life Success!

Additional Tutors in Gilbert:
Student-Tutor's partnership with Varsity Tutors makes it easy to find local world class certified tutors no matter where you live. Here are some other tutors in Gilbert. Let's Spark Bright Futures!
Tutors Across The Surrounding Area: