San Diego SAT Prep Private Tutoring & Class
Innovative SAT prep approach that has earned us a 5 star rating on Google, Facebook, and Yelp!
Ema S.
Ema is working towards her degree in engineering. She has years of experience tutoring her peers in high school up through college in advanced math and chemistry concepts. Specializing in San Deigo SAT tutoring and SAT prep courses, Ema doesn't rest until her students firmly grasp the material at hand and have a better foundation than when they started. She takes our hand-crafted San Diego SAT prep strategies to a whole new level.
Teresa H.
Teresa has over 5 years of being a San Diego SAT tutor under her belt! As one of our best tutors, she is often our first choice when a student needs lots of help. This San Diego SAT tutor has such a big heart; she is currently a social working for adults living with HIV/AIDS. Teresa earned her bachelors in psychology and public service from Notre Dame and later masters in social work specializing in child welfare. She has also taught several SAT prep courses.
Felix H.
Felix is one of our best San Diego SAT tutors. He consistently delivers outstanding results for every one of his students regardelss of where they're starting. He is majoring in Music with a focus in violin performance. Felix understands well that one cannot learning just being showed the answer. They must fully comprehend the material in order to succeed
Private San Diego SAT Prep Tutors & SAT Prep Classes 
3 things you MUST consider… 
 Before investing in San Diego SAT prep class or SAT tutoring for your student!
1. What SAT option is best for you?
Many parents immediately think a San Diego SAT prep class is the best option since their friends are all doing it. Although an SAT prep class may be advantageous for some, SAT classes are not exactly one-size-fits-all.  
Article: How to choose the most cost effective SAT prep program
2. What are your college SAT score requirements? 
While every San Diego SAT prep class teaches the writing section, most colleges don't require it. Different programs within a university have different SAT prep score averages, some schools won't even look at your application if you don't meet the minimum SAT score.
Article: Discovering your target SAT score for college acceptance
3. What SAT scholarship opportunities are available?  
Did you know that UC San Diego gives out millions of dollars in scholarships each year to incoming freshmen based on merit alone! (NOT NEED; Regardless of household income) Below is just one of many schools that will give you free money based on your SAT score and GPA!
Article: How much scholarship money is really within reach?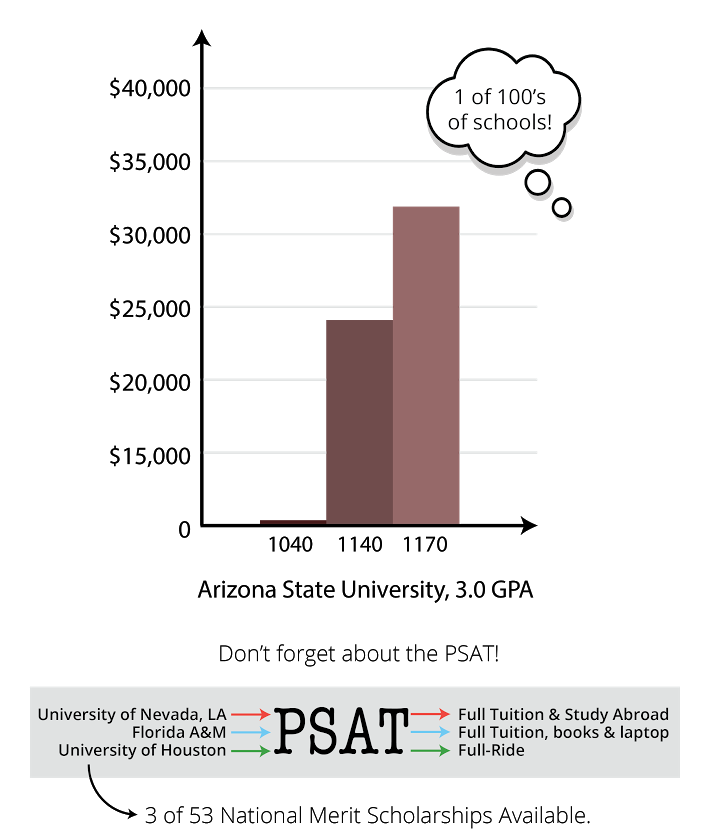 The SAT could be your golden ticket to the best colleges + thousands of dollars in scholarships. 
Don't leave it up for chance! Try us risk free + get a free 1 hour academic advising session! 
Student-Tutor has been featured locally and nationally and developed many partnerships.