Phoenix SAT Prep Private Tutoring & Class
Innovative SAT prep approach that has earned us a 5 star rating on Google, Facebook, and Yelp!
Payel scored in the top 95% on the SAT and graduated from Arizona State University with a major in Electrical Engineering. She has past experience teaching and tutoring in Math, Physics, and of course in our Phoenix SAT prep courses in Chandler, Tempe, Paradise Valley, and online. Students love working with Payel!
Micah scored in the top 95% on his SAT exam and is finishing his graduate law degree from Emory University. Aside from being a fantastic Phoenix SAT instructor, Micah is well versed in AP courses for calculus, english, chemistry, biology, spanish, psychology, and statistics. He has consistently received praise from students and parents across Phoenix for his patience, clarity, approachability, helpfulness, and knowledge.
Mark scored in the top 95% on the SAT and graduated in Political Science/Economics from University of Illinois. He spent two years as an assistant professor of Naval Science at ASU and was the Assistant Director of training for the engineering department aboard a nuclear submarine. Mark tutored candidates for the Naval Nuclear Power Program and when interviewed by the director of Naval Reactors, 100% of his students passed the test!
Convenient Phoenix SAT Prep Class Locations 
In-Person Phoenix SAT classes locations:
Do our Phoenix SAT Prep Locations not work?
No worries! We have affordable private SAT tutoring all across Phoenix valley plus online options! Student-Tutor also offers customized phoenix math tutoring and ACT prep.
3 things you MUST consider… 
Before investing in Phoenix SAT prep class or SAT tutoring for your student!
1. What SAT option is best for you?
Many parents immediately think a Phoenix SAT prep class is the best option since their friends are all doing it. Although an SAT prep class may be advantageous for some, SAT classes are not exactly one-size-fits-all.  
Article: How to choose the most cost effective SAT prep program
2. What are your college SAT score requirements? 
While every Phoenix SAT prep class teaches the writing section, most colleges don't require it. Different programs within a university have different SAT prep score averages, some schools won't even look at your application if you don't meet the minimum SAT score.
Article: Discovering your target SAT score for college acceptance
3. What SAT scholarship opportunities are available?  
Did you know that ASU, U of A, and NAU give out millions of dollars in scholarships each year to incoming freshmen on merit alone! (NOT NEED; Regardless of household income) Below is just one of many schools that will give you free money based on your SAT score and GPA! Check out the ASU scholarship estimator to see for yourself! 
Article: How much scholarship money is really within reach?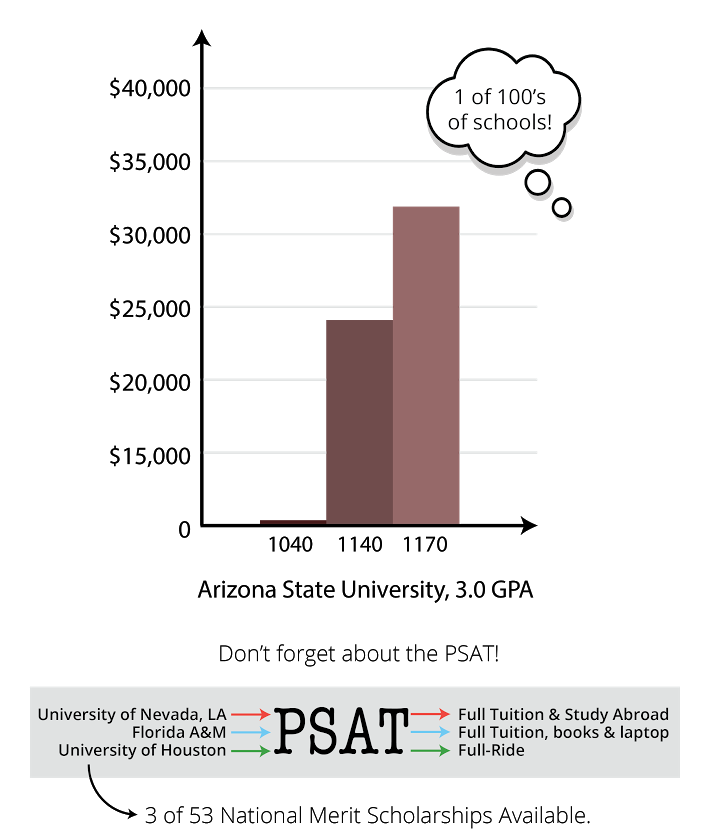 The SAT could be your golden ticket to the best colleges + thousands of dollars in scholarships. 
Don't leave it up for chance! Try us risk free + get a free 1 hour academic advising session! 
Student-Tutor has been featured locally and nationally and developed many partnerships.