The digital age has changed what we need to know to survive.
We live in the digital age and just like we are changing the ways we transport ourselves (Uber), watch movies (Netflix), keep in contact with friends (Facebook), do our errands (Amazon), and date (Tinder)… it would only make sense we need to change what we are learning!
Reid Hoffman, Co-Founder & Chairman of Linkedin, states:
"Not only can anyone be an entrepreneur, but they must be. Even you! Not everyone should start companies, but everyone must be the entrepreneur of his or her own life. The skills people need to manage their careers are akin to the skills of entrepreneurs when they start and grow companies."
Unfortunately, schools are more standardized than ever leaving no room for creativity, goal setting, networking, and empowerment.
Todd VanDuzer, CEO and co-founder of Student-Tutor, offers a solution by teaching students digital age skills they are not learning in school but if they mastered they would be lightyears ahead of students who didn't.
Build your teenager's resume & stand out for college, scholarship, and career success! 
Focus on the big picture! Jumpstart your teen's career by building a personal website and learning how the internet works, all while gaining in-demand digital age skills.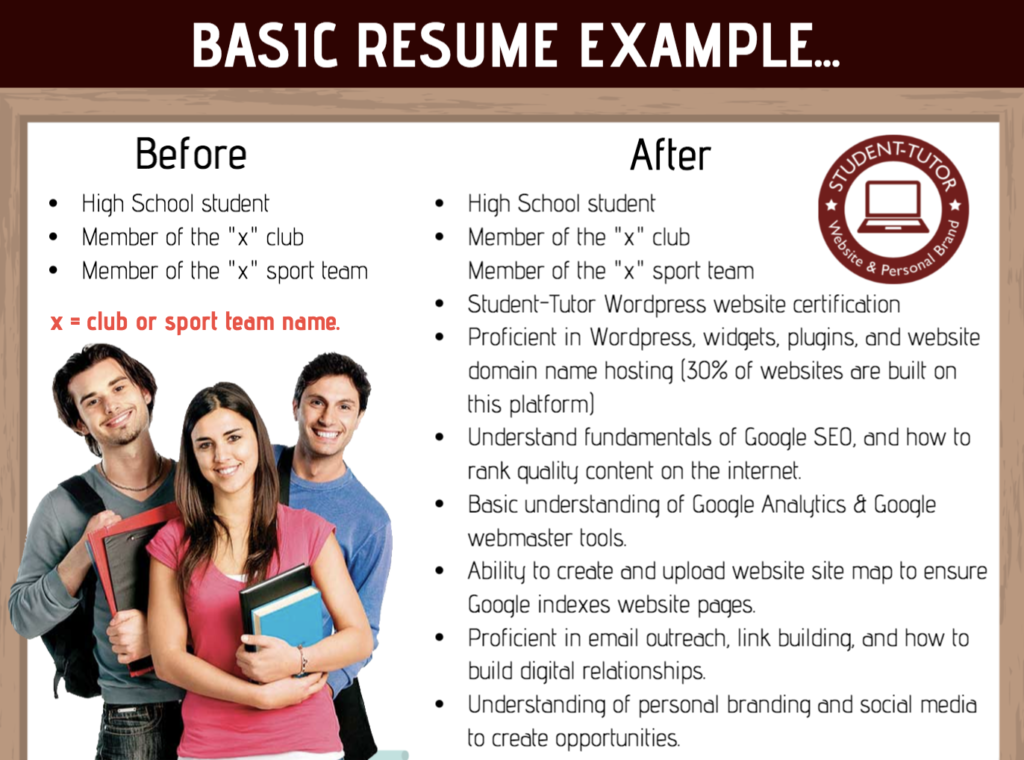 What You Will Learn:
Productivity & Organization hacks & Goal Setting Tips.
WordPress website. (Domain name, hosting, plugins, widgets, etc.)
Optimize a website. (Website speed, analytics, webmaster tools, tag manager, etc.)
Interview someone (Outreach, questions, etc,)
SEO friendly blog article. (History of Google, how the internet works, etc.)
Personal Branding + Outreach