Co-authored by Renae Hintze
---
So it's your dream to major in Chemistry at UChicago, but you're halfway through your Junior year of High School with a 3.0 GPA and 1500 SAT score.
What do you need to get in?
A GPA of at least 3.93 and 2235 SAT score (if not higher)
Probably a history of volunteer-work, maybe be an accomplished athlete, and/or played some sort of instrument
A scholarship to help you cover that $62,567 for that first year of Out-of-State attendance.
You have roughly 11 months to make ALL of this happen — ahh!
You frantically google either "College Planner" or "Tutoring", and you fork over your money to companies that PROMISE to get you in, with scholarships to boot.
Fast forward to opening a letter from UChicago with the following message:
… I regret to inform you that we are unable to offer you a place in the Class of 2016.
What happened? 
3 Reasons College Planning Companies Are Scams
Ok so maybe they aren't 100% scams… they do hold some merit. But I got your attention, right?
1. There Is No Universal College Formula
Every College Planning company wants to guarantee your acceptance into a school, and scholarships.
But the truth is, unless THEY are the ones on the Admissions Board and THEY are writing the check for your scholarship money, there is just no guarantee.
The BEST way to get into a college of your choice is to have the best possible chances of getting in — and that doesn't happen overnight.
Remember, Big Goals Aren't Achieved Without Baby-Steps.
Here's an example:
Everyone has heard about that seminar you sit through where they show you how to make 6 figures a year working from home.
At the seminar, the company shows you success stories, real numbers, real testimonials and they say it is going to happen overnight.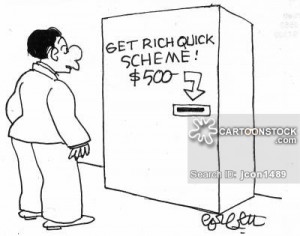 Image by Cartoonstock
But… have you ever met someone who actually did this?
If you said yes, ask that same person how hard they worked before they got there.
I'm no exception to these scams… I got sucked into one when I was 16! It was the real estate, "get-rich-quick" scam. I spent $1000 to learn how to invest in homes… and I saw zero results.
So I took the initiative to learn on my own. I studied up on real-estate and sought out some experts to talk to. Now I own 4 homes which have all been successful investments!
What's the moral of the story? 
My success in real-estate didn't happen overnight.
It was planned, took time, hard work, and consistent focus. Handing someone a check for $5,000 with a guarantee to help you get into your dream college IS BOGUS.
I have helped hundreds of students get into elite universities but this isn't due to a couple MYSTICAL SECRET TIPS that they didn't know before.
Sure, some previously-unknown facts and well-researched information may impress parents and students at first, but what gets them in is consistent hard work with their tutor to skyrocket their grades, maximize their test scores, and optimize their extracurriculars.
"Just-Tutoring" and "Just-College Planning" Companies offer good services (in general), but they're half of the puzzle. They're missing the baby-steps.
2. Paying a College Planning Company Will Not Get You Scholarships
Anyone can TELL you how to get scholarships. That's not the hard part.
You need to stand out from the rest of the crowd and be the best applicant… easier said than done.
So how can you make it happen?

Skyrocket your GPA

Don't worry if you are in 11th grade with a 3.0. 

It is still possible to increase your GPA to a 3.5.

You just need to know how to

calculate and improve that GPA. 

Skyrocket your SAT/ACT test score
Optimize your extracurriculars

I personally earned over $85,000 in scholarships, but over half of those scholarships were private-based.
Private based scholarships are more about how you stand out than where you stand via your test scores and GPA.
Luckily for you, I wrote a step by step scholarship essay guide showing you exactly how to do that.
This list may seem pretty straightforward… but when it comes to tackling each of these steps, they can prove to be pretty intimidating goals.
College planning companies are great at outlining the steps for you to take, but they don't do the best job at helping you form the baby-steps to get things done and done right.
THEM: "Get a better SAT score."

YOU: Ok… what score? 100 points, 200 points, 500 points increase?!
3. Meeting Deadlines Is Only Half the Battle
I have an expression for you: Process vs. Execution. 
College Planning companies can give you all the steps you need to apply to a school, and that handles the "what", as in What do I need to do to get in? 
But they're missing a key element of the application process — the "how".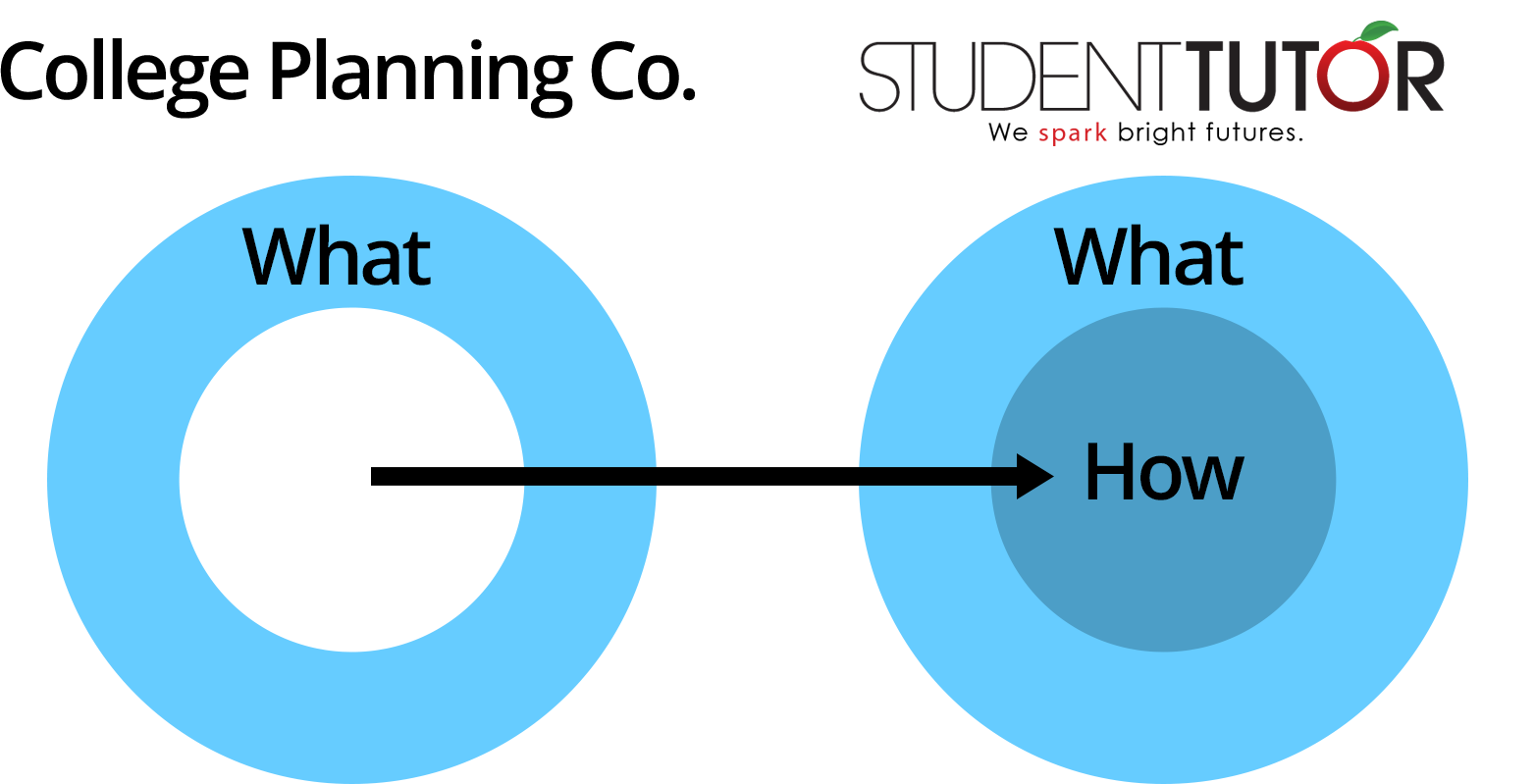 Telling you to "Write a college admissions essay" is different from having someone review drafts of your essay, point out places where you can improve, and explain how to tailor it for your audience.
3 Reasons Why MOST Tutoring Companies Are Scams
But WAIT! Isn't Student-Tutor a tutoring company and don't tutoring companies help students?
Yes and yes… and once again they aren't 100% scams, they also hold plenty of merit, but now I KNOW I've got your attention!
Please just keeping reading. I promise you will like what I have to say. 🙂
1. They Don't Address the Main Reason You're Getting Tutoring
Wait… to get my grades up, right?
Not exactly. That's one SMALL piece of a much BIGGER picture. Let me ask you this: Why do you want higher grades?
If you think about it, it's really so you can:
Maximize your scholarships
Get into the college of your choice
Tutoring needs to be goal-orientated. A student may not need to study for sections on an SAT that don't count toward their college's admissions.
Furthermore, students may not need to take a ton of AP/ Honors classes. In fact, these courses could actually be RUINING their college admittance and scholarship chances!
A Princeton Review article states:
Colleges strip these extra points from applicants' GPAs before they evaluate them. When you compare your high school GPA to the average among freshmen at a particular college, you'll need to remove the extra points you've received for any difficult classes. This will ensure that you compare 'apples to apples.' Strength of schedule is still a very important factor in admissions decisions; it's just considered separately from GPA"
Remember my example of College Planning companies not having the "how"? 
Tutoring companies have the what — increase your grade from a C to a B. What they're missing is the WHY.
Knowing WHY you want tutoring means your studies can zero in on getting accepted into UC Berkeley with $24,000 in scholarships, and what you work on improving can be directed toward that goal.
2. They Allow You To Decide What is Best For Your Kid
"I most definitely DO know what's best for my child!" may be your first response here.
I'm not saying you don't, but…
What about an expert in education, who has devoted all their time and resources into developing strategies and goals for college admissions and scholarships and who shares your passion about your child's academic and life success? 
Let's be honest. You're a good parent, but that means you're also a BUSY parent. There's nothing wrong with rallying the troops to secure the best possible academic future for your child.
At Student-Tutor we want your child to succeed as much as you do, and we're prepared to spend our time and energy making it happen.
3. They Don't Hold Your Tutors Accountable
Most companies simply set you up with a tutor and BAMN. Their job is done.
But can you really expect amazing results without someone holding that tutor accountable?
Now, I'm not trying to say that any tutor is lazy, or needs a babysitter.
The fact is that everyone can benefit from being reviewed. Accomplished authors have editors that catch the mistakes they miss, and the books they write are better for it.
Do you see the difference between these 2 flow charts?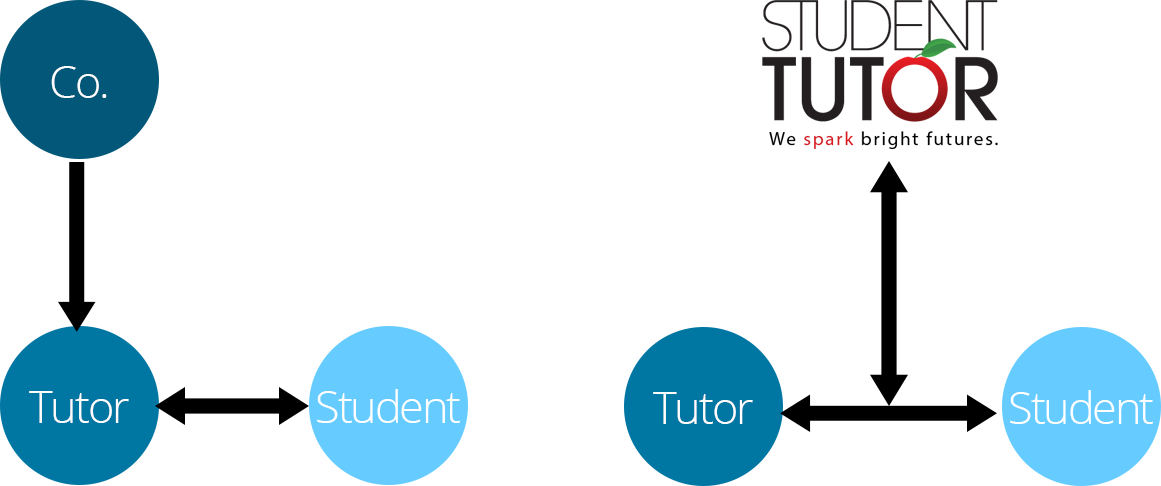 The company on the left has 0 interaction with the student, and does not receive any information from the tutor. On the right, information flows freely between the student, tutor, and the company.
Your child will receive the most refined tutoring experience when the company makes a point to check in with the tutor and maintain that everything is on track and running smoothly.
What's the take-away here?
I know what you've probably been thinking this whole time… Doesn't Student-Tutor offer college-planning advice AND tutoring??
You are exactly right. We're both a college planning AND a tutoring company.
It's why we work.
We know our tutors and our tutors know your student, which means WE know your student.
We do the research that tells you how to find scholarships and get into the college of your choice. Then we sit down with you week by week. We target your strengths and weaknesses and develop baby-steps leading up to SMART goals that will give you the absolute BEST chances of getting where YOU need to be.
We're in it for the long-haul, start to finish.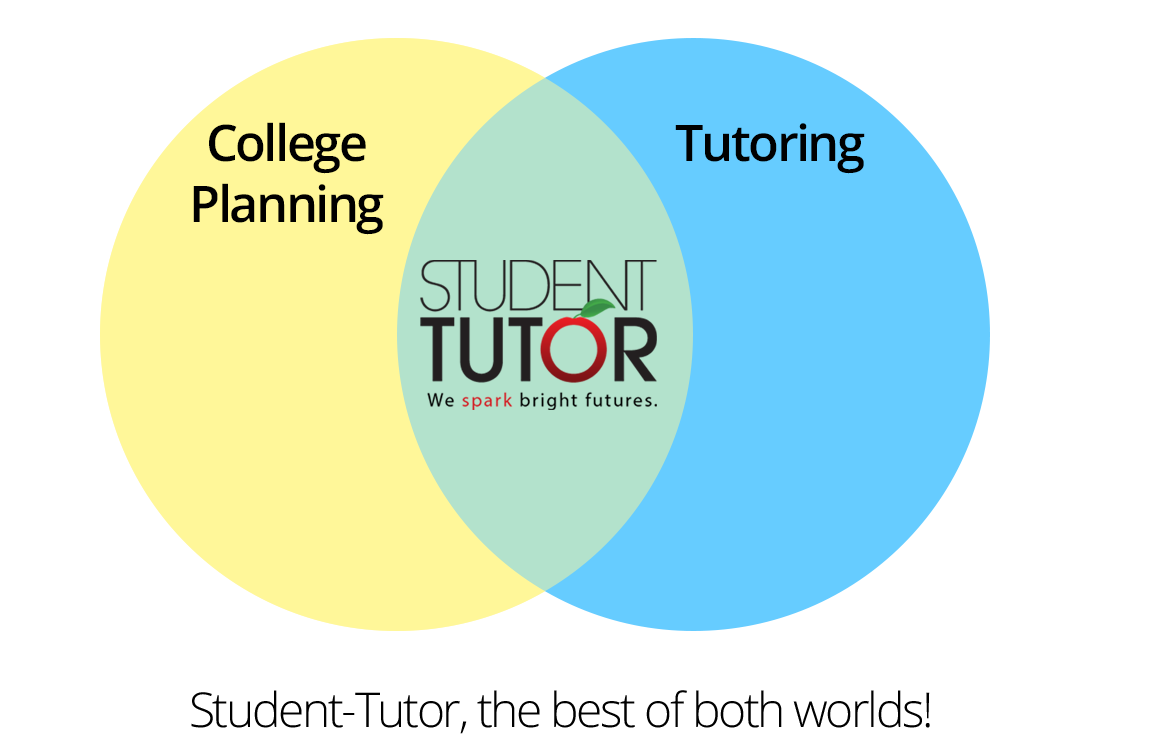 Convinced you'd like to give us a try? Or maybe just want to learn more about how we work? 
If not, here are some final tips for you!
When looking for a company that's right for your child, look for:
Accountability

SMART Goal development

Expertise and Knowledge on both college planning AND tutoring
Watch out for:
Crazy guarantees

Tutoring agencies (Typically they don't hold tutors accountable)

Services that will get you a tutor ASAP (Planning needs to be put in place with an expert for SMART goal development.)
Conclusion
Seriously, don't waste any more time or money on shaky promises. Invest in your child's academic future and find them a company that can take the stress off of you, and produce REAL results.
We know you want the best for your student. So do we.
Have you had experience dealing with a college planning or tutoring company? Tell us about it in the comments below!
The following two tabs change content below.
Hello! My name is Todd. I help students design the life of their dreams by ensuring college, scholarship, and career success! I am a former tutor for seven years, $85,000 scholarship recipient, Huffington Post contributor, lead SAT & ACT course developer, host of a career exploration podcast for teens, and have worked with thousands of students and parents to ensure a brighter future for the next generation. I invite you to join my next webinar to learn how to save thousands + set your teenager up for college, scholarship, and career success!
Latest posts by Todd VanDuzer (see all)