Disclaimer: This article is for the 2005 SAT. Click here to learn about the new, 2016 SAT.
Odds are you're staring at your computer screen right now thinking "wait a minute… I already took the PSAT, and the SAT, NOW YOU'RE TELLING ME THERE'S MORE!?"
Yup. I regret to inform you that the 2400-point, 3 hour and 45 minute test you know so well is not the only SAT test out there. In fact, there are 20 SAT Subject Tests.
No, you didn't read that wrong–there are 20!
But don't panic! Depending on whether or not you've taken the SAT or ACT, and what your college plans are, you may not even have to worry about the SAT Subject Tests.
So… What are the SAT Subject Tests?
Well, as mentioned earlier, there are 20 of 'em, and put quite simply, the SAT Subject Tests are just more standardized tests required by some colleges. They're designed to supplement the SAT Reasoning Test and evaluate a student's aptitude for areas not tested by the traditional SAT, like history or chemistry.
You can take an SAT Subject Test on almost any course that your high school offers, including Biology, US History, and even Latin!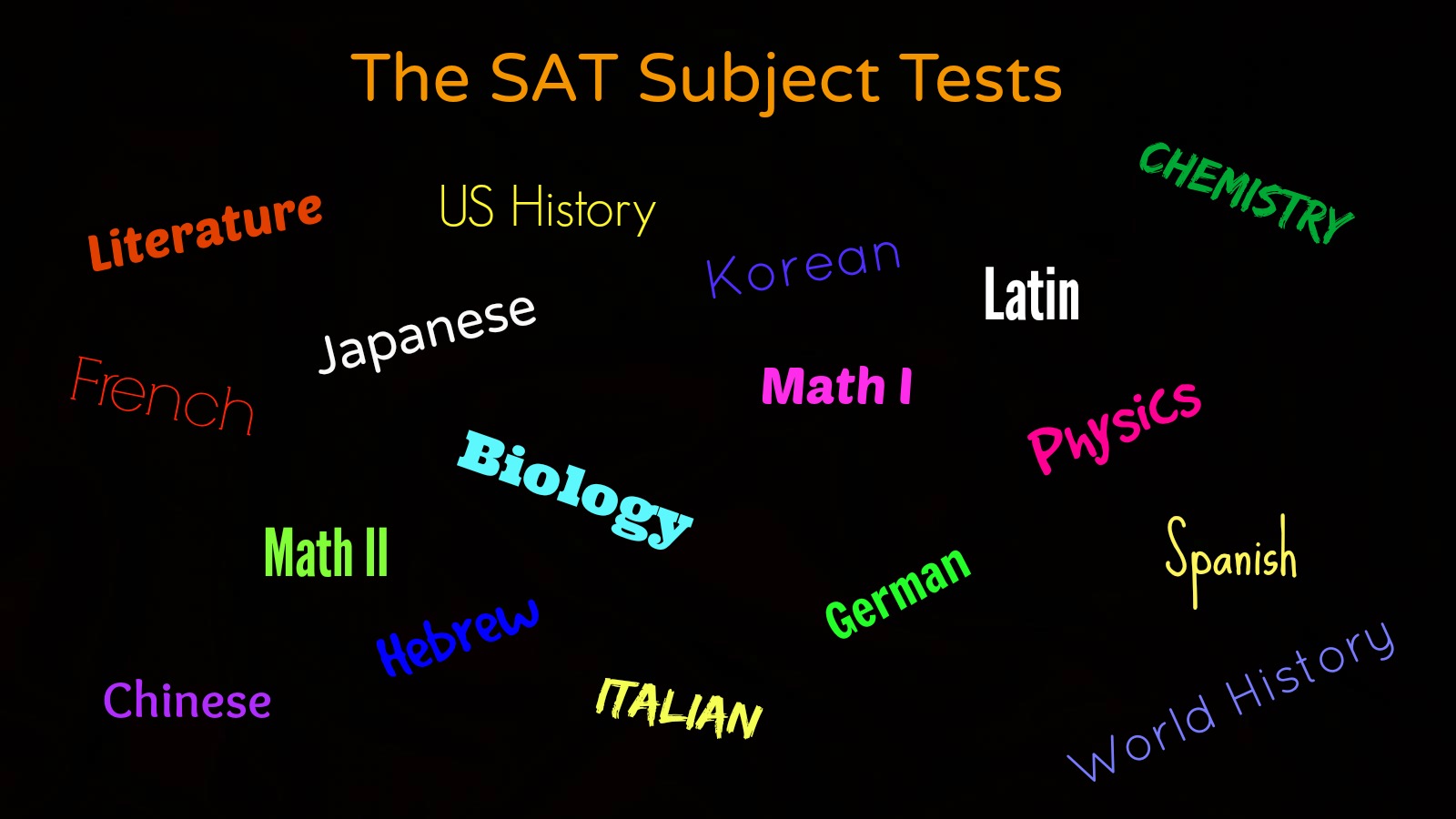 But alas, College Board does not offer an SAT Subject Test on underwater basket-weaving!
And just in case you were wondering, the tests are each out of 800 (much like the individual sections of the SAT Reasoning Test), and are each 1-hour long.
Do I Need to Take the SAT Subject Tests?
You're in luck! Depending on your college plans, you may not have to take a single SAT Subject Test.
In general, Ivy League colleges and other top-tier private schools require that you submit 2-3 scores from different subject tests UNLESS you take the ACT. Typically a school will not require that you submit any SAT Subject Test scores if you've chosen to take the ACT instead of the SAT Reasoning Test, but requirements vary, so be sure to check with the school you are applying to!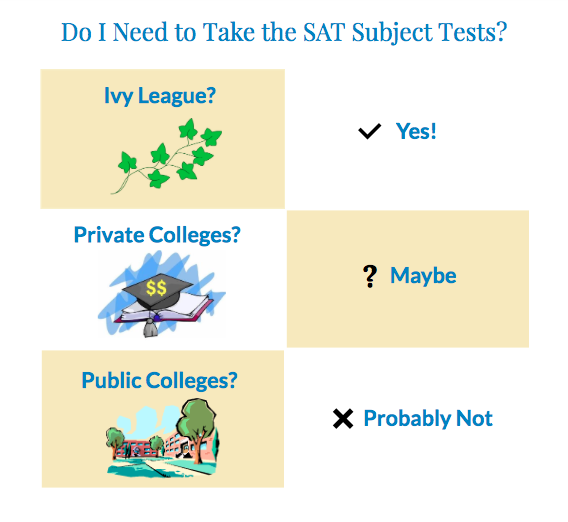 Most public universities and many private schools don't require that you submit any SAT Subject Test scores, but again, make sure you double check with the schools you plan on applying to!
Also, don't be fooled if a college you're applying to claims that you do not need to submit any SAT Subject Test scores–you may still want to.
For example, if you're applying to a public university that also happens to have one of the top engineering programs in the country the school's engineering department may want you to, or recommend that you submit some SAT Math II test scores or maybe some SAT Physics test scores.
Also, even though you may not be required to take any SAT Subject Tests, taking them can still benefit you! Read on to find out how.
So I don't have to take any SAT Subject Tests. Should I still take them anyway?
Maybe? I don't want to say yes only to have you come back and yell at me about how much time and money you wasted, so instead I'm gonna tell you how it can benefit you and let you decide for yourself if it'd be worth it.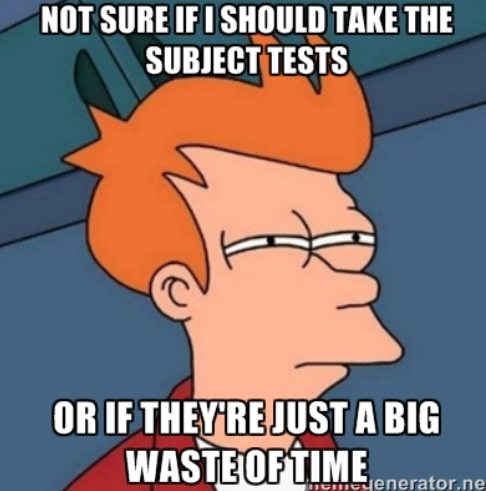 Taking the SAT Subject Tests can round out a college application.
When the time has come for you to begin filling out your college applications, you'll notice that, even if your school does not require that you submit any SAT Subject Test scores, the applications still ask you to list any and all SAT Subject Tests you've taken and the scores you received on each.
The way I see it this can benefit you in one of two ways:
The reader will look at your application and think "wow! He took the SAT Reasoning Test, and the subject tests–he must be super ambitious!" which can only be a good thing, or
The reader will be deciding between you and another applicant and will decide to admit you. The fact that you took the Subject Tests and the other applicant did not ends up being the deciding factor.
Having high Subject Test scores can make up for shortcomings in other areas.
Much like having a high SAT score can make up for having a low high school GPA and vice versa, having high scores on one or multiple SAT Subject Tests can make up for other shortcomings.
In this circumstance, the SAT Subject Tests work as somewhat of a safety net. If you have a high SAT Chemistry test score, a college application reader is more likely to overlook a lackluster SAT Math Section score.
An SAT Foreign Language Subject Test is an easy A for a native speaker.
Are you fluent in Chinese? French? Spanish? Korean? German? Japanese? Latin?
That last one is highly unlikely unless you're the Pope, but if you answered yes to any of the others, the SAT Foreign Language Subject tests might be for you.
These tests are a cinch for native speakers, you probably won't have to do much studying, and if it means you'll be that much more likely to get into the college of your dreams, I think it's well worth the $13 dollars and 1 hour.
Conclusions
So, are the SAT Subject Tests for you?
You should definitely take them if you plan on shooting for Ivy League, or other top-tier private schools.
But if they're not an absolutely necessary component of your college applications, you're going to have to decide if taking them is worth the money, and the time you'll have to spend studying for them.
Can't decide? Want my advice? I would take them.
Honestly, you have nothing to lose from taking them, and everything to gain. Even if you don't do so hot, your college application reader probably won't lock you out of the school, especially when they're comparing you against thousands of students who didn't even bother to take any subject tests at all.
Hopefully, having read this blog post, you now feel armed and ready to enter the battlefield that is the SAT Subject Tests. But before that, make sure you conquer your SATs first.  Click the link below to receive your free SAT ebook!
Coauthored by Jeffrey Mortensen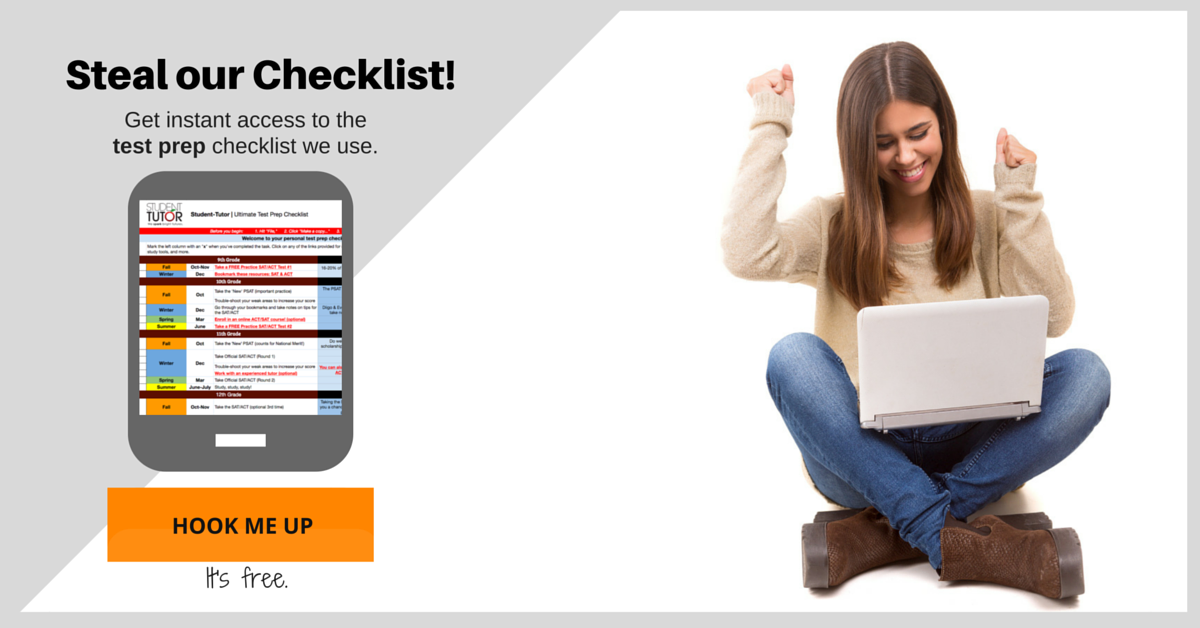 The following two tabs change content below.
Laura earned a Master's degree in Secondary Education plus Teaching Certification for Mathematics and Psychology in both AZ and CA. Her undergraduate work was in Psychology with a minor in German from UCLA where she graduated magna cum laude. She has been tutoring since the 90's, was a high school teacher 2006-2011, and still teaches for a local college. Laura is passionate about teaching, learning, entrepreneurship, and traveling the world with her husband, their dog Tuck, and her Macbook Pro. -- Join Laura on Linkedin & Twitter!
Latest posts by Laura Petersen (see all)