More and more students are developing various forms of test anxiety.
Our educational system, for better or for worse, puts a lot of emphasis on test performance in class, on state-wide assessments, and for college entrance (like with the SAT, ACT, etc.).
As a result, many students find themselves so stressed before, during, and after an exam, that the test anxiety truly impacts their scores, confidence, and mental health in a negative way.
How can parents help their kids overcome test anxiety?
The first step is to recognize some of the more specific causes and influencers of it.

Then we can figure out ways to combat and overcome it.
Here is a quick look into a psychological phenomenon that can contribute to test anxiety without the test taker realizing it: Stereotype Threat.
Stereotype Threat Defined:
"A burden of doubt a person feels about his or her performance, due to negative stereotypes about his or her group's abilities."
Examples:
Ever heard these or similar stereotypes?
"All Asians are good at math!"

"Cheerleaders are dumb."

"Girls do not perform as well and boys do in mathematics, but outperform them in language arts."

"You are too old to do well on that!"

"Younger students just cannot perform as well as older students."

"Boys cannot sit still long enough to concentrate."

"Blonds are not as smart as brunettes."

"Rich kids have more advantages, so they do better."
All of these stereotypes above describe a generalization about a certain group. The group could be defined by age, gender, race, culture, language, hair color, socioeconomic status, etc.
How stereotype threat leads to test anxiety and lowered motivation:

Whether or not these stereotypes have merit, if we identify with a group that has a negative stereotype attached to it in terms of test taking performance, students tend to either:
1) Feel anxiety out of fear of doing badly and confirming the negative stereotype, which leads to worsened test taking performance
or
2) "Disidentify" with the test by saying to themselves that the results of the test really do not matter how they feel about themselves, which leads to reduced motivation to do well
What can be done to reduce stereotype threat that leads to test anxiety?
1) The first step truly is being aware of it!

Research Example:
Students taking an introductory statistics class were given a very difficult test.
Half the class was told about stereotype threat beforehand, the other half was not.
The Results?
The scores of boys and girls showed NO DIFFERENCE in the half that were told about the anxiety producing stereotypes.
The scores of the girls were lower in the half that were not made aware of this phenomenon.
Simply by being aware that we can be negatively influenced by stereotypes helps reduce the negative effects on us. Awareness contributes to lower text anxiety.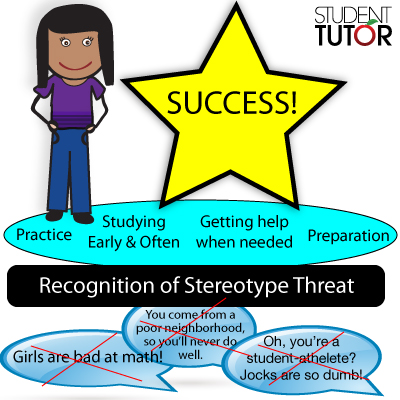 2) The second step is to get committed to doing the best you can no matter your race, gender, age, bank account, etc.
All students have the ability to improve their test scores in class and on the college entrance exams like the SATs or ACTs. What is needed is hard work, preparation, practice, and some guidance from experts or others who have already had success. This recipe will pay off with higher exam scores and reduce test anxiety in the process!
Good luck! You can do it.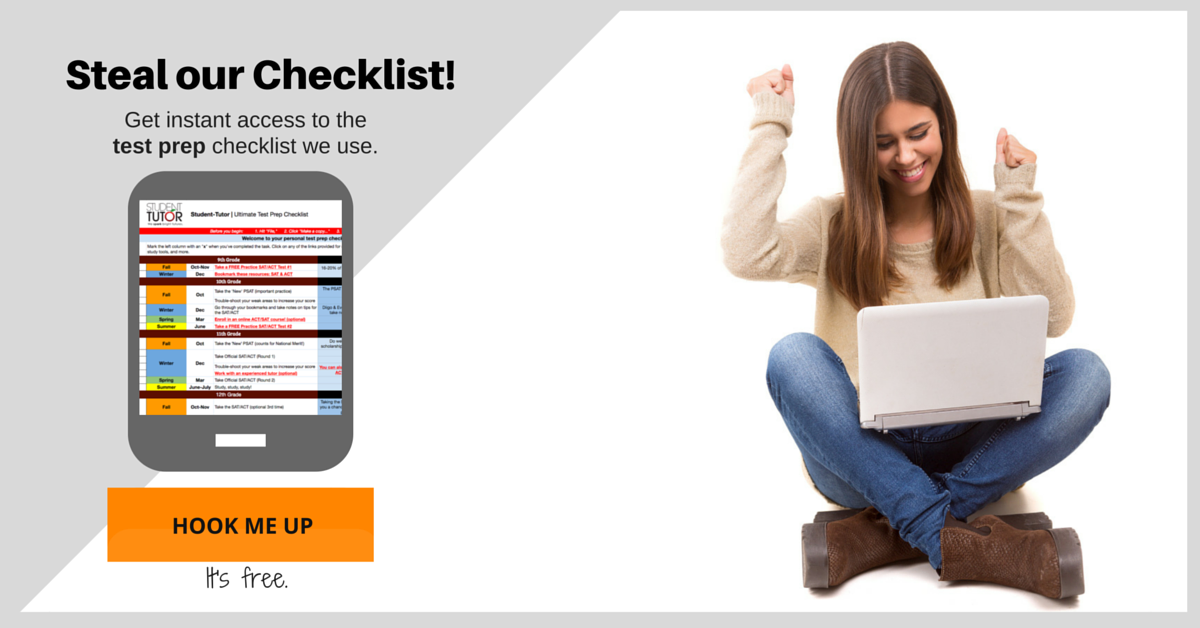 The following two tabs change content below.
Laura earned a Master's degree in Secondary Education plus Teaching Certification for Mathematics and Psychology in both AZ and CA. Her undergraduate work was in Psychology with a minor in German from UCLA where she graduated magna cum laude. She has been tutoring since the 90's, was a high school teacher 2006-2011, and still teaches for a local college. Laura is passionate about teaching, learning, entrepreneurship, and traveling the world with her husband, their dog Tuck, and her Macbook Pro. -- Join Laura on Linkedin & Twitter!
Latest posts by Laura Petersen (see all)