What's going on with your grades, Baxter?
Nothing.  I've got it under control.
This familiar conversation started during this last school year—Baxter Chapman's freshman year of high school.
I mean, high school is traditionally a pretty tough transition.  Lockers, hallways, questionable cafeteria food, people breathing down your neck about college, homecoming dances—it can add up to a lot.  And in the words of Baxter's mom, Gia Chapman, she watched her "happy-go-lucky, confident" son become "sullen and stressed" in the hands of high school homework.
When they found out his grades were suffering, Baxter's parents tried to find out why it was happening—but Baxter wasn't offering up any answers.  Both sides refused to budge.
Eventually, his parents started grounding him in a desperate attempt to make things better.  (Three guesses for how well that worked.)
But finally, about six weeks before school ended, "things came to a head," and the truth came out.
Baxter had been trying like crazy to adjust to a huge public high school—especially considering he had transferred from a tiny Christian school with eight kids in his graduating class.
Oh, did we miss that detail?
Because of his background, Baxter's high school experience was doubly overwhelming, and he wasn't sure how to ask for help.  But Student-Tutor's private tutoring hopped to the rescue (and also probably alleviated a couple future groundings).
Almost immediately after beginning his tutoring sessions, everyone involved saw marked improvement.  Baxter's tutor, Andres, was patient and helpful, and quickly made the high school homework load seem absolutely manageable–even inspiring Baxter to finish a project that wasn't due till the end of the school year.
After getting so much work done, everyone could see the smile on Baxter's face.  His confidence soared back.  He flipped everything around the last few weeks of school, and "finished strong," using what Andres had taught him to keep everything manageable.
Now, he's looking forward to starting his sophomore year on the right foot, using Student-Tutor's techniques to tackle his workload.  Way to go, Baxter!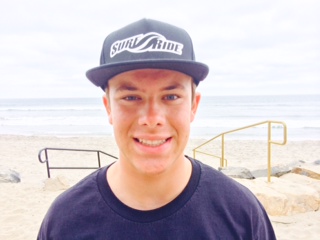 Testimonial from Baxter's mom, Gia Chapman:
"I was so very thankful to talk with Natalie the day I called… She was so helpful and encouraging…. The first day Andres came to the house was amazing. I overheard him talking with Baxter and explaining what an open ended assignment meant. Wow. I thought that was so great…I could just see the excitement in him and some confidence come back. He was less stressed and on his way. He worked very heard the last several weeks of school. I am so thankful for Natalie and Andre's and their passion to help kids learn. Baxter finished the year strong. We look forward to started his sophomore year out with a fresh start and using the tools Andre's taught him to use. Thank you so much. We are grateful."
The following two tabs change content below.
Dressler Parsons
Dressler Parsons spent most of her childhood in an adobe house her father built in rural Arizona. Right now, she's taking so many business and art classes at Barrett, the Honors College at Arizona State University, and plans to graduate in Fall 2016 with a Bachelor of Science in Marketing, and a Bachelor of Fine Arts in Intermedia. And, handily enough, her SAT scores and grades qualified her for ASU's Presidential Scholarship (worth $24,000), as well as the AIMS tuition waiver. She is passionate about showing people their potential for a bright, beautiful future. In her free time, she cooks edible things and knits inedible ones.
Latest posts by Dressler Parsons (see all)