Bullying on social media – what you can do about a disturbing trend
If, like me, you were born well before the advent of cyberspace, then social media probably isn't the first thing you associate with the word 'bullying'. More likely, it conjures up images of schoolyard heavies pushing their weight around.
But for young people, bullying has a new domain in which it's rearing its cruel, ugly head.
Bullying via social media, a form of cyberbullying, is on the increase – with devastating consequences.
The story of 14-year-old Australian girl Dolly Everett, who took her own life in early 2018 after being targeted by cyber-bullies, is just one tragic example of how cyberbullying can impact families and communities.
As her father shared in a Facebook post shortly afterwards:
"This week has been an example of how social media should be used, it has also been an example of how it shouldn't be."
If you're wondering what can be done about it, that's a great question. But first, it helps to understand a bit more about social media bullying, like how it's different from face-to-face bullying and what the consequences – both short- and long-term – can be.
Let's start by getting some facts straight….
What is bullying?
Before exploring social media bullying, it's vital to know what bullying is – and what it's not.
In Australia, the government has set up a website dedicated to the subject of bullying. Called Bullying. No Way!, it covers everything from statistics about bullying, to strategies for preventing and responding to it.
In Australian schools bullying is defined as:
"… an ongoing and deliberate misuse of power in relationships through repeated verbal, physical and/or social behaviour that intends to cause physical, social and/or psychological harm. It can involve an individual or a group misusing their power, or perceived power, over one or more persons who feel unable to stop it from happening."
There are some key take-outs from this definition. First, the behaviour must be repeated to be classified as bullying. One-off incidents don't usually count. An isolated case of aggression or violence, for example, is not bullying.
Second, there must be a misuse of power in bullying. So, a spat between equals isn't bullying.
Similarly, the US Government's site StopBullying.gov points out that bullying is a repeated behaviour that "involves a real or perceived power imbalance".
Repeated actions such as making threats, physical or verbal attacks and deliberately excluding someone from a group are examples of bullying.
What about cyberbullying?
StopBullying.gov defines cyberbullying as "bullying that takes place over digital devices like cell phones, computers, and tablets."
Social media sites (including Instagram, Facebook, Snapchat, and Twitter) are common mediums for cyberbullying, but it can also happen through SMS, apps, or anywhere that people can share content online.
Examples of cyberbullying include posting or sharing negative, harmful, false, or nasty content about someone. Sharing personal or private information about someone to cause embarrassment or humiliation is also cyberbullying.
Cyberbullying can even cross the line into unlawful or criminal behaviour.
In Australia in 2018, for example, a 13-year-old girl was charged with stalking and using a carriage service to threaten violence. She allegedly used Snapchat to cyberbully another teen girl by sending video messages threatening physical harm – a Commonwealth offence with a maximum penalty of three years' jail.
Michelle Murray, from advocacy group Bully Zero Australia, told ABC News that the behaviour was "totally unacceptable".
"And while it's disappointing that it's a 13-year-old girl that's been charged, the real tragedy is that we're staring down the barrel of another potential suicide," she said.
Bullying. No Way! add that for online actions to be called bullying, they must "be between people who have ongoing contact and be part of a pattern of repeated behaviours​ (online or offline)."
Again, one-off incidents are not bullying. However, a single action (like posting an embarrassing photo) which gets repeated through sharing or forwarding, can be called bullying, provided the individuals involved know each other and have ongoing contact either on or offline.
Other examples of cyberbullying include inappropriate image tagging, excluding others from online chats, creating hate sites, and assuming someone else's identity online and representing them in a way that may damage their reputation or relationships.
How is bullying via social media different?
Back when I was at school, you could at least count on respite from bullying when you got home. Not so anymore.
The prevalence of digital devices offering 24/7 communication means some kids get no relief from cyberbullying.
Not only that, but most information put online is public – and permanent. When I was growing up, the worst thing that could happen was someone would photograph you doing something dumb and show a few friends for a laugh.
Now, that moment you moon your mates, or when one of them snaps you in the shower, goes online and stays there – forever.
So when a future employer checks your online reputation (or 'digital footprint'), they might find more than they were looking for. That digital footprint could impact your ability to get into college, get a scholarship and find a job.
And because it's out of plain sight, it can be harder for teachers and parents to identify that bullying is happening.
With cyberbullying, like what happened to this Australian girl, you have no choice about images that go online. Her mother tells how someone took a picture of her sitting in class with her legs slightly apart and posted it with a crude comment. Eva, aged 12, began to self-harm, and "to say our worlds came crashing down is an understatement," her mum told Now to Love.
"We lived through the bullying with Eva and to hear this about your child is absolutely terrifying."
Because bullying via social media can happen anytime, and hurtful material can be rapidly shared far and wide, it can be inescapable.
Facts and figures about social media bullying
Sadly, it seems that cyberbullying is on the rise. According to figures from the Cyberbullying Research Centre, the percentage of students who have experienced cyberbullying nearly doubled between 2007 and 2019 – from 18.8 per cent to 36.5 per cent.
Statistics from Bullying. No way! indicate that approximately 20 per cent of people under the age of 18 report experiencing online bullying in any one year. Furthermore, 84 percent of students who were bullied online were also bullied in person.
Figures from the US are a little different, with StopBullying.gov quoting two sources of federally collected data about youth bullying.
The first is the 2017 School Crime Supplement, which indicates that 15 per cent of students ages 12-18 who reported being bullied at school during the year were bullied online or by text.
Other figures from the 2017 Youth Risk Behavior Surveillance System suggest an estimated 14.9 per cent of high school students were bullied electronically in the 12 months leading up to the survey.
Why is social media bullying such a big deal?
So, what do all these figures mean? As Bullying. No Way! explain:
"Bullying is not a harmless part of growing up. The most obvious and immediate effect is reducing students' participation, learning and enjoyment of school."
They point out that bullying can cause physical health problems and fatigue, mental health issues such as depression and anxiety, and social implications including self-doubt, social anxiety and loss of 'agency' (your sense of control over what happens to you).
Moreover, the anxiety and distress associated with being excluded or treated with contempt can continue outside of school, and feeling powerless to do anything about it can lead to lasting harm, they say.
Bullying can also negatively impact the perpetrator.
"Students who persistently bully others have been found to have later issues in mental health and educational outcomes, as well as showing criminal and anti-social behaviour​," Bullying. No Way! write.
Even being a bystander can have negative consequences, as students who see bullying feel distressed about not knowing what to do in a situation they know is wrong. They can also worry for their own safety.
Furthermore, bullying has been linked to suicide. A 2018 review of 33 articles, covering a population of 156,384 children and young people, looked at the associations between cybervictimization and self-harm or suicidal behaviours. The researchers also examined the link between perpetrating cyberbullying and suicidal behaviours.
The authors concluded:
"Victims of cyberbullying are at a greater risk than nonvictims of both self-harm and suicidal behaviors. To a lesser extent, perpetrators of cyberbullying are at risk of suicidal behaviors and suicidal ideation when compared with nonperpetrators. Policy makers and schools should prioritize the inclusion of cyberbullying involvement in programs to prevent traditional bullying."
Other research reported in The Lancet Psychiatry in 2016 showed that 22 per cent of the young people in their study who committed suicide had reported being bullied.
Nor do the effects of bullying necessarily end with high school graduation. In fact, several studies have shown that children who are bullied have an increased risk of depressive disorders and the need for psychiatric treatment later in life.
What can be done about it?
Now to the most important question.
At a school level, anti-bullying programs aim to restore a positive learning environment for all students. Australian schools approach this in various ways, using strategies such as policies and procedures about bullying and how it is dealt with, disciplinary action, mediation and teaching programs to develop students' communication, assertiveness and coping skills.
Privacy is an important consideration, and schools must follow laws governing privacy protection.
Bullying. No Way! note that both Australian and international research has shown the broad strategies most likely to prevent and reduce bullying. They include a long-term, whole-school, multi-faceted approach; a focus on building positive relationships; and the promotion of a positive school environment that provides safety, security and support for students and promotes student wellbeing.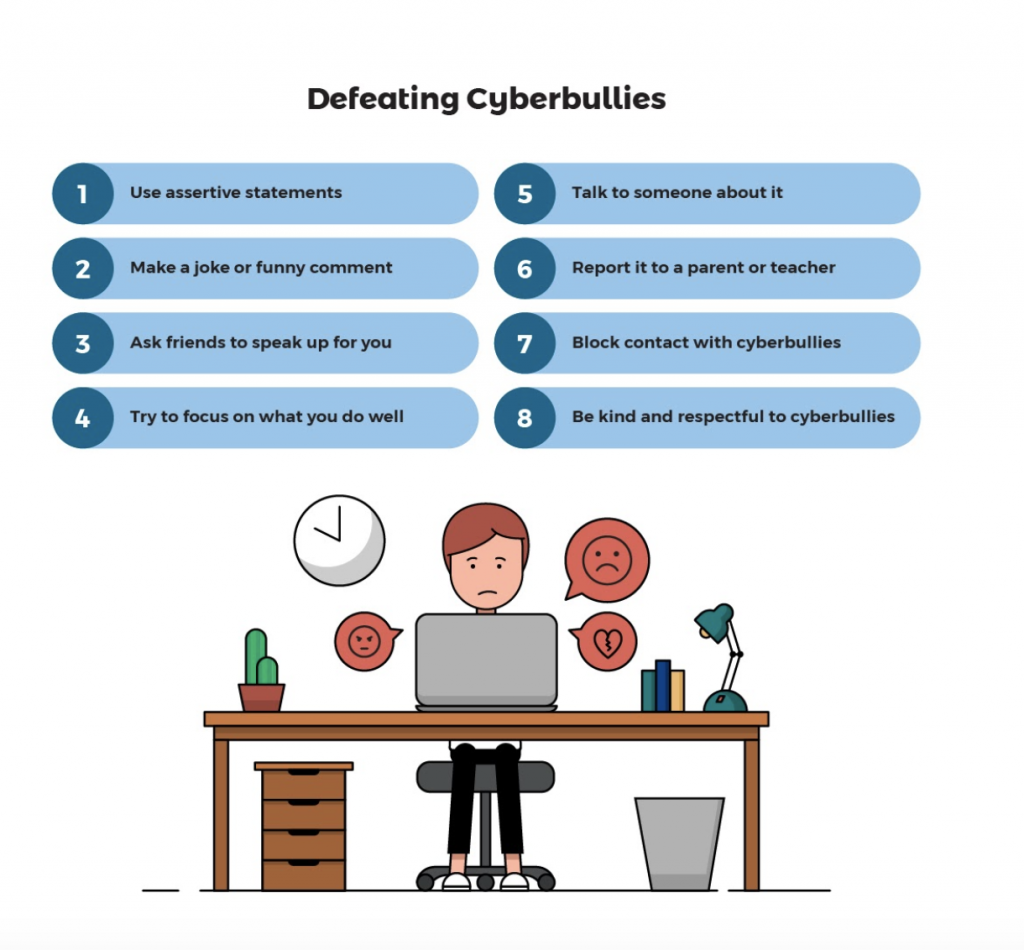 Eight ways to defeat cyberbullies
At an individual level, having adequate personal resources and support systems can help. There are a range of strategies students can use, including:
· talking to someone about it – such as a trusted friend, teacher or carer
· pretending you don't care what bullies say or do to you
· using strong, assertive statements, starting with the word 'I' – such as saying "I want you to stop that" with confidence
· making a joke or funny comment
· asking friends to speak up for you, and doing the same for them
· trying to stay positive and focusing on what you do well.
StopBullying.gov also has a helpful list of hints for dealing with haters. They advise:
· ignoring it – walk away rather than reacting to negative comments. "If it continues, there are other things you can do," they write. "If someone threatens you, report it to a parent, teacher, or other trusted adult!"
· block online haters – you can block cyberbullies. "If they're threatening you, tell your parents, report it to the platform, and take screenshots."
· being kind and respectful, even to haters – this shows you're in control and aren't letting negativity bring you down.
· remembering that comments from a hater reflect more about them. "People who feel good about themselves don't need to put others down."
· keep being you – by moving forward, pursuing your interests, and being who you are.
Sometimes, you might need to get extra information and support. "Bullying. No way!" lists many useful contacts for students and parents needing support and further information, including how to report online bullying directly to the social media service.
StopBullying.gov has a page listing how you can get help now.
They also list a wide range of helpful resources about bullying for young people, parents/carers, teachers, coaches and the general public.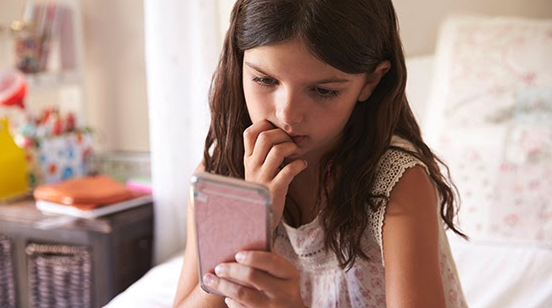 Sophia Auld is the Editor of Australian Christian College's blog. She has a Bachelor of Applied Science from the University of Sydney, a Graduate Diploma of Divinity from Malyon Theological College and is working on an MA in Writing and Literature. Two of her children did online school through ACC. Sophia is known for her depth of research and accurate, evidence-based writing approach. On weekends you might find her scuba diving, bushwalking or hanging out with family.
The following two tabs change content below.
Hello! My name is Todd. I help students design the life of their dreams by ensuring college, scholarship, and career success! I am a former tutor for seven years, $85,000 scholarship recipient, Huffington Post contributor, lead SAT & ACT course developer, host of a career exploration podcast for teens, and have worked with thousands of students and parents to ensure a brighter future for the next generation. I invite you to join my next webinar to learn how to save thousands + set your teenager up for college, scholarship, and career success!
Latest posts by Todd VanDuzer (see all)