Hands are shaking, forehead is perspiring, heart is racing, stomach is gurgling, and ears are ringing.
"Your fate rests before you. Is it C? What's the square root of 124? Is it hot in here or is it just me? I don't know what that word means!" you think as everyone around you flips over to the next page.
Taking tests, particularly the SAT, can have you feeling like the first victim in a horror movie.
While normal levels of stress can help you work, think faster and more effectively, and improve your performance, overwhelming anxiety can hinder your performance.
Before giving you effective tips to reduce test anxiety on the SAT, let's first help you diagnosis whether you are suffering from test-induced psychosis. Okay, psychosis is too strong a word, but you get the idea.
SAT Stress Symptoms
Before you consult WebMD and self-diagnose your having ten different types of mental illnesses, here are some common test-induced symptoms: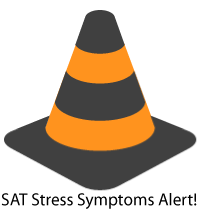 Increased heart rate
Fast, shallow breathing
Dry mouth
Upset stomach
Jittery feelings
Profuse sweating
Shaking hands or body
Difficulty concentrating
If you have noticed one or all of these symptoms while taking tests before, you are probably an anxious test taker.
(Learn more about causes and symptoms of test anxiety by clicking here.)
SAT Study System
Lucky for you, we have a study plan with some  great ways to relieving test-day anxiety, just in time for the SAT! "Reduce Test Anxiety on the SAT" Tips to the rescue!
Leading up to the SAT
It can be overwhelming to think about all the material you have accumulated over your high school career thus far. Remember, luck favors the prepared. So start studying and reviewing well ahead of your registered testing date.
Find a detailed, high-quality study guide. You can often purchase these through bookstores, download one off the internet, or acquire them from SAT tutoring  or prep classes. These guides will include valuable insights on each section, as well as practice questions and exams.
Grab our FREE Test Prep Checklist. There's a lot of dates and deadlines bouncing around for the SAT. You can save yourself a lot of stress by using our mobile-friendly checklist. It lists every deadline, has helpful links, and allows you to check off your SAT to-do's as you go.
Pinpoint your weak areas and material that you are not familiar with. Once you begin studying, focus most of your study time on improving your knowledge of these 'weak' areas. You can refer to the guides, online help, or SAT tutors for more practice and comprehension.
Construct a study plan by using a calendar and timer. Using these tools, you will be able to monitor and control how much and how often you study. They can also ensure that you stay on task in order to be ready by the time the SAT rolls around. A sure-fire way to reduce test anxiety on the SAT is to make and implement a plan before hand.
Avoid distractions. Turn off your cell phone, power down the TV, close your computer, shut your bedroom door. When it is time to study, make sure you stay on task by controlling your environment and staying focused. I'm sure your Twitter followers won't mind that you are taking break from tweeting about "having to study #ugh."
Day before the SAT
The day is almost here. You can feel your heart rate speeding up just thinking about the Pythagorean Theorem. Instead of trying to cram and absorb some last minute practice, reward yourself for all the hard work that you put in the past few months preparing for the SAT.
Exercise. Ride your bike, walk your dog, go for a hike! Let go of all that built-up tension by moving your body and releasing endorphins. Just make sure you don't tire yourself out too much.
Practice breathing and meditation techniques. There is always the possibility that anxiety can creep up on you during the test, so be prepared to combat it on the spot. It is amazing how effective these techniques can be  when trying to reduce test anxiety on the SAT or in other realms of life.
Just relax. Before hitting the hay early, do something calming and enjoyable. Clear your mind of negative thoughts and focus on the current, positive situation at hand. Don't leave your mind racing or your body tense while you try to get some sleep.
Day of the SAT
No matter how prepared you felt walking in, as soon as the test is distributed, you can psyche yourself out and let anxiety take over. Just remember to breathe and stretch to relieve muscle tension. Make a fist and release it while taking deep breaths when you feel your heart rate start to speed up.
Pace yourself. Work quickly, but efficiently. Use process of elimination for multiple choice questions. Brainstorm and outline your essay questions. Keep working until you hear the timer go off.
Reduce Stress with SAT Strategies
More often than not, SAT anxiety stems from heavy emphasis on completing the test within the limited period of time. This often leads to rushed responses, simple mistakes, and the loss of easy points.
The newly updated SAT has 0 guessing penalties. What this means is that you don't lose any points for an answer you get wrong.
I know what you're thinking… How does that help me NOT be stressed about completing the entire thing? 
Relax. All you need to do is be strategic about when you use these guesses. Think of them as unlimited get-out-of-jail-free-cards in Monopoly.
When you've gotten through all the answers that you know, you can take your best shot at the ones you don't without worrying that they'll bump down your score.
Conclusion
One final way to help reduce test anxiety on the SAT is to keep things in perspective.
Even if you miss your goal score by a couple of points, it is not the end of the world; the SAT is only a piece of paper. It cannot prevent you from ultimately pursuing your dream career.
It also does not sum up everything about who you are or what your self-worth is. You are more than a test! Your character, values, accomplishments, community involvement, and student leadership positions are all a unique part of what makes you a valuable human being.
Keep breathing. You'll be alright.
Coauthored by Haley Langmack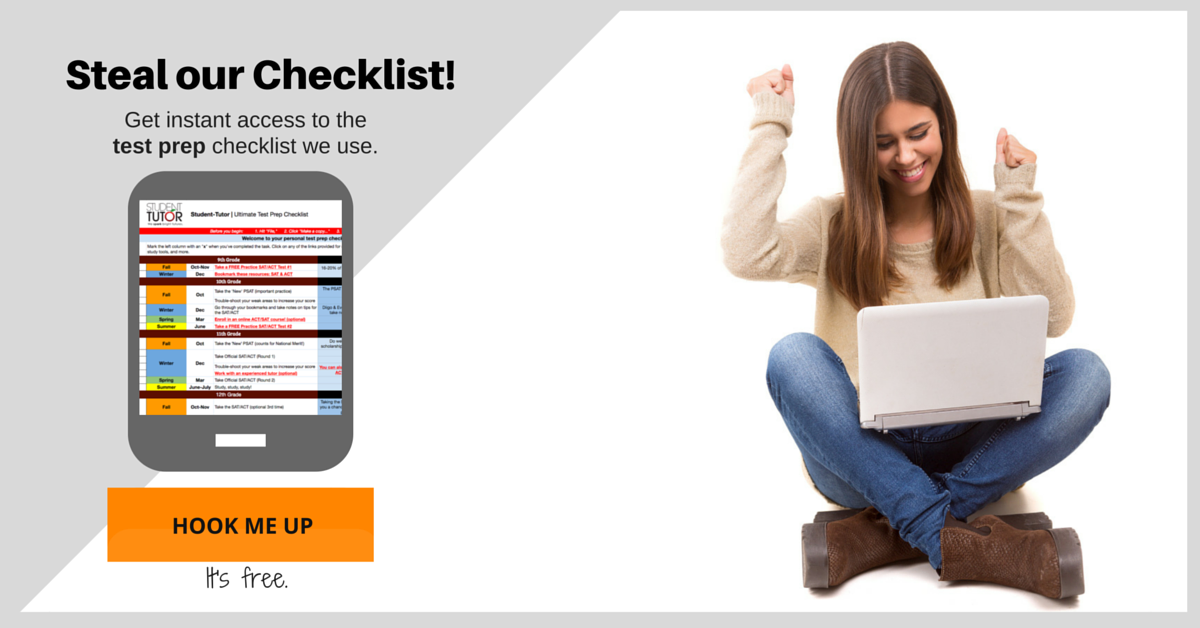 Know of any other helpful methods to reduce SAT-induced test anxiety? Let us know in the comments below!
The following two tabs change content below.
Hello! My name is Todd. I help students design the life of their dreams by ensuring college, scholarship, and career success! I am a former tutor for seven years, $85,000 scholarship recipient, Huffington Post contributor, lead SAT & ACT course developer, host of a career exploration podcast for teens, and have worked with thousands of students and parents to ensure a brighter future for the next generation. I invite you to join my next webinar to learn how to save thousands + set your teenager up for college, scholarship, and career success!
Latest posts by Todd VanDuzer (see all)