Co-authored by Renae Hintze
---
It's Aunt Margie's 45th birthday party, and you're celebrating with your family. As you're waiting in a buffet-style line for pizza with a styrofoam plate in hand, you have a conversation with your Uncle.
He asks you how school is going, and then he says the words…
"So, where are you going to college next year?"
Simple question, right?? You know exactly where you WANT to go… and what you want to major in… but the thing is, you haven't been accepted yet.
Students ask us the same questions all the time:
"Are my GPA/test scores high enough?"
"Am I taking the right courses?"
"Do I still qualify for scholarships?"
And of course,
"Will I get in??"
So I'm here to answer some of those tough questions for ya!
1. Are my GPA/Test Scores High Enough?
Off the bat, the number one factor in your college readiness is: The school you're applying to.
It's the same as applying to a job.
You wouldn't submit the same resume to a cupcake shop as you would a law firm, right?
Lawyers aren't going to care about your advanced icing skills, and the cupcake shop will probably be confused as to why you're highlighting your weekly viewings of Law and Order in your cover letter!
So it follows that the number one way to determine if your scores are high enough is to research the schools you're applying to.
Good news is we can make this a little easier on you!
If you haven't, take a quick 30 seconds to create an account on cappex.com, then use their college chance calculator to see what's called a "scattergram".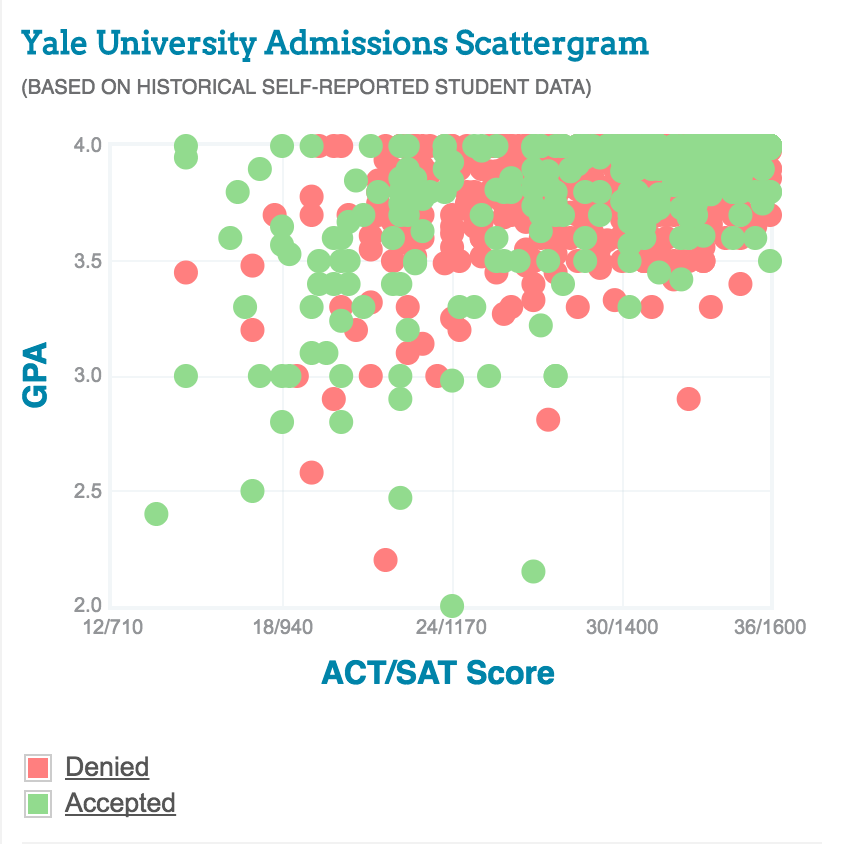 This will show you where students fall in terms of acceptance at an individual school based on their GPA and test scores.
2. Is there time to bounce back after a bad semester?
Let's say you did have a really bad semester. Let's say you dropped a whole grade point average, like down from a 4.0 to a 3.0. Or maybe you were at a 3.5, and now you're down to a 2.0.
2 things matter here:
Your grade level

How your GPA dropped
Your grade level is your biggest time gauge (for obvious reasons). The closer you are to graduating, the closer you need to be to your goal GPA.
Freshman Year
This is the ideal scenario. If your GPA dropped your first or second semester of Freshman year in High School, there is definitely time to raise it.
Sophomore Year
You have time to raise your GPA. But it's going to more difficult at this point because you are also going to need to start focusing on your standardized exams.
Junior Year
This is crunch-time! You're going to have to really kick it in gear, because the Summer before Senior year is ideally when you should start applying to colleges.
First Semester of Senior Year
It's going to be very difficult to raise your GPA in time, and keep in mind that every school has it's own application deadlines. 
How your grade dropped is also important.
In our article on How to Calculate and Improve High School GPA, we show a mini case study in which Johnny Student is able to raise his GPA from a 2.6 to a 3.00 in the first semester of his Senior year — talking about scholarships here, but focus on the GPA portion!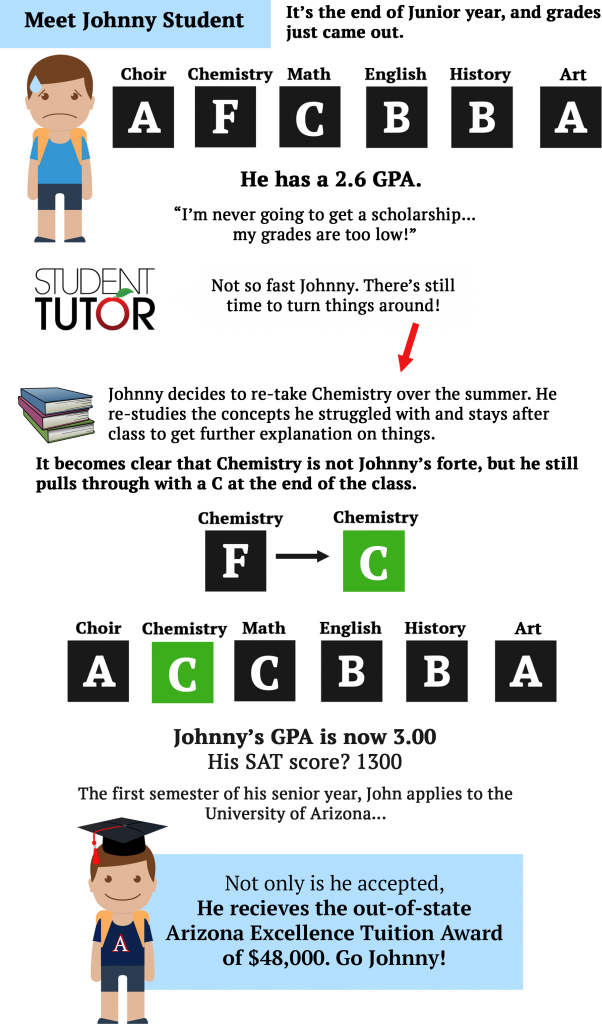 A 3.00 GPA most likely is not going to get you into an elite university, but there ARE universities out there that might accept you.
3. How will my Honors/AP classes affect my college admissions?
Our article on AP vs Honors classes does a pretty good job of explaining the differences between the two… but how do they factor into your college readiness??
Again, it's going to depend on the school you're looking to attend. If you're not sure what school you want to attend, then it's best to error on the side of whether or not you will receive good grades in your AP/Honors courses.

If there's a higher potential that you will do poorly in these more rigorous courses, then it's probably not worth the risk of lowering your GPA!
You can also use the diagram below as a general rule of thumb. 

Realistically, AP courses are more widely recognized as rigorous across state borders, and Honors courses are most likely to be impressive when the school you took them at is recognizable to the college in question.
4. If I'm a senior with low GPA/Test Scores, do I still have a chance?
This is probably the most difficult question we get asked.
The reason is because even though we'd LIKE to always find a way for you to meet your goals by graduation, the window of time for when you can be accepted to certain colleges is a very real thing.
If you are a first semester senior, there IS a possibility that you can turn things around. It depends entirely on YOUR situation and what actions need to be taken in the time that you have.
More likely, though, is that you will need to take the community college route.
I think it's important to stress here that the community college route DOES NOT mean you will NEVER attend your dream college!
What it means is that you're going to have to spend some time making up for the work you didn't do in High School so that you can be accepted as a transfer student to the college you most want to attend.
Conclusion
I hope this article helped to answer at least one of your questions about college readiness.
It can be stressful trying to check off all the boxes you need in High School. College admissions are and have always been competitive, and it takes a little elbow grease to make your application shine.
And, don't be afraid to ask for help. 
This is the reason tutors exist: To help you check everything off your list!
I believe in you!!
The following two tabs change content below.
Hello! My name is Todd. I help students design the life of their dreams by ensuring college, scholarship, and career success! I am a former tutor for seven years, $85,000 scholarship recipient, Huffington Post contributor, lead SAT & ACT course developer, host of a career exploration podcast for teens, and have worked with thousands of students and parents to ensure a brighter future for the next generation. I invite you to join my next webinar to learn how to save thousands + set your teenager up for college, scholarship, and career success!
Latest posts by Todd VanDuzer (see all)