You are probably on this page because you want to learn more about the top resources available on the Math Games website!
You want to help your student(s) eliminate math stress and develop academic confidence!
Well, you are in luck!
We have taken it upon ourselves to review dozens of math websites and math games to help find the best resources for students!
In this particular article, we'll dive into the popular "Math Games Website," for K – 8th-grade students.
PS: Want more? Then, make sure to check out:
Top 10 Math Games (coming soon)
—
Summary of Math Games Website From Creators:
Overall, after reviewing the "Math Games Website," we have to say, it is one of our favorites!
Math games offer online games and printable worksheets to make learning math fun. Kids from Pre-K to 8th-grade can practice the math skills recommended by the Common Core State Standards, in exciting games formats.
The website is easy to navigate, and is categorized using "Grades," "Skills," and "Lessons."
Grades: The grade level the math material is from, based on common core standards.
Skills: The category the lesson would fall under. (Addition, subtraction, multiplication, etc.) 
Lessons: Material to help you master the concept!
Fun math games are integrated into lessons in which students associated learning algebra with rescuing animals and destroying zombies. This makes math learning fun for kids!
The math lessons are heavily focused on repetition, challenging students to master concepts in order to reach higher levels.
Teachers and parents can also create custom assignments that assess or review particular math skills. Activities are tailored so pupils work at appropriate grade levels. Math worksheets can be downloaded and printed for classroom use, or activities can be completed and automatically graded online.
Best of all? It's completely free!
Read the full review below to understand how to best navigate this website using the 5 navigation bars:
Grades
Skills
Games
Standards
Worksheets
PS: Scroll down to the summary below to get our insight on what will bring the most value and what areas on this website are just a complete waste of time!
—
Navigation: Grade Level > Skill/Topic > Lesson
Grade Level:
When you click on the "Grades" navigation button, you will be brought to a page that displays buttons for each grade level. These buttons also detail how many worksheets and mobile skills can be found within.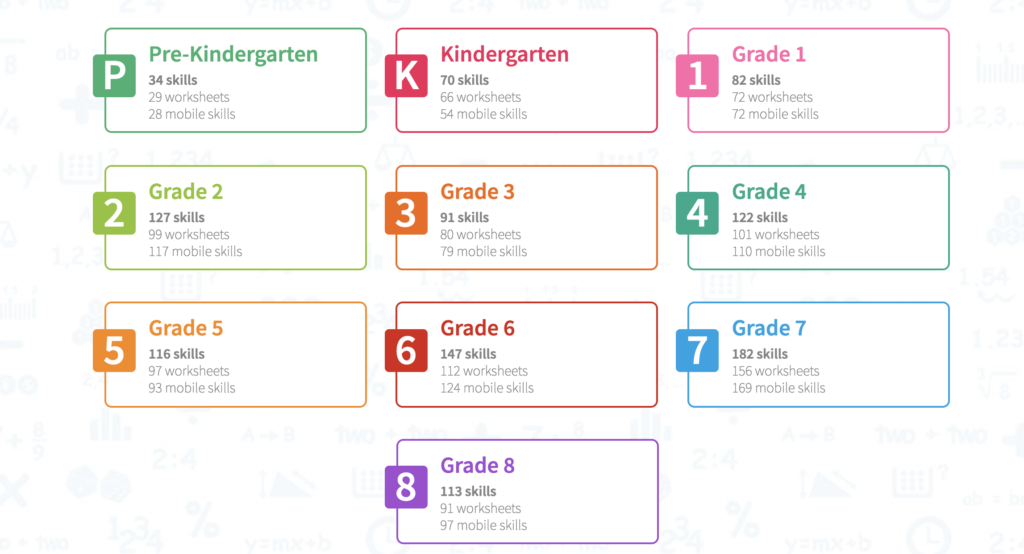 Skill or Topic:
After you click a particular grade level, you are brought to a page that contains dozens of lessons related to that grade level. These lessons are then broken up into the following skills or topics:
Geometry
Subtraction
Multiplication
Time
Measurement
Fractions
Graphing
Estimation
Division
Number Properties
Mixed Equations
Addition
Algebra
Comparison
Number Patterns
Lesson:
Within each skill or topic, you'll find an abundance of math lessons with different difficulties.
For example, under: Grade 4 > Geometry  > Acute, right, obtuse, and straight angles…
You will find a lesson that helps you master the different types of angles. Once you score an 80% or higher, you will unlock the next level. This type of lesson "gamification" makes learning these topics fun and engaging for students!
Additional Resources In Lesson:
Games that are related to that particular lesson.
Leaderboard of students from across the world who practiced the similar math game lesson.
Printable math worksheets to print out and practice these lessons offline.
Information on what common core math standards the lessons masters.
A link to the next recommended math skill for your student to master.
Navigation: Skill > Grade Level > Lesson
Skill:
This area of the Math Games website provides your student with fun activities that focus on specific skills and topics, rather than grade level.
These skills include:
Grade Level:
Afer you click on a particular skill, you are brought to Pre-K to 8th-grade level selection that includes different lessons related to that particular skill.
For example, by clicking the skill "Addition," and then "Add Two Numbers Up to 1000," located under grade 3 you are brought to a fun lesson to help you master this particular topic.
Lesson: 
Much like in the previous section, there are different levels of difficulty that you will progress by scoring an 80% or higher.
Below, you will also find additional resources such as games, leaderboards, printable math worksheets, and more!
Navigation: Skill > Grade Level & Skill > Lesson
When you click "Games," you are brought to a variety of games you can play.
What is unique about each of the math games offered is the way you must select particular skills and grade level, before playing.
The game is then adjusted to help you master that topic.
Navigation: Grade Level > Standard > Lesson
We are not sure why you would use this section…
But, if you wanted to search based on a particular common core math standard, you could find all lessons pertaining to grade level and standard.
Navigation: Grade Level > Skill >Worksheet
This section is great for teachers and parents that are looking for easy to print worksheets for their students do without internet or computer access.
Search by grade level, then skill to find hundreds of different math worksheet to print out!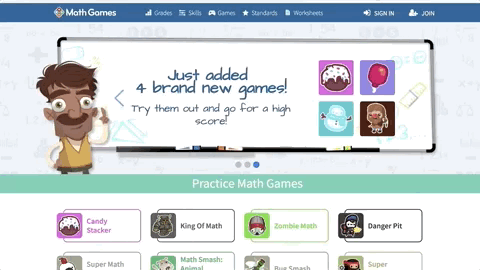 In Summary…
This is one of the best websites we have reviewed yet! The simplicity in its navigation and the strong focus on making learning common core math standards fun for students makes it one of our favorite sites yet!
You are able to start your search through 5 common areas including:
Grade level
Skill
Games
Standards
Worksheets
From there, you can narrow down your topic by grade level or skill to find lessons that enforce repetition through gamification.
Finally, if you want additional great math instructional resources, I suggest you check out my blog top 10 math websites.
What did you think of this review? Did I miss anything? What challenges is your student(s) having with math? 
The following two tabs change content below.
Hello! My name is Todd. I help students design the life of their dreams by ensuring college, scholarship, and career success! I am a former tutor for seven years, $85,000 scholarship recipient, Huffington Post contributor, lead SAT & ACT course developer, host of a career exploration podcast for teens, and have worked with thousands of students and parents to ensure a brighter future for the next generation. I invite you to join my next webinar to learn how to save thousands + set your teenager up for college, scholarship, and career success!
Latest posts by Todd VanDuzer (see all)