It's a daydream you've had for years.
Your high schooler, several years older, walks up to you with a gleam of maturity in their eye. They're wearing a traditional cap and gown, holding a ceremonial rolled-up-diploma in one hand. They throw their arms around you and say, "I did it! I can't believe I'm a Princeton graduate!" Then they look at you tearfully. "Thanks for everything."
For any parent (and you're no different), it would be so wonderful to see your child succeed so wildly.
First, they'll need to get into that prestigious college.
Princeton, Harvard, Yale, Stanford, Brown, Johns Hopkins, MIT–they're all super-competitive schools. And they get thousands of bright, shiny, highly-qualified applicants.
And I'm sure your child is also bright and shiny and qualified. Here's how to make sure your student's application stands out–broken down into three neat steps.
1. Be well-angled, not well-rounded.
I'm sure you've heard the advice for years. "Be well-rounded, be well-rounded!"
Sure, your daughter has two black belts, but can she speak Italian? Your son can code his way out of a locked basement, but does he know anything about pottery?
You've been hearing that your child needs to have interests that are diverse. They need to dip their toes in as many pots as possible. They can't just do one thing–they need to do everything!
Well…actually, that's all changing.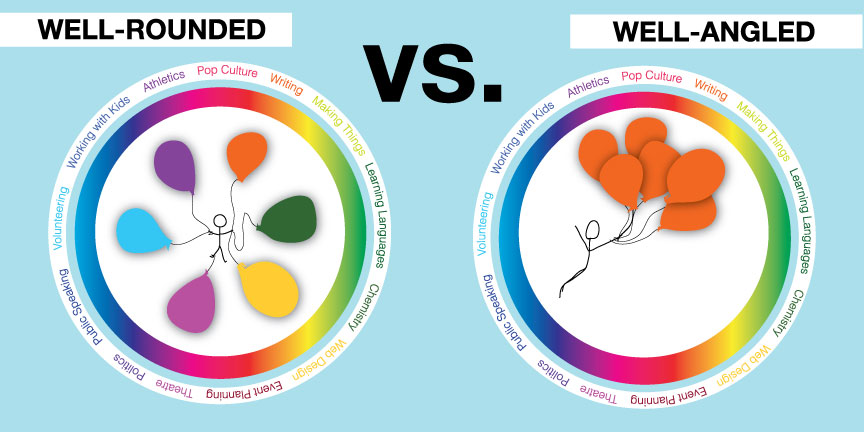 At this point, Ivy League schools are so absurdly competitive that being "well-rounded" doesn't really cut it any more.
Because here's the thing. Now, Ivy League applicants (who subscribe to the "do everything" mentality) tend to look pretty identical.
Everyone is on the debate team, everyone is captain of the soccer team, everyone speaks fluent Spanish, everyone volunteers at the soup kitchen.
It's time-consuming, and the resulting application just end up looking fake and boring. (Sorry.)
But luckily, there is a solution, especially if you're starting early.
Instead of encouraging your high schooler to spread themselves thin and cover as many bases as possible, suggest that they focus on one thing. 
Preferably something they're super passionate about.
And–bonus–that "passion" can be silly. It doesn't have to be super-serious. Their "passion" doesn't have to be writing concertos or solving world peace.
It can be something non-academic. Like Harry Potter.

Okay.
So when I was a plucky high-school senior, I toured University of Pennsylvania. (Gorgeous campus, by the way.) They sat us down in a huge auditorium, where admissions officers stood on stage and talked to us about what they were looking for in our applications.
And one admissions officer stood up and started talking about being "well-angled." And as an example, she offered forth an application she'd read a few years back.
Basically, a girl had applied, and her interests didn't span an entire spectrum–they were focused specifically around Harry Potter.
This girl's passion shone through. She wrote fan-fiction, started clubs, competed in Quidditch competitions, made crafts…she took her passion, even though it was based on a pop-culture staple, and elevated it to an incredibly impressive level.
And because she stood out from the rest of the pack, she got in.
Well, okay. Cool. But how will your high schooler go about elevating their passion like that?
That leads me neatly into my next point.
2. Be a leader, not a follower.
People who go to top-tier universities and lead really fantastic lives tend to carve out a little area for themselves in the universe. And if your student can start while they're still in high school, even better.
What does this mean?
Basically, joining clubs is fine. But in the world of Applications to Prestigious Universities… If an "A" is acceptance, then simply joining a club would probably get you a "C."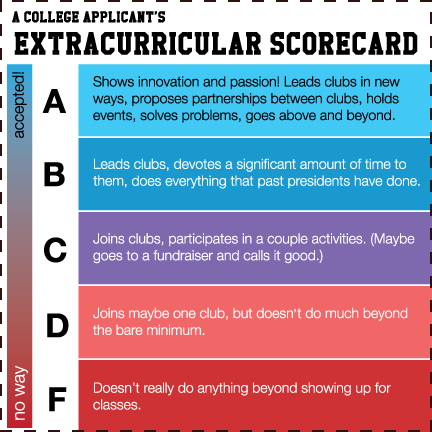 It's average. There's nothing remarkable or special about joining a club that already exists.
If your student becomes president of that club, and devotes a significant amount of time to it, that could get them a "B." For example, if they're the president of Academic Decathlon, and they're in charge of:
Organizing weekly meetings
Delegating lesson-planning
Designing t-shirts
Planning review sessions
Recruiting members for the following year
That's a LOT. That's definitely significant. And it would get them a "B." Because your high schooler is doing everything right within the already-existing framework of the club.
But to get an "A" on their application, they'll need to throw some of their own ideas into the ring.
Some examples:
Maybe the Academic Decathlon team is strapped for cash– Your student could brainstorm, pitch, plan, and execute a fundraising event.
If the dance team is trying to hold a workshop, your student could suggest the clubs partner up for a one-night dance event! The dance team gets to teach a workshop, and the Decathlon team gets to bond and de-stress.
Does your student LOVE baking? Maybe they could start a blog called "Half-Baked Ideas" that combines tasty recipes with tips for succeeding in Academic Decathlon.
What do they love? How can they help? How can they go above and beyond?
These are the questions your high schooler should constantly be asking and answering, all throughout their high school career.
3. Make sure your passions shine through.
The whole point here is for your student to be true to their passions.  They should be empowered by the idea that they can immerse themselves in something that makes them happy. They should throw themselves into it because they can't help it–NOT because they're trying to get into a good school.
Wait, what?
I know it sounds counterintuitive.
But prestigious schools can smell when someone cares more about getting accepted than they care about their supposed "passion."
If your student picks a random area to focus on (that they're not particularly passionate about), here's what'll happen:
They'll hate wasting so much time on something they don't care about.
They'll start to resent this fake passion.
They won't be able to convincingly tell an admissions officer that they love their fake passion.
But if they're true to themselves, and they focus on areas that they're actually interested in, and actually make them happy, they'll blossom, and prestigious universities will be drawn to your doorstep.
(Psst–Wondering how to help your child find their passion? Check out "The Little Notebook Journey," outlined in our article about picking a major.)
Conclusion
Making your resume pop can definitely be a tricky endeavor. But if you're really true to yourself, and very visible about it…you'll be good to go.
Here are the main things to remember:
Don't try to cover all possible bases. Instead, focus on one area of interest (even if it's silly)!
Your high schooler should always be asking, "What do I love?" "How can I help?" "How can I go above and beyond?"
If your student is genuinely passionate about their extracurriculars, it'll shine through. If they're just doing it to get accepted, admissions officers will see it a mile away.
What is your high schooler passionate about? Let us know in the comments!
The following two tabs change content below.
Dressler Parsons
Dressler Parsons spent most of her childhood in an adobe house her father built in rural Arizona. Right now, she's taking so many business and art classes at Barrett, the Honors College at Arizona State University, and plans to graduate in Fall 2016 with a Bachelor of Science in Marketing, and a Bachelor of Fine Arts in Intermedia. And, handily enough, her SAT scores and grades qualified her for ASU's Presidential Scholarship (worth $24,000), as well as the AIMS tuition waiver. She is passionate about showing people their potential for a bright, beautiful future. In her free time, she cooks edible things and knits inedible ones.
Latest posts by Dressler Parsons (see all)