Preparing for exams and completing assignments can be time-consuming, exhausting, and altogether difficult. Does your child ever wish they had an extra helping hand to lighten their workload? Perhaps your child should consider forming a study group!
I'm sure you've got all sorts of questions and concerns:
How many people should my child have in their study group?
Where should my child's study group meet?
How can I make sure that my child's study group actually STUDIES?
Don't worry! Forming a good, productive study group is not as difficult or stressful as it seems. In fact, it's actually pretty easy, and the benefits of forming study groups are well worth the costs. So without further ado, here's how to form the ideal study group!
1. Have the right amount of people
Deciding how many people to study with can be a difficult decision, and odds are your child is going to want to invite ALL of their friends in class to study with them. However, it's important that they study with the right number of people.
Limit the size of your group to 3-6 students.
Too many voices in a study group creates too much confusion! The last thing your child wants is to attempt to study in a room full people ALL trying to talk over one another.
Similarly, too few voices make for an unproductive study group. In a study group of two people, your child and their study buddy are bound to miss some important course content or forget some crucial details.  Therefore, we suggest that your child form a study group of 3-6 people.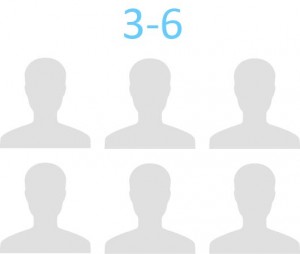 If your child has more than 6 friends interested in forming a study group, don't worry! They don't have to hurt anyone's feelings. Suggest that your child and their friends divide up and form 2 separate study groups.
2. Select the Dream Team
Odds are, if your child wants to form a study group, they're going to feel obligated to invite their friends to join their study group. However, your child should never feel obligated to let their friends join their study group. In fact, it's probably best that they stray away from studying with their friends–if they study with their friends, they're much more likely to become distracted.
Tell your child to find the best and brightest kids in their class, the ones that speak up during class and really know their stuff, and invite them to join their study group. They should seek out students that…
always complete assigned readings and homework,
take detailed notes, and
frequently participate in class discussions.
Make sure that your child's study group has at last one "moderator," a person that leads study sessions and keeps people on task.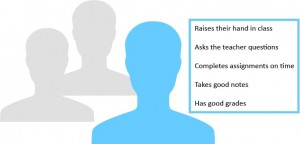 Pick people who are all interested in earning good grades–no free riders!
3. Pick the Perfect Spot
When decided upon a perfect meeting place for their study group, your child should be sure to keep their preferred learning style in mind.
Does your child need perfect silence to study? Maybe the library is the place for them. Do they work better with background noise? Perhaps a coffee shop would work better for them.
If it helps, your child should make a list and prioritize the elements they think will most benefit their studying experience and the effectiveness of their learning. After exploring their options, they should have no trouble finding the perfect study environment for their group.
Here are some common study locations for your child to consider:
Someone's house
Coffee shops
Some place very quiet (libraries)
A casual restaurant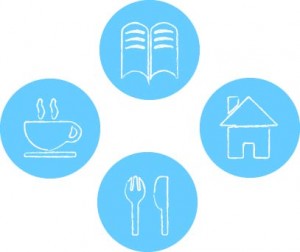 I cannot stress enough how important it is that your child's study group picks the right meeting place. If their study environment is full of distractions, they're not likely to get much work done. So yeah, the movie theater probably isn't the best place for their study group to meet.
4. Choose the Prime Meeting Time and Schedule
Seems simple enough. Just pick any random time that works for every member, right? Well, it's not really that simple. Actually, there are a number of factors your child should consider when deciding upon a meeting time.
Does your child work better during the day or at night? If your child has trouble waking up and feels unenergetic in the morning, early morning meetings probably aren't a good idea. If they're used to going to bed early, late night meetings probably aren't a good idea either.
What does their schedule look like? Do they have practices for sports or piano lessons? Can these previous engagements be moved around or does the study group need to work around them? They can't do both at the same time, so be sure to schedule your child's study group around their other activities
How often should my child's study group meet? We suggest that your child's study group meet at least once or twice per week to review the course material covered that week. In addition, your child's study group should schedule additional study sessions before tests and quizzes.
5. Experience the Benefits of the Ideal Study Group
If your child wishes to maximize their gains from their study group, they should make sure that their study group is well-structured and prepared for every study session. Unprepared study groups will be unproductive and virtually useless to your child.
All study topics should be decided before each study session. Make sure that their group's "moderator" communicates with the other group members at the beginning of each week so that everyone knows which course material to come prepared to discuss. Deciding study topics beforehand will ensure that your child's study group is smooth and productive.
Encourage your child and their group members to come up with possible exam questions and quiz one another. The more comfortable your child is with answering questions about the course material, the more prepared they'll be for the real exams.
Lastly, your child should be sure to make studying FUN. Seriously though, studying can get pretty dull. If your child's study group can figure how to turn studying into a fun game, it'll make the whole experience much more pleasant!
Conclusion
There you have it! I've given you all the tools necessary to help your child form the perfect study group. Follow this guide, and your child will be on their way to better grades, and a much more manageable workload. But before you go off and help your child form that study group, let's do a quick recap:
Limit your child's study group to 3-6 people.
Select the best and brightest kids for your child's study group.
Choose the optimal study location.
Choose the prime meeting time and schedule.
Make sure that your child's study group is well prepared for every study session.
Got any other great study group tips? Share with us in the comments below!
The following two tabs change content below.
Renae is a marketing/media specialist, graphic designer and advocate for holistic health. Currently earning her BA in Design Management at Arizona State University with a minor in Media Analysis and Certificate in Marketing, Renae is also a Marketing Project Coordinator for the Arizona State, Sun Devil Fitness Complex in Tempe. She is passionate about learning, helping others, marketing, and holistic health.
Follow her on Twitter:
@renaehintze
Professional Profile:
LinkedIn
Latest posts by Renae Hintze (see all)