Co-authored by Renae Hintze
---
Cyberbullying is a very real problem in the world today.
With the internet becoming more and more integrated into everyone's lives, younger students may not grasp the consequences, or even REALIZE what they are doing when they sign in to an online account.
Cyberbullying statistics prove overwhelmingly that cyberbullying is a real issue in the world today… and if your student is on either side of the equation, there's at least a 50% chance they're not telling you.
So what can you do?
By understanding the signs of cyberbullying (whether your kid is the bully or the victim) and taking steps to help them, you can help to change these statistics. 
Kids who are cyberbullies
I want to say something very important here — if your child is cyberbullying, it is highly likely that they do not understand what they are doing.
The fact that these communications occur in type, and online, greatly reduces their perceived impact. Kids believe that online statements simply "don't count" because they're not being said to someone's face.
Kids will become bullies for a

number of reasons

, including:
They feel worthless

There are problems at home

The bully has been bullied themselves
However, this doesn't change the effects of cyberbullying, and these can be severe.
Signs to look for
According to Get Cyber Safe, here are some things you can look for.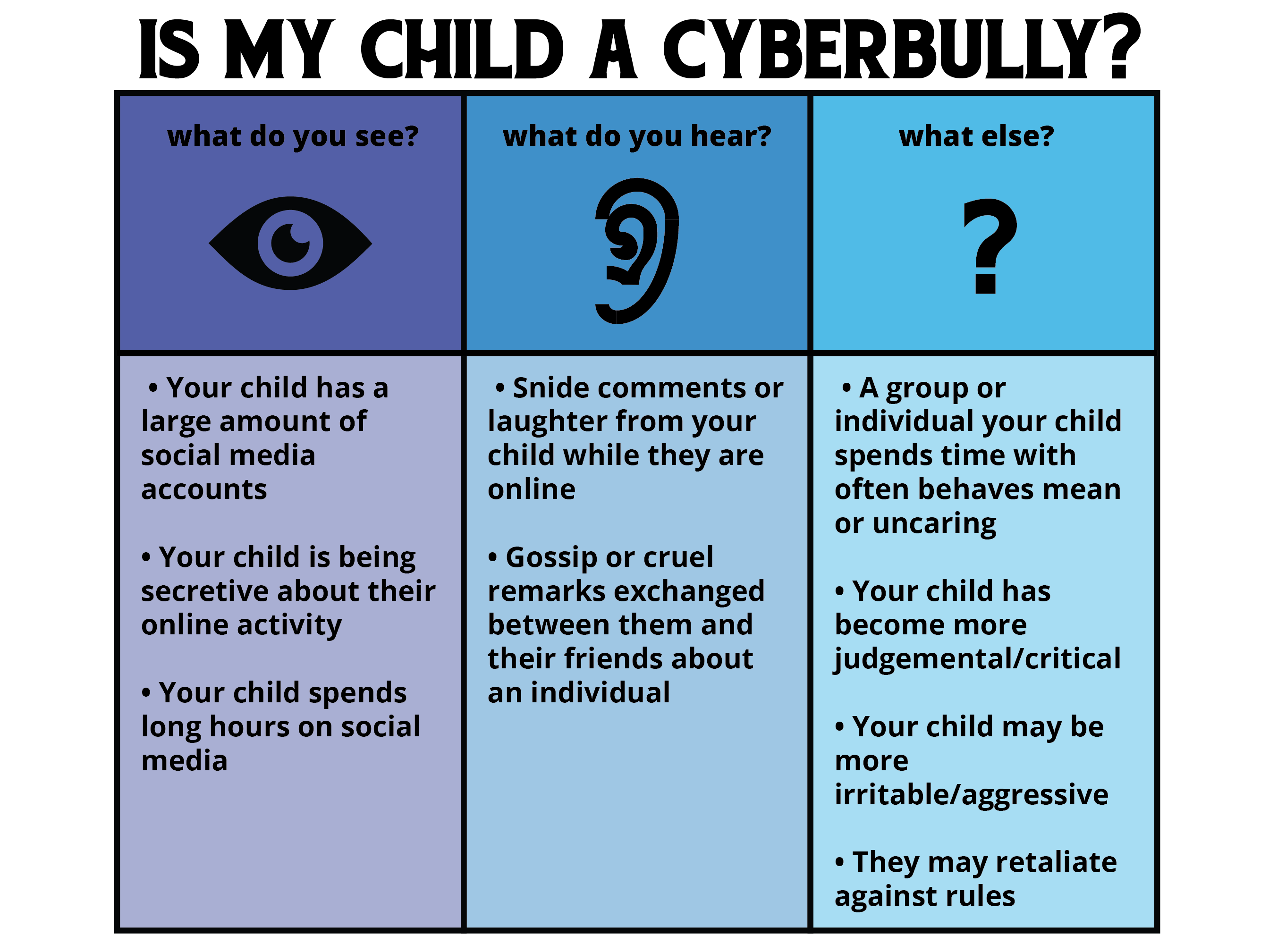 What to do
Whether or not your child is cyberbullying, you should educate them on what it is, and why it matters.
Cyberbullying is a very serious issue. A child found guilty of cyberbullying can face legal charges — not to mention this child will have to live with the effects of their actions on another person.
Here are some tips on how to address the situation:
1. Remove internet access
Revoke access to all computers in the house except under your supervision (Consider using parental codes with passwords you can enter if they need the computer for school purposes)
Ways to set up parental controls:
2. Have your child delete/deactivate all their social media accounts
Make sure to explain to your child WHY you are doing this. 
Explain that they may have access returned to them when they have taken a lot of time to talk to you seriously about the subject, and demonstrate that they truly understand the importance (To start, place a month limit, but extend this deadline as needed)
2. Educate them on cyberbullying
Find articles and information on cyberbullying and read through them with your child. 
Afterwards, ask them to reflect on why they did it. 
3. Address the victim and their parents
It is important here to understand that the spectrum of effects cyberbullying may take on an individual is vast.
"Victims of cyber bullying are more likely to suffer from low self-esteem and to consider suicide as a result."
For this reason, please do additional research or consult with a professional in this field about how to do this. Here, however, are some initial guidelines:
Call or write a letter to the parents to apologize for what has happened

Tell them you do not expect them to forgive your child (and don't expect this)

Tell them that you are taking this very seriously and taking serious actions
Do not involve your child in your initial apology — victims can experience this apology as a threat and it may be several months before this apology can be given
Kids who are cyberbullied
As I already mentioned above, the chances of your child approaching you about being a victim of cyberbullying are slim. It is more likely that they will suffer in silence, to whatever extent.
Signs to look for
Look for signs of cyberbullying:
If they start spending more or less time on social media

If they are opting to delete accounts or asking how to block people on their accounts

Noticable changes in your child's emotions after using social media (They may seem more irritable, or sad after checking Facebook, for example)

Low self-esteem

Any initial signs of

teen depression
What to do
The CyberBullying Research Center offers a printable, sharable file with 10 tips for what to do when your child is cyberbullied: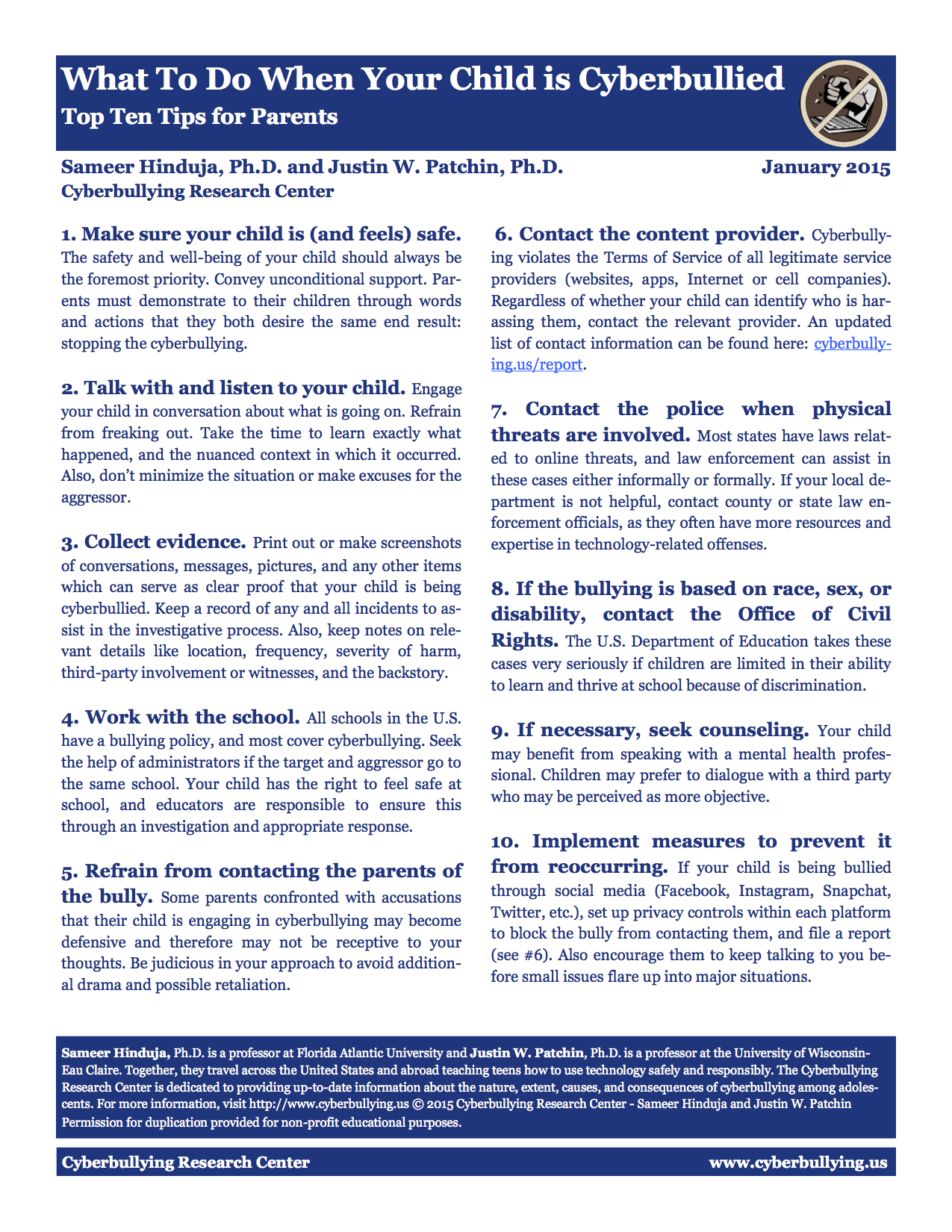 Download What to do When Your Child is Cyberbullied.
Conclusion
At Student-Tutor it's our mission to spark bright futures.
It's my hope in writing this article that we can help prevent future cyberbullying, and help those students who are already affected by it.
What other questions do you have about cyberbullying? Did we miss any important signs to look for, or steps to address cyberbullying? Let us know in the comments below.
The following two tabs change content below.
Hello! My name is Todd. I help students design the life of their dreams by ensuring college, scholarship, and career success! I am a former tutor for seven years, $85,000 scholarship recipient, Huffington Post contributor, lead SAT & ACT course developer, host of a career exploration podcast for teens, and have worked with thousands of students and parents to ensure a brighter future for the next generation. I invite you to join my next webinar to learn how to save thousands + set your teenager up for college, scholarship, and career success!
Latest posts by Todd VanDuzer (see all)