When Daphne Brogdon entered high school, she never imagined that her every move—even the most inconsequential ones–could suddenly be construed as a political statement.
Especially in her math class.
Her math teacher constantly wore t-shirts with crystal-clear beliefs plastered across the chest, and was never afraid to say exactly what she thought—even about the littlest things.  She was a very free spirit, very liberal…and most of the time, she was wonderful.
But one day, Daphne walked into class, holding a little gift bag, and stopped by her friend's desk.
"Happy Birthday!" Daphne said, excited, holding out the present.
"Ah! Daphne! Thank you!"  Her friend gave Daphne a hug and plunged her hand into the gift bag, drawing out a little bottle of bubble bath salt.  "Oh, awesome!"
"And it smells really nice," Daphne said, and at that moment, their teacher walked by.
In a quick, unexpected motion, she cheerfully swooped down and gave the neck of Daphne's friend a big sniff.  She straightened up and turned to Daphne.
"Well," their teacher said pointedly—"I think she smells just fine the way she is!"
The math teacher gave Daphne a look and walked back up to the front of the classroom, leaving the girls in stunned silence.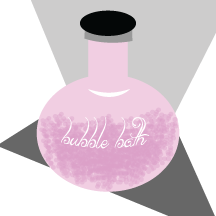 Oh, come on, Daphne thought, incredulous.  Can't a present of bath salts not be a political statement?
Daphne sighed and made her way back to her seat.
The moment passed, of course.  But to this day, whenever Daphne walks by a bottle of bubble bath, she instantly flashes back to that one bizarre moment in math class, where, apparently, her otherwise tame gift choice was simply furthering the conservative agenda.
Daphne Brogdon is the author behind Cool Mom, and has hosted "The X show" on FX, "Perfect Partner" on Discovery, "The Fashion Team" on TV Guide and various other basic cable shows.
The following two tabs change content below.
Dressler Parsons
Dressler Parsons spent most of her childhood in an adobe house her father built in rural Arizona. Right now, she's taking so many business and art classes at Barrett, the Honors College at Arizona State University, and plans to graduate in Fall 2016 with a Bachelor of Science in Marketing, and a Bachelor of Fine Arts in Intermedia. And, handily enough, her SAT scores and grades qualified her for ASU's Presidential Scholarship (worth $24,000), as well as the AIMS tuition waiver. She is passionate about showing people their potential for a bright, beautiful future. In her free time, she cooks edible things and knits inedible ones.
Latest posts by Dressler Parsons (see all)