Co-authored by Renae Hintze
---
Every junior and senior in high school knows the drill. Holidays, birthday parties, family gatherings… suddenly, every conversation is the same,
"So, where are you going to college?"
And then,
"Oh alright, what are you going to major in?"
Which is followed by…
"What do you want to do with that?"
If they're interested in STEM (Science, Technology, Engineering, or/and Math) then they may be hearing responses like…
"Engineering? That's a hard major."
"Med school? That's a lot of work!"
There's actually a reason why people think this way.
According to the ACT's Condition of College & Career Readiness 2015, more than HALF (50%) of high school students heading into the STEM field are NOT prepared for their difficult college coursework… Yikes!!
Your student may come to college only to find themselves drowning in their schoolwork, barely able to keep up.
Help them avoid the 5 mistakes STEM students make in High School and instead, you can watch them backstroke, float, freestyle — whatever, through their classes with confidence, and enjoy those not-cheap-but-worth-it college years.
1. Sleeping in 'till Noon All Summer
Students should be taking advantage of STEM opportunities available to them over the summer.
In the article "Prepare for College Classes as a STEM Major", US News' Delece Smith-Barrow interviews several STEM professionals and 4th-year engineering student at James Madison University about what high school students going into STEM majors should do in advance to prepare for their majors. 
Student Sarah Rowe explains that taking a summer program called Bridging the Valley was invaluable to her.
"It got my brain working… It was definitely worth it."
Bridging the Valley was since discontinued, but there are other summer programs you can take. 
Christina Tynan-Wood mentions some STEM high school summer programs in her post, such as DigiGirlz.
DigiGirlz High Tech Camp offer hands-on workshops that teach high-school girls to build websites, develop video games, edit digital video, create podcasts, and more. The sessions are taught by women who work on cutting-edge tech at Microsoft…
The organization iDTech also offers different summer programs and camps for all of the regions listed below!

2. Netflixing Every Weekend
Netflix, Facebook, Instagram… Whatever. The point is, students need to have constructive, STEM-related hobbies that will help them grow their STEM knowledge and experience.
It takes persistence to do college-level work in math, science, and technology, but the rewards can be very high. STEM Careers are in demand and tend to pay very well. You can gain STEM skills through academic courses, work experience, and even your hobbies.
Iseek Careers offers the following suggestions for STEM-related extracurriculars teens can pick up:
Help a community organization with a fundraising event or other project that uses budgeting and math skills.
Participate in a data-collection project to gain experience writing surveys, conducting interviews, and analyzing data using standard database software.
Teach youth at a science summer camp or after-school program.
Try programming your own video game or customizing your favorite. You can often download free software from the Internet.
Explore a technical hobby. Learn about computer parts, try building your own computer, and use an online forum to share how you did it.
Job shadow or intern with an engineer or someone in another technical field.
Join a Math or Science Club — or compete in actual sport, like FIRST Robotics!
Prepare a project for a science fair.
Learn computer applications or technology related to a field of interest, like CAD for architecture or SQL for database work.
3. Taking the Easy Classes
If you're looking to go into something like the medical or engineering field, you need to challenge yourself early on.
Classes that help prepare for a STEM field
Statistics
Biology
Geography
Physics
Chemistry
Computer-assisted art
Research methods (in any discipline)
Calculus
Economics
Electronics
Environmental science
Political science
Technical writing (business plans, research reports, grant proposals, etc.)
4. Choosing a STEM Major "Just Because"
If your student is interested in STEM, there's a reason. If they say it's because they're "good at it." that IS technically a reason, but it's not the reason they should be basing their STEM careers off of.
Help them find the root of their passion. Identifying this root will help motivate them throughout their career and remind them why they are doing it in the first place.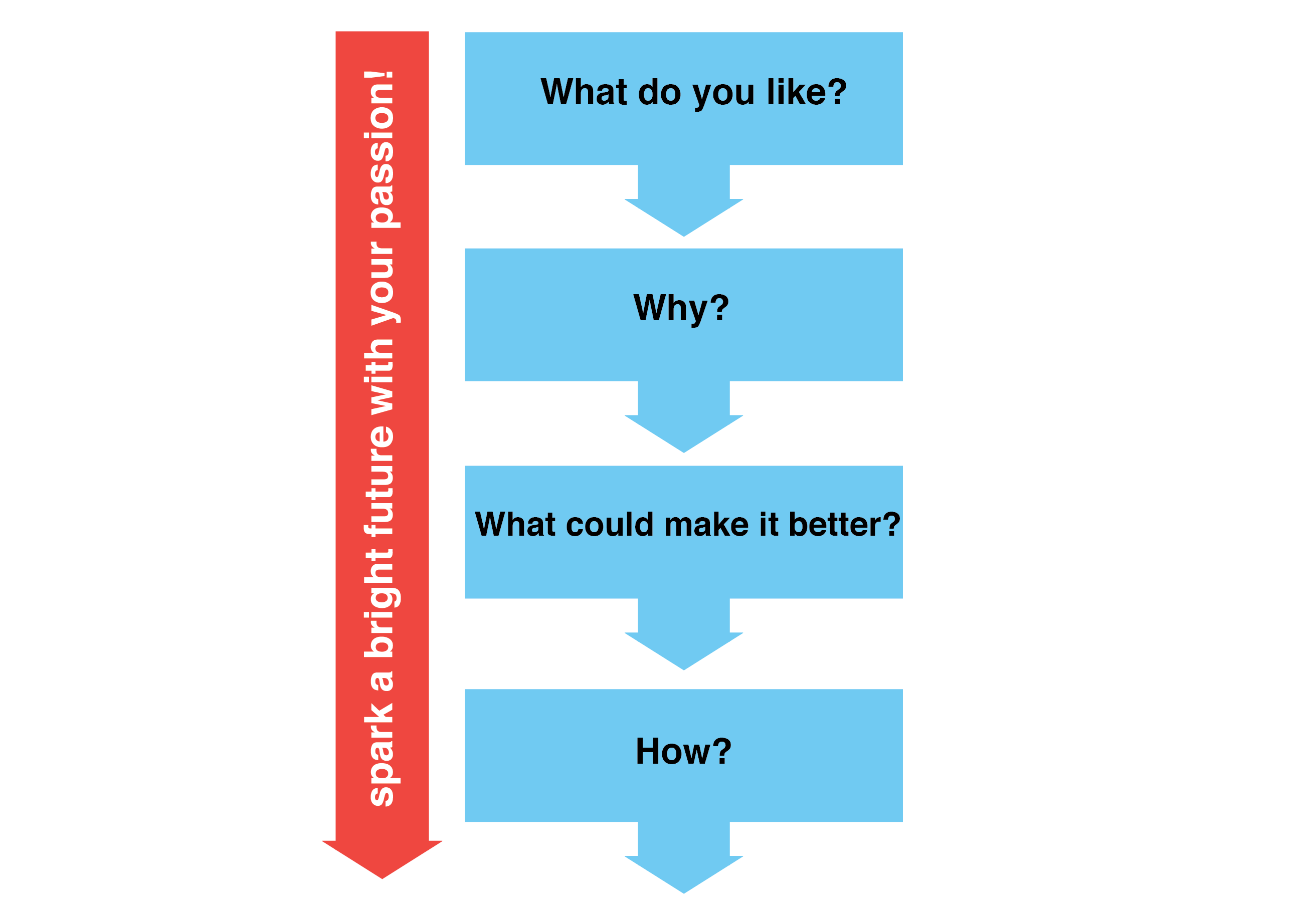 Everything is easier when you genuinely enjoy doing it.
5. Not Taking the ACT
The ACT is largely known to assess students readiness for STEM majors. They're the ones who did that study I mentioned earlier that identified how ready students are for their STEM majors!
The test has benchmarks that determine whether or not students are prepared to handle their difficult college coursework.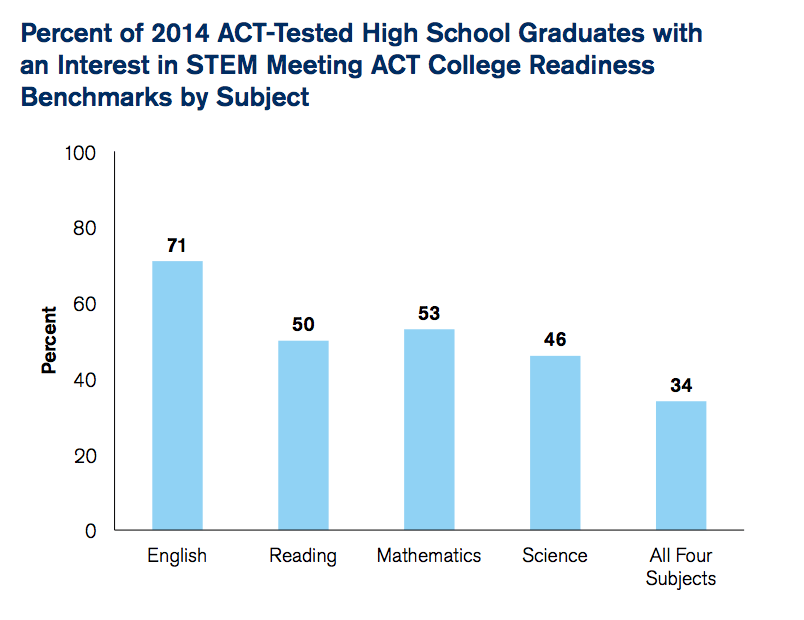 Not to mention if you're interested in STEM subjects, you're likely to perform better on the ACT than the SAT. The SAT doesn't have a science section, for example, so if science is one of your strengths — take advantage!
Conclusion
It really is important that students take a serious look at what they can do to start preparing themselves for their STEM careers in high school. With statistics weighing against them in terms of how well they will perform, I want to make sure that students recognize the value in starting early and getting ahead!
Not to mention, more STEM knowledge is something we can all benefit from.
Did you realize that so few students are prepared for their STEM majors in college? Are you or do you know a student who wants to major in something STEM-related? Tell us about it in the comments below!
The following two tabs change content below.
Hello! My name is Todd. I help students design the life of their dreams by ensuring college, scholarship, and career success! I am a former tutor for seven years, $85,000 scholarship recipient, Huffington Post contributor, lead SAT & ACT course developer, host of a career exploration podcast for teens, and have worked with thousands of students and parents to ensure a brighter future for the next generation. I invite you to join my next webinar to learn how to save thousands + set your teenager up for college, scholarship, and career success!
Latest posts by Todd VanDuzer (see all)