Co-authored by Renae Hintze
---
You get it, you need to take the SAT before college.
But how important is your score ACTUALLY? 
Could you believe your SAT score is worth $24,000?… And with just a 30 point increase,  $32,000?
Your score matters. That's why we keep going on and ON about SAT prep! There are some important reasons students sign up for SAT classes and SAT tutoring, and you deserve to know them.
Here's what you need to consider:
1. What are your college of choice's SAT requirements?
You say tomato, I say tomado.
Doesn't it make sense that different colleges accept different SAT scores? 
But that's not all that's different about colleges and your SAT. If you want to attend Arizona State University, studying the writing section would be a waste of your time because they won't even look at that score!
Sooo, forget the writing section? 
Not so fast… if you're applying to Harvard or Cal Berkeley, they'll be looking at all 3 sections — Math, Critical Reading, AND Writing. And although UChicago doesn't REQUIRE the writing section on their admissions… we recommend it.
The bottom line: Knowing what college you're going to will affect how you study for your SAT.
2. What scholarship opportunities are available for doing well on the SAT?
First of all, if you didn't realize, the combo of your test scores and GPA is a recipe for instant cash.
I'm talking, of course, about merit-based scholarships.
Of course you'd love to attend your dream college for free. But even if you don't get a full-ride, there are still thousands to be made by targeting the right score.
At Arizona State University, a 30 point increase is worth $8,000 + the money you ALREADY made prior, totaling in $32,000 with only a 3.0 GPA. In fact if you become a PSAT national merit scholar you will instantly qualify for a full tuition scholarship to 53 colleges across the country.
University of Nevada, Las Vegas will even pay for your study abroad program!
Now wouldn't it be nice to get paid to travel? 
But wait… what if you don't have a 3.0 GPA? No worries just make sure to use our handy high school GPA calculator to learn how to instantly improve it!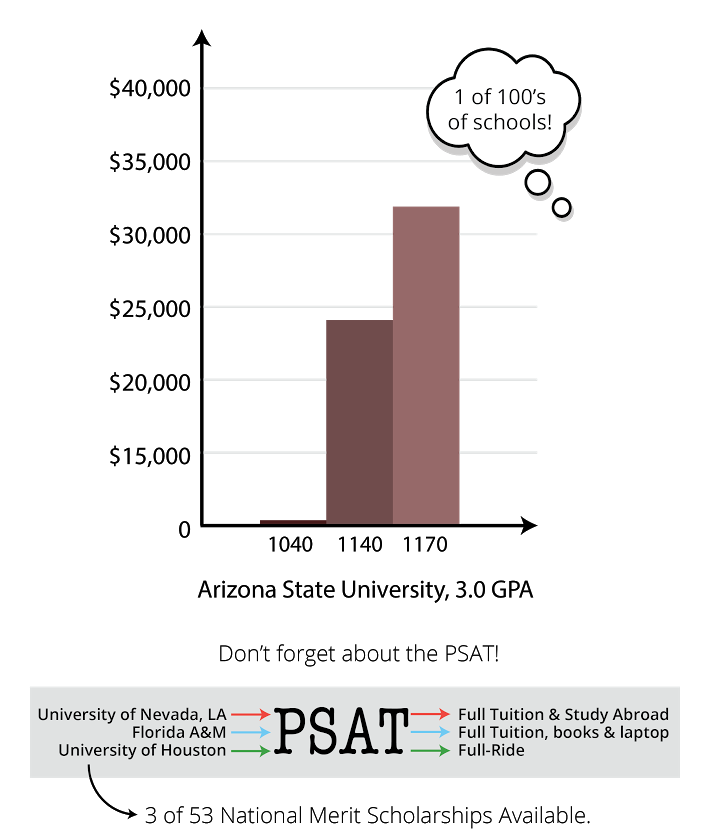 3. What is the best SAT option for me? 
OK, so your SAT score definitely matters, and you definitely want to aim high.
But it's one thing to SAY you need a certain score to unlock thousands in scholarships and get you into the college of your dreams… you still have to make it happen.
Now, there's a handful of different ways for you to improve your score… the two major ones being SAT prep classes and SAT private tutoring.
The question is: Which one is right for YOU? 
This isn't the easiest question to answer on your own, and that's why I have a chart for you to reference! Follow the arrows based on your answers to find out what SAT option you should take.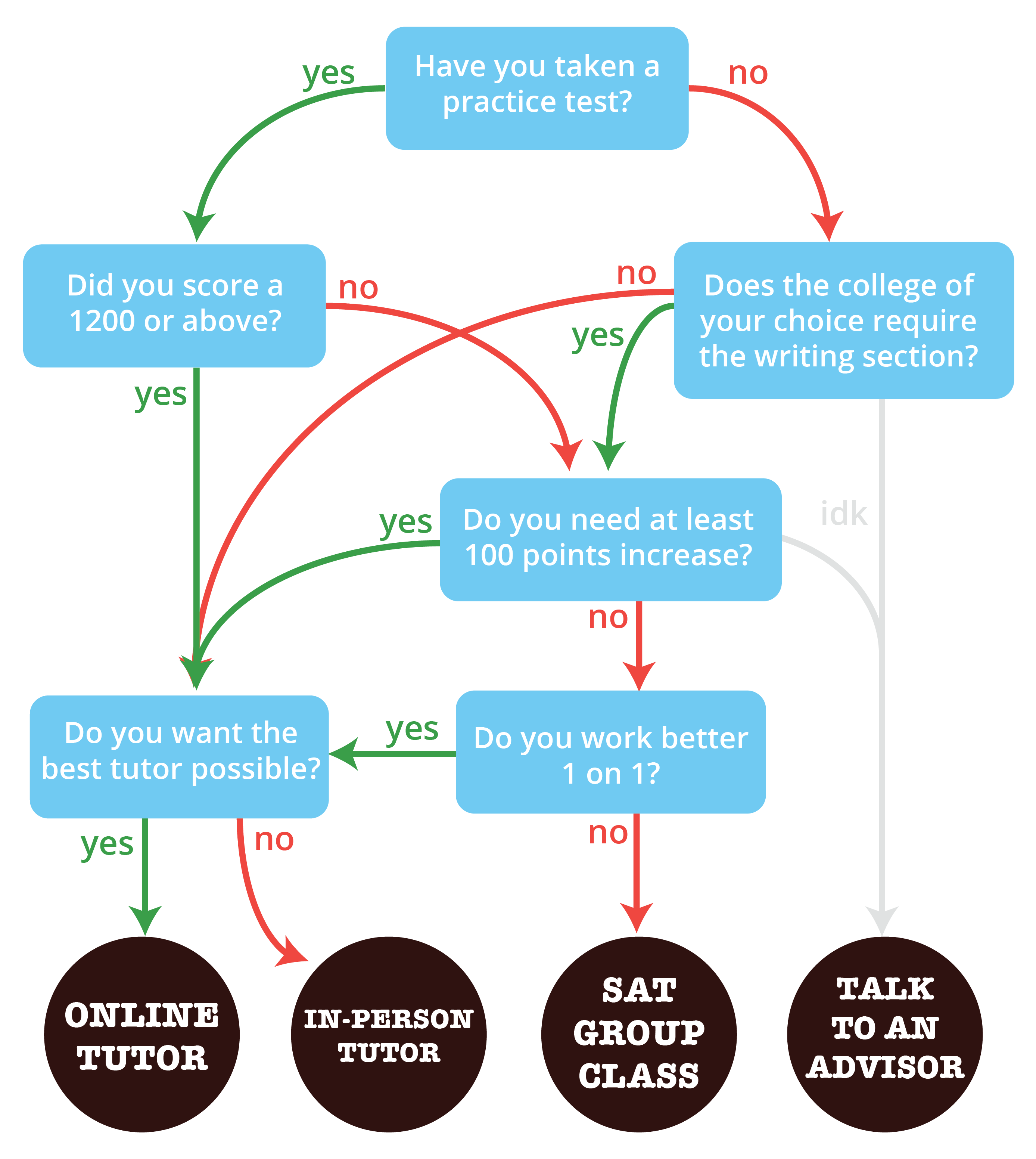 Conclusion
Why settle for attending a college that wasn't your first choice? 
Why pay full price to attend? 
Remember, you don't have to do either if you:
Know your college's SAT requirements
Know the scholarships available for your SAT scores
Pick the best SAT prep option for your needs.
Don't go with the crowd and pick an SAT prep option because all your friends are doing it. Every student is unique… so pick the one that is best for you.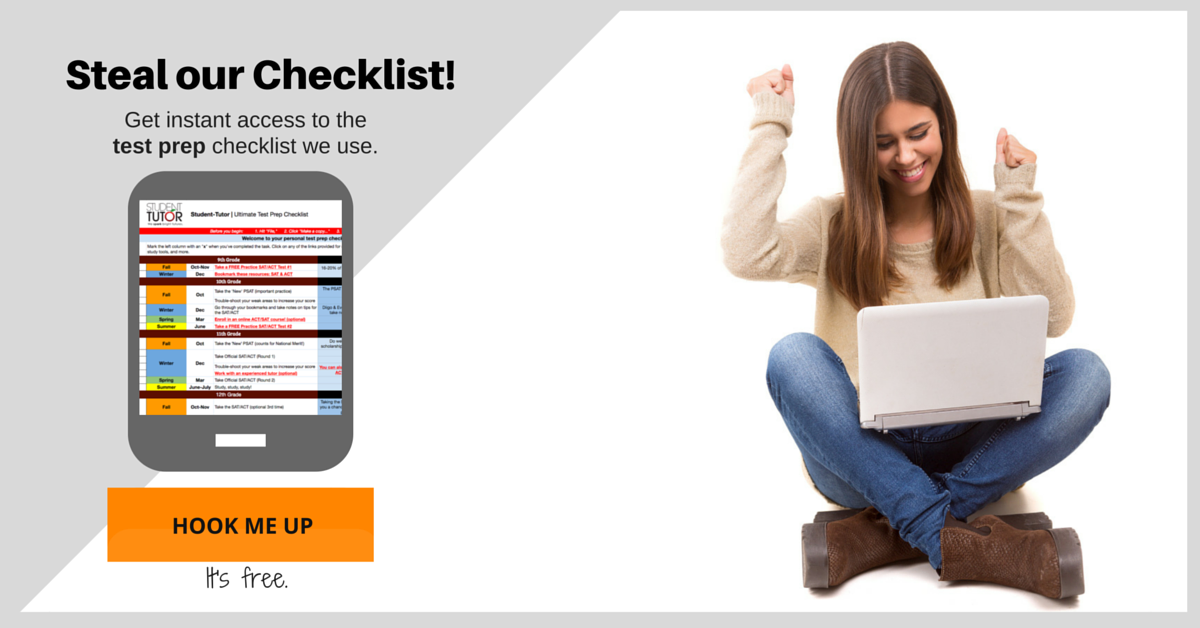 Have questions on what your college of choice's SAT score requirements, merit based scholarships available, or best SAT prep option is based on a unique scenario? 
Please ask me in the comments bellow or give one of our Academic Advisors a call at 844-508-8867.
The following two tabs change content below.
Laura earned a Master's degree in Secondary Education plus Teaching Certification for Mathematics and Psychology in both AZ and CA. Her undergraduate work was in Psychology with a minor in German from UCLA where she graduated magna cum laude. She has been tutoring since the 90's, was a high school teacher 2006-2011, and still teaches for a local college. Laura is passionate about teaching, learning, entrepreneurship, and traveling the world with her husband, their dog Tuck, and her Macbook Pro. -- Join Laura on Linkedin & Twitter!
Latest posts by Laura Petersen (see all)