What's your favorite app? 
I can think of a few apps that make my life 10x easier… I'm sure you can too.
Here are 10 apps for the digital age that I think everyone should at least try!
This is a Student-Tutor favorite… it's what our professional team uses every day!
Asana is like an interactive to-do list, with tasks that you can assign to yourself or other members of a team to help everyone stay on track toward a common goal.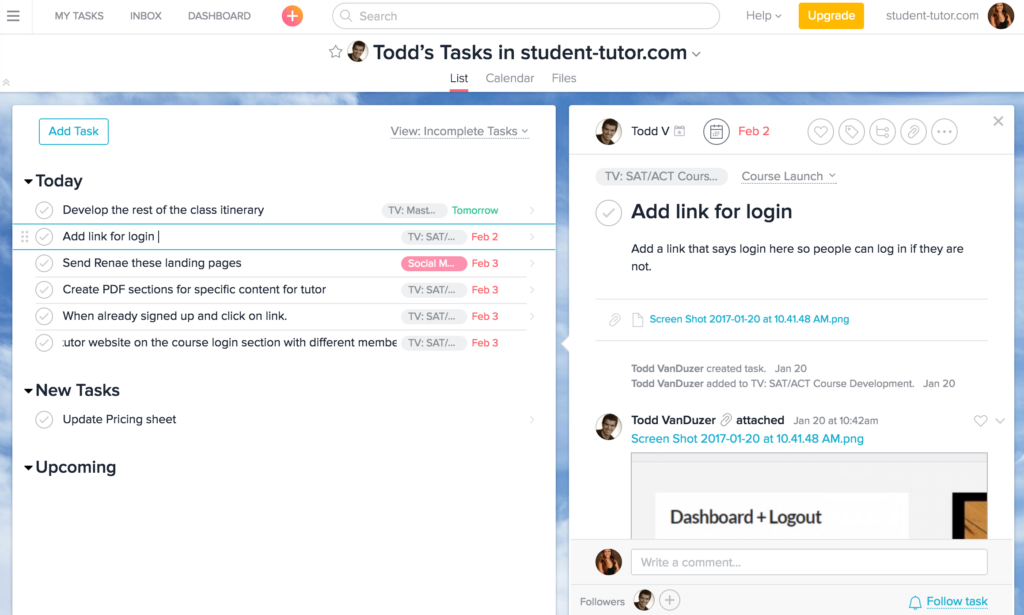 Top Features:
Stay on top of your goals 
Using Asana, you can:
Assign your team and yourself tasks and subtasks with date and time-specific deadlines
Create Projects that act as folders for these tasks
View an entire calendar of everyone's tasks for the month and receive notifications when tasks are completed.
Be social and bond with your team
Asana has the awesome added feature of being able to like, comment and post discussions on and about different tasks and projects within the app. It increases communication and encourages a productive environment in any team.
This is an AWESOME app that anyone can use to prevent spelling and grammar errors in their digital writing!
I personally can attest to the fact that I am not the greatest writer. It is something I work at every day so that I can be better. Grammarly is a huge help.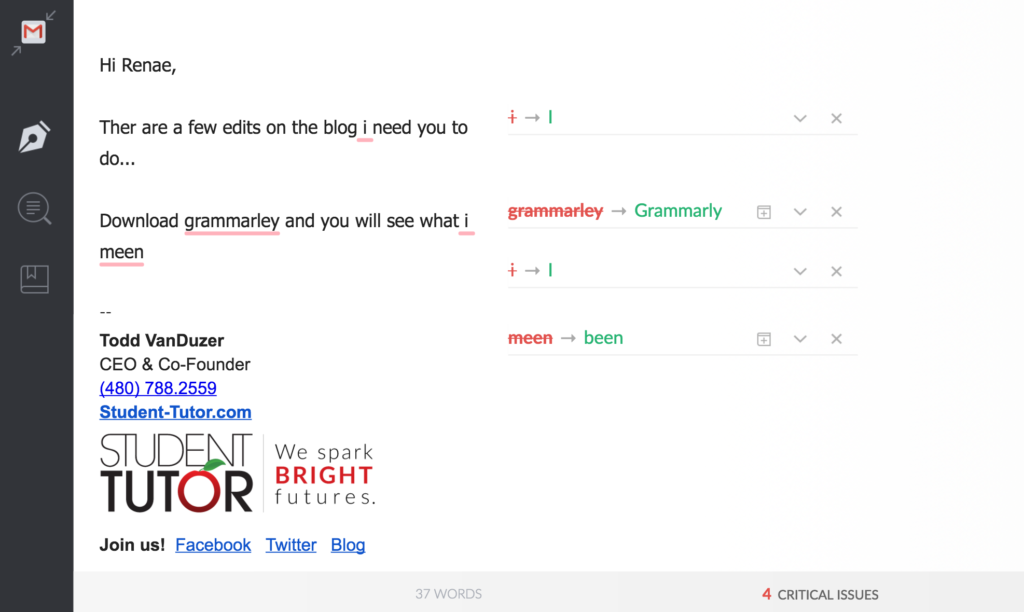 Top Features
Easy access and usability  
Grammarly works as a plug-in for your internet browser. Once you've downloaded it to your computer, it will actively check EVERYTHING that you write – emails, essays, facebook posts, etc. It's checking this article as I'm writing it!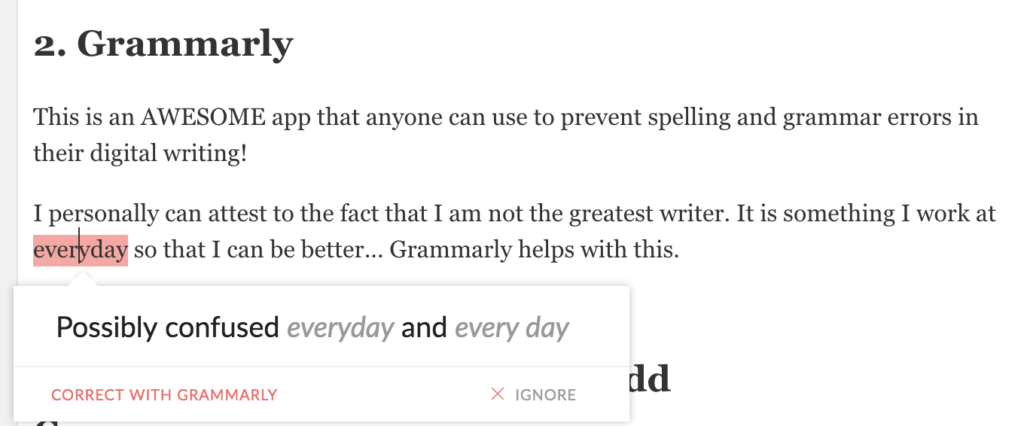 Above and beyond proofreading
OK, so everyone has spellcheck… but Grammarly is more than spelling errors. It checks your actual grammar usage, including context and vocabulary. It aids in eliminating awkward phrasings and helps your sentences to run more smoothly.
Unfortunately, with the internet today it's very easy for us to accidentally (or on purpose!) plagiarize information.
Unplag assists in preventing this.
Fun Fact: They actually wrote an article on me back in December! Here's that link for you.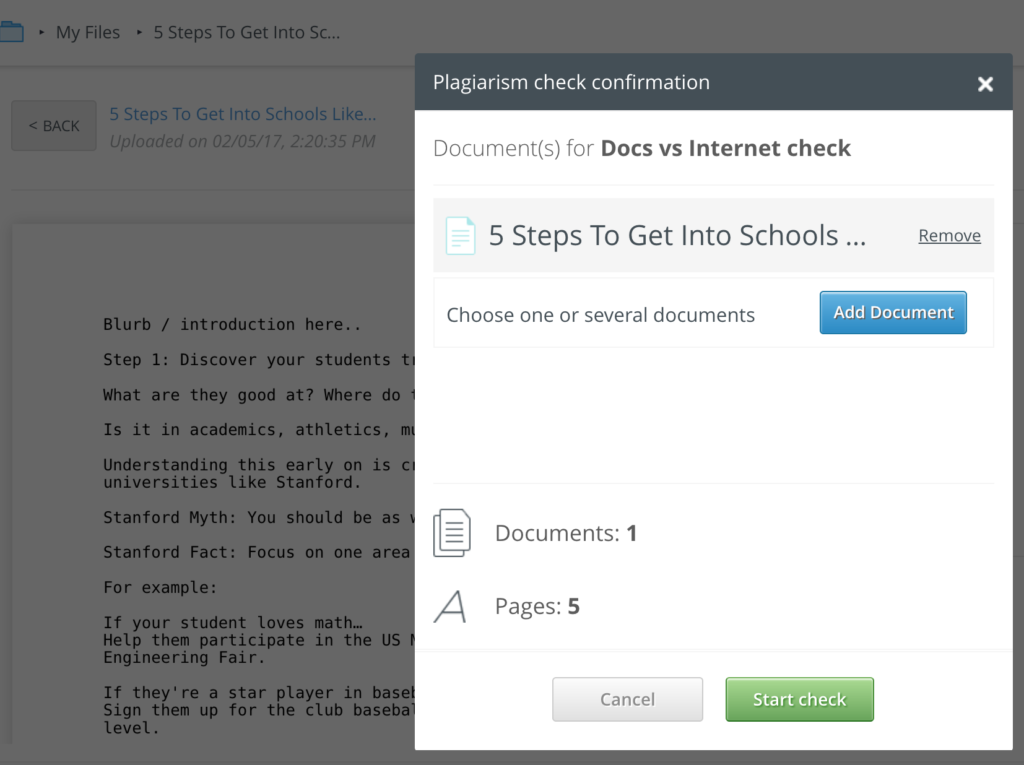 Top Features
Check for plagiarism anywhere
Unplag doesn't just check for plagiarism from internet sources, it will also check other things you have written. When you are in school, for example, it is considered plagiarism to steal pieces of an essay you previously wrote to use in a newer one without citing your sources.
Quick and easy uploads
It's quick and easy to upload your files to the Unplag dashboard, where you have the option to check them for plagiarism.
Not an all-star at Adobe Photoshop or Illustrator? Me neither.
The good news is, you don't have to be if you have Canva. In the past if someone asked me to create a transparent background with a text overlay, I wouldn't know where to begin.
Luckily with Canva, I do. For simpler, creative projects, I don't always need to ask our graphic designer for her help! 😉

Top Features
Photoshop/Illustrator-esque no-hastle editing
Like I said above, you don't have to be an expert in creative programs to use Canva. The app makes creating just about any type of virtual or print graphic easy and maintains a professional-looking quality!
Painless file sharing/downloads
Once you've finished your creation, Canva makes downloading or sharing a file simple. At the top of the screen is the option to do either and the app will guide you through this process so it is relatively painless.
There's a lot going on with this app… even when you first sign up! Evernote wants to know what you need help with. Organizing? Taking notes? Being productive?
How about all 3?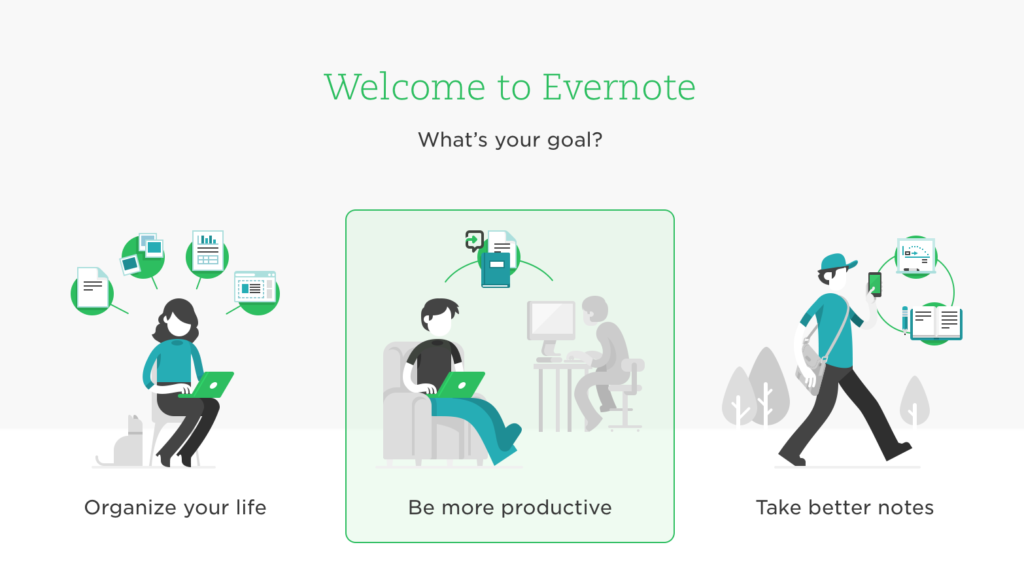 Top Features
OK, there's a lot.
In fact, here's an article I found with 30 different uses for Evernote! 
Up your note-taking game
You may be used to using a more basic notepad app on your phone or computer to keep track of little things that pop into your head, grocery lists, etc.
Evernote gives you a one-stop place to do all of this and helps organize things for you with shortcuts, notebooks, tags and a search.
A whole new way to bookmark
Do you like to bookmark things you find on the internet? Recipes, scholarship apps, helpful articles?
Evernote will take this to the next level. It can act as a plug-in for your internet browser so (like your general bookmarks bar) it is always readily accessible. Customize how you want to bookmark things and make them easier to reference later on.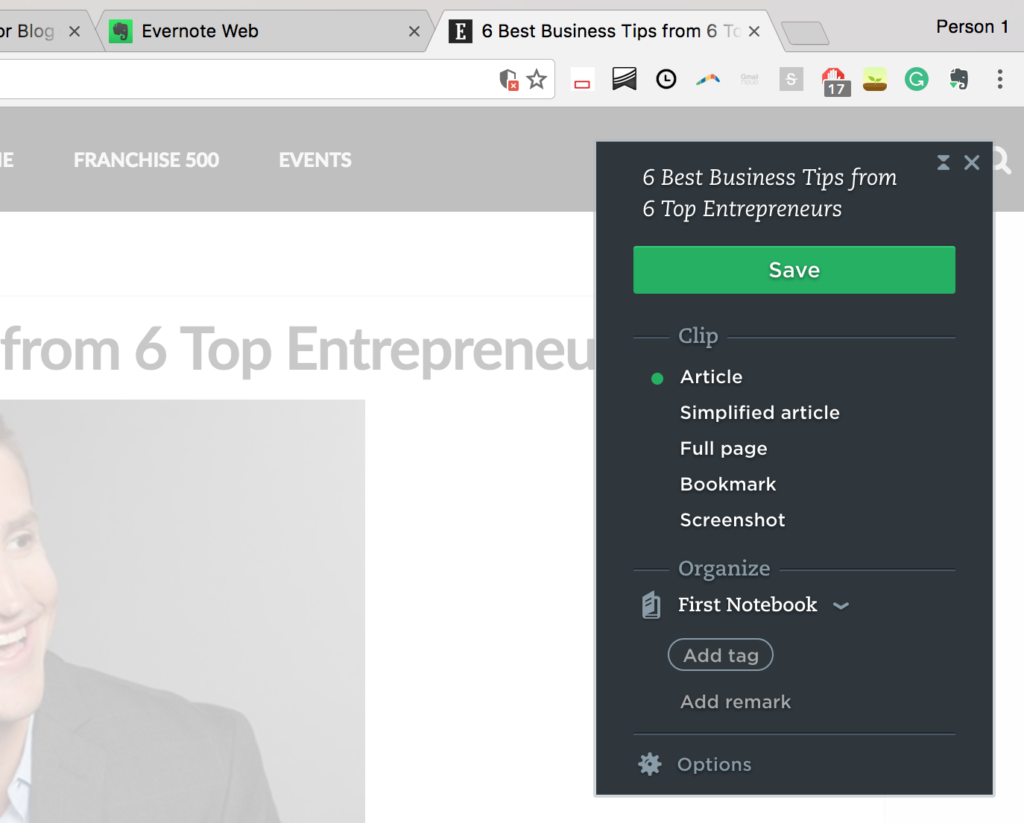 Slack is an incredibly versatile app because it recognizes that teams may use many different applications to communicate and get things done.
It offers a one-stop shop way to connect all these different tools and smooth out any lasting wrinkles in communication between team members.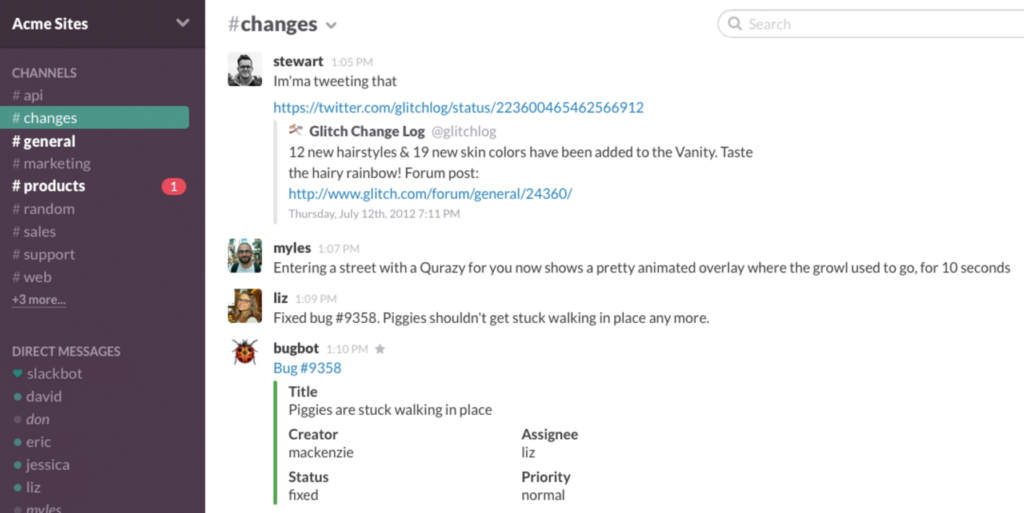 Top Features
Seamless communication
With slack, you can organize your team into channels for whatever you need… projects, topics, etc. You can also direct message and make calls through the app.
A place for every file and every file in its place
Yes, Slack allows file sharing! Dump whatever files your team may need into 1 convenient spot. When you're not sure where a file went, you can take comfort in knowing that Slack has a search bar to assist you in finding whatever it is you need.
App-friendly
Slack doesn't pretend that it's the only app out there. Instead, it welcomes the integration of all the apps you could possibly need to help your team communicate, stay on task and reach your goals!
Simply connect all these tools to Slack and it will keep your notifications in 1 place – no more hopping from 1 app to the next… whew. That saves us some time, doesn't it?
Venmo is truly a genius app… whether you thought you needed it or not.
Remember when you used to go out to eat with friends and realized you'd forgotten your wallet?     
Your friend Steve might offer to buy your meal for you, and you'd accept his offer with the promise that you'll "pay him back". Then you forget about it, and Steve isn't so keen the next time around to chip in!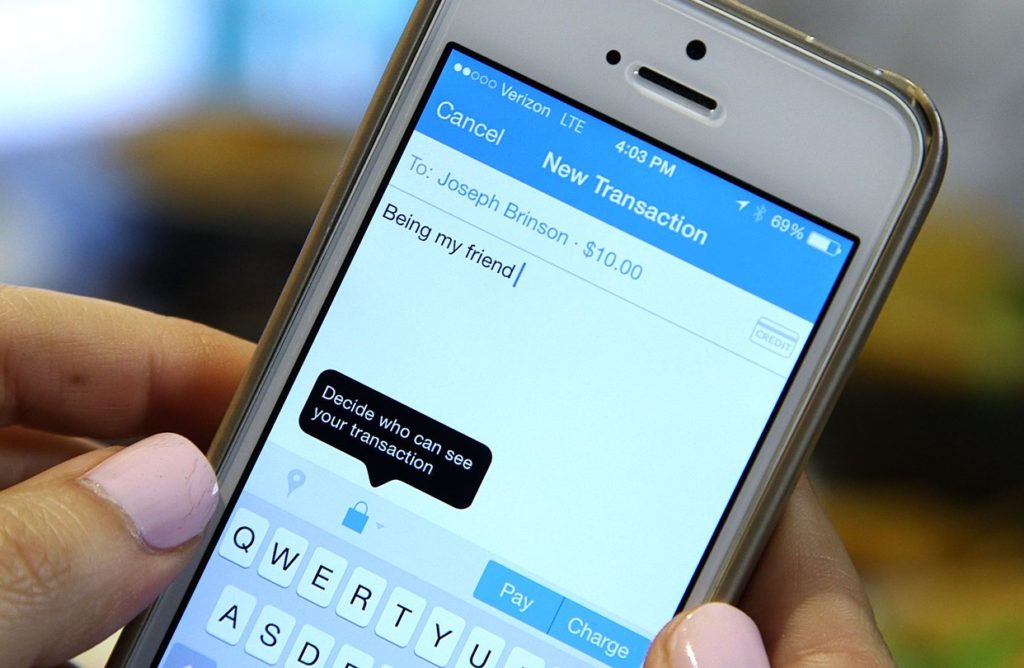 Venmo eliminates this and makes any kind of payment exchange instant and secure.
Top Features
Instant and hands-free payments, any where and any time
Whether you're needing to request money for gas from someone or give your roommate your share of this month's rent, all it takes is a quick search for them in the app, entering the amount you want to give or receive and the press of a button.
This takes the stress out of the times that you forget your wallet.
It also makes professional interactions like working for a freelance client easier! No more processing checks or waiting on cash payments that may get lost, stolen or misplaced. 
A money app you can trust
You may be nervous at first to synch up your bank account to an application you're not familiar with. That's 100% understandable. However, as a user of Venmo I can affirm that my accounts have stayed secure within the app.
Venmo also uses data encryption, notifies you of suspicious activity on your account and offers support to users who feel their security may have been breached. 
So you think you can budget?
Let's be real with ourselves. Having self-control in how we spend from week-to-week is sometimes easier said than done.
YNAB isn't beating around the bush about your budget. This app will help you stay on track and be more responsible about how you spend, without feeling like you're pinching pennies.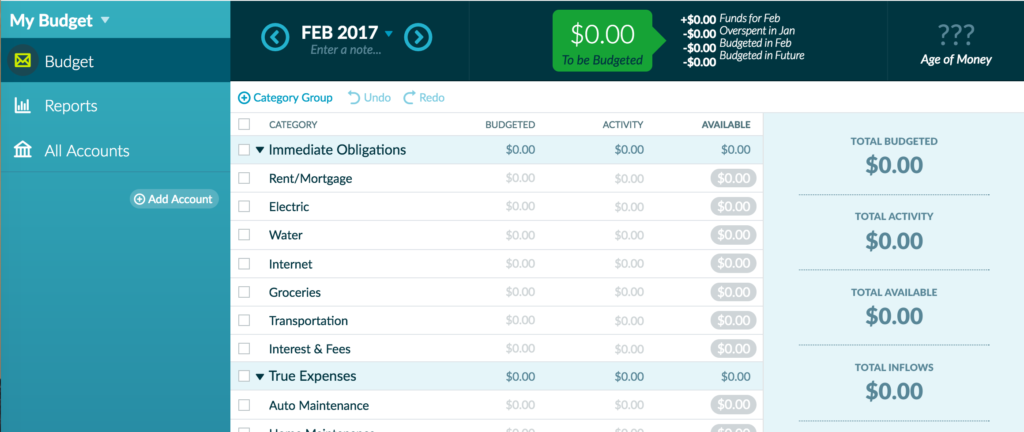 Top Features
Set goals and track your progress
Do you dream of being debt free?
YNAB promises, with their app, this is #notapipedream. Within the app you have the ability to set goals for where you want to be as far as income, debt, credit-card spending, etc.
Enter your goal, track your achievement from day-to-day and view your progress through auto-generated graphs and pie charts.
Life. Is. Crazy.
On a weekly basis, there are at least 10 things that I'm doing (usually more!). That can get stressful… and while light to moderate stress can improve your motivation and productivity, too much stress is harmful to your health.
That's why I LOVE this app. In fact, I use it every day. There is scientific evidence for how meditation increases your focus, productivity, and happiness.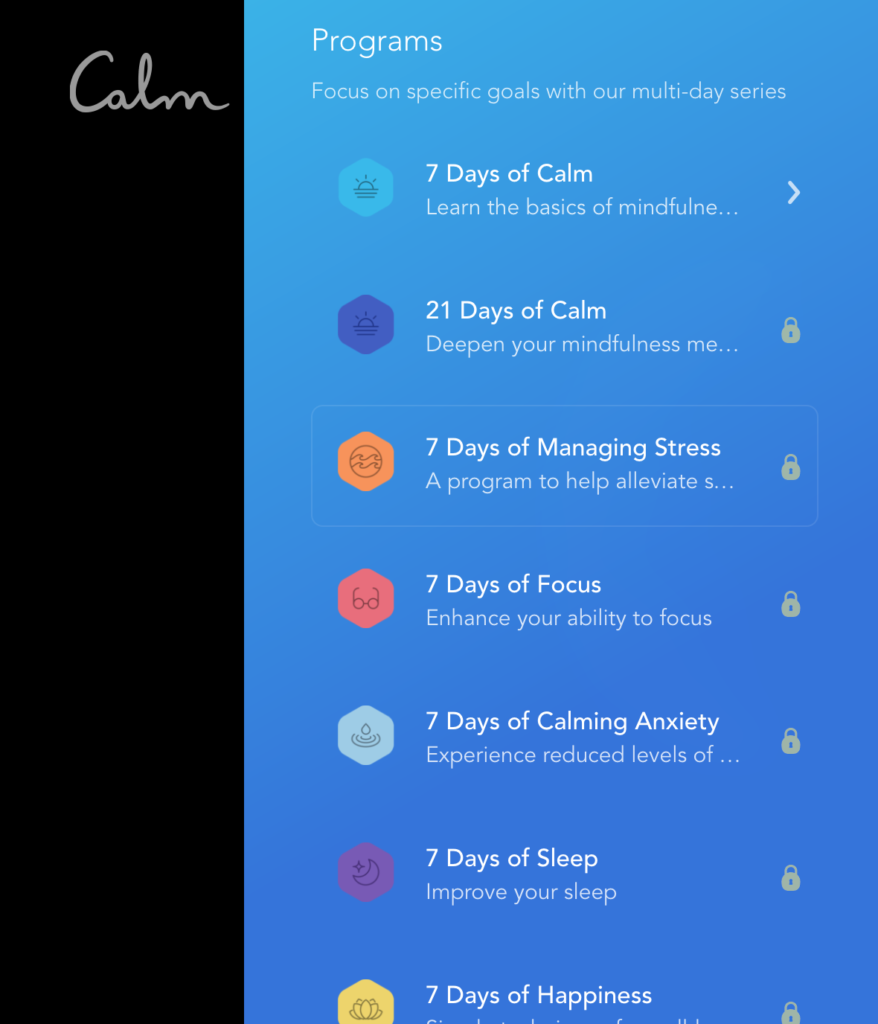 Top Features
Relax, seriously.
Calm knows that it's difficult for us to take a minute out of our days and center ourselves and our minds. That's why the app offers guidance in the form of different programs that can help you achieve a new or desired state of being.
Clean and concise design
Calm knows that not every day is the same. The app offers you a multitude of options for relaxing, unwinding and meditating. You can browse these options like you might browse a music playlist and find the mood/meditation goal that best suits you on that given day.
Like all the other apps in this list, Kiwake holds its own because it is realistic about what you need and how to get there.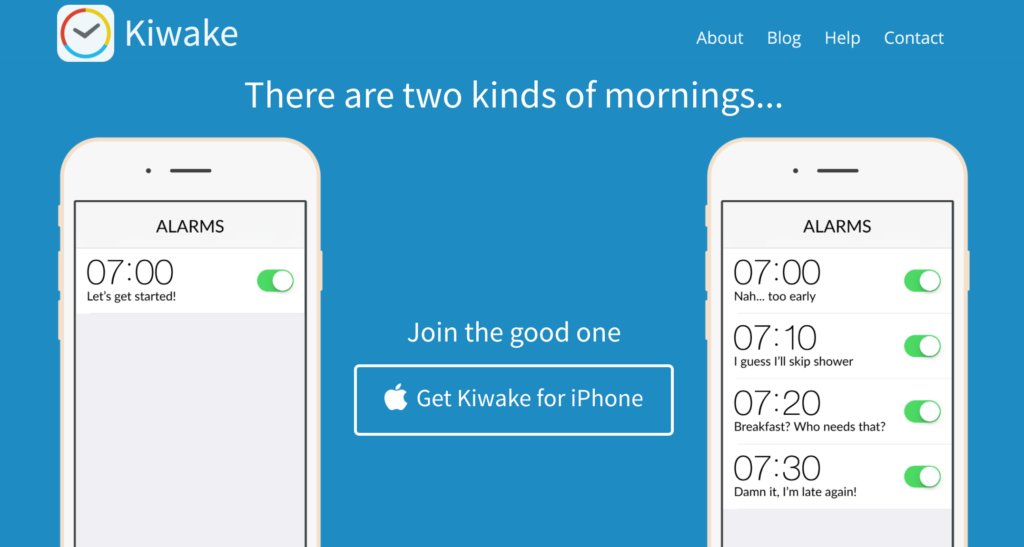 Top Features
Waking up with science
Kiwake recognizes 2 important facts about waking up:
Just because an alarm informs you that it's time to wake up doesn't mean you are fully awake

You need time to wake up… it's not natural to jump right out of bed at the first ring of your alarm and feel 100%.
The app applies this extended understanding to wake you up in a way that accounts for every portion of the "wake-up" process.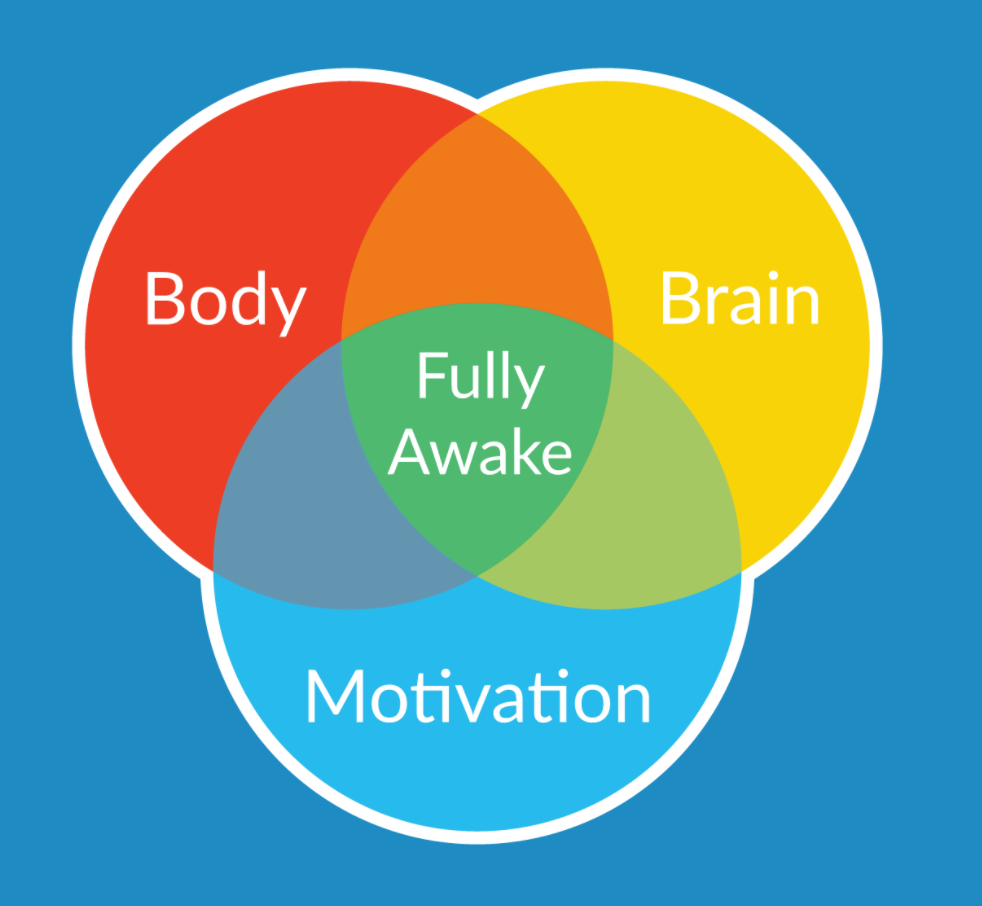 Form better habits
Kiwake is a no-snooze coach. The app is set on guiding you towards productive and painless mornings that start right.
Conclusion
I sincerely recommend that you download all of the apps in this list and give them a try.
It is incredible the amount of assistance that is available in different aspects of our lives today to make life easier and more enjoyable to live!
What do you think? What other digital age apps that I missed help you lead a more productive and fulfilling life?
Please let me know in the comments below! I would love to give them a try.
The following two tabs change content below.
Hello! My name is Todd. I help students design the life of their dreams by ensuring college, scholarship, and career success! I am a former tutor for seven years, $85,000 scholarship recipient, Huffington Post contributor, lead SAT & ACT course developer, host of a career exploration podcast for teens, and have worked with thousands of students and parents to ensure a brighter future for the next generation. I invite you to join my next webinar to learn how to save thousands + set your teenager up for college, scholarship, and career success!
Latest posts by Todd VanDuzer (see all)