Parents! Interested in learning how Todd VanDuzer and Zach Hamilton received a combined total of over $185,000 in college scholarships? Keep reading to discover the secret recipe so that you can too, even without a 4.0 or a high family income! Billions of dollars are given out every year, so make sure that you get a piece of the scholarship pie.
What Are Private Scholarships?
Private scholarships are funds offered by private organizations or the government, so they do not come directly from the college you will be attending. Service clubs, companies, and charities give out about $2 billion in private scholarships each year.
About 1 million students receive these awards – that's about 1 out of 13 students! Additionally, these scholarships are not based solely on merit. Instead, they can reward students for creative submissions, activism in the community, or pure luck from enter-to-win contests. (Check out our article for more information on merit-based college scholarships)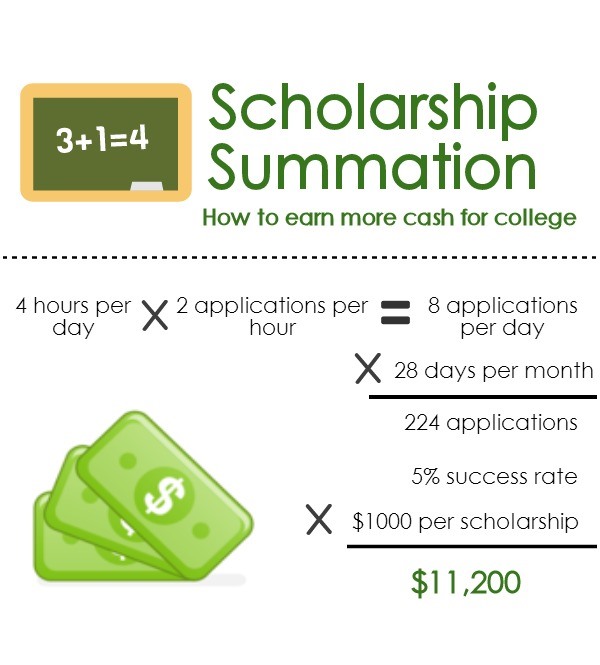 How Can I Find These Scholarships?
Both Todd and Zach successfully applied to, and earned, dozens of scholarships. They have happily agreed to share their recipe for success. By following their steps, your child can score major cash for college as well.
1. Start searching now!
"By utilizing online scholarship databases, such as fastweb.com, scholarships.com, and zinch.com, I was able to successfully apply to dozens of scholarships every week. I simply filled out a background profile about my education, hobbies, and achievements. Then, the magic happened. Thousands of college scholarships relevant to my interests, grades, test scores, and background appeared right at my fingertips." – Todd Van Duzer
"I recommend not just answering the required questions, but the optional ones as well. These can trigger more unique or specific awards ranging from enter-to-win contests to creative art submissions. Plus, new scholarships are always being added, and the websites were quick to update me on them with an email." – Zach Hamilton
2. Apply to every college scholarship for which you are eligible
"Start applying as early as possible and allow yourself more than enough time to complete and submit a quality application. You'll miss fewer deadlines and give yourself more opportunities to proofread, edit, and rewrite any portion of the application." – Todd
"It's simple: more applications = more chances to win. Don't discount the ones that only offer $250. Generally, these scholarships can be easier to win because fewer students apply for them. Just know that every little bit of money counts and eventually, the amounts are going to add up." – Zach
3. Start collecting a database of essays
"Once you have applied to a good amount of scholarships, the application questions start to repeat themselves. Instead of having to repeatedly rewrite the same essay about an obstacle you've had to overcome, build a database of essays that you can reuse for future applications. It'll make the process much faster." – Todd
4. Improve your SAT scores
"The best way to ensure that you'll score some cash for college is to retake the SAT and get those scores up. Some applications require a minimum score to apply, and the higher your score is, the more scholarships you'll be eligible for. Take SAT prep classes, sign up for the SAT Question of the Day, or just do something that will help prepare you for the test. Even just a little improvement in your score can open a lot of doors." – Zach (Learn more on how to tame the SAT and earn higher scores!)
5. Raise your GPA as high as possible
"While a lot of private college scholarships aren't based solely on merit, it is still important to have a high GPA. Eligibility for some applications might include a minimum GPA, so just like with SAT scores, a higher GPA can mean more opportunities." – Todd
"Make sure to pay attention to your honors and AP classes in high school. Some applications may only accept your unweighted GPA as opposed to your weighted one. If you know that you can earn an A in your honors or AP classes, stick with it. Otherwise, you should consider taking regular classes to keep your unweighted GPA as high as possible." – Zach
What Are Selection Committees Looking For?
As you are beginning to apply for scholarships, it helps to understand what exactly the judges are looking for. Merit-based scholarship selection committees measure applicants based on a standard evaluation, rewarding the students who earned a certain amount of points on standardized tests.
In contrast, private scholarships measure students head-to-head, leaving lots of room for bias and creativity. Since there is no standard measurement, it is important to figure out exactly what the selection committee wants to see you demonstrate in your application.
Mark Davis, President of the Coca-Cola Scholars Foundation (which awards almost $2 million in college scholarships every year to hundreds of students), gives an inside look at how judges evaluate applications.
First Round
The first glance at an application can range anywhere from 15 to 30 seconds. This is where judges will determine your eligibility, whether you included all required documents, and if you answered all of the questions. Messy or illegible applications are also weeded out during this process.
Second Round
The second time the judges look at applications is when they separate the adequate from the exceptional. This is where nitty-gritty spelling and grammar comes in, especially with word errors if you are using a computer, such as "principal" and "principle." Judges will also be looking to see if you have completely and thoroughly answered each question.
Final Round
Once the judges have narrowed it down to a group of highly qualified students, they repeatedly examine each application and compare details between the applicants. Special attention is often paid to academics, leadership, service, creativity, and special circumstances.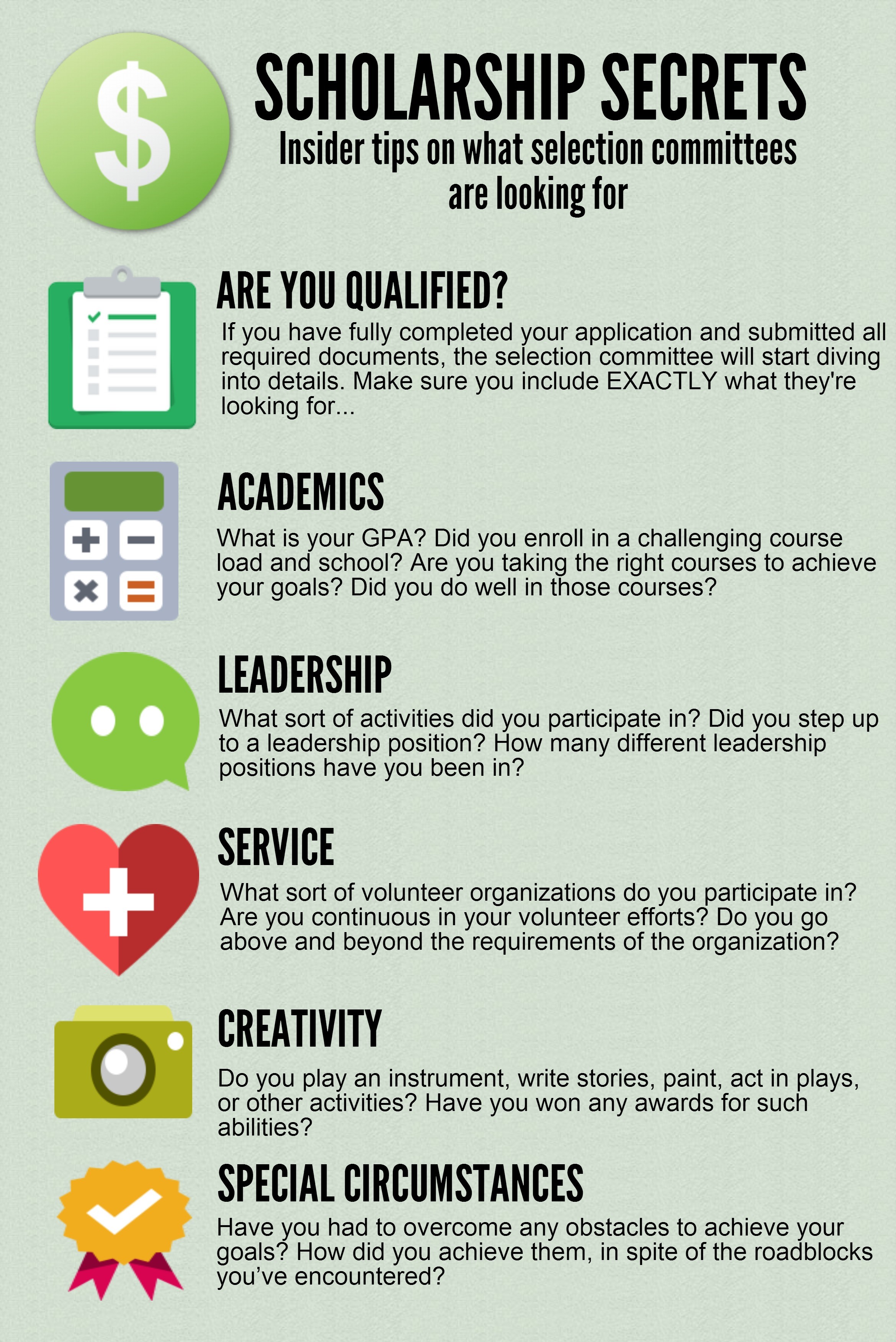 By understanding what goes through a judge's mind when he or she looks at your scholarship application, you can tailor your application to exactly what they want and improve your chances to get noticed and win. (Click: To find out more about how college scholarships are judged)
Debunking College Scholarship Myths
Many students are often dissuaded from applying to scholarships because of widespread myths surrounding them. The truth is that anyone and everyone has the opportunity to apply and win! Here are the facts that dispel any misconceptions you may have about scholarships:
"I can't win a college scholarship because I don't have stellar academic achievements."
FALSE…
Scholarships can be awarded for any number of reasons, not just grades. Actually, the majority of the best scholarship programs are intended for students who dedicate time and energy to various fields such as music, foreign languages, community service, writing, leadership, and more.
College scholarships may also only use GPA as a minimum bar to apply and not take it into account. And in cases where GPA is evaluated, it is only one aspect of your application. The selection committee understands that you have so much more to offer than simply the grades on your transcript.
"I need to join every single club and organization if I want to win a college scholarship"
FALSE…
When it comes to winning a scholarship, it's about quality, not quantity. Devoting a lot of time to a few organizations that you are passionate about is going to be more impressive to a selection committee than joining a great number of organizations that you barely contribute to.
Make sure that you are demonstrating your true self and what you care about through the activities you participate in.
"All scholarships are judged equally."
FALSE…
Every scholarship has its own idea about the qualities of a winner. Valuing certain qualities over others tilts the playing field far from level. An ideal application for one scholarship may place you out of the contest for another. This is why it is important to define the "model applicant" of each scholarship and stress those qualities so that they are consistent with that definition. (Still have some doubts? College scholarship experts debunk more common myths)
Now it's your turn!
Now with some common myths debunked, resources to utilize, and awareness of the judging procedure, your child is ready to begin applying for scholarships! By spending a couple of hours every week dedicated to college scholarship applications, your child is one step closer to a debt free education. It's just another reason to be grateful and proud of your child!
Still interested in learning more? Check out this free e-book!
Coauthored by Haley Langmack
The following two tabs change content below.
Hello! My name is Todd. I help students design the life of their dreams by ensuring college, scholarship, and career success! I am a former tutor for seven years, $85,000 scholarship recipient, Huffington Post contributor, lead SAT & ACT course developer, host of a career exploration podcast for teens, and have worked with thousands of students and parents to ensure a brighter future for the next generation. I invite you to join my next webinar to learn how to save thousands + set your teenager up for college, scholarship, and career success!
Latest posts by Todd VanDuzer (see all)