I'll be candid.
College.  Fairs.  Suck.
You walk in clueless and leave exhausted.  And in between, you're winding your way through rows and rows of crowded booths, just so you can try and catch a few seconds with a college representative who's been repeating the same few sentences for hours.
If you're lucky, you might end up with a handful of flyers from a few different colleges, but you still have no clue which direction to go.  And besides, how do you know which school is a good fit for you anyway?
Does the University of Miami know you hate long walks to classes?
Does Princeton know you've always wanted to join a knitting club?
Enter hundreds of high-schoolers shouting, "If only there were an easier way!"
There is.  Hold on to your seat—you'll want to hear this one.
Stage left—in walks Niche, by College Prowler.  It's clean, organized, simple, free, and has hundreds of schools tucked away in its database.  It dances across the stage.  "Pull up a seat," it says.  "I have so many useful features!
Ready? Let's take a tour.
College Rankings
After you take the allotted sixty seconds to create an account and fill out a basic profile, this is definitely where you'll want to start.
Niche's College Rankings page is anything but Just Another List with the Ivy Leagues sitting posh on top and the state universities scrounging near the bottom.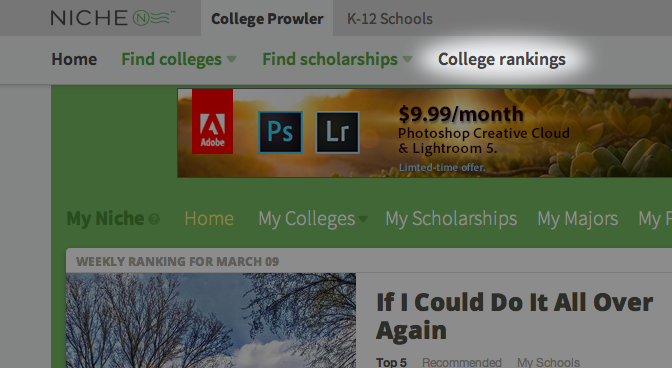 For starters, it has a sidebar that lists out everything you never even knew you wanted in a university—from the very obvious (Best Course Variety) to the nearly-invisible-but-brilliant (Most Lenient Parking).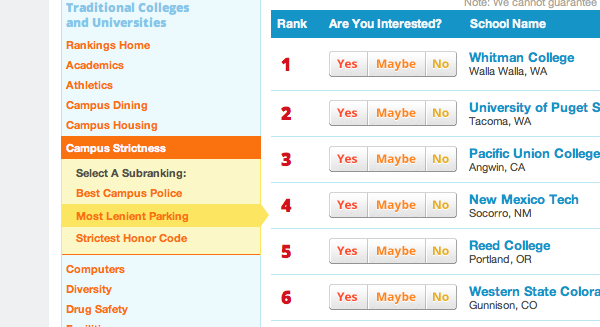 College Prowler calculates Niche's school rankings with an equal mix of these three ingredients:
In-depth student survey responses
Open-ended student reviews
Statistical data
And with that in mind, you know it's accurate—or at the very least, much more accurate than the impossibly beautiful photos on the school brochure.
Interested in a campus with tons of late-night dining options?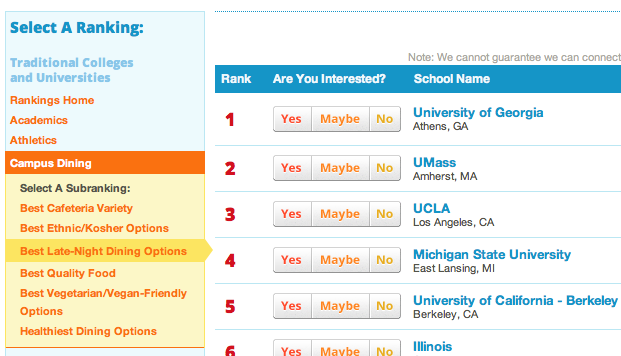 What about the campus with the highest percentage of artsy girls?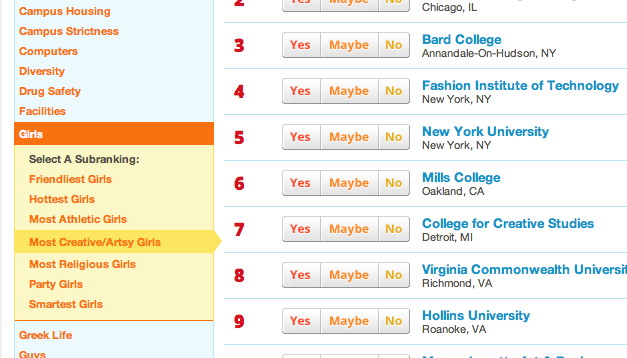 What about the hottest guys?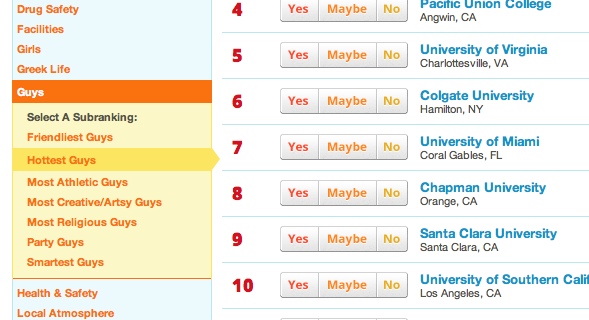 Or the shortest walk to class?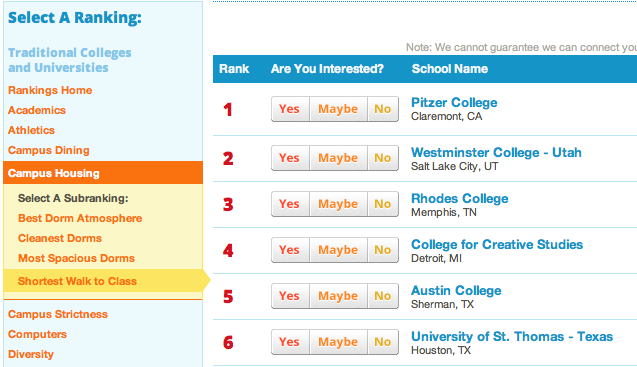 You get the picture.  With this tool, you can start formulating a list of colleges based on what you actually want—not what everyone says you should want.  And, once you start looking, you might be surprised by what you find.
Recommendations
So you took the SAT.  Or the ACT.  Or maybe both!  And you're feeling great about your scores, sure that the top colleges will be knocking down your door.  Or, maybe you're a little nervous, and want to make sure you've got more options than the community college down the street.
In either case, Niche has an amazing recommendations app.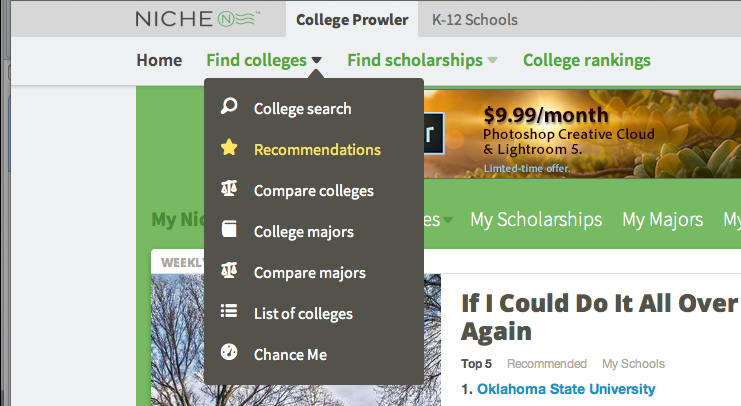 Just type in your test scores, a possible major (let's try Computer Science), and your zip code, and bam—insert highly impressive firework stage effects here—you automatically have a list of schools that would be happy to take you in.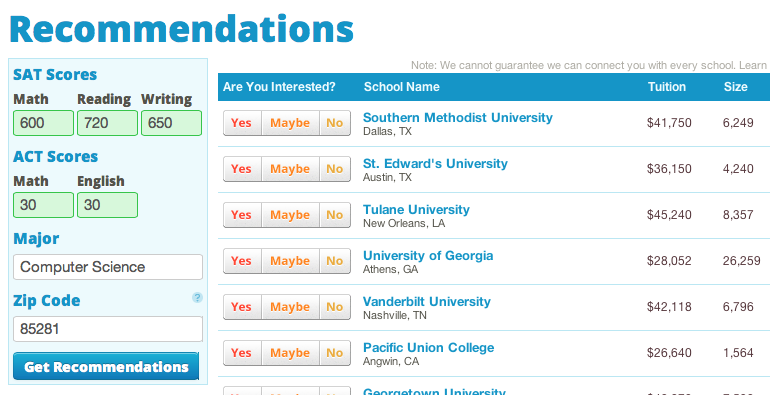 And if one of the schools from your College Rankings list pops up, man, your universe is totally aligned.
And if not?  You can always…
Compare Colleges 
Enter stage right.  Got a list of colleges you're choosing between?  Want to get the scoop on the schools from the Recommendations page?
Lucky for you, Niche has a "compare colleges" option riiiight…here.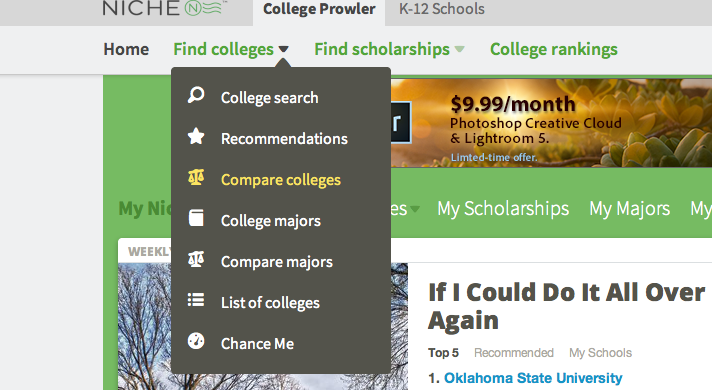 Just type in a college name—let's go with Tulane from our Recommendations list—and Niche spits out its grade on everything from academics to atmosphere to parking.

You can also add in other schools and look at them head-to-head—and even print or save the list.  Let's add in Pacific Union and Pomona.

Looks like Pacific Union is winning!  But depending on what you're looking for, you can even go through and compare important things like tuition, campus setting, and acceptance rate, just by clicking on the other tabs.
And with every click, you'll feel so much more on your way. 
College Majors
Plenty of high schoolers go off to college without knowing what they want to major in.
(And, just between you and me, plenty of college students don't know what they want to major in either.  I have a friend who's been switching between Math and Vocal Performance for the past two years.)
And that's fine!
But let's say you've woken up every morning since you were seven and knew, just knew, that you wanted to major in Architecture.
"By golly," you would say, your hand firmly wrapped around your cereal spoon.  You would take a triumphant bite of your cereal, finish chewing (because you're polite and don't speak with your mouth full) and add, "I don't think I could possibly imagine majoring in anything that wasn't Architecture!"
Niche has you covered.
The "College Majors" page works in a similar way to the "Compare Colleges" page from just one heading ago, but this time, type in a major, and it spits out all the stats you care about (and probably a few that you don't).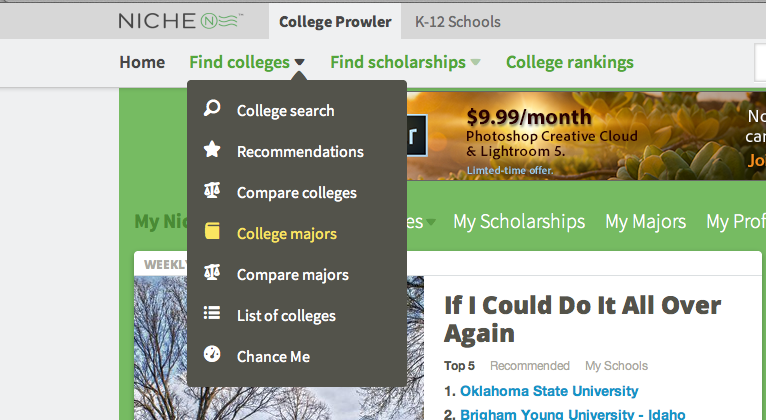 Interested in the top schools for architecture?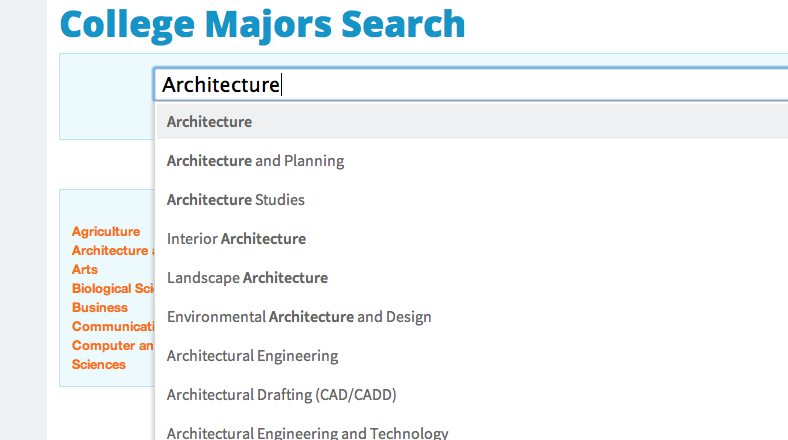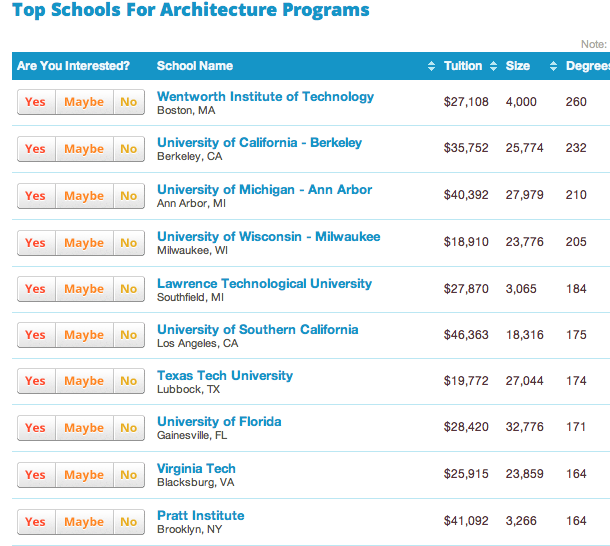 Hmm…that looks an awful lot like a handy list of colleges to compare!  (Imagine me loudly whispering, "I'm hinting that you should type that list into the 'Compare Colleges' page.)
(Now imagine me with a pet dragon.  Cool, right?)
(Anyway.)
"College Majors" also lets you know about the typical makeup of the other students populating your intended major—ethnicity, gender, etc.)

So whether you're a member of the majority or the minority, you'll know what you're getting into—if you can expect to be The Girl in your Engineering classes, for example.
"Chance Me"
At this point, congratulations!  You're officially much further along than you were yesterday.  You have a list of colleges that:
You want to attend
Want YOU to attend
Fit your ideal lifestyle
Offer your ideal major
Have nearby late-night restaurants
But, when all's said and done, the fact of the matter is that you cannot guarantee acceptance into the college of your choice.  You just can't.  It's a sad fact of life, right next to the fact that you cannot live in a place with starry night skies AND city lights.  Science.  Sigh.
That being said, Niche does have a page for you to get real feedback from other users on what your chances are of making it into your top schools.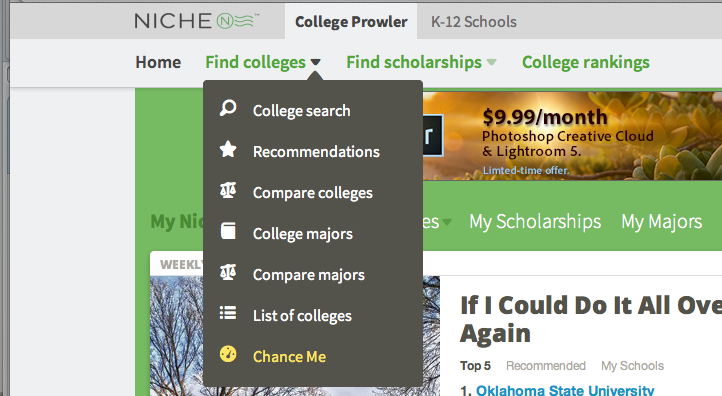 It's called "Chance Me," and it works like this:
Fill out your profile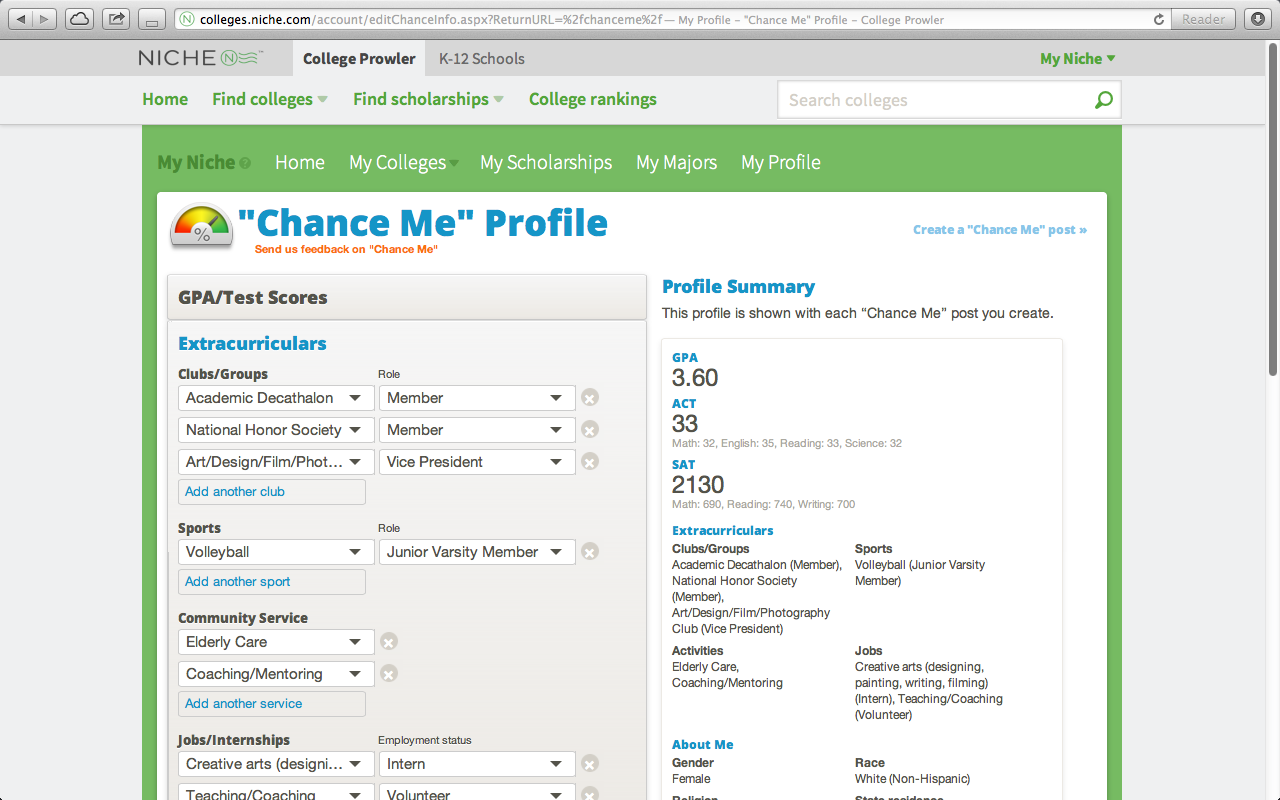 This is a little different from your initial profile to sign up for Niche, because it's more detailed.  Fill out your extracurricular activities—sports, clubs, volunteer positions—and your personal information.
What's really great about this particular profile app, though, is that all the answers are perfectly clear and easy to understand.
If you think your application essay is "pretty good," you can choose "pretty good."  (Well, technically, it's "pretty darn good," but you get the picture.)
If you think your public school was "probably like most public schools," you can click that option.
With language like that, it's unlikely that you'll feel caught between a few answers, and you can get on with the next few steps, which are both fun and important.
Type in your school name and test scores
Architecture, right?  Let's see what the odds are of making it into Wentworth Institute of Technology.
Wait impatiently for results 
It might take a few days.  But while you wait, you can absolutely search and see which schools others are looking to get into.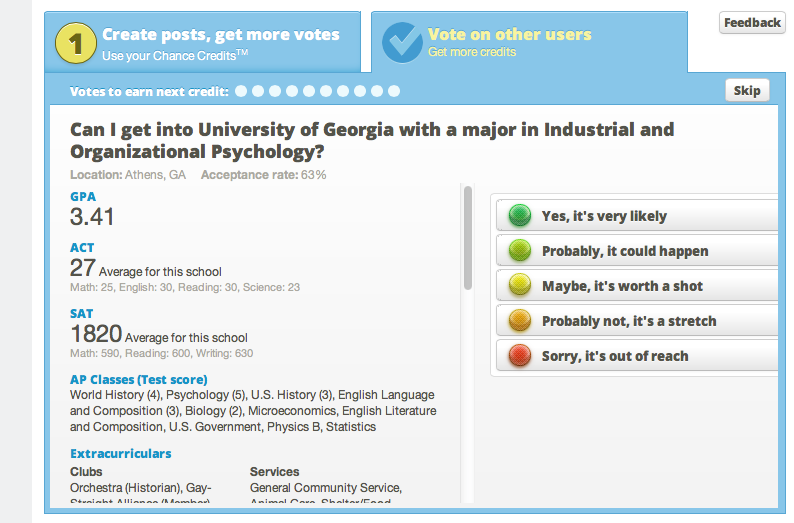 In fact, you can even help others and vote on their posts, which will increase your chances of being seen—and if more people respond, you're likely to get a more accurate result.
Overall, Niche's "Chance Me" page has taken that thing where everyone asks their friends if they can get into a certain school, and made it useful.
The mysterious college applicant clicking "maybe, it's worth a shot" on your question doesn't know anything about your trendy cat-eye glasses or your amazing ability to remember birthdays.
They just know that you were the VP of your fashion club, got decent test scores, and volunteered with the elderly for a month—and you want to go to Wentworth.  They don't have any reason to lie or sugarcoat their opinion.
And when it comes down to it, yes, they are just opinions.  But remember—this is what the admissions staff does, too.
And, honestly, it could definitely be helpful to have a pre-review from people who don't feel like they're going to throw up if they have to look at another application.
Relax and breathe 
This isn't a page on Niche, but it should be.  Finally, you can feel safe and secure knowing you can ditch the college fairs and get five times the amount of relevant, helpful, personal information.
Tuck those flyers back in the recycling bin and pull out your laptop.  You've got a college to meet.
What college factors are most important to you? Do these tools cater to those factors? Let us know in the comments below!
Co-authored by Dressler Parsons
The following two tabs change content below.
Hello! My name is Todd. I help students design the life of their dreams by ensuring college, scholarship, and career success! I am a former tutor for seven years, $85,000 scholarship recipient, Huffington Post contributor, lead SAT & ACT course developer, host of a career exploration podcast for teens, and have worked with thousands of students and parents to ensure a brighter future for the next generation. I invite you to join my next webinar to learn how to save thousands + set your teenager up for college, scholarship, and career success!
Latest posts by Todd VanDuzer (see all)